Chat with your
website visitors

right from

Google Chat

Easily add Live Chat to any Space or direct chat in Google Chat. Get real-time notifications of new chats and respond to website visitors directly from Google Chat and Gmail.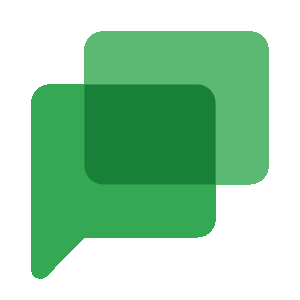 Add to Google Chat
You can also invite the @Live Chat to any Space in Google Chat to add the integration.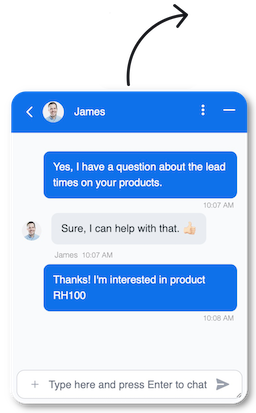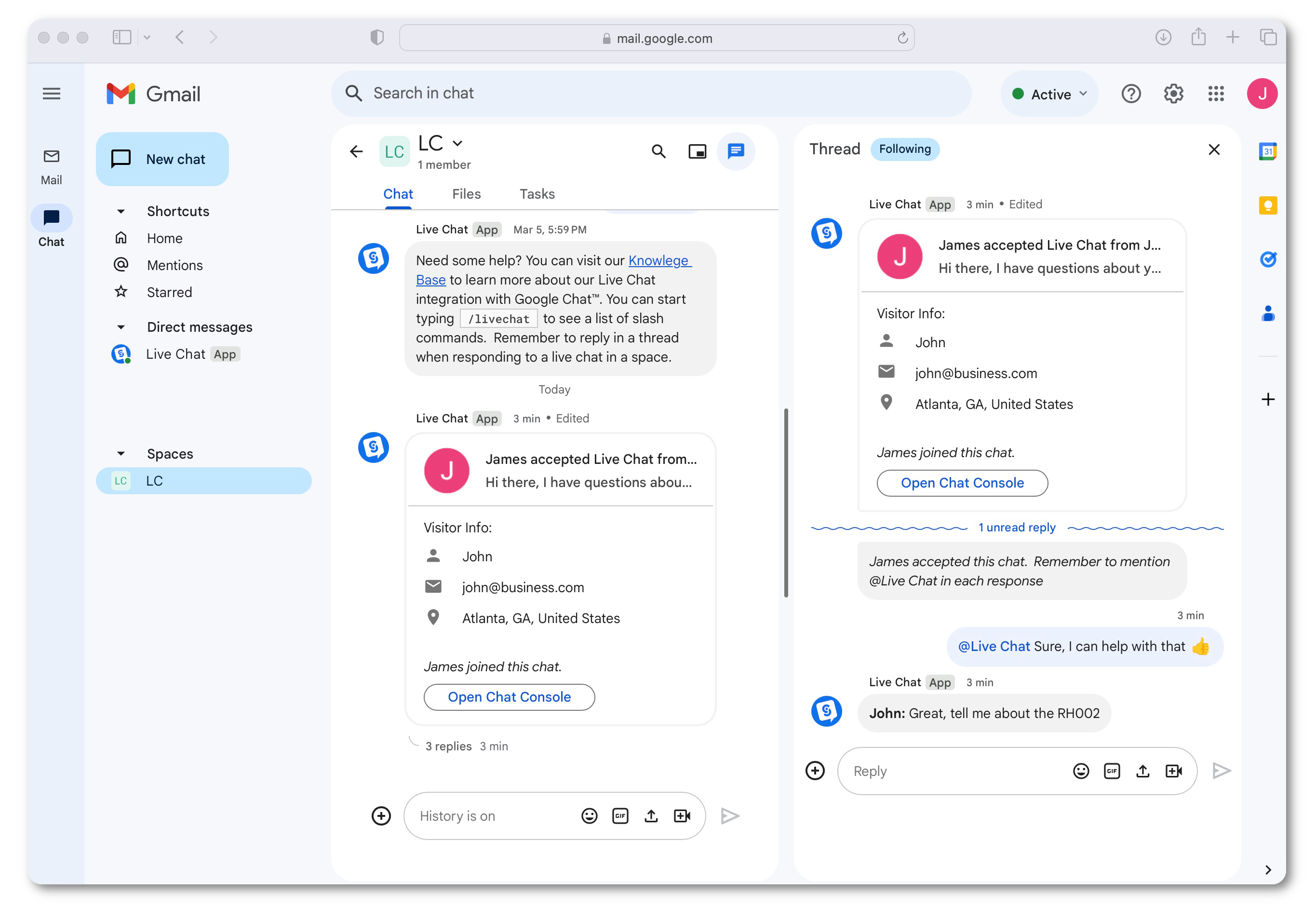 Connect with Customers and
Sell More from Google Chat
Chat with website visitors from Google Chat. Offer great customer service directly from any Space or DM. Never miss another customer support live chat.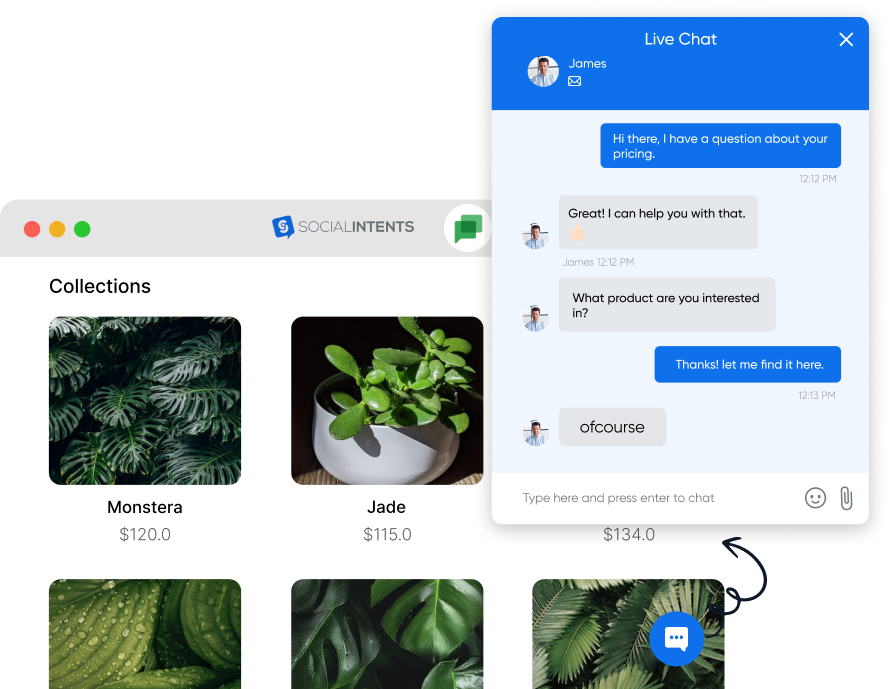 How to Add Live Chat to Google Chat
Add Live Chat by Social Intents to your Google account today in 3 simple steps.
1. Add Live Chat by Social Intents to Google Chat
Simply add the Live Chat app to any Google Chat Space by clicking on 'Find people and apps'.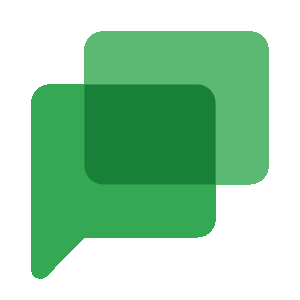 Add to Google Chat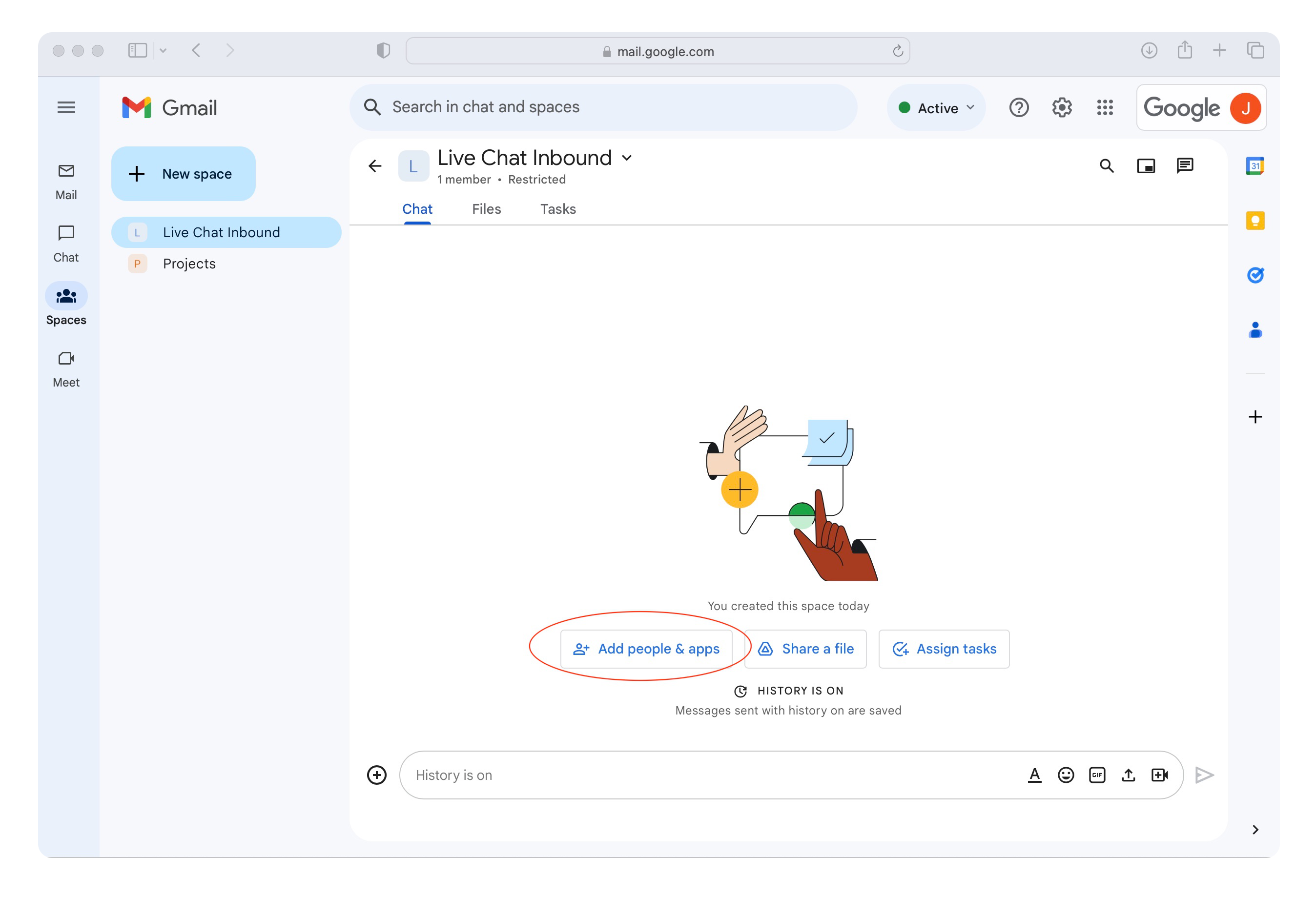 2. Embed Your Website Code Snippet
Embed our code snippet into your website or use one of our plugins for Shopify, WordPress, or Bigcommerce to easily add live chat to your ecommerce platform.
3. Start Chatting from your Google Chat Space
Receive chat requests in your configured Space. Chat with customers right from your Space or DM.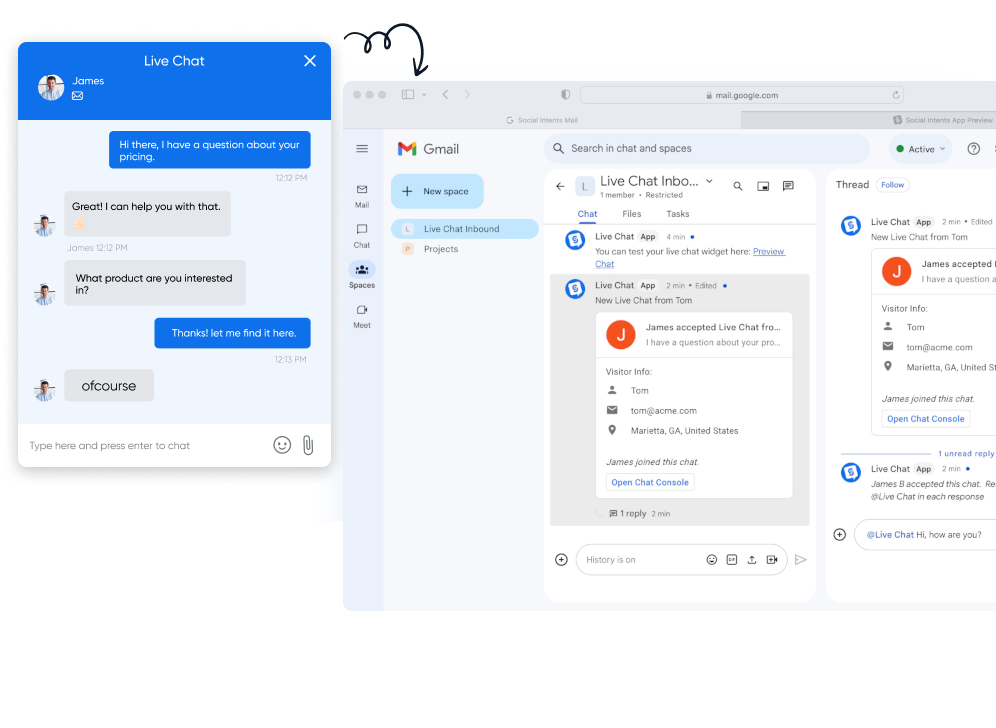 Google Chat Live Chat Top Features
Custom Chatbots

Fit your brand with custom colors, logos, text, default responses, and tab styles.

Pre-Sales Forms

Ask your visitors anything. Collect visitor information like name, email, and phone.

Unlimited Agents

Set up as many team members as needed. No per agent pricing. Grow live chat as your team grows.

File Sharing

Send files to your chat visitors and let visitors upload files to you, right from Google Chat.

Javascript SDK

Simple API for pre-populating visitor information and passing customer information to your agents.

Targeting Rules

Set up as many team members as needed. No per agent pricing. Grow live chat as your team grows.

Quick Replies

Use reply shortcuts to send default responses for common questions.

Google Chat Profile Photos

Show a human touch with agent profile photos and display names.

Online Schedule

Set your chat to be online and offline during typical office hours

Proactive Chat Invites

Reach out to potential customers with automatic chat invites. Trigger using rules or our Javascript API

Dashboards & Reports

See how you're doing with chat reports. Export data to your external systems.

3rd Party Integrations

Send leads and transcripts just about anywhere with our 3rd-party integrations.
Have any Questions?
Can't find the answer you're looking for? Chat with us.
Who should use Social Intents?

Small businesses, entrepreneurs, marketers, and anyone who wants to improve their sales. Especially teams that use Google Chat and Gmail.

Is there a Free Trial?

Yes! We offer a 14-Day free pro trial with all the bells and whistles to make sure you love the product. Cancel at any time and there are never any contracts.

Can I use live chat on multiple websites?

Yes - absolutely! Each of our plans supports a tiered number of websites. So just pick a plan that fits your needs.

Do I have to sign a contract?

No! There are no contracts and you can cancel at any time.