Are you planning to use Slack for sales? Wondering how to do it right and what app integrations you can look at for the best results?
FACT: More than 10 million people use Slack daily.
Starting its journey in 2009, Slack has gradually and steadily become the go-to destination for people to get in touch with each other. From daily routine work to coming together for specific purposes like closing a sales deal or even enjoying a victory, teams use Slack for everything. 
And 87% of its users say it improves communication and organization in business.
So what is Slack, why is it so widely popular, and can it help you sell better?
You will have the answer to all these questions in this article today. Hang tight!
What is Slack
So, before we move on to understanding how to use Slack for sales teams, let's have a clear picture of what Slack is, in the first place.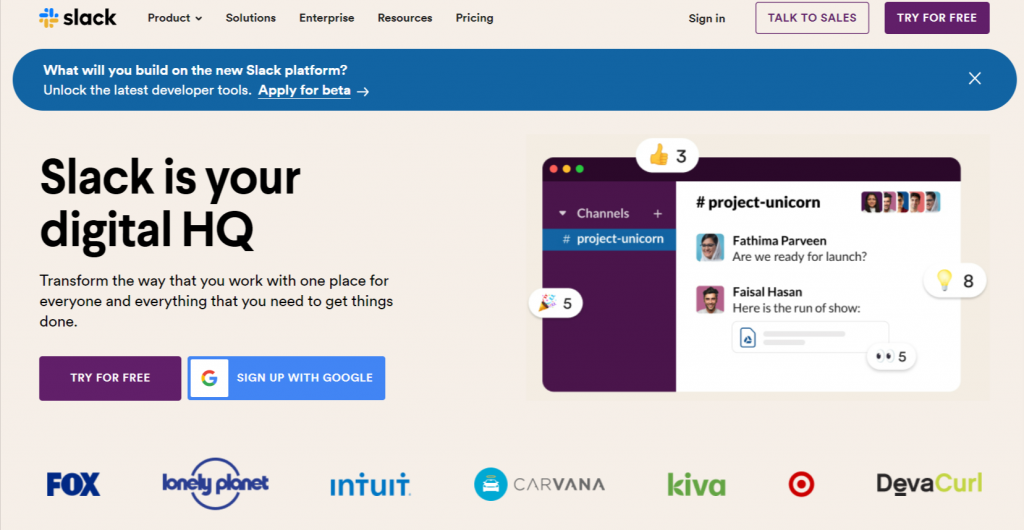 Simply put, Slack is a workplace chat app. Broadly, it is a workplace communication tool where teams can stay connected through instant messaging, voice, and video calls, and can also share files and tools. You can also use Slack to communicate between teams of different organizations.
Once you download Slack and create your account, you create your Slack instance which is your identity on Slack. All conversations happen in a chat window.
The key place of communication in Slack is 'channels'. Basically, a Slack channel is a group created specifically towards a purpose, like on a certain topic or between a certain team.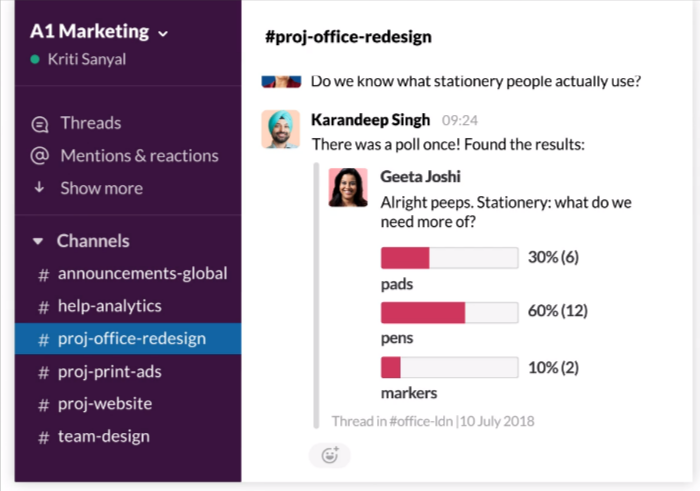 Slack channels help you to:
Organize your work better as you can create them for every project, topic, or team, thereby focusing on the conversations that matter most to you.
Create alignment as Channels provide you and your team with a shared view into the work. With access to the same information, everyone in the channel can work in sync.
Be more productive as all the conversations and files become a searchable archive so a channel member can find answers, get context, and make better decisions without having to chase down people or information.
Other than group chats, you can also have a private conversation on Slack, called a DM, or direct message. DMs happen outside of the channels and are great for one-to-one conversations without crowding the channel space.
Channels can be private or public, however, DMs are always private, and not accessible to anyone including Slack admin.
Slack did two things really well to become the leader in its space – design and a responsive user interface that keeps evolving as per user needs. It is easy to use and secure.
To get you started, Slack offers a free plan that teams can try that has all the basic features. If found useful, you can upgrade to a higher plan for as low as less than $3 a month.
As they claim, Slack is the digital headquarters where your teams and effectively the whole organization lives. The rise in remote teams has multiplied the popularity of Slack further.
But how exactly can you use Slack for sales? Let's get to it!
How can Sales Teams use Slack?
Slack is already used by sales teams worldwide for better conversion and revenue growth. Here's how:
Slack Connect transforms the way you work alongside your partners.
It is the feature that lets you talk to people outside your organization also, just like you can chat with the teams inside of your organization.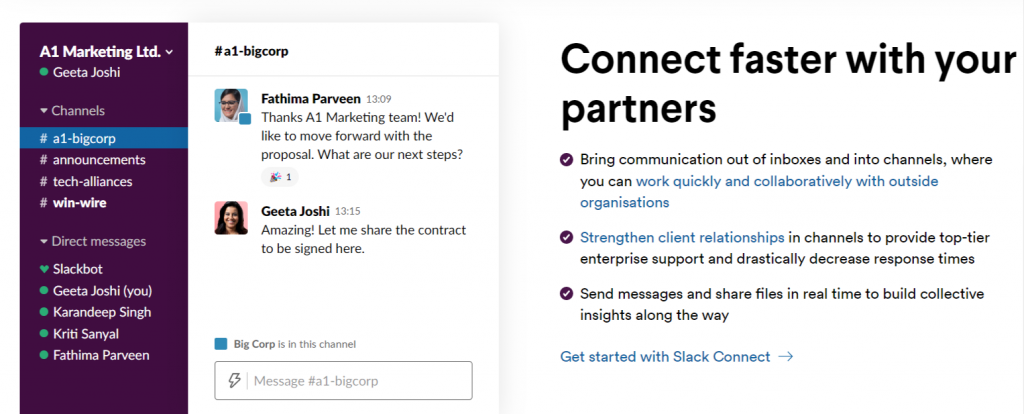 This allows salespeople to have conversations with their customers and partners, and vendors on Slack – all in one place and that too, in real-time. It gives way for better interpersonal connections, faster resolutions, and naturally better conversions too.
Teams can sell together on Slack.
Selling is a team effort and account-based collaboration is BIG. With this integration, you can save precious minutes by keeping everybody who is vital for a sale on the same page – literally.
Everyone involved in conversion can connect in real-time on Slack, not just via text, but also through voice calling with Slack huddle.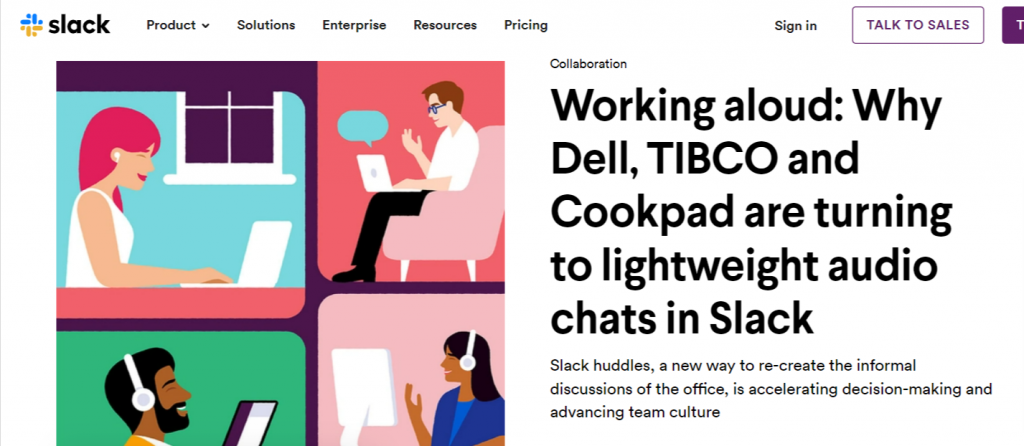 This way, people from different teams like sales, marketing, product, legal, etc. all can come together on dedicated Slack spaces to close deals faster and shorten the sales cycle. They can not just chat with each other, but talk to each other while looking at the same screen, creating a virtual board-room experience.
With the sales industry being at the top opportunity maker in remote working at 83%, this becomes a pretty big necessity. And it not only aids faster sales in remote teams but even on-ground teams, where different teams and key people sit across a huge area and different floors and buildings.
Teams can also create channels to share their wins, share notes on why they lost a deal, share sales notes, etc. Basically, everything that fosters collaboration, just like in the real world, perhaps even better!
Slack takes onboarding new sales team members to a whole new level.
Except for some very dynamic organizations, onboarding can be a slow and frustrating process. After the initial orientation by HR, the sales rep onboarding must involve different teams and people already working in the organization.
Now, these are busy people, and as a result, the new joiners can end up running from pillar to post. Resorting to email for their Q&A, and trying to find account and sales-related data from folder to folder can end up delaying and confusing them further.
You can avoid all this and fast-track the process simply by creating an onboarding channel for the new employees and inviting them on Slack.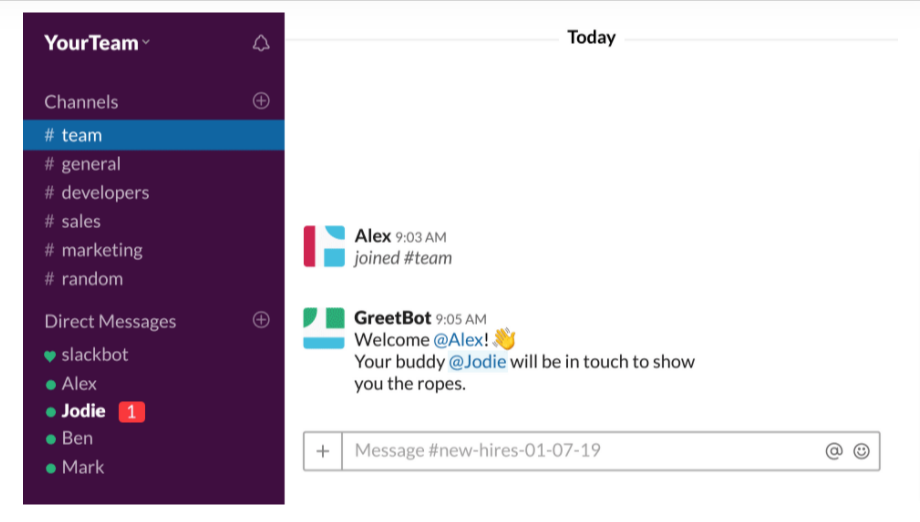 The new joiners can find onboarding info, account history, and even answers to FAQs in Slack, thereby avoiding all the confusion.
In case of any unanswered questions, they can always tag different team members for faster responses. And the best thing is that this works well for both on-ground and remote teams.
Now that you know how Slack can empower your sales team, let us also see some app integrations that can take Slack's functionality for sales to a whole new level!
Here it goes.
Best Slack Integration Apps for Sales Teams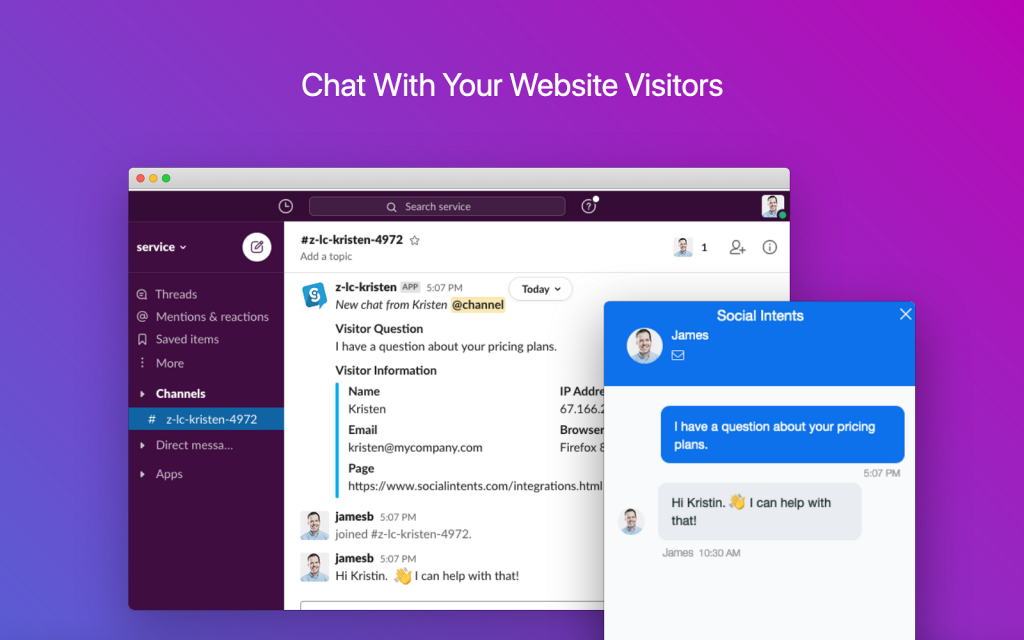 79% of customers prefer live chat when they look to engage with a business. Live chat for sales, therefore, is not just an option, but a necessity.
And if you are looking to start selling out of Slack without wasting another minute, then Social Intents is the tool for you.
Unlike other tools where live chat may come as an add-on, we build Social Intents with the very purpose of operating out of Slack. So you do not have to waste a dime on training your team to sell on another tool.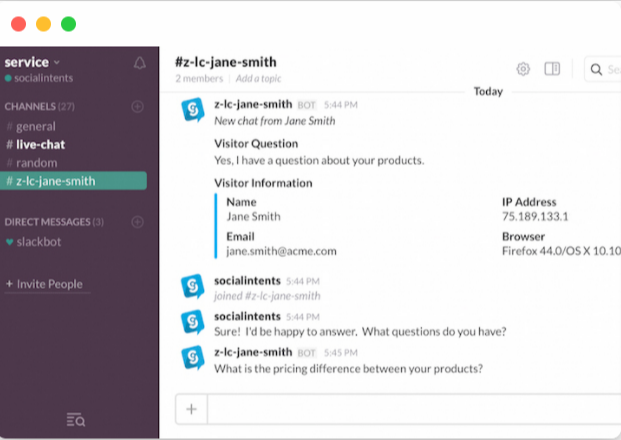 With tools like proactive messaging and canned messages, Social Intents can help amp up your online sales.
And by integrating Slack with Social Intents, you can:
Use the Slack slash commands that you know so well to reply to conversations quickly.
Drag and drop files to send to live chat conversations.
Specify targeting rules and automatic chat conversation triggers based on different visitor behavior.
Track your usage with a live chat dashboard.
Access the chat on your desktop and mobile phone.
Salesforce for CRM
A CRM integration is a powerful tool for any sales team, and Salesforce is a robust option for Slack.
Together with Slack, Salesforce gives you a single place for all your apps, data, alerts, and conversations, from internal teammates to external partners and customers.
With Salesforce integration, you can view and share accounts data and details on your Slack Channel without switching multiple windows.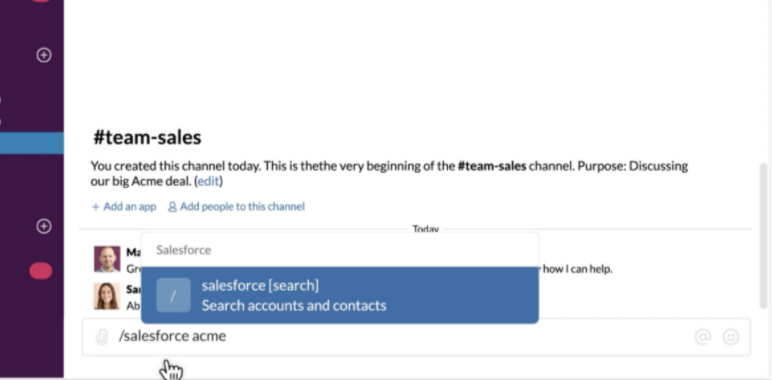 DealBot for driving sales through deals
The ability to share information, sales status, deal volumes, and the like is key to running a successful sales team. With Pipedrive's Dealbot, salespeople can keep teams up-to-date about any deals instantly.
Whether you need to coordinate several people to help close deals or simply keep everyone in the company informed, Pipedrive's Dealbot will automatically handle it directly within Slack.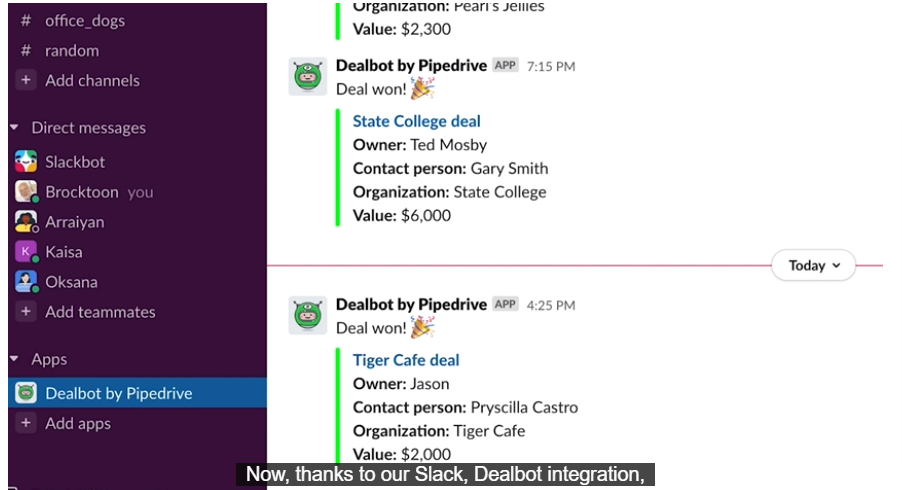 Type a / forward slash in the message field of any channel or direct message to view a list of slash commands available in your workspace. Type a slash command then send the message to complete an action.
Klenty for email automation
With Klenty, you can scale your sales process by building a database of prospects and sending personalized emails with automated follow-ups.
With a Slack integration, you can connect a Slack channel to Klenty and choose to get real-time notifications on email opens, clicks, replies, etc. right inside Slack. With Klenty's website tracking feature, you will also get instant notification when a prospect visits your website.
You can then also share your prospecting activity with your team that already resides on Slack.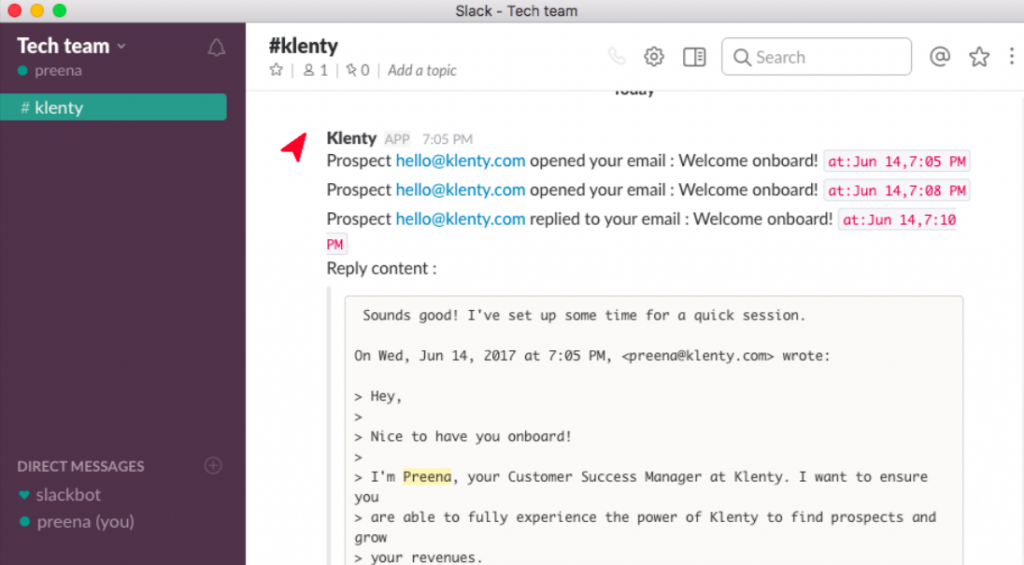 Growthbot for sales bots
GrowthBot is a marketing chatbot developed by Hubspot that shares useful information about digital marketing trends. So, you can boost your company's productivity by keeping track of what your competition is doing.
Growthbot integration with Slack allows you to access those valuable business-boosting insights directly into Slack. Here's an example: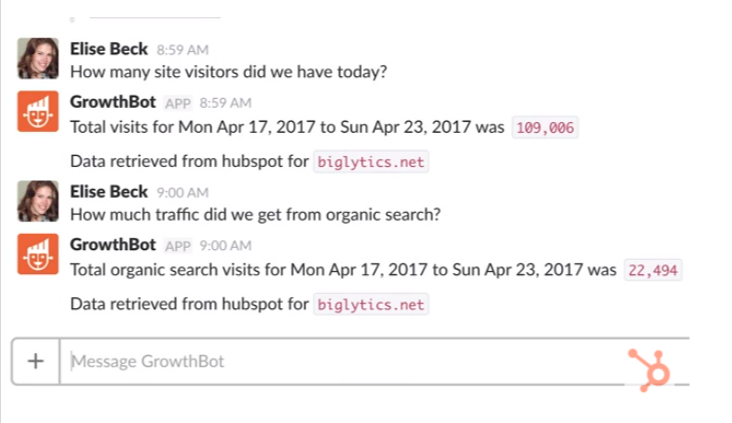 You can also use other commands, like:
Company info about freshbooks.com
What keywords does buffer.com rank for?
What PPC keywords are uber.com buying? etc.
Chargebee for managing subscriptions
As a salesperson, you can stay on top of your subscriptions by getting notified directly in Slack, through Chargebee integration. You can then also share the notifications instantly with your team and let them engage with the customer within seconds.
With this integration:
You can track new subscriptions
Onboard customers, and
Follow up on payments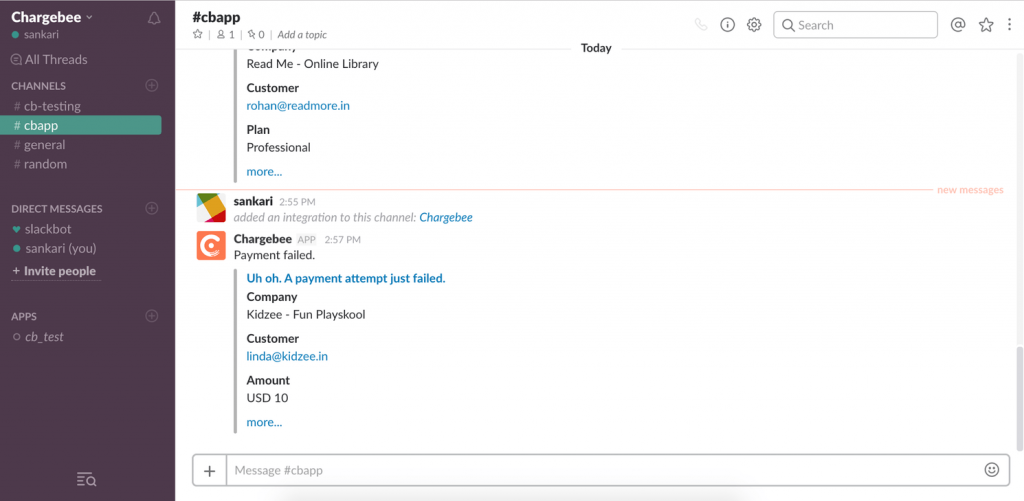 You can select relevant notification preferences including when someone subscribes or unsubscribes at any time, when a payment succeeds or fails, etc.
HelloSign for sales documentation
The signing of sales documents and contracts is one of the most important parts of the entire sales process. HelloSign is a dynamic e-signature app, and when you integrate it with Slack, you can:
Get updated in real-time as your customers sign the sales documents and contracts, all within your designated Slack channel.
Get daily reminders on which customers have outstanding signature requests, so your team can follow up.
Pin fun reactions to HelloSign updates and celebrate as soon as that important deal closes!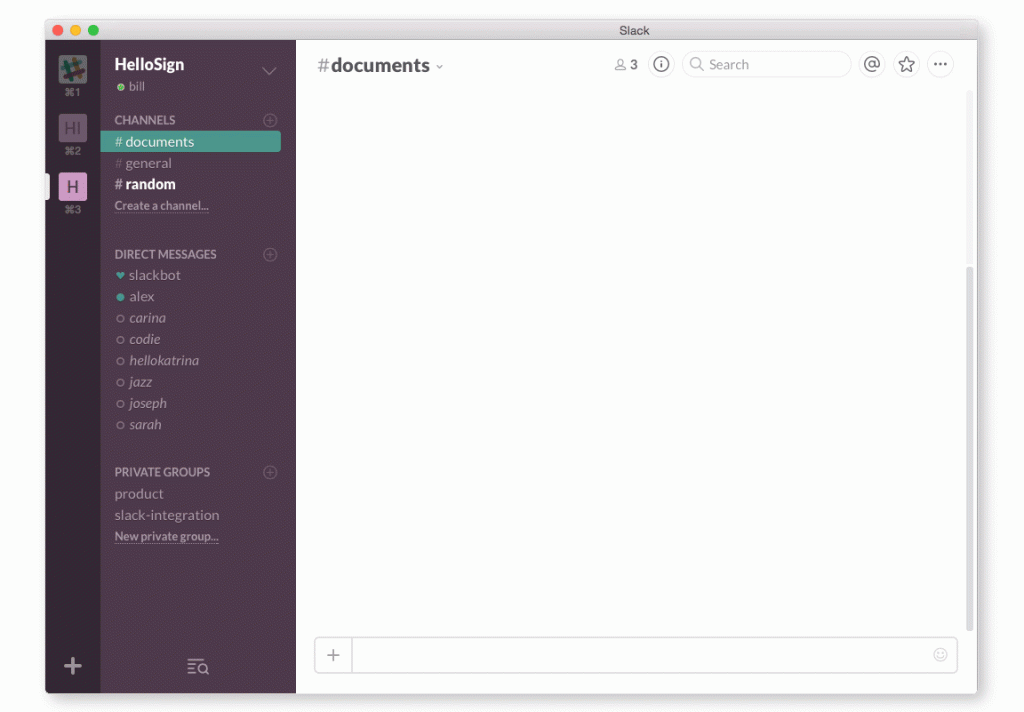 All you need to do is connect your accounts and choose if you want to send your notifications to one of your channels, as a direct message to a team member, or to Slackbot. Just click the document name to preview the document and check its progress.
Google Analytics Insight for sales analytics
Sales analytics is key for any sales team, to keep track of things and move ahead in the right direction. And you can do this efficiently by Slack integration with Google analytics insight.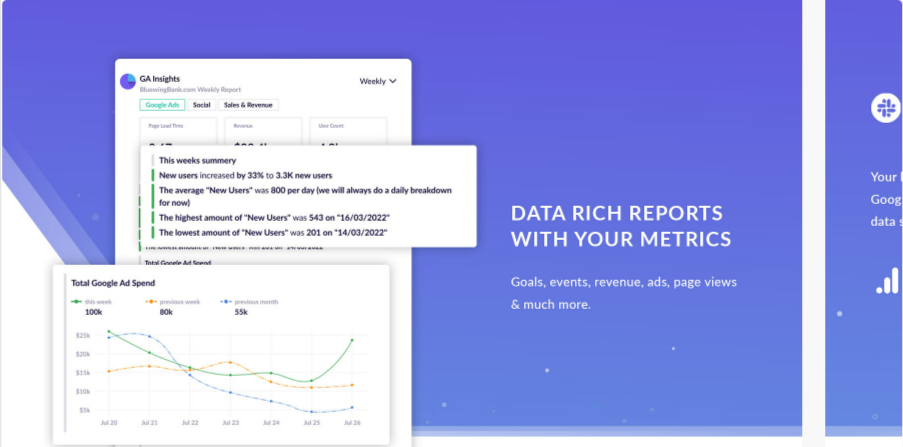 GA insights is the simplest way to integrate Google Analytics (UA), Google Analytics 4, Google Ads, Google Search Console, and Facebook Ads into Slack. It enables your sales team to spot key trends, predict outcomes, and increase productivity.
With this integration, you can instantly get automated reports and alerts, sent directly to the channels you specify. You can choose from a set of pre-made templates with the most popular metrics or create your own reports and alerts from scratch.
Some key things you can do with this integration are:
Track position changes based on your SEO progress with Google Search Console.
Get alerts when search terms change position.
Send ad reports daily or weekly into your channel and manage your ad spend.
Receive daily or hourly data alerts enhanced by AI.
Conclusion
So, here we are.
We hope that our rundown of the best Slack apps integrations for sales teams helps you boost your business.
All the best!