Are you struggling to convert website visitors into buyers? Looking for live chat sales techniques that would help you increase conversions?
Surveys and various research have confirmed it over and over again – Live chat increases conversion rates like crazy. Here are just some of their findings:
38% of respondents made their purchase due to the chat session. [eMarketer]
If a visitor engages with a live chat agent, they're 2.8 times more likely to end up purchasing a product.
Live chat can increase leads by 40 percent.
Unfortunately, achieving similar results takes a bit more than just setting up a live chat on your site.
In fact, selling with live chat requires taking a unique approach to those conversations.
What's that approach? Well, that's what you'll find out in this post. Below, you'll find 8 sales techniques to use in live chat conversations to close more deals.
Before we get there, though, there's something we need to cover…
How Live Chat Fills Your Sales Funnel
You can use live chat to push potential customers from any stage of the sales funnel to the next:
Awareness: When someone visits your website for the first time, your agents can offer to help and share details about your product or service.
Interest: You can capture visitors' emails through live chat and send them targeted content to keep their interest. BTW, did you know 42% of customers prefer giving personal information through live chat? It makes live chat a must-have lead generation tool.
Consideration: One of the common questions live chat agents get is "How is [Your Product] better than [Competitor Product]?". This question means the visitor is considering your product.
You can create a side-by-side comparison article for such visitors and keep a canned response like this ready to send:
"Hey, we get this question a lot, so we've created a side-by-side comparison (link to it) to help you make an informed decision 🙂 To save your time, here's what you'll find in the comparison: we provide [Feature-1] and [Feature-2] that they don't, and hence we're best for [Category Of Potential Customers]."
Decision: After your response at the consideration phase, they'll likely want to buy from you. To help the almost-customer make a quick decision, your agent can send a free trial link, exclusive coupon, etc., and push them to the next stage.
Purchase: Hurray! You've got a new/repeat customer.
Indeed, it's easier said than done: To even stand a chance to win the sale, you need to follow proper live chat sales techniques throughout the buyer's journey.
8 Live Chat Sales Techniques
1. Be proactive
Proactive live chat is all about grabbing the visitor's attention and getting a conversation started by initiating the chat.
To draw a comparison to brick-and-mortar businesses, proactive chats are similar to having face to face interaction with a salesperson. The person is not only helping you around the store, they can also gently persuade you to buy (and even, buy some more).
Of course, with a proactive live chat, your agents won't have to send messages to each individual. Instead, you can set up live chat triggers that'll send the message depending on the visitor and their behavior on the site. For example:
If it's a first-time visitor, you can trigger a message like "New here? Look around. Just say hi if you need any help :)" and let them explore your offerings by themselves.
If they visit again, they're probably in the "interest" stage of the sales funnel. Here you can ask for their email or simply share case studies/reviews of your product through the chat window.
If they add something to the cart and are about to leave the page, you can trigger a relevant message like "Hey, you forgot [Product Name] in the cart. Just say hi if you need any help – I might also have an exclusive coupon for you ;)"
Once the visitor replies to the proactive message, your live chat agent must be available for chat, though.
2. Pre-qualify leads (Optional)
Depending on your business type, you can use the live chat window to pre-qualify leads. For example, if you own an ecommerce store and sell consumer products, you don't need to qualify visitors to chat with your sales agents. However, if you provide service, it's probably a good idea to get some information beforehand.
You can ask for their name, email address, website URL, and phone number to eliminate the majority of the people who are likely to waste your time.
Then, ask their monthly budget for the service they are seeking. For instance, you can give options like $500-$1000/month, $1000-$2500/month, etc.
You can also ask them to describe what they are seeking. For example, if you run a marketing agency, common responses would be 'we want X amount of leads' or 'we'd like N number of sales.'
Again, your chat agents don't need to ask these questions to visitors manually. Instead, you can use one of these two for lead qualification:
Forms: You can use a simple chat form to collect all the information. For example, this :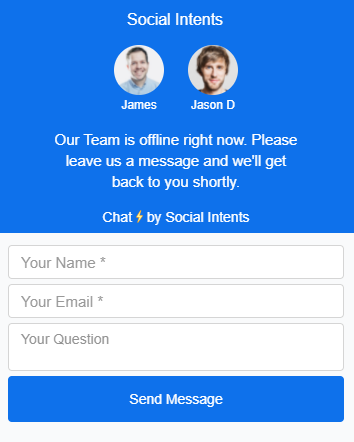 Chatbot: Set up a chatbot to ask pre-chat questions one by one. For example, it can ask about the visitor's budget and share your pricing options as clickable/choosable buttons.
Next…
3. Ensure the right person picks up the chat
If you ask pre-chat questions, you'll have some information about the potential client/customer. Use it to connect them with the most suitable agent.
For example, if they state their monthly budget is $5000+, it's best a senior sales agent picks up the chat. Similarly, say yours is an IT company. Then maybe ask an experienced project manager to chat if the project seems serious.
On the other hand, let a general chat agent initiate the chat if you allow visitors to send a message directly.
A typical customer support chat agent is well-equipped with basic knowledge about everything a company does, and its product/service includes (features, trial, guarantee, extra costs, etc.). Then, if and when needed, the general agent can forward the conversation to a sales specialist.
TIP: Set chatbots to send the chat request notification to the most appropriate chat agent team based on the response the visitor selects.
4. Don't keep the visitor waiting
79% of people prefer live chat because they get answered immediately. It's, in fact, the #1 reason customers choose live chat communication. Meaning, if you don't reply fast, you are upsetting a lot of chat requesters.
Among many things, it can even lead to abandoned carts: Forrester data shows 45% of US adults will abandon an online purchase if they can't find a quick answer to their question.
So what can you do to reply quickly? Here are a few things that'll make live chatting efficient:
Write canned responses: Canned responses are pre-written replies to common questions or situations. For example, you don't need a different greetings message every time, so have one ready to go.
Use Social Intents: If you don't have live chat software yet, use Social Intents. It integrates live chat with internal communication tools ⁠— Slack and MS Teams ⁠— making it easier and faster for your chat agents to pick up the chat and start communicating. Also, you can set canned response shortcuts to send messages with a click of a button.
Set up a chatbot: A chatbot can answer most of the commonly-asked questions. Plus, you can integrate it with an internal search engine to show results from your knowledge base/FAQs section.
Show typing indicator: If you don't reply quickly, the visitor might leave. However, if they see someone is typing on the other side, they'll wait for the response. Plus, a typing indicator gives a sense of real-time conversation.
Hire more agents: If your chat process flow is at maximum efficiency and you can't reply to all chat requests faster (average wait time is 46 seconds), hire more agents.
5. Be friendly. Be human.
As per a Microsoft report on the state of customer service, 30% of people consider talking with a knowledgeable and friendly agent as the most important aspect of a good customer service experience.
Meaning, being a friendly person is essential to convincing someone to buy from you ⁠— who would have guessed that?
Here's how you can come across as friendly (and a real person – not bot) on live chat:
Start the conversation with a friendly greeting to set a proper course of the conversation.
Introduce yourself.
Use (appropriate) emojis in your chat to give a human touch.
Chit chat/joke a little if they initiate it.
Reply with memes/GIFs. It's a good practice, but it depends on your target audience ⁠— for example, you can't send memes to middle-aged B2B employees, generally speaking.
6. But also…Be professional
Being "friendly" and being "a friend" are two different things. Remember, you are a professional with an aim (in this case, to convert the visitor into a customer or a lead). So:
You can't use unnecessary/inappropriate emojis.
You can't use any sort of slang.
You can't use out-of-context GIFs. (Not everyone has seen "The Office")
Instead, here are few things you can incorporate in your conversation to make it professional:
As I already mentioned, start with a proper greeting.
Keep your messages short: People don't like reading big paragraphs, so trim it if needed.
Keep your messages simple: Always assume the visitor doesn't understand complex language and industry jargon. So keep your language simple. For example, use everyday analogies and metaphors to clarify the picture for them.
Stay on topic: Yes, be friendly, but keep the visitors' questions at the center.
Write as you speak: Use contractions (example: 'you're,' instead of 'you are'), use interjections (example: 'oh,' 'oops,' etc.), talk in first-person (use 'I' or 'we') and second-person (use 'you').
Be grammatically correct: A friend can be grammatically incorrect. However, a professional with spelling errors just appears incompetent.
Be positive: Unless you made a grave mistake and are apologizing for it, keep a positive tone. For example, don't say, "Our engineer is not available right now, so we can't do XYZ"; instead, say, "Kindly wait a couple of hours for our engineer to resolve it."
Be perceptive: Understand the questioner's situation and exact query before you answer. In addition, ask questions to clarify if you don't understand what they mean by something.
7. Help them make an informed decision
The quickest way to sell to an uninformed visitor is by sharing objective data, helpful information, and USPs (Unique Selling Points) of your product or service.
Let visitors ask questions about your offerings. Alternatively, proactively ask them what they are looking for and what's stopping them from making a purchase.
A typical answer to their doubt would be:
A video/blog post explaining why they'd need the product or how it helps them. For example, I wrote an article on live chat software benefits to inform brands about why they need live chat on their website.
A message confirming you have the features they want.
A comparison with the competitor they are considering.
Case studies/reviews about your product or service to show your competence or the product's ability to help achieve their goal. For example, if you sell TVs, you can show all 5-star reviews that praise the picture quality and more.
A personalized recommendation. For example, if the visitor wants an under-$500 smart TV but can't decide which one, your agent can help them.
A no-risk free trial on digital solutions or a guarantee/warranty on physical products.
An exclusive discount code to make the decision-making process faster.
If the visitor is looking for something you don't offer, then, too, share accurate information ⁠— your goal is to help them make an informed decision, remember?
For example, here's the Mailmeteor team's response when asked about their non-existing follow-up feature:

At the very least, a response like this builds trust and ensures the visitor will buy from you in the future if you offer what they need.
8. Target Visitors Abandoning the Cart
Do you know which visitors are the easiest to convert into customers? The cart abandoners – they scrolled through your site, decided on what they want to buy, and added it to the cart but didn't buy.
If looked at optimistically, cart abandoners are a mere one step away from purchasing. And a single live chat session can change that.
Here are a few things you can do to convert cart abandoners:
Remind them they have something(s) in the cart.
Solve doubts that are keeping them from clicking the "Buy Now" button.
Offer an exclusive discount.
Offer personalized recommendations if they are looking for more options.
Give free shipping. Tip: If you offer free shipping only on a total cart value of above a certain amount and the cart abandoner hasn't reached there, cross-sell and upsell to increase AOV and decrease abandonment rate.
Conclusion
Selling through live chat is similar to selling on a call or in person. Just, your sales agents can be more efficient with sales live chat ⁠— after all, they can chat with multiple prospects simultaneously.
And if you/your agents follow the live chat sales techniques I discussed in this article, it's pretty much guaranteed each live chat session will be efficient and effective. So give them a try and let me know how it goes.
Good luck!