It goes without saying, doesn't it? Leads are the lifeblood of any business. I really can't think of a way to grow the company without first attracting and then converting people interested in your product or service. 
It's no surprise, then, that lead generation tops the list of marketing priorities year after year after year.
The challenge? Well, it looks like many common lead generation strategies have lost their effectiveness. Fewer and fewer visitors respond to popups or lead magnets, for example.
Here's the catch – This doesn't mean that they don't want to engage with your brand. They just might prefer you to use other channels, like live chat.
So, if you're wondering whether you even can generate leads with live chat, or how to do it, you'll love this guide.
Below, you'll find out whether it even makes sense to use live chat for lead generation, what sort of results you could expect, and also, how to get started with live chat lead generation.
It's a lot to cover so let's get right to it.
Can you actually generate leads with live chat?
Typically, when we think of lead generation, we consider something like this: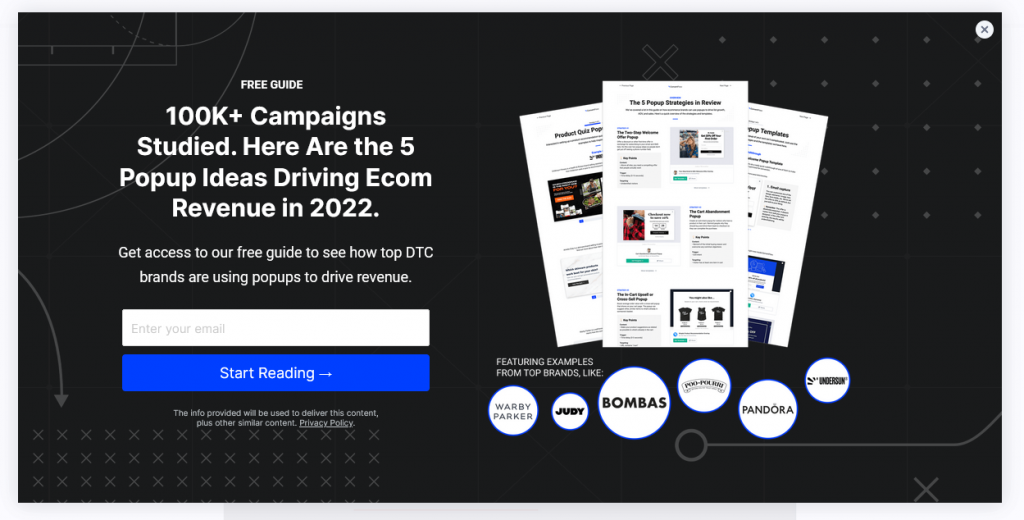 This is a typical lead generation popup aiming to engage a visitor on a page, and convert them into a lead with an offer – in this case a research study.
By the way, there is absolutely nothing wrong with this popup. It's engaging, presents a nice offer, and includes the option for a visitor to convert and qualify themselves as a lead.
But as I said in the introduction, strategies like these slowly lose their edge, and that's for several reasons:
Customers became accustomed to seeing those. What's more, clicking popups off has become a habit for many.
Many people find popups like these annoying or disrupting.
Finally, and this might be the most important factor for your lead generation success, popups often deliver cold leads only. You have to do quite some work to nurture and warm them up.
Again, I'm not saying that there's anything wrong with those strategies. But when it comes to lead generation, they can't offer the same benefits as live chat.
What is live chat?
I'm sure you're familiar with chat widgets already. These days, you can see them on almost every website.
You, most likely, engaged a brand through live chat already too.
So, you know that live chat allows you to converse with a brand in real-time, through a dedicated widget, and get answers to whatever questions you have.
Many brands offer live chat support, use it to engage new visitors with sales messages, and more.
And, they convert those visitors into leads with live chat too. I'll shortly walk you through the complete process for generating leads with live chat. For now, what's important for you to remember is that live chat offers the ability to place pre-chat surveys that can collect lead information and send it to your CRM.
Naturally, there is more to it but for now, let's stick to discussing live chat lead generation in more generic terms.
How does live chat help generate leads, then?
Three core aspects of live chat make it one of the most successful channels for lead generation:
#1. Live chat captures the (right) visitor's attention
The first step in any lead generation process is to get your visitors' attention. That's what most typical lead generation strategies – like the aforementioned popup – do too.
Once you attract a person to the site, you need to engage them. You need them to notice your message, and begin interacting with you to:
Verify their interest, and
Convert them into a lead.
Live chat offers several different capabilities that help with this step.
Welcome messages that let you display highly-targeted greetings based on specific criteria (i.e., showing a greeting to a new visitor, returning visitor, or triggering a message for visitors spending a specific amount of time on a page, etc.)
Manual invites where your sales team can trigger a manual welcome message to capture the attention of an engaged visitor.
Calls to action on chat widgets that prompt users to start a conversation.
Pre-chat forms that can collect the person's name and email to add to your CRM.
FURTHER READING: Discover how to write perfect live chat welcome messages.
#2. Live chat makes you available to new leads 24/7
Sure, you might not be personally present to take their messages.
But your chatbots can be there. Naturally, these systems will not be able to answer all of your customers' questions. But, at minimum, they can take messages, and collect visitors' contact information.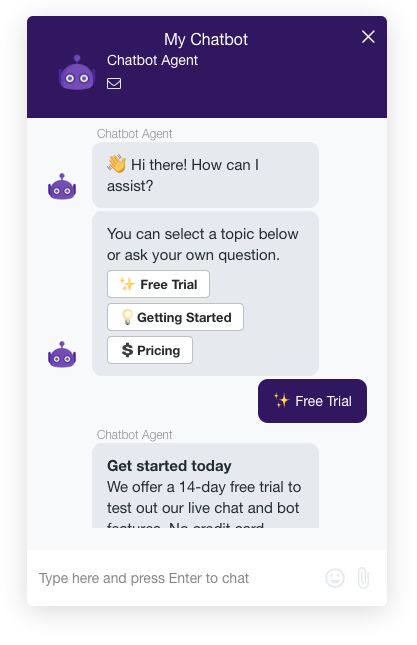 Your sales team can pick the conversation up when they're back in the office, and convert the potential customer into a lead.
FURTHER READING: Learn more about using chatbots for sales.
#3. Live chat integrates with your other communication tools
Can you guess what the biggest objection for implementing live chat lead generation is?
It's the challenge of context-switching.
Typically, to use live chat, companies must implement (and learn) a new interface, new keyboard shortcuts, etc. All the while they're happy to communicate internally with their current tools like Slack or MS Teams.
Luckily, there is another way to do it too.
Live chat platforms like Social Intents (disclaimer – this is my tool) integrate seamlessly with messaging tools like Slack, MS Teams, Zoom or Webex, and allow you to chat with website visitors from those tools directly.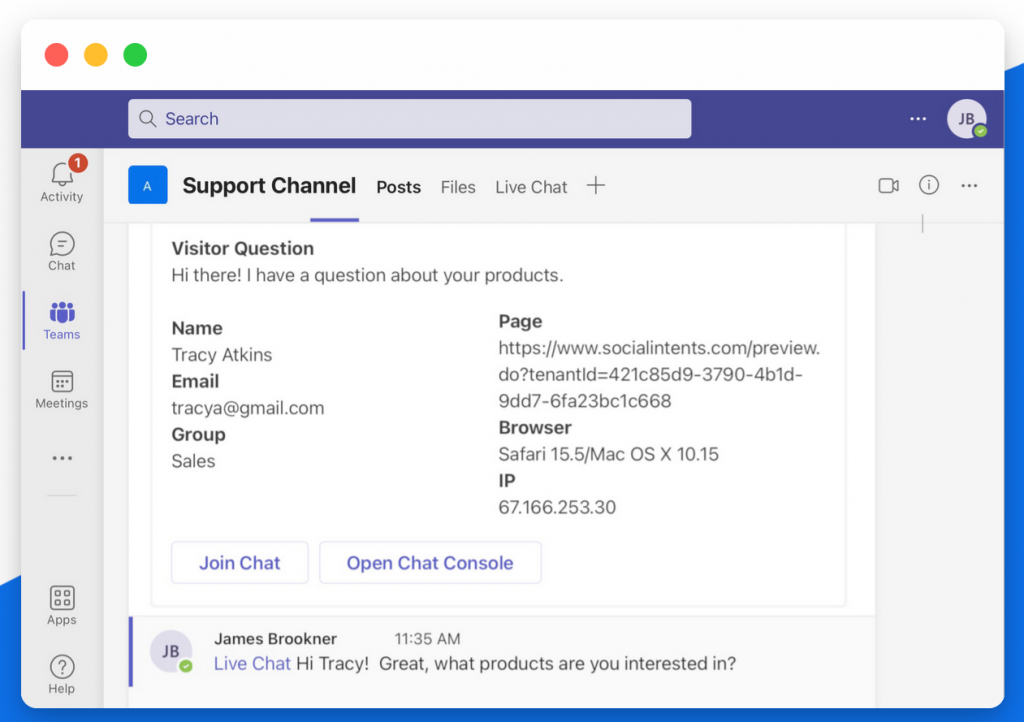 (An example of live chat conversation conducted directly from MS Teams)
As a result, when you use Social Intents live chat to generate leads:
You don't have to learn a new interface or implement a new platform into your tech stack.
You can chat with visitors and convert them into leads directly from the communication tool you're using already.
You can provide a much better experience to your visitors and your team.
Intrigued? Learn more about Social Intents live chat software and see how easy it is to chat with your website visitors directly from Slack or MS Teams.
But in spite of this, I constantly hear companies asking:
Why would you even consider generating leads with live chat?
Let me answer that now.
Benefits of using live chat for lead generation
#1. Fast response time
Live chat is like a real-time conversation. Naturally, with live chat, you and the potential customer aren't in the same room. You don't see each other either. And yet, you converse in real-time. What's more, in most cases, a new chat conversation gets picked up by an agent pretty quickly.
Now, compare that with a typical way of generating hot leads. A visitor needs to sign up through a form, this might be through a popup or the lead capture form on your contact page. Then, they need to wait for your team to respond and engage them.
All the while the customer wants to discuss their needs with you right away!
Live chat lets them skip all these steps and converse with your sales team right away.
#2. Higher conversion rates
This is also directly linked to the format of live chat conversation. Not only, these conversations get picked up quickly but they allow customers to have a real conversation about their needs. Potential customers can ask agents specific questions about your products or service. They can get advice on which option would work best for them, and so on. As a result, agents can convert many more visitors into leads and later, paying customers.
#3. Higher engagement
Similarly, the ability to chat with sales right away results in a much higher engagement rate. Even if the visitor ends up not buying from you, you've already established a relationship with them, and can nurture them moving forward.
#4. Live chat is part of the customer digital journey
It's a fact – More customers prefer live chat than phone or other ways to communicate with brands. According to this research, for example, 42% of customers prefer to use live chat, while only 23% want to still engage brands via email.
#5. Live chat can also shorten the sales process
This can happen in a number of ways:
Welcome messages and chat triggers can help engage visitors who'd otherwise not reach out to your company.
Direct communication with sales can quickly show customers which options are the best for them, and help them make the buying decision.
FURTHER READING: Learn how live chat helps increase conversions.
Here's how to actually generate leads with live chat
We've covered a lot of the theory behind live chat lead generation. You know what it is, how live chat works as a lead generation strategy, and what are the benefits of turning to live chat for leads.
But how do you actually do it? How do you generate leads through that small chat widget on your site?
Well, let me show you.
#1. Set up proactive live chat triggers to engage visitors
Here's an interesting fact – 33% of proactive chat messages receive a response. This means that live chat can engage a third of your website visitors but only if you set up proactive triggers.
So, that's the first thing to do if you're looking to generate leads with live chat – Set up proactive chat triggers to engage your visitors.
Chat triggers are smart rules you can set up to track visitors' activities on the website and use to send automated messages to engage them with live chat.
These triggers can be as simple as this basic welcome message shown to every new visitor on a site.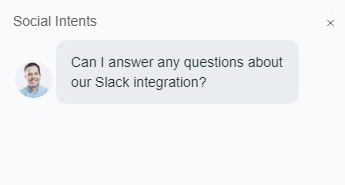 But you can also specify different triggers based on a page the person's visiting (i.e., show welcome message only to people landing on your pricing page.) Or target the person's behavior, exit intent, and so on.
FURTHER READING: Check out these ten live chat triggers guaranteed to engage your visitors.
#2. Use pre-chat surveys to capture lead information
Once you've engaged someone, you need a way to collect their lead information. In most cases, this means the person's name and their email address.
Live chat software like Social Intents allows you to set up pre-chat surveys to capture that information, and also, direct the person to the most relevant person on your team to deal with their inquiry.
Here's a quick example of such a survey on a real website.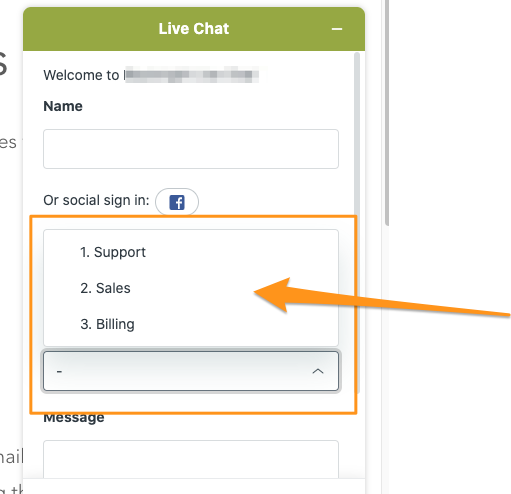 #3. Set up chatbots to engage out-of-hours visitors
Let's face it – Hiring agents to work 24/7 can be expensive and unrealistic. That's where chatbots come in.
Chatbots help you be present for customer interactions 24×7 while proving cost-effective in the long run. Chatbots can help you build a solid sales pipeline and improve call-back requests by collecting relevant information from consumers when your team is away.
And that's it.
That's how simple it is to get started with generating leads with live chat. All that's left is to start putting all this advice in practice.
Good luck!