Are you starting to use MS Teams for work chats and meetings? Want to know the Microsoft Teams etiquette and learn what to do (and what not to do) to make a great impression?
FACT: In 2022, Microsoft Teams reached 270 million users, making it by far the most popular business communication platform.
And it is not surprising.
Other than instant messaging, Microsoft Teams comes with amazing functionalities like group and private chats, file sharing, video calls, etc., making it one of the best team messaging and collaboration apps out there.
And if you are also getting ready to jump the wagon, you must know basic chat messages and online meeting etiquette. Going by these etiquettes will help you improve collaboration, productivity, and engagement with your colleagues, whether you work with them in the office or remotely.
So, this is exactly what we are going to talk about in this article.
Let's jump right in!
Microsoft Teams Etiquette – The Do's
#1. Download the Teams app on multiple devices
For a superior experience, you must download Teams on multiple devices.
For instance, if you have Outlook on your phone, you should have Teams too. The app gives you some features that are not available on the browser version.
And while using Teams on the browser or your phone is OK, you can experience the best of Teams experience by downloading it to your computer only. Once you do that, you can enjoy features like:
Together mode
White-boarding
Creating and joining breakout rooms
Blurring your background during video calls, etc.
#2. Set up notifications
The whole point of chatting is to be able to communicate with each other more quicker. Set up accordingly so you get notifications of the messages and can respond in time. You can save, bookmark, and pin important chat conversations. 
You don't want to get overwhelmed by notifications at the same time, so in case you need to, you can toggle off all but your highest priorities.
#3. Learn when to use what
MS Teams gives you a lot of choices in terms of communication. You can send an email, an IM, or a meeting invite. So, which one should you go for? Let me help:
Use IM and chat for internal teams
Use email mainly for summarizing projects, whether with internal teams or outside stakeholders.
Text can be slower sometimes, whether chat or IM. For things that need the quickest resolution, jump on a voice or video call.
#4. Follow Microsoft Teams chat etiquette
Chat etiquette tips in itself is an extensive topic, but here are some important ones:
Use emojis effectively – Chat apps don't have to be boring, and you can express yourself with some fun emojis, memes, etc. Just be careful about overdoing it and making your colleagues uncomfortable with it.  
Prefer sending links to attachments – MS 365 can co-edit documents—that is, edit Word, Excel, and PowerPoint files simultaneously with others, and you must take advantage of its integration with MS Teams. Send links to documents rather than attachments to avoid multiple draft copies cluttering your inbox.
Keep messages concise and to the point – Remember, this is about saving time, so short and concise messages are the norm. 
Check the availability status before starting to chat (respect DnD, etc.) – Availability status is there for a reason. Be aware of the different availability statuses on MS Teams and message your colleagues accordingly. 
#5. Create new Teams mindfully
If you need to make a specific Team, it is always best to check whether it already exists. And if it doesn't, the mindful approach is to get the group consensus before you add them to a new Team. You can take care of most work by making a new channel in an existing Team.
#6. Follow video meeting best practices
Video meetings are more personal, and following best practices for video conferencing can greatly enhance the experience of everyone involved, like:
Join a few minutes early to show respect and avoid frustration around waiting. 
Use video conferencing only when you have uninterrupted internet. No one likes to struggle to see or talk to you when they cannot. 
Joining on mute is like the holy grail of a video meeting. Nothing can ruin a video call like background noise coming from any participant. To this end, it is also important to stay muted while you are not talking. 
Follow a detailed agenda to save time at everyone's end. You can use the Microsoft Whiteboard app to visualize what you are collaborating on. There are also various apps you can integrate that can help you streamline agendas, add polls to your meetings, and much more.
Enable video – It is good etiquette to show your presence professionally on a video call. Simply keeping the video icon disabled suggests you are not fully involved (and you probably aren't) and makes you look unprofessional. 
Be professional while sharing your screen by paying attention to the visibility and zooming in so everyone can see it clearly.
Use chat to minimize distractions by sharing documents and asking questions separately.
Record meetings for future reference as it may help you go over important points again at your convenience. 
Mute other devices and apps while you are speaking to avoid causing any distractions to yourself and others. 
Have a moderator for large meetings so he can take care of the meeting guidelines, reminders, and also the questions received on chat.
#7. Pay attention to the tone. Always.
Especially in text, your tone may not always translate as you intend it to. Therefore, be extra careful with your IM and chat tone and make sure it is always constructive. If necessary, join short internet workshops to learn how.
#8. Repeat only when necessary
One of the best upsides of most chat platforms is that you can search through conversation history and avoid repeating yourself. Do the same with Teams and save time for yourself and your colleagues.
#9. Set up a friendly out-of-office response
You can set up your out-of-office response in Teams separately or your Outlook out-of-office response will display in Teams. Make it more suited for a messaging app by saying something like 'Thank you for your message', rather than 'Thank you for your email'.
#10. Understand privacy
No work-related IT tools have privacy anyway, so it must be obvious. But for the sake of clarity, please note that your conversations on MS Teams are not private. Your IT Team may audit Chats, Teams, and meetings.
And even though you can have 'private' chats and channels, they are simply 'separate' from the main channels and chat, and not private as such. IT team and the organization ultimately has access to them also. Act in respect of this truth.  
Microsoft Teams Etiquette – the Don'ts
#1. Do not over-invite members to Teams
Just like you don't crowd your boardroom with people who aren't required for that meeting, you must not over-invite members to teams. Inviting only the key stakeholders is good sense, and drawing a list will help.
Also, in case you are thinking of inviting guests to a Team, you must know that they have access to almost everything in a Team, including past discussions. Only invite them with IT approval and if your team members are OK with it.
On the flip side, if you are a part of an unwanted Team, politely contact the owner and take permission to leave.
#2. Do not rename teams and channels without notifying members
Inform your team well in advance and take their consensus before you rename a channel. If you do not, the consequences can be quite frustrating.
The name change that you perform in Teams is not reflected in SharePoint. In SharePoint, if you change the name of the folder that is connected with a Teams standard channel, this will temporarily break the Files tab of the channel, and you don't want any of this!
#3. Don't just say hi
The most annoying kind of messages found in the world is the ones that just say 'hi', and then, crickets… You keep waiting, but it is as if the other person has decided to put the phone down after saying 'hello'. I beg of you, don't do that.
Instead, clearly state your objective of saying hi or hello, if you have one, and if you don't, wait till you have one.
#4. @mention mindfully
You only mention people when it has to do with them directly or you are expecting a response, isn't it?
So, mentioning your entire channel is a very counter-productive practice as it is a time waste on everyone's side. Not just that, many of your colleagues may be in different time zones and you may be disturbing them simply by mentioning the channel and notifying them.
On the other hand, not everyone may follow new channels automatically. Calling out new members will help them get their notifications set up, so this can be a practice you can embrace.
#5. Do not use priority notifications unnecessarily
Keeping in line with the point above, you should only use priority notifications in case of real urgency. For giving an extra nudge, simply @mentioning the person in chat is enough.
If you message someone with the priority notification, you're implying a higher urgency than if you @mention them in a conversation. For doing that, click the "!" in the text toolbar to reveal the bell. The recipient will receive notifications every two minutes for twenty minutes or until they read the message.
#6. Use private chats for what it is meant to be
Private channels are not meant for large team decisions, but they are the safe space for brainstorming, private asides, and impromptu follow-ups. It may be productive to connect with your colleagues separately in case of high-priority projects or innovative stuff, etc.
Also, you don't have to be formal when it comes to private chats. Don't worry about the greetings, emoji restrictions, and things like that. Let your personality shine and you can make meaningful connections with your colleagues in private chats.
Remember, when you set up a private channel, only people invited to the channel can see conversations and access files. It doesn't even appear in the channel directory.
#7. Do not overwhelm yourself
MS Teams is ramping up its functionality every day and there is a lot of stuff out there that you can use. However, it is meaningless to overwhelm yourself by worrying about how you can use all of it.
Only use what is useful to you and occasionally explore the new functionalities to see if they serve any purpose to you.
#8. Keep your channel listing simple
Keep your channel listing simple from start and let it evolve naturally. You can keep one channel for fun stuff like memes and GIFs, one for asking meta-level questions, one for general announcements not fit for other channels, etc.
It is also common to end up with too many channels, as people tend to create new one whenever they have something new to discuss. This is counter-productive and you should avoid doing so.
You can also use channel moderation to restrict who can start conversations in a specific channel. You can prevent guests from starting conversations but allow them to reply, etc.
#9. Do not cross-talk
Cross-talking is bad manners, in the real world, as well as in the corporate. The same goes for messaging and chat platforms that connect remote colleagues. Especially in a video meeting wait for the other person to complete, and then start talking.
#10. Do not forget to keep Teams clean and organized
As an owner of a Team, you should stay up to date on adding and removing members from it. Also, adding a unique photo to the Team profile gives it personality so you might like to do that.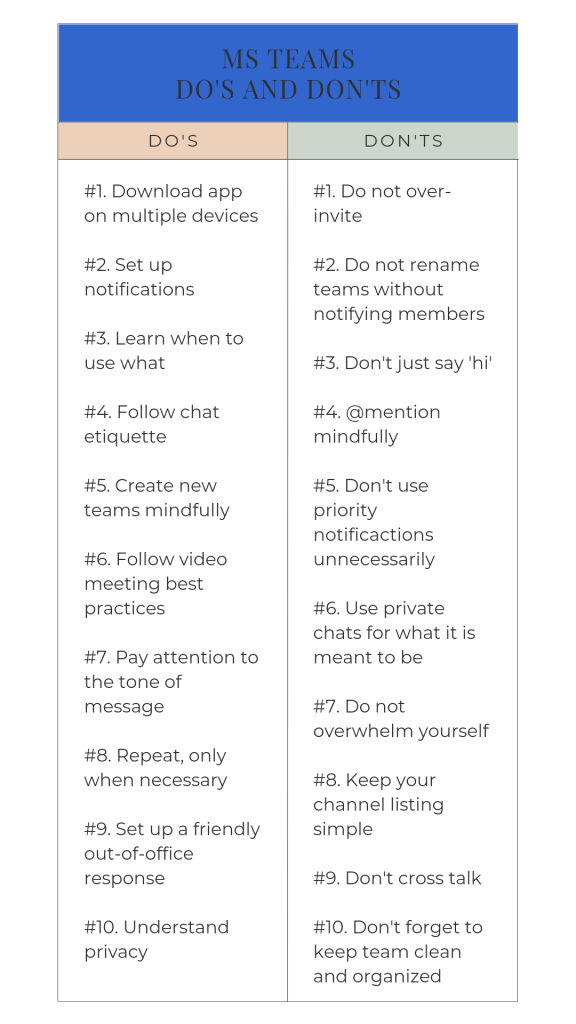 Conclusion
I hope that with the dos and don'ts we discussed in this article, you will have an enhanced experience of MS Teams, while making a professional impression at the same time.
All the best!