Are you considering using Slack or Zoom but aren't sure which one is better? In this post, we'll compare Slack with Zoom and help you decide which one to use in your organization.
FACT: As of 2021, more than a quarter of US employees work remotely.
Not just this, these numbers are likely to increase as more than half of the US employees favor working with companies that allow remote work as part of their work culture.
And so, it becomes important that companies empower their workers with tools that allow a real-life experience and help them stay connected even when working remotely.
People should be able to talk to their colleagues and stakeholders easily and collaborate with them just like they would in person. They should be able to meet face-to-face when meeting in person is not possible.
Zoom and Slack are two leading tools that make this possible.
Even teams working together in the same office benefit immensely from these collaboration tools by working out of the silos and keeping in touch closely.
So, in this article, we'll elaborate on both of these tools and compare them to help you choose the right one for your organization.
So, let's get going!
What is Zoom and its key features?

Zoom is a cloud-based video conferencing app at its core, and was launched in 2011. Although it reached a total of one million users in 2013, it was during COVID-19 that Zoom emerged as a market leader.
In March 2020, it saw a record download of 2.13 million times in one day, and by April 2020, it had a total of 300 million daily meeting participants.
Zoom truly gave a platform for people to come together and continue with their lives when they seemed to stall during the pandemic. Its innovative approach and ease of use are the biggest strengths that kept it ahead of all the other video-conferencing apps that existed at the time (yes, it wasn't the first one!).
Zoom's key features and products include:
Meetings: HD audio and video collaboration with virtual backgrounds
Marketplace: Integrations and bots to use with Zoom
Zoom phone: Enterprise and cloud phone system
Zoom events: All-in-one platform to host virtual experiences
Team chat: Connect with your teammates conveniently
Conversation intelligence: Conversation analytics to improve sales
Whiteboard, and: To create and collaborate in and out of meetings
What is Slack and its key features?

Slack is a cloud-based messaging and collaboration app at its core and was launched in 2013. Unlike Zoom which was a late but innovative entry into an already crowded video conferencing space, Slack is one of the original remote team collaboration apps.
It is a workplace communications tool where teams can stay connected through instant messaging, voice, and video calls, and can also share files and tools. You can also use Slack to communicate between teams of different organizations.
Slack did two things really well to become the leader in its space – design and responsive user interface that keeps evolving as per user needs.
As of 2023, the number of people using Slack daily exceeds 10 million, and 43% of Fortune 100 businesses pay to use Slack. 
Once you download Slack and create your account, you create your Slack instance which is your identity on Slack. All conversations happen in a chat window.
Slack's key features include:
Messaging and file sharing, voice, and video calling
Slack connect
Using shared channels across workspaces
Pinning messages and reference links to channels
Managing and tracking documents
Advanced search modifiers
But which is better, Slack or Zoom?
Now that we have a basic understanding of what Slack and Zoom are, let us get into detail about their features, and how they fare against each other.
Chat
Slack is a pioneer in-office messaging/ chat service.
The key place for team communication in Slack is 'channels'. Basically, a Slack channel is a group created specifically for a purpose, like on a certain topic or between a certain team.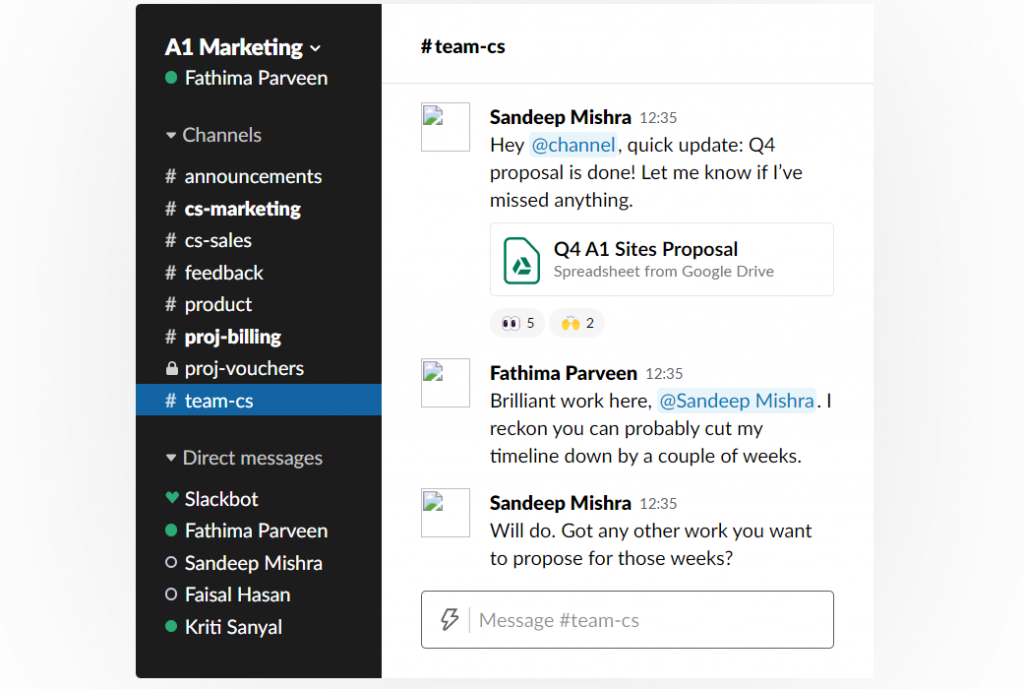 A team can share messages, tools, and files on channels, and they are often created for:
Company announcements
Customer support triage
Asking for IT or HR help, and
Sharing social interests, etc.
Channels can be public (open to everyone at the organization) or private (invitation-only).
Within the chat functionality in Slack, Slack connect allows you to share a channel with external partners like agencies, clients, and vendors. This lets you have instant access to them from your own workspace.
With Slack chat, you can:
Organize your work through conversations: When there's a channel for everything, you can focus on the conversations and work that matters most to you.
Create alignment: Channels provide you and your team with a shared view of the work. With access to the same information, everyone in the channel can work in sync, and new members have full context when they join.
Be more productive: Use your conversation archive to find answers, get context and make better decisions without chasing people or information.
Zoom Team Chat
Besides their state-of-the-art video conferencing service, Zoom also offers a messenger app called 'Zoom Team Chat'. This is a dedicated chat tool that lets you send messages outside of the meetings when voice or video collaboration is not required.
You can launch the messenger app from the same app used for meetings and video conferencing, both for mobile and desktop.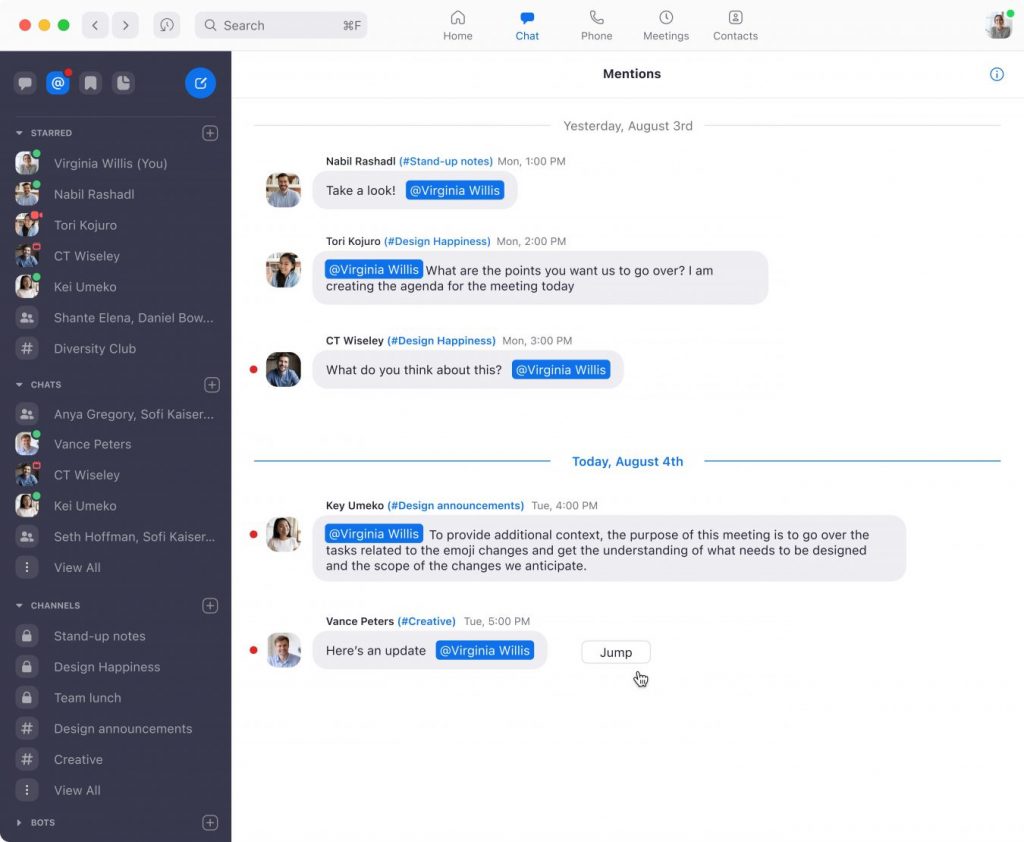 Zoom Team Chat features channels similar to Slack where you can create public or private groups for up to 10,000 members.
With Team Chat, Zoom users can have one-to-one or group conversations that are public or private and:
Send audio, video, and animated gif messages
Star and pin messages for later
Create a personal space for personal files and reminders
Send audio and video files, including gifs, code snippets, slash commands, etc.
Set message reminders
Archive and store messages
Edit and delete messages sent in the app, etc.
Feature comparison summary: As you can see, both Slack and Zoom provide extensive chat functionalities, however, Slack surely shines through with Slack connect and no limit on the number of users as opposed to the 10k user limit in Zoom.
Also, when it comes to chat, Slack provides more diverse functionality than Zoom overall.
Audio and video collaboration

'Zoom meetings' is the industry leader in virtual meetings with:
HD audio and video meetings with support for up to 1000 video participants and 49 videos on screen.
Built-in collaboration tools for a more interactive virtual meeting experience with simultaneous screen sharing and co-annotation.
Built-in Engagement tools like filters, reactions, polls, hand raising, and music or video sharing, make virtual meetings more fun and engaging.
Meeting recordings and searchable transcripts help you recall important conversations and points at your convenience.
Streamlined calendaring allows you to schedule meetings directly from Outlook, Gmail, or iCalendar.
In case you want to take virtual collab to the next level, Zoom has plenty to offer too, with:
Zoom whiteboards let you share or create real-time interactive whiteboards in Zoom meetings. They work across all supported Zoom hardware platforms, from laptops to in-room full-size Zoom Rooms for Touch devices.
Zoom events let you build completely virtual or hybrid events with functionalities of registration, branding, uploading speakers easily, managing ticketing, etc.
Zoom spaces take workplace collaboration to the next level by providing solutions for deploying intelligent hybrid workplaces. Ranging from customizable workspace reservations and kiosks to digital signage and scheduling displays, Zoom has cutting-edge solutions for modern office needs.

Slack calls let you make voice and video calls to connect with anyone in your workspace. You can make these calls in 1:1 DMs, group DMs, and channels.
In a paid subscription, you can start a call with up to 14 other people with features including:
Mute and unmute yourself
Turn video on or off
Invite others to a call
Share your screen on desktop
Draw on your screen on desktop, and
Let others draw on your screen on desktop
However, Slack calls won't be available after 30 March 2023.
Instead, Slack has launched 'Huddles and Clips' as their primary service for audio and video collaboration, in a Slack-unique way.
Slack huddles are an audio-first way for teams and external partners to come together and collaborate inside a Slack channel or direct message. Think of the informal/water cooler discussions colleagues and third parties have when in the office – huddles mimic that experience.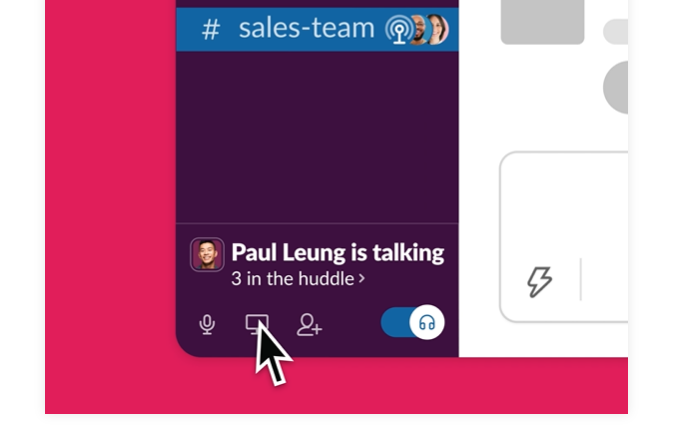 When a huddle is open, any member of the channel or DM can come and go as they please. Anyone present can share their screen, and others can draw on it. There's also an option for live captioning.
Huddles are great for:
Open-office hours in any channel
Brainstorming sessions after or before meetings
Addressing 11th-hour stakeholder feedback
Social get-togethers, etc.
Slack clips allow you to create short audio, video, and screen recordings to share an update on your own time. With clips, you can
Showcase your work
Go through a product demo, or
Give step-by-step instructions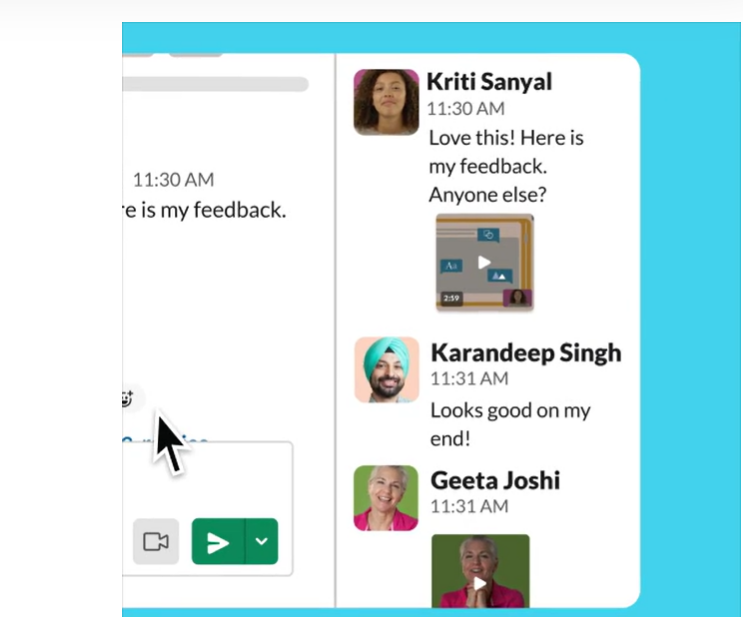 Members can access these clips at their own convenient time across time zones and physical spaces, giving immense flexibility to collaboration. The members can speed up the clips, slow them down, or simply read the captions.
Clip transcripts are archived and searchable, adding to your organization's knowledge history. Truly awesome, isn't it?
Feature comparison summary: Zoom is clearly highly focused on providing cutting-edge formal video communications at all levels, whereas Slack focuses more on the informal hustle and people communicating at their own convenience.
Also, when it comes to video, Zoom provides more diverse functionality than Slack overall.
Integration
Slack is big when it comes to app integrations, as it believes that you should be able to bring all your tools to Slack and continue working without switching apps.
So, Slack lets you integrate any and all of your apps with it for free!
From integrating live chat tools like Social Intents, and departmental tools like Polly, to custom apps, Slack welcomes all. In fact, they also announced their partnership with Zoom in 2019, in an effort to
Zoom also allows you to combine a number of your favorite tools with it, including Slack. With just a few clicks, you can integrate your favorite applications like Google workspace, MS Teams, Zapier, etc. with Zoom.
Security and privacy
Is Slack safer than Zoom?
Well, user security is surely one of Slack's top priorities, with features like:
Identity and device management: Single sign-in, domain claiming, enterprise mobility management, etc.
Data protection: Data encryption at rest and in transit
Information governance: Global retention policies, custom terms of service, etc.
However, Zoom is not so far behind with:
A range of authentication methods such as SAML, OAuth, and/or password-based.
Integration with many enterprise identity management platforms like Okta and many others, etc.
Price
It is not possible for an apple-to-apple comparison between them in terms of pricing, as they provide different functionalities.
But both Zoom and Slack offer free plans to start with, and then you have the flexibility of choosing plans based on your organization's requirements.
Here's what their free plans look like: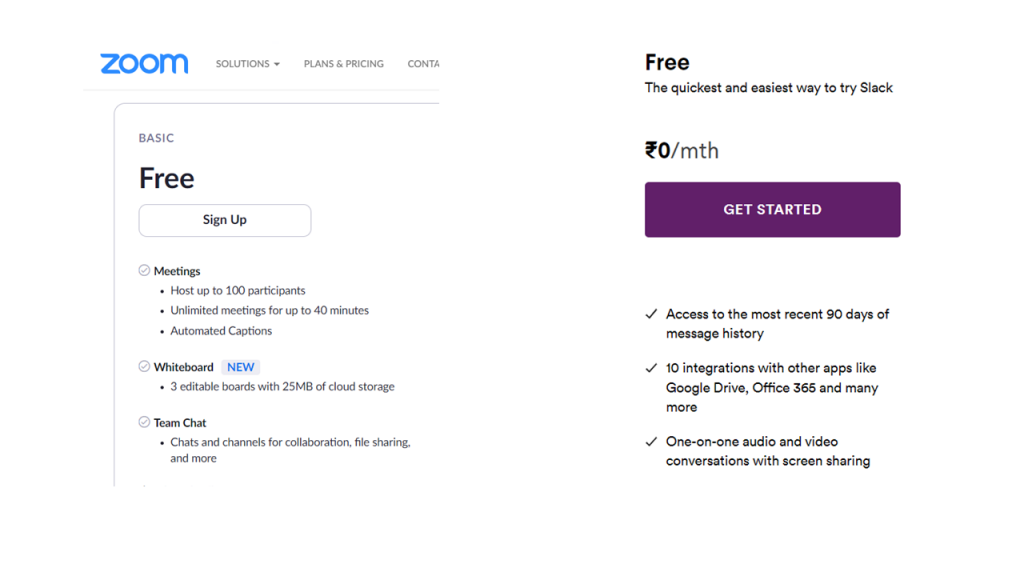 Here's what we think
Both Zoom and Slack are industry leaders and have plenty to offer overall across functionalities.
The thing to remember is that their core functionalities, i.e., what they were built for, differ.
If you are leaning towards video-first collaboration, Zoom may be the way to go forward, but if you want your team to engage with each other frequently in a non-intrusive manner, Slack may be the way to go.
And even if you are unable to choose one over the other because of any reason, don't sweat. Zoom and Slack integrate well with each other, and you can enjoy the key features of both, by investing in any one.