Are you planning to deploy chatbots to boost sales? Wondering which sales chatbots to use?
Did you know? The average satisfaction rate of bot-only chats is 87.58% and chatbots were able to handle 68.9% of chats from start to finish on average in 2019.
This means that though the top use for chatbots may be to have a faster response time, they are getting more and more advanced, and can satisfy human interaction.
It is natural to be skeptical of a sales pitch, especially if a machine is pitching. But as more consumers use conversational marketing for purchases, they also become more accepting of the presence of chatbots.
So, in this article, we will discuss how you can use chatbots for sales support and the top sales chatbot tools available in the market.
Let's dive in.
How to Use Chatbots for Sales – Top Features and Benefits
#1. Be present for your customers 24×7
Research says that 8 to 9 pm on Mondays and Thursdays are consistently the most popular times for online shopping. So if you were thinking that by working within business hours, your online business could thrive, think again. And if you are selling internationally, you must take the time differences into account.
A business that is available 24/7 is a winner today. But hiring agents to work 24/7 can be expensive and unrealistic. Even if you can afford it, why not save some bucks by using the technology intelligently?
Chatbots help you be present for customer engagement 24×7 without costing a fortune.
#2. Do not let language become a sales-barrier
As many as 58% of small businesses already have international customers. So it may be the case that your live chat support teams are talking to consumers in different countries, with different languages.
Chatbots can provide multi-lingual chat support by translating foreign languages to your language in real-time. You no longer need to drop queries because of language gaps.
Pre-qualify leads with proactive messaging
All of us at this point have already been proactively greeted by a chatbot when we land on a website, like: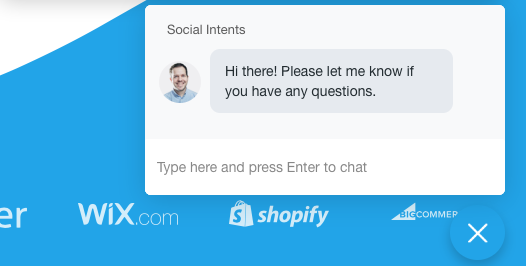 Proactive chat can literally convert strangers into qualified leads by allowing chatbots to pop up and start providing support to the visitors even before they ask for it.
Create logical chatbot conversation flows considering the customer journey and qualify leads for your business. Remember to prioritize the questions, as it is important to say the right thing at the right time!
Also, make use of clickable answer buttons in the chat window for a lightning-fast chat experience. Something like this:
#3. Transform social media pages into sales engines
Did you know that social sales generate more than 50% of revenue across 14 major industries? And we are talking about some major industries here including healthcare, logistics, etc.
So, adding chatbots to your social media pages can boost your sales dramatically. Your customers can resolve their sales queries on your social media page itself, without having to go anywhere else.
Here is how FB messenger is already using chatbots for businesses: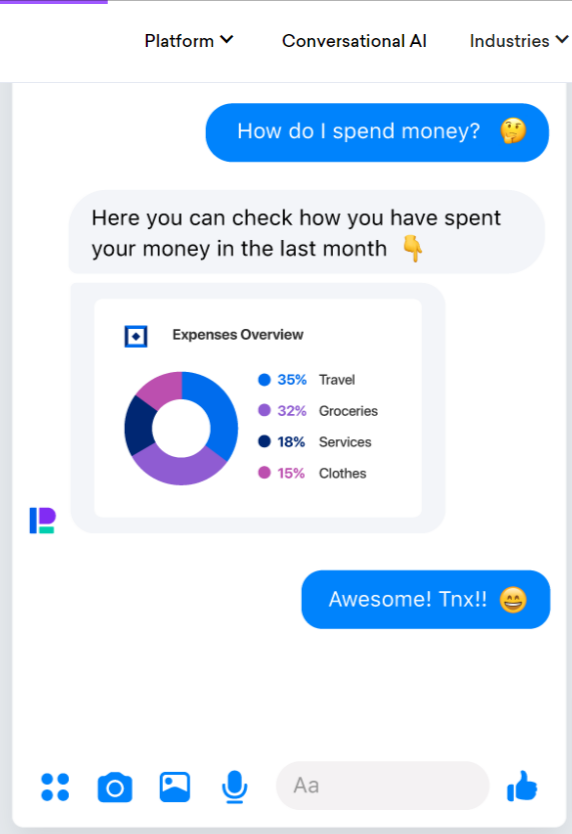 #4. Boost conversion rates with artificial intelligence
Don't you just love it when your favorite shopping platforms recommend products aligned with your taste and past purchases? It feels personalized, simplifies your decision process, and saves you the time of scrolling through a dozen product pages.
You can do the same for your potential customers by deploying chatbots for product recommendations.
AI Chatbots can ask people a few questions and give them perfect recommendations for faster conversion. Not only do you enhance the customer experience in the process, but you will also gather important insights that help you build a better business. Here's an example: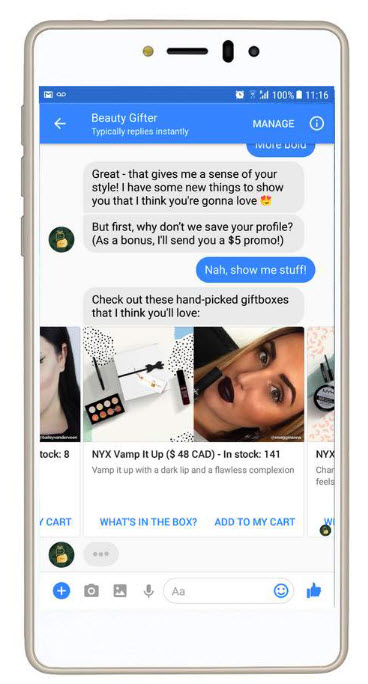 Chatbots can also recommend products based on the price category, thereby narrowing down the customer search quite a bit. By placing chatbots on the pricing pages, chatbots can also answer pricing queries faster and aid the sales conversion process.
#5. Minimize sales cart abandonment
Ever abandoned a shopping cart and got push notifications for additional discounts on it? But that's not the only reason. People go through the whole sales funnel and leave at the very end for a variety of reasons, like:
Extra costs
Slow delivery
Complicated checkout process
Security issues, etc.
Organizations keep finding novel ways to reduce shopping cart abandonment, simply because converting a potential client who went all the way should be relatively easier. And it is, with the right tools. All you need is to make a relevant offer they cannot refuse!
One way to do this is through chatbots, and they do an amazing job at it by:
Answering customer questions
Offering discounts
Assisting hesitant visitors proactively
#6. Support future sales
Consumer reviews are playing such an important role in sales today as never before. A report says that 92.4% of customers are more likely to purchase a product or service if they have been able to read a trusted review about it.
But how many customers do take time out by themselves to leave a review? Not many.
But the cool thing is, 71% of customers will leave a review IF ASKED. And chatbots can help you do that.
Immediately after a purchase, a chatbot can prompt the customer to leave feedback. You can program the chatbot to collect feedback in various ways:
Clickable buttons for star ratings
Clickable buttons with pre-written responses for faster feedback
A free flow text box to get a more subjective feedback
Discount offers and vouchers to encourage people to share feedback, etc.
Here's a glimpse: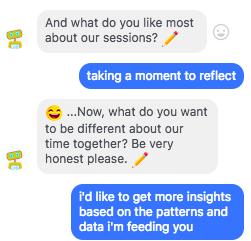 You can even connect your chatbot to email and let it send emails to clients asking for feedback. This gives them time to respond at their own convenience and might suit some people better than giving feedback instantly.
So now that you know how to use chatbots for sales, let us move on to the best sales chatbot tools that you can work with.
Check these out.
Best Sales Chatbot Tools for 2023
#1. Social Intents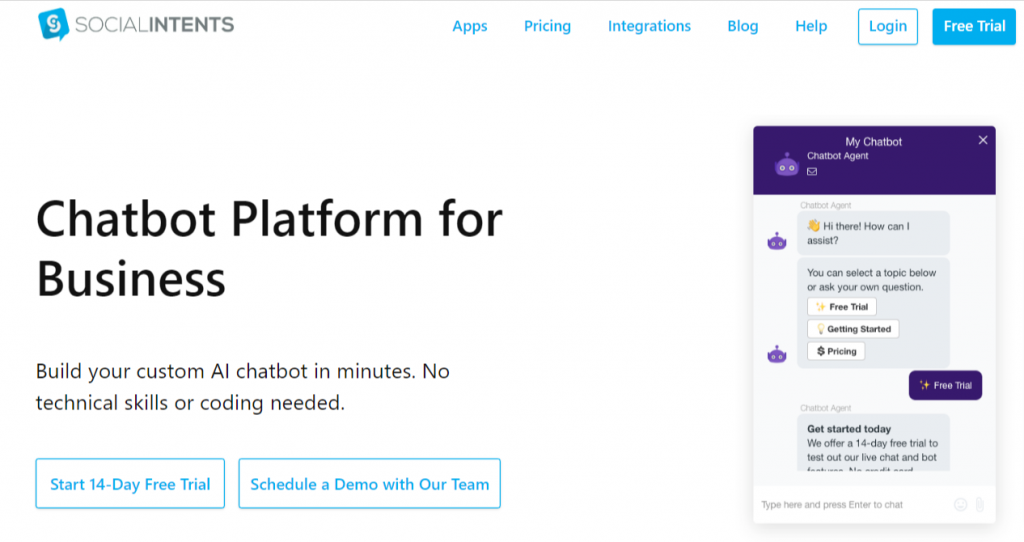 Social Intents (disclaimer: this is our product) offers a robust live chat functionality for companies looking to implement the channel without having to learn new tools. It integrates with some of the most popular communication tools directly – MS Teams, Slack, and Webex.
So if your organization uses any of these tools, Social Intents is the ideal tool for you and you can launch live chat for sales within minutes.
With Social Intents, you can build your custom AI chatbot in minutes without any coding experience or technical skills.
It is super simple to set the chatbot up:
Create a live chat widget on our website
Create your Dialogflow agent (Leverage our integration with Google's Dialogflow to create advanced natural language chatbots online.)
Connect live chat and Dialogflow
Here is how you can boost your sales with the Social Intents chatbot:
Customize the chatbot with your brand colors, logos, text, default responses, etc.
Have your chatbot respond as soon as a visitor starts a live chat.
Answer visitor questions including sales queries
Collect customer information to use for different purposes, including better sales.
Generate leads and qualify leads with proactive messaging
Enable your Chatbot to come automatically when your live agents are offline or miss a chat
Create a chatbot-only live chat widget to be your virtual agent
Have your chatbot respond with quick reply buttons, cards with images, and buttons. It looks something like this: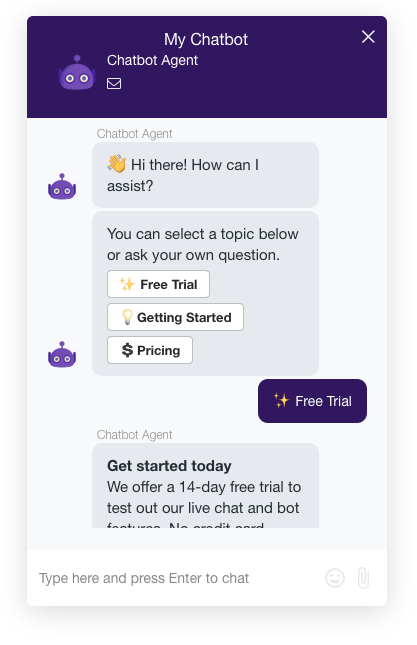 With Social Intents, your agents can take over the conversation with customers at any time and can view conversations in real-time right from Slack or Microsoft Teams.
Pricing: You can get Social Intents custom chatbots in their Pro Plan at $99. The plan includes live chat functionality on 6 websites and 6 chat widgets with unlimited agents, so you can scale your sales effort without having a second thought.
#2. ChatBot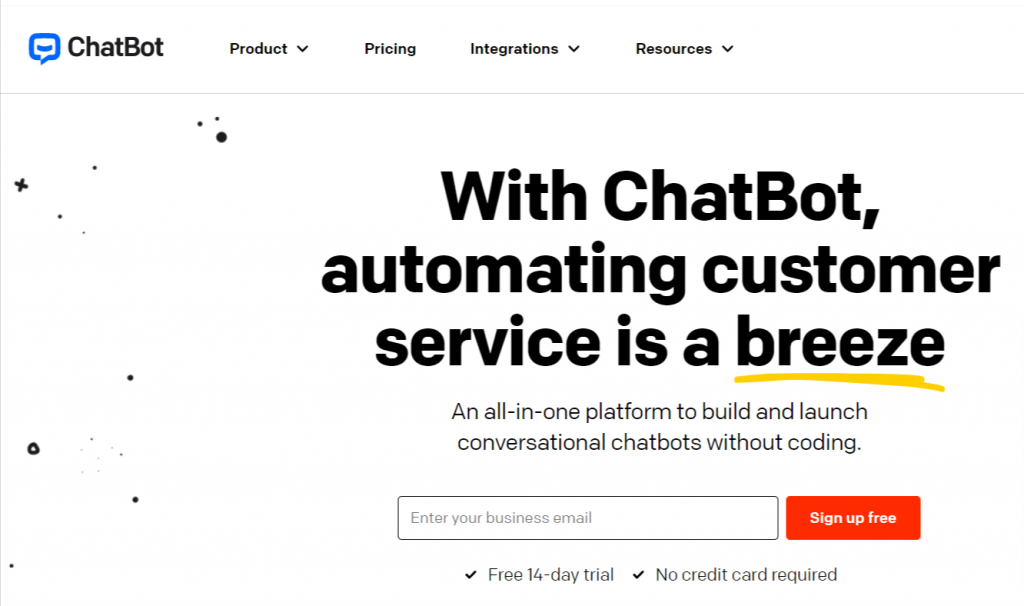 With ChatBot, you can automate your sales process with conversational chatbots. With ChatBot's visual builder you can comfortably design AI chatbots using a smooth, drag-and-drop chatbot builder.
Drag and drop conversational elements, and test them in real-time to design engaging chatbot Stories. You can look at even the most complex stories on a single screen, and get full control over the building process.
Here is how you can grow your sales using ChatBot:
Collect information about potential customers through personalized conversations
Send data and information collected during chats automatically to your CRM
Schedule meetings with potential clients using a chatbot.
Enable visitors to call you directly from the chat widget and connect leads with your sales reps in real-time.
Pricing: The pricing for ChatBot starts at $42 and includes 1 active chatbot. It doesn't include any live chat functionality. Unlimited chatbots only start at $424 per month.
#3. Aivo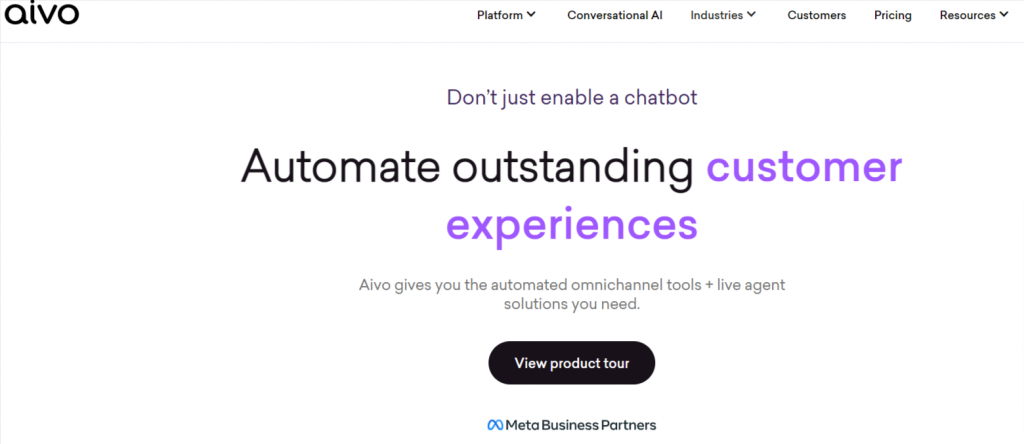 Aivo provides AI-powered customer solutions for different types of industries. Aivo chatbots are built for intelligent interactions that do not sound 'bot like', rather they are capable of:
Error-proof conversations through their semantic engine
The exact answer for every question by identifying intent and relevance
Following the conversation thread
Keeping the local language natural with its informal dictionary
Design conversational experiences without coding and:
Understand your customers' behavior and increase NPS
Provide the same service experience across all channels. Aivo's platform adapts answers automatically based on the text or voice channel.
Promote launches and promotions, report new developments, and improve your website's conversion rate with ads that invite conversation.
Measure satisfaction and identify the questions and answers that impact your customers' experience the most.
Explore your customers' unresolved interactions, and find new content, vocabulary and ways to phrase questions to continually improve service.
Pricing: Aivo pricing starts at $75 per month.
#4. Kindly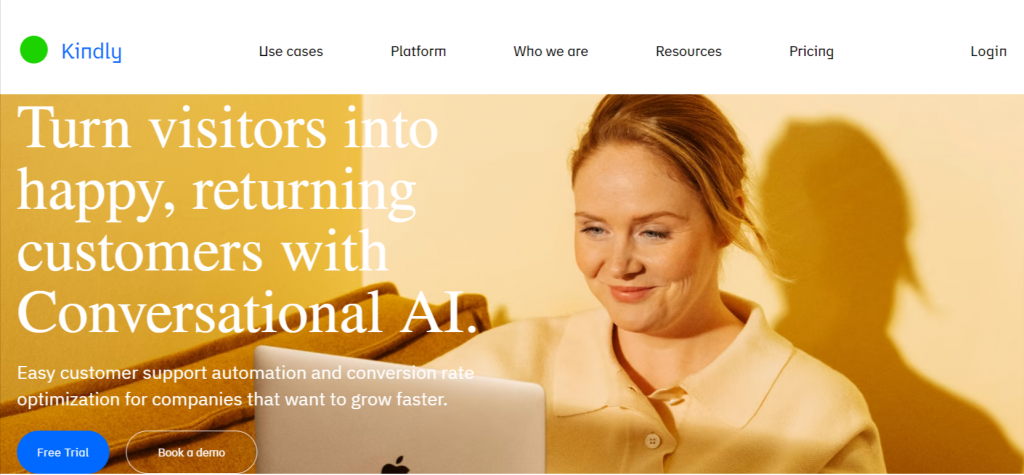 Kindly focuses on e-commerce conversational AI and provides specific solutions accordingly.
Here are some of the things they claim their conversational AI can do:
Start the conversation and turn online shopping into conversational commerce.
Increase customer satisfaction by up 80% and delight shoppers at any stage of their journey with our conversational AI.
Scale your business with on-site optimization and cart abandonment solutions, and increase conversion rates by up to 12%.
Enable 24/7 availability and increase customer support effectiveness by automating up to 80% of customer inquiries.
Kindly's AI chatbot directly engages with online shoppers, so you can automate the repetitive stuff while your sales agents focus on more complex issues.
Just like an in-shop persona assistant, Kindly's chatbots sell proactively and help the customer find what they need by making recommendations.
Pricing: You can try Kindly free for 14 days, and after that get in touch with them for suitable pricing plans.
#5. MobileMonkey

MobileMonkey provides automation with AI through text messaging, Instagram, Facebook messaging, and also webchat.
It provides customized AI solutions in three different categories:
For agencies
For in-house marketers
For small and medium-sized businesses, creators and coaches
OmniChat is their patented chatbot marketing technology. Some of the features of OmniChat are:
Write chat content once, and use it on every chat platform with their multi-platform chat builder. You can create chat blasts and chat drip campaigns as well as website chat dialogues, just once and use it across webchat, SMS/MMS, FB messenger, Instagram, and WhatsApp
Customers can message a business and opt-in to automated updates in Facebook Messenger, native website chat, and SMS. And you can stay in touch with customers anywhere they are chatting from — and anywhere you are — with a multi-channel chat inbox mobile app for iOS and Android.
Use advanced customer support features like alerts, live agent takeover, contact tagging, and follow-up assignments.
MobileMonkey allows marketers to make Facebook ad bots, SMS bots, and native webchat bots in one place.
Pricing: Mobile Monkey provides pricing on request, separately for all three segments.
Conclusion
There you have it. A decent amount of information to assist you in making a decision about sales chatbots.
You shouldn't feel that scaling up is difficult when you want to, and the tool should function best with your type of business.
So go ahead and take the next step, we wish you all the best!