Are you considering adding live chat to your car dealership website? Wondering whether having a live chat there would help you improve customer experience?
It's true – Car sales are yet to return to the levels we experienced years ago.
But they are getting there.
That said, as encouraging as the data might be, the fact remains – Customers have more and more choices, also when it comes to where they get the car from, and for one, they're not shy from purchasing a car online. According to this source, nearly 30% of all new car sales last year were completed online. In comparison, before 2020, that number was just below 2%.
So, dealers' websites can no longer serve just as the company's brochures. They need to become online showrooms as well, which means more than just listing your stock.
Customers expect to be able to find and learn all about their next car online.
What's more, they expect their dealer to be able to provide customer support online, too, without forcing clients to endure a drive to their office.
How do you meet those expectations? How do you ensure that customers receive the same attention that they would if you had them walking through your lot?
The answer is by adding live chat to your website.
Keep on reading to learn more about how live chat could help transform your automotive company.
How car dealers use live chat already
Notice that I do not ask whether automotive companies use live chat. I know they do.
Here are just some examples.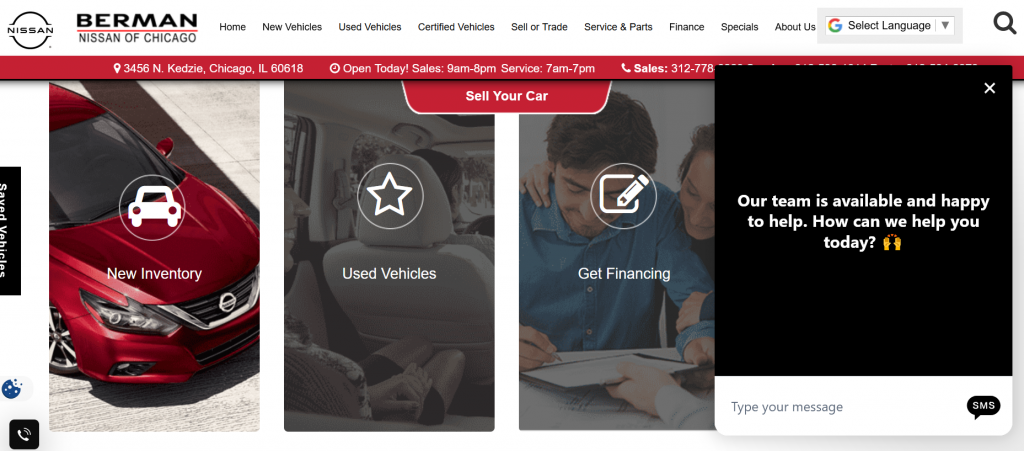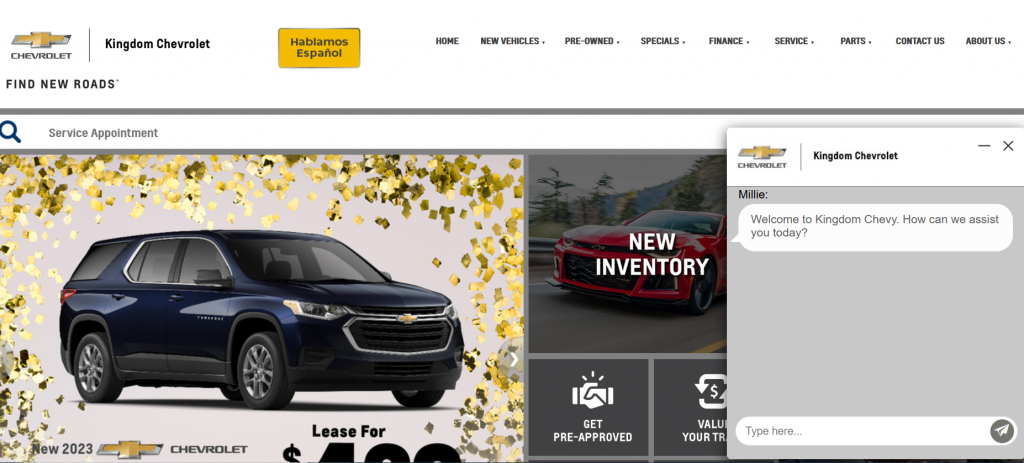 Live chat helps car dealers like these:
Connect customers directly with someone on the team. A customer doesn't have to dial any number or send an email, or worse yet, drive to the dealer's office. They can ask whatever questions they have without disrupting their online search for a car.
Provide product assistance. It's only natural that customers will want to ask you questions as they research their next purchase. Live chat allows them to do so as they learn more about a car they are considering. And that pretty much emulates what would normally happen if the customer was in your showroom.
Generate leads. Not every customer visiting your car dealership's website will be ready to buy a car. Some might not be in a position to take the transaction further. Others might need to discuss the purchase with their spouse, etc. Lead chat gives you the opportunity to collect their contact details and start engaging with them further until they're ready to discuss the purchase.
On top of that, with the ability to collect out-of-hours messages from customers, live chat can continue generating leads even when your dealership is closed for the night.
Provide live chat support and build stronger relationships with customers. Finally, live chat lets you be there for customers when they need you. It doesn't matter whether the person is at work or at home; they can use live chat to quickly discuss whatever issue they have or get an update on their service, and so on.
This, in turn, typically results in a much greater customer satisfaction and retention rate for car dealers.
But do customers really want to chat with car dealers?
Oh, absolutely! And we have data to prove it.
According to this research, for example,
38% of customers say that they're more likely to buy from a company that offers live chat support.
51% admit to having bought from a company again if they offered live chat support.
41% of customers prefer live chat to calling or emailing a business.
Here's why…
Live chat is convenient.
Customers can use live chat regardless of where they are. They might not be able to call your dealership from work, but they, most likely, can chat with your customer service or sales representative through live chat.
Moreover, contacting a car dealer through live chat takes less time than other communication channels. In most cases, the live chat conversation gets picked up immediately, meaning that customers can resolve their problems quickly.
Live chat conversations also happen in context.
Customers can reach out to your live chat agents while browsing your site. This means that chatting with them will feel almost the same as being in your showroom. The customer can ask wherever questions they have about a car while viewing information about it and pictures online.
Granted, they could do the same while calling you on the phone. But in this case, your agent wouldn't be able to see what the customer sees, and that could lead to a number of potential communication issues.
But live chat offers some amazing benefits to your dealership, too.
Scale is one of them. With live chat, agents can conduct multiple conversations at the same time. This means that you can scale your customer support without having to add more people to the team.
Moreover, features like canned responses allow agents to answer the most common customer questions without typing the entire answer.
Analytics data means that you can always tell how your live chat support works. From seeing the average response time to being able to analyze agents' performance, you can keep track of and continuously improve your live chat experience.
Improved website engagement. Live chat conversations keep customers longer on a page. That, in turn, only increases the chances of them ending up purchasing from you.
Also, pre and post-chat surveys let you learn more about your visitors and collect valuable audience data.
A pre-chat survey will help you direct a visitor inquiry to the right person like this: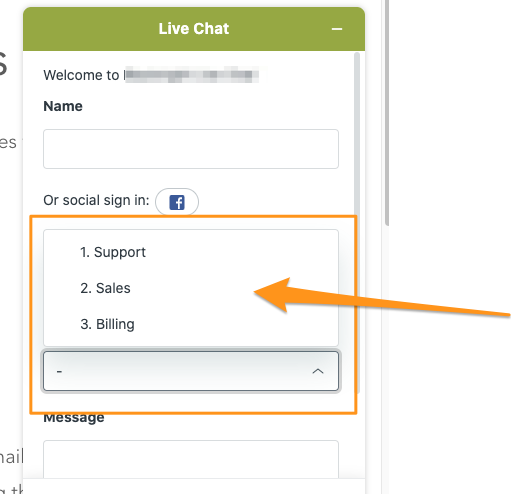 A post-chat survey, on the other hand, can help you evaluate the person's experience with your support or sales.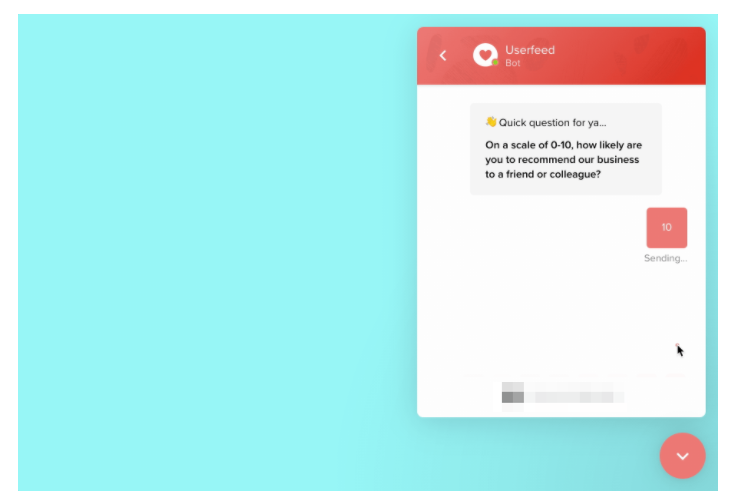 With each option, you can speed up the person's inquiry resolution and monitor the effectiveness of your live chat support.
Incredible, right?
Well, unfortunately, there is a problem…
You see – Adding live chat typically means three things:
You have to implement a new piece of software.
To manage live chat inquiries, your team will have to learn a new interface and master a completely new set of features. That, unfortunately, may take time and slow down your response rate, at least temporarily.
You also have to add a dedicated widget to the site.
Although most live chat tools make the process relatively easy, you still need to add the code to each page and customize the widget to match your brand. That can get really difficult if you don't have a dedicated development team at your disposal.
You need to develop processes to manage several communication channels for your car dealership.
And I can tell you that along with having to learn a new tool, this is by far one of the most frustrating aspects of live chat. You see, your teams, most likely, use tools like MS Teams or Slack to communicate internally already.
That's how they communicate, share messages and files, and get work done together.
But with live chat, whenever a visitor starts a conversation, they have to switch to another interface and process the inquiry there.
Not only that requires processes for managing different tools. It also means that you need to facilitate collaboration across two platforms. Your agents might need assistance from another department, after all. So, in this case, they'd have to switch back to Teams or Slack, ask a relevant colleague for advice, and copy and paste their response to the live chat.
Not only that's extremely time-consuming but it can also lead to serious human errors, omissions, and frustration for customers.
Luckily, there is another way…
How your car dealership can use live chat WITHOUT having to switch between platforms
A typical live chat software works separately from any other communication tools you might be using – Microsoft Teams, Slack, Zoom, etc.
It uses a separate interface, a different set of features, and keyword shortcuts, and basically requires agents to log in to the platform to process live chat conversations.
But that's not the case with Social Intents
Social Intents (disclaimer – this is our tool) is a live chat solution that makes it easy to talk to customers from the tools you already use – Slack, MS Teams, Zoom, or Webex.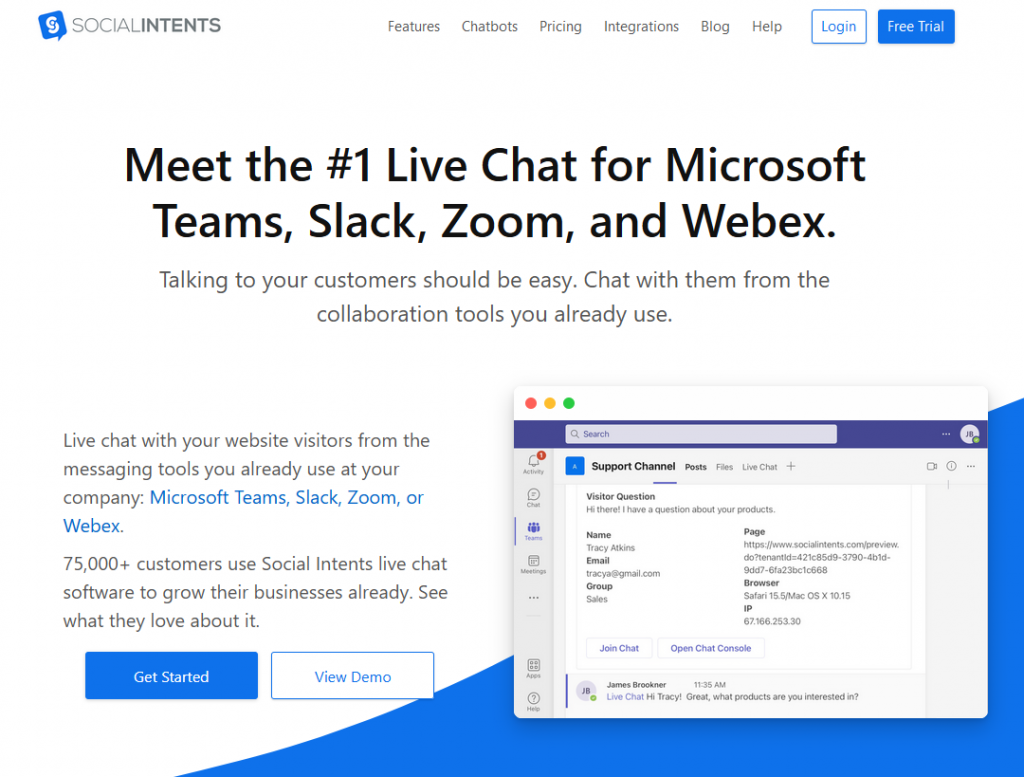 With Social Intents, you can chat with anyone visiting your car dealership's website without switching away from your messaging tool. Social Intents connects with your tool and routes all chat conversations there.
Your staff can pick up client conversations directly in Slack or Teams, like this: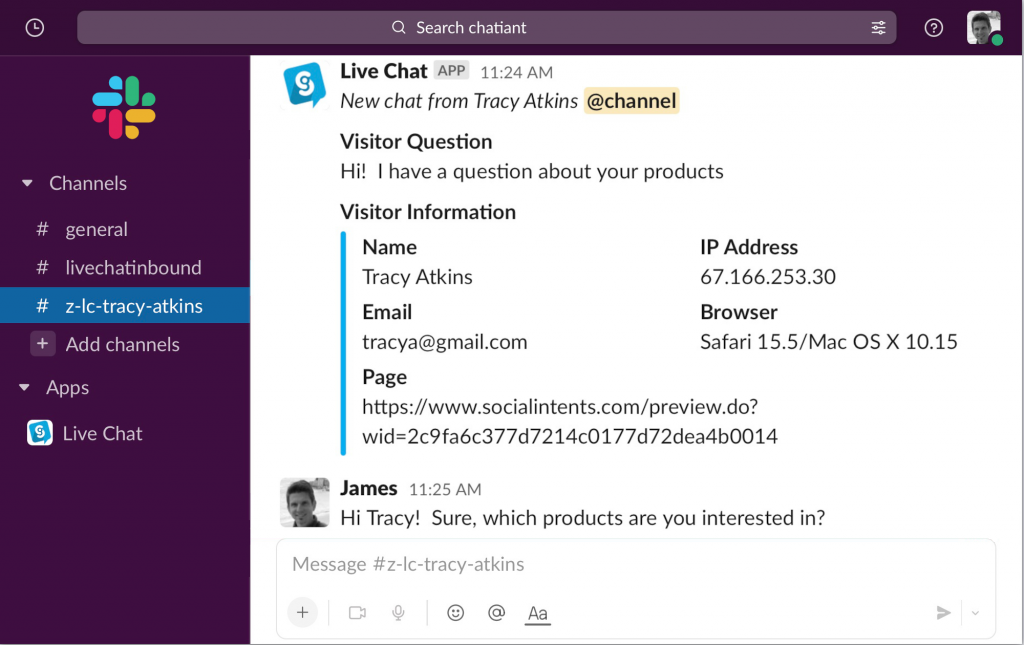 (Live chat in Slack with Social Intents)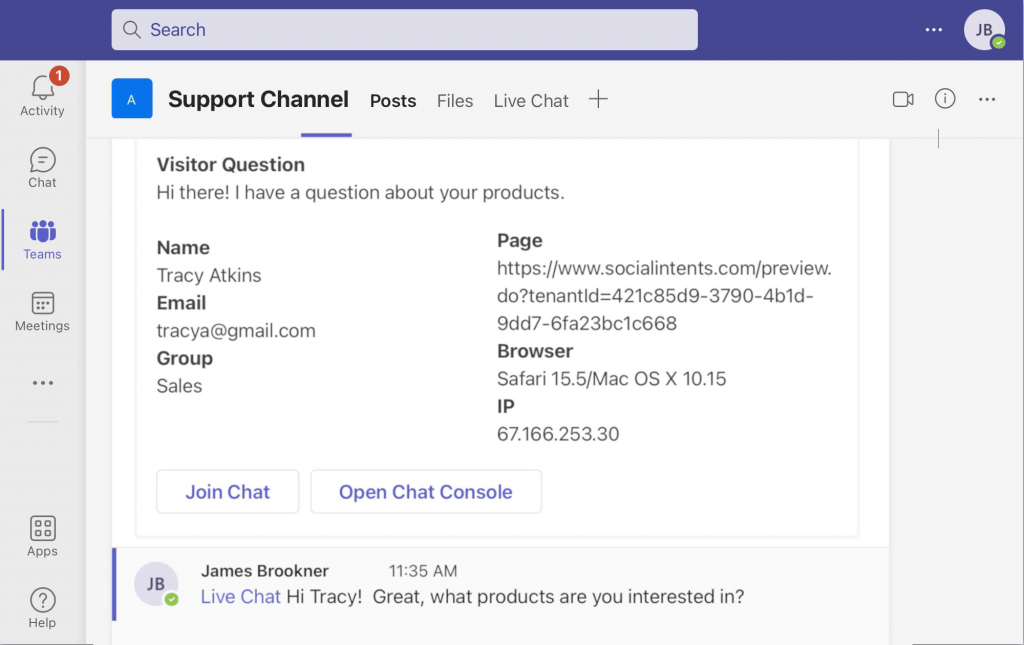 (Live chat in MS Teams with Social Intents)
But here's the best part – You process inquiries in your favorite messaging tool. Customers, on the other hand, experience the conversation as if they were using a traditional live chat interface.
Because ultimately, that's what Social Intents is, a live chat solution for car dealers but without the hassle of switching between tools to process customer inquiries.
Here are some other amazing features you can expect from our automotive live chat:
Customizable website chat widget
Canned responses to speed up inquiry resolution
Proactive chat invites to initiate conversations with visitors
Targeting rules allowing you to show chat to the most relevant customers only
Unlimited team members
Amazing 3rd party integrations like CRM, customer support, or ticketing systems and more
Would you like to learn more? Check out how Social Intents works with Slack and MS Teams.