Are you planning to use chatbots for sales? Wondering whether chatbots do increase sales?
FACT: As of 2019, almost 40% of major companies have implemented at least one intelligent assistant or conversational AI chatbot.
But that's not all, this study suggests that by 2022, 70% of white-collar workers will interact with conversational platforms on a daily basis.
And so, it is no wonder that 50% of businesses plan to spend more on chatbots than on mobile apps.
What is encouraging is that the average satisfaction rate of bot-only chats is 87.58%. It means that your customers are becoming more and more accustomed to interacting with machines.
Chatbots were able to handle 68.9% of chats from start to finish in 2019. This means that better algorithms and technologies like NLP or natural language processing, are evolving chatbots from dumb machines to 'real' artificial intelligence.
But the question we are answering here today is why use a sales chatbot? Do they really work?
Let's find out!
Do Chatbots Increase Sales? 10 Benefits of Using Chatbots
#1. Chatbots close sales 24×7
Research says that 8 to 9 pm on Mondays and Thursdays are consistently the most popular times for online shopping. Because let's face it, when you are working, they are working too.
So if you were thinking that your online business could thrive by working within business hours, think again.
Because 68% of customers switch to a competitor if they don't think you care about them. And the easiest way to let them think you don't is by leaving their messages unanswered. Ensuring 24×7 support reassures your customers that you care about them and are eager to fulfill their needs.
Plus if you are selling internationally, it becomes a necessity to take the time differences into account.
So, only a business that is available 24/7 is a true winner today.
But hiring agents to work 24/7 can be expensive and unrealistic. Even if you can afford it, why not save some precious dollars by using the technology intelligently? Chatbots help you be present for customer interactions 24×7 while proving cost-effective in the long run.
Also, this way chatbots can be there for your customers 24×7 and only pass on the complicated queries to their human agents.
#2. Chatbots close sales in every language
As many as 58% of small businesses have international customers.
We are guessing large businesses cannot be far behind, but there is no official data available. So there is a high chance that consumers from not only different countries, but also with different languages are trying to get in touch with your business – in their own language.
Enter, multilingual chatbots.
Multilingual chatbots can chat in the language of consumers' preferences in real-time. So if a user has selected Italian as the language of the website, then the chatbot will answer in Italian. Or if the website is English and in the chat widget the user selects to chat in Spanish, then the chatbot will answer in Spanish.
You no longer will be dropping sales because of language gaps.
#3. Chatbots generate more leads
Chatbots can help you build a solid sales pipeline and improve call-back requests by collecting relevant information from consumers.
For example, when a website visitor sends a message asking for clarification on your return policy, instead of just sending that particular information, use the opportunity to find out more details about the customer.
Ask them about their product interest, and try to help them even further. Be proactive. Show that you're interested in helping them.
By making such responses personalized for returning visitors, you can further strengthen lead generation on your website or app.
Live chat is a robust tool for lead generation and with a 24×7 availability, chatbots can take it to another level. Because when we talk about following up on leads, response time matters.
Leads are 8x more likely to convert when businesses follow up within 5 minutes. With chatbots' capability to work 24×7 and reply within seconds, you can not only generate leads but also efficiently follow up on them.
#4. Chatbots pre-qualify leads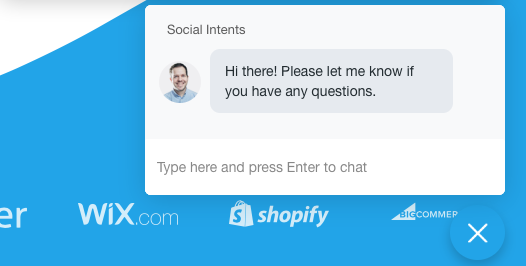 'Hi there! Please let me know if you have any questions.'
How many of you have found this encouraging while you were exploring a website even if you knew it was coming from a bot? Chances are that many.
Proactive chat can literally convert strangers into qualified leads by allowing chatbots to pop up and start providing support to the visitors even before they ask for it. The key is to get into your visitor analytics and deploy proactive messaging:
At the right time – You need to give the visitors enough time to look around before you pop up. To know which moment is right, check the average time spent on a page with Google Analytics or a similar tool. Find a sweet spot between the customer coming on your site, and leaving it.
On the right pages – For example, you can boost your landing and pricing pages with proactive messaging. But also remember to keep the dialogue flow on both the pages different for proactive messaging, because someone coming on the landing page with a technical query is not looking for a deal, as opposed to someone on the pricing page.
With necessary personalization – By all means, try the bot to avoid sounding generic and ensure that the conversations are meaningful. You can use visitor data history or even a client's current country, city, or browser language to personalize a conversation.
By using the analytics right, you can create logical chatbot conversation flows considering the customer journey and pre-qualify leads for growing your business. Remember to prioritize the questions as it is important to say the right thing at the right time!
You can also make use of clickable answer buttons in the chat window for a lightning-fast chat experience. Something like this: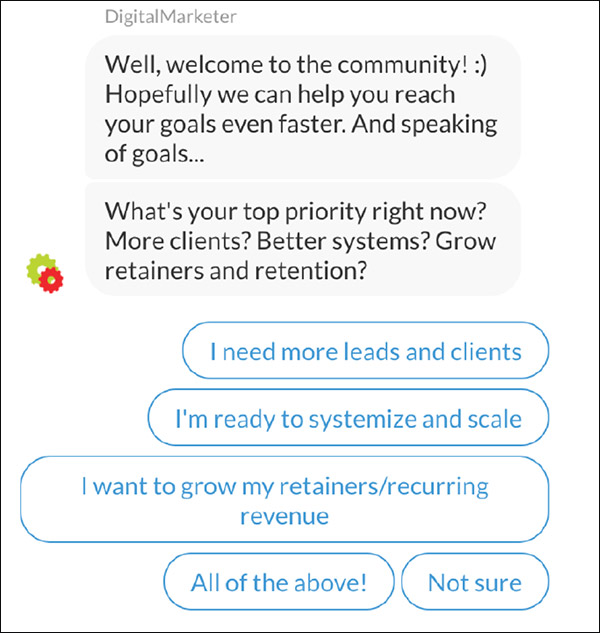 #5. Chatbots increase engagement
First impressions matter. And even though welcome messages may be a cliche, they work. They work in engaging the visitors, as they simulate the warmth of real-world greetings, just like a walk-in shopping store.
If somebody pops up to say hello on a website, at the least, you feel like it is an active one. And in a sea of passive business websites, a business that talks to you always stands out. Extra marks for getting creative of course: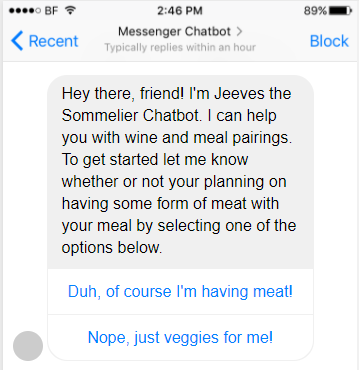 And who said you must collect client information with boring forms? Think chatbot-driven personality and knowledge quizzes.
That's right, a quiz bot! And who doesn't love to fill out a quiz once in a while…?
A quiz bot presents the quiz to the user in a conversational manner. Participants can interact with the quiz as if it was a conversation, thereby giving lead generation and engagement an interesting twist.
While forms normally have multiple-choice questions in text form, quiz bot can spice-up and personalize conversations by leveraging user data in real-time and using images, GIFs, and even videos. Here's how: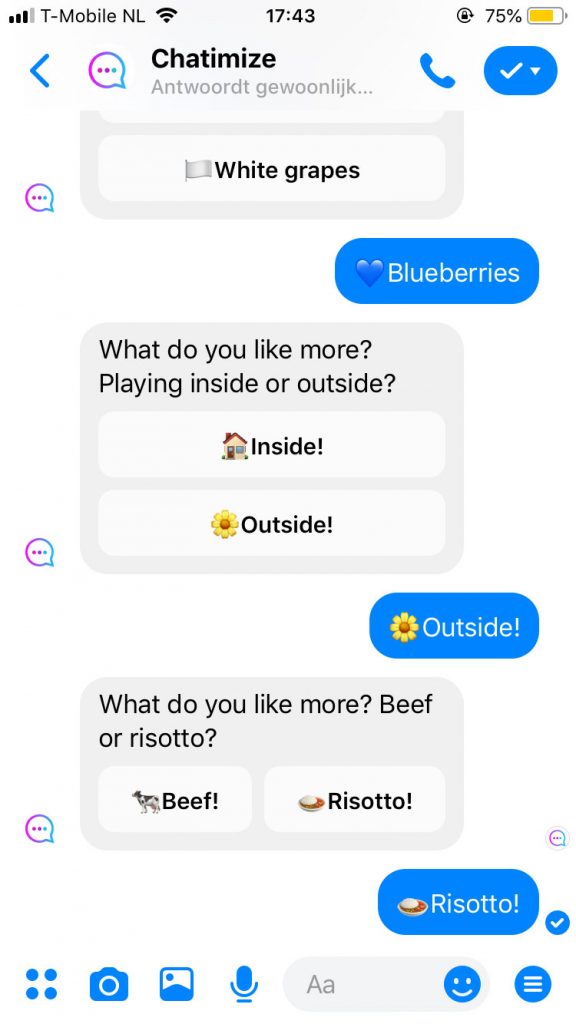 So say, if you start the quiz by asking the user's name and then use that name throughout the quiz, the experience becomes more persuasive and powerful. By using this personalization you may also ask them for their email address so you can send them their quiz result. And the chances are they will give it to you.
#6. Chatbots sell like a pro
How do you feel when you get personalized recommendations from your favorite shopping platforms? Especially when they are in line with your taste and past purchases?
I am guessing awesome, because it is like receiving recommendation from a personal shopping assistant. Plus it simplifies your decision process by saving you the time scrolling through a dozen product pages.
Chatbots increase sales by providing personalized product recommendations. Here's an example:

Lego's bot 'Ralph' asks people a few questions and gives them perfect recommendations for faster conversion. From asking questions about age, and price category, to offering a free shipping code, 'Ralph' is making quite an impression.
By doing this, Lego is also gathering important insights about its consumers that will help it evolve its business further.
Not to forget, an enhanced customer experience directly and positively impacts customer loyalty.
You can also set up AI chatbots to recommend products and services, and boost sales. Chatbots can also boost the conversion process by answering pricing queries faster when you place them on the pricing pages.
#7. Chatbots maximize revenue by upselling
You might already know that the probability of selling to an existing customer is 60-70%, as against 5-20% to a new customer.
Successful upselling not only increases revenue and profit but also enhances customer satisfaction. When carried out tactfully and lead with the information given by the consumer himself, upselling can turn into a customer delight, creating loyalty and possibly repeat sales.
You can program the chatbots to upsell by asking questions, and also tracking the patterns of your customers' purchases.
Here is an example: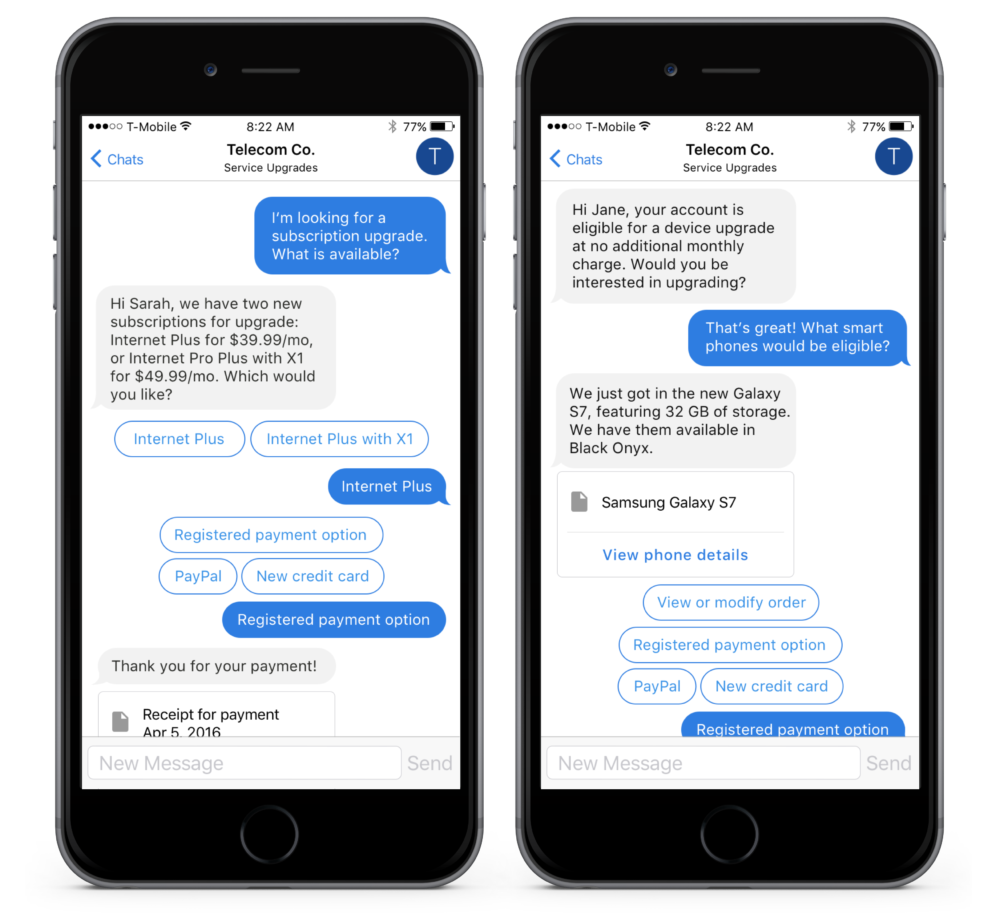 Creating the right dialogflow is critically important in such cases, and you can get as creative as you want, leading with your product knowledge.
#8. Chatbots improve order efficiency
In the case of professional services, the hospitality industry, etc. you can increase business efficiency by improving order efficiency. This means managing appointments, bookings, and even real-time orders.
For example, a restaurant in a busy neighborhood struggles to serve a large volume of customers during the weekend rush. Long waiting hours slow down the order efficiency and deter potential customers who do not want to wait in line to get their weekend started.
However, with a chatbot in place, customers can order even before they get to the restaurant, and have their meals served on time of their arrival. This can mean a bigger turnover for the restaurant and an exceptional customer support for the consumers.
#9. Chatbots minimize shopping cart abandonment
Ever abandoned a shopping cart and got push notifications for additional discounts on it? But that's not the only reason. People go through the whole sales funnel and leave at the very end for a variety of reasons, like:
Extra costs
Slow delivery
Complicated checkout process
Security issues, etc.
Organizations keep finding new ways to reduce shopping cart abandonment, simply because converting a potential client who went all the way should be relatively easier. And it is, with the right tools. All you need is to make a relevant offer they cannot refuse!
One way to do this is through chatbots, and they do an amazing job at it by:
Answering customer questions
Offering discounts
Assisting hesitant visitors proactively
After all, it is worth all effort to prevent any leads from slipping away!
#10. Chatbots support sales that haven't happened yet
Consumer reviews are playing such an important role in sales today as never before. A report says that 92.4% of customers are more likely to purchase a product or service if they have been able to read a trusted review about it.
But how many customers take time out by themselves to leave a review? Not many.
The cool thing is that 71% of customers will leave a review IF ASKED. And chatbots can help you do that.
Immediately after a purchase, a chatbot can prompt the customer to leave feedback. You can program the chatbot to collect feedback in various ways:
Clickable buttons for star ratings
Clickable buttons with pre-written responses for faster feedback
A free flow text box to get a more subjective feedback
Discount offers and vouchers to encourage people to share feedback, etc.
Here's a glimpse: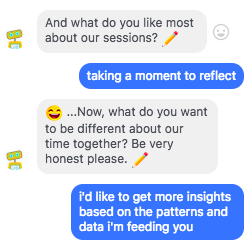 You can even connect your chatbot to email and let it send emails to clients asking for feedback. This gives them time to respond at their own convenience and might suit some people better than giving feedback instantly.
Conclusion
We hope that with our lineup of reasons on what chatbots can do for your sales, you will be able to decide whether to use them in your organization.
Good luck!