Thinking of adding live chat as a communication channel? Wondering what are the best live chat options for customer support for your business?
FACT: The easier and faster you make it possible for customers to get in touch with you, the better your chances are to get their business. Because if customers have to leave your page to email or call you, they are likely to never come back.
They may get busy with their work, forget about you, or find faster resolution somewhere else. Not that they want to necessarily, but because we do live in a fast-paced world!
It should come as no surprise then that live chat is the preferred channel for customers.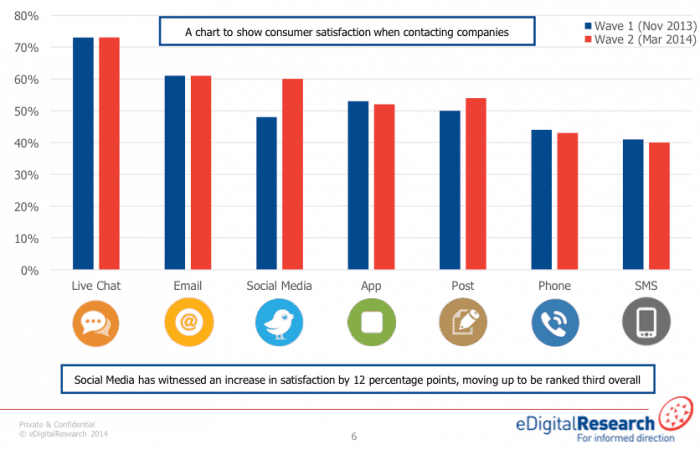 Because of the high demand, the options in live chat software are overwhelming.
So, let us help you figure out which customer support chat solution will work best for your business.
Here we go!
What is Live Chat Software and How it can Help Provide Customer Support?
First, let us start with the basics.
You can start using live chat software in a few simple steps:
Copy-paste a few lines of code onto your website
Run the chat client
Set up your account and rules
Some live chat software like Social Intents, give you the ease of integrating live chat in the tools you are using already, with a click of a few buttons.
Every chat solution has:
Depending on the live chat software you choose, simply follow the instructions given in text or video. Or get help from the support team to get the live chat going for you.
Once you have installed the live chat software, that chat window is visible and you can engage with, and support your customers in real-time.
Why is Live Chat Support Important?
Other than it being lightning fast? Because live chat is the highest customer satisfaction channel. And customer satisfaction must be the holy grail for any business.
Not only do you enable visitors and existing customers to reach out and talk with you in real-time. With live chat, you can also:
Proactively engage with first-time visitors
Personalize every conversation
See what they are typing and delight them by answering before they ask!
Share and receive files for faster resolution, etc.
Guide customers to self-service options
The advantages of live chat in providing customer support are too many to cover briefly.
But most importantly, the live chat communication goes on while you and the customer multi-task their way through life – anywhere (mobile), anytime (chatbots).
It is a multi-dimensional channel that helps you support your customer through every step of their journey. From awareness to consideration, and decision as well.
Here is an example: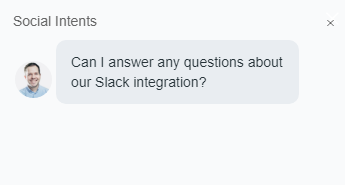 Through proactive messaging, Social Intents engages customers at the awareness stage of their journey.
What to Look for in a Great Live Chat Software?
As varied are the type, size, and intent of your business, so are the live chat software available in the market.
We have given a list of live chat software broken down according to business needs in the upcoming section. But some key live chat functionalities and attributes that can benefit your business, are:
Ease of use – Is it easy to set up? Can it integrate with the software you are using already?
Scalable plans – Do they offer plans with an unlimited number of agents or you have to pay for every agent?
Chat management – Can you pull out reports and metrics that allow continuous improvement. Is chat distribution available? Can you monitor the chats?
Some advanced live chat tools worth mentioning are –
Multi-channel chatting – can you put all customer communication channels in one place to coordinate quickly and respond faster
Self-service capabilities – ability to use chat history, knowledge base, canned responses, etc.
Rich messaging – functionality to share more than text – files, images, clickable buttons, etc.
Chatbot builders – to offer chat 24×7 in a contextual manner
Best Live Chat Apps for Customer Service
#1. Social Intents (for companies that use Slack and MS teams)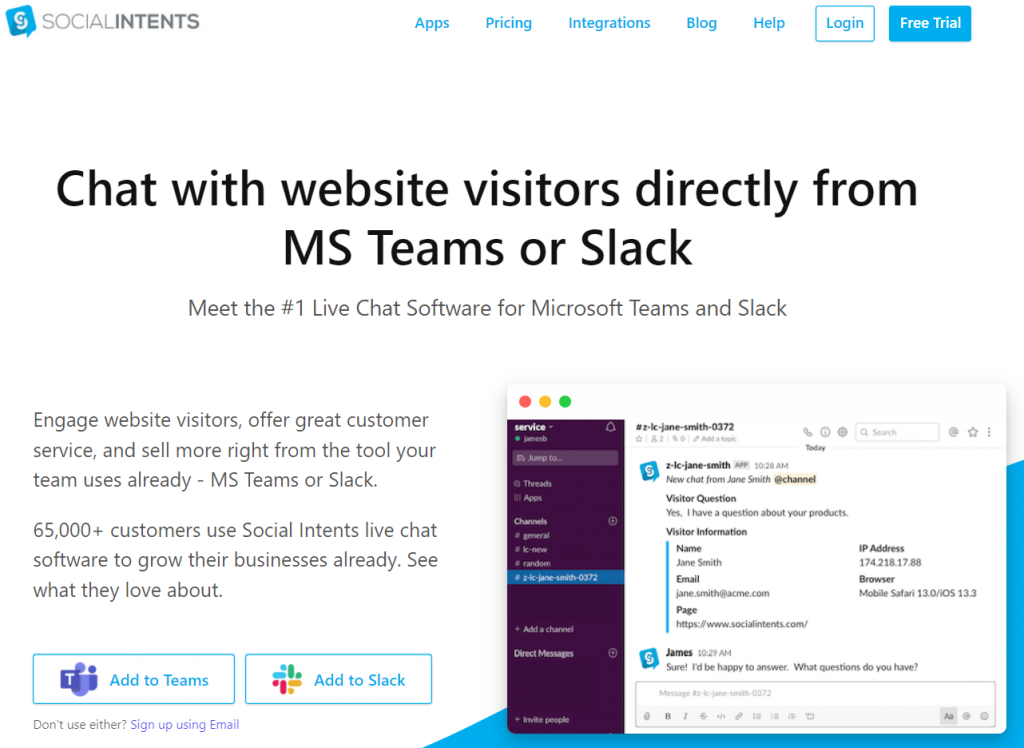 Disclaimer: Social Intents is our tool.
We built Social Intents to offer robust software to companies looking to implement the live chat channel without having to learn new tools. Companies who want to use their existing workflow without switching between different tools.
Social Intents, therefore, integrates with the two most popular communication tools – MS Teams and Slack.
And here's what 65,000+ customers who are already using Social Intents have to say about it:
Incredible live chat support
Support your customers in real-time with Social Intent's live chat support system. While your customers are communicating from different tools, you do not have to switch between tools to support them. That's right!
Social Intents provides real-time live chat support directly through Slack and MS Teams, and even a web-based chat conversation console. All you have to do is,
Connect live chat with MS Teams or Slack
Embed chat snippet on the website
And you are all set!
If you use Social Intents, you can save an immense amount of money and time training your team on new software. Instead with Social Intents, you let them focus on providing better support to the customers. Your team can receive inquiries in Slack and MS Teams and also reply from there itself.
Lead generation through engagement
With Social Intents, you can not only support your customers but also generate leads using live chat. Here's how:
Engage your customers with proactive messaging before they engage with you, and turn them into visitors to leads.
Save time and answer customers faster than they can imagine by using canned responses.
Place the chat widget strategically on pages with targeting rules
See what is working in your live chat strategy through live chat metrics. Continue what is working and let go of what is not.
Increased online sales
Ever abandoned a shopping cart hoping to come back to it and find some discounts? Your customers are no different.
To close more sales, you just need to engage with them exactly when they need you. So if someone is contemplating buying your products, and adding them to the shopping cart, all you need is to make a real-time offer they cannot refuse! You can do this with Social Intents Live Chat.
Who can use Social Intents?
Organizations using MS Teams already, and prefer a live chat software that connects with it (MS Teams) in minutes. A lot of government organizations and colleges mostly use MS Teams and so Social Intents is a great choice for them.
Companies and Startups that live on Slack and manage their team members remotely.
Social Intents is also a great fit for organizations looking to scale up, as all their plans after the starter, offer 'unlimited agents' starting at $49 per month.
#2. Tidio (for sales support)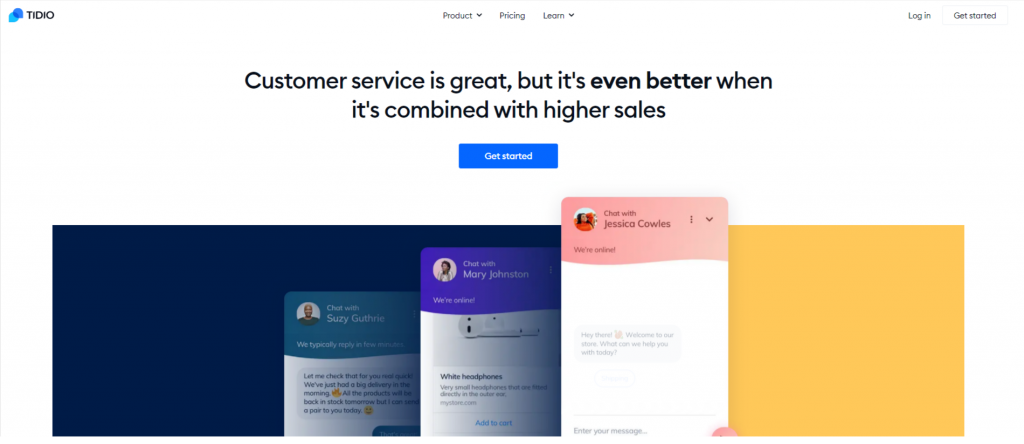 If you are looking for a sales-oriented live chat software, you can consider Tidio. By using Tidio, your live chat agents can boost sales in many ways. Here are some:
Welcome every website visitor and incentivize them to make purchases by giving personalized discounts
Send a proactive chat message or a product proposal based on the time they spent on your page
See who is visiting your website in real-time and monitor which part of your website they are browsing
Stop 60% of customers from abandoning their carts by offering a discount or free shipping
Availability across devices and channels, so never lose a potential customer and can talk to them wherever and whenever they want.
See how your sales grow after the website visitors interact with Tidio
With Tidio, you can also automate your sales with their chatbot builder. It comes with 35+ pre-designed templates and building your own chatbot is easy too. With their chatbots you can:
Automate answers to repetitive questions
Support multiple conversations without sacrificing the quality, and
Remove unncessary workload from your team
Their free plan comes with 3 operators, and includes features like:
100 unique reachable visitors
Unlimited chats
Desktop & mobile apps
Visitors Info
3rd party apps integration, and
JavaScript API
Chatbots only comes with a plan starting at $39 per month and features unlimited chatbots. It also includes features like chatbot templates and Zapier integration.
#3. Acquire (for chatbot features)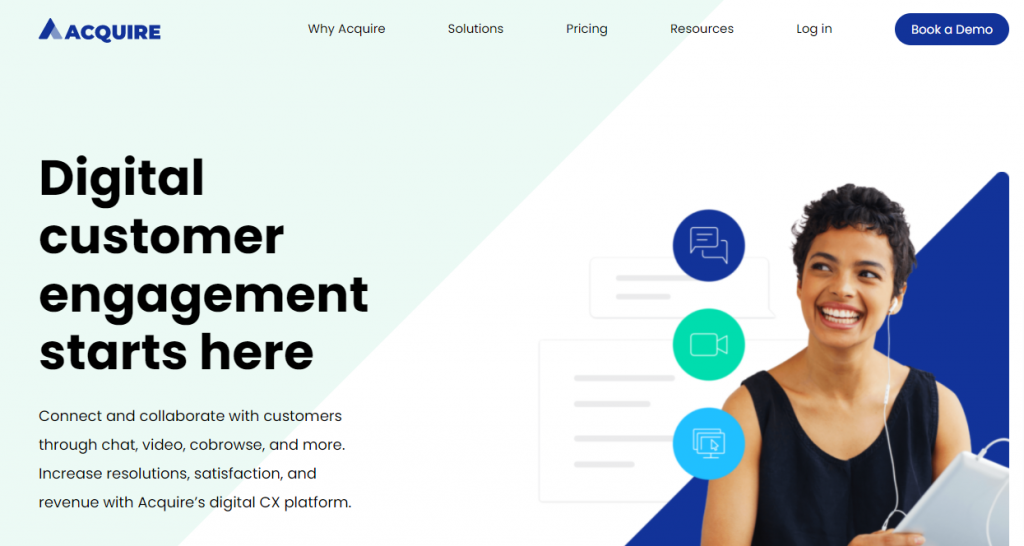 Acquire calls itself a conversational customer experience solution, built for the future.
Acquire live chat has a digital-first approach. It prioritizes new communication channels, integrations, and AI-driven self-service, against traditional channels like calling. By using Acquire live chat, you can:
Build efficient workflows and chatbots with visual editors
Put customers in touch with the right people (or bots) at the right time and save time for everyone with business rules, intelligent routing, and triggers.
Video chat with customers for speedy resolutions. The agent can switch from text to video with the click of a button
Collaborate with customers on-screen through co-browsing
See every customer's history from conversations to order activity, knowledge base visits, and more without having to click away for context.
See how your team and bots are performing.
Acquire gives starter, commercial and enterprise plans on their website, but does not give any idea of their pricing. Some third-party reviews indicate extremely high pricing, starting at $300 per month.
#4. Gorgias (for e-commerce businesses)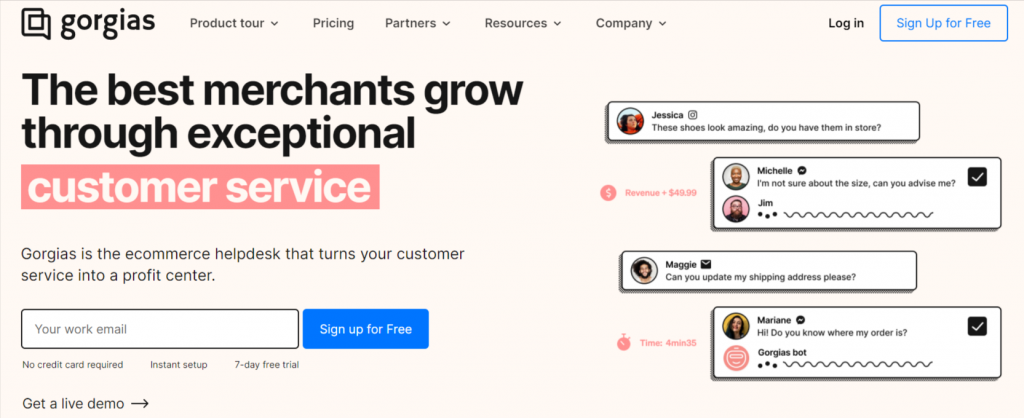 Gorgias is an e-commerce helpdesk and offers multi-channel customer support, including live chat.
It promises merchants exceptional growth through some special live chat features like:
Order management – Agents can recommend products from the store itself and manage orders without leaving the helpdesk.
Custom sidebars help agents to –

View order information without opening extra tabs, on any channel
Customize the helpdesk to show the most relevant information from 65+ leading commerce applications
Create orders, issue refunds, and perform third-party actions in one application itself.

Multi-stores lets your agents work on one messaging platform while having multi-store context. This gives them the agility to quickly move between brand inquiries and focus on resolutions (instead of logging into different helpdesks).
You can sign up for Gorgias starting at $60 a month with 350 tickets. All their plans are available for a free trial, so you can use them and see if they are a good fit for your e-commerce business.
#5. Chatra (for websites)

Chatra is a live chat software that focuses on website visitors. Some key features offered by Chatra are:
Live chat addition to your website so you can talk to them in real-time
Agents can use the messenger mode and reply to messages at their own pace
Manage messages from one multichannel dashboard (including email, Instagram, and Facebook messenger), and forget about switching between different browser tabs.
Agents can also ask customers for real-time help in choosing products, by targeting visitors on specific pages, like landing pages, product pages, etc.
Their live chat -functions include:
Email chat transcripts
Read receipts
Email open tracking
Group chats
File transfer
Screensharing
Visitor banning, etc.
The cool thing is, they start with a free plan for one agent, and you can run with it for as long as you want!
#6. Zoho (for remote teams)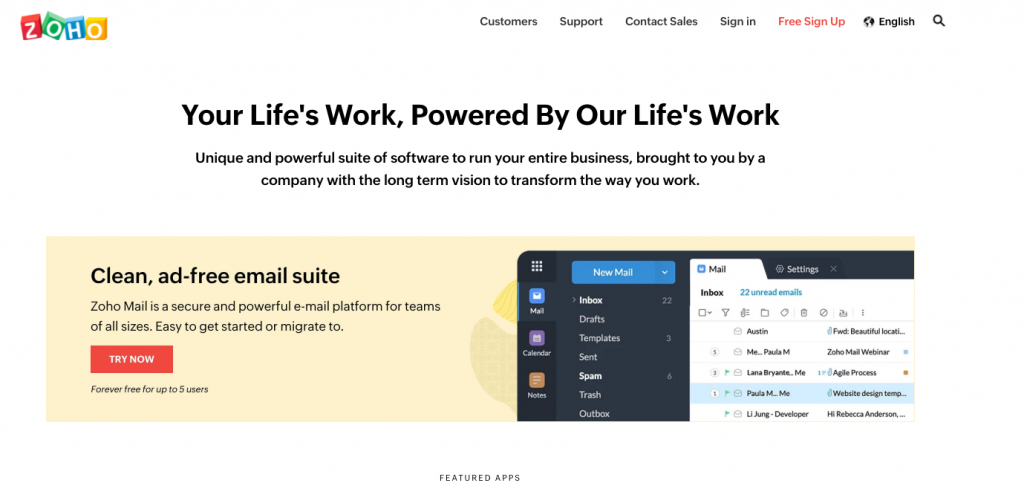 Zoho's live chat 'Cliq' is specifically built for remote workplace collaboration, and Zoho won the best Indian app for office productivity. Zoho is also the winner of the App Innovation Challenge conducted by the government of India.
Key features of Zoho's Cliq live chat are:
Build your own bots to automate simple workflows and optimize the way your team works. These bots can be fully customized and can connect with your tool stack.
Built-in bots who act as smart assistants and take care of your team's routine tasks.
Artificially intelligent bot assistant, Zia, plans and manages events on your behalf. She can send invites, update invitee status, and can also create a custom group conversation with all invitees tool.
So if you are a fully remote business or thinking of going remote, you can consider Zoho to enhance your team's sense of working together.
#7. LiveChat (for big teams and versatile use)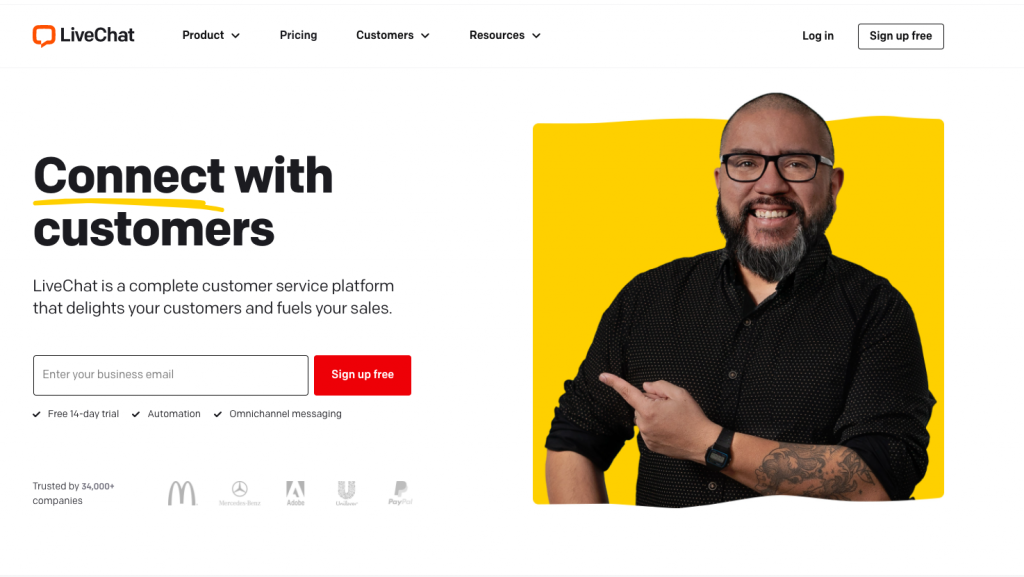 If you are looking for a multi-channel support service along with chat support for your customers, you can consider LiveChat. Its chat features include, but are not limited to:
Chat widgets for websites and apps
FB messages functionality from within LiveChat
Receiving and replying to text messages
WhatsApp Business within the LiveChat app
Chat with iOS users, etc.
Product cards, clickable buttons, and carousels in the chat widget.
LiveChat's basic plan starts at $19 and includes one agent for a month. The basic plan comes with limited features and channels, just to give you a taste of the software. The features get extensive as you go for higher plans.
LiveChat is expensive to scale though, as all their plans are 'per agent'. Whereas you can get other live chat software like Social Intents that offer 'unlimited agent' plans.
#8. Podium Webchat (for local businesses)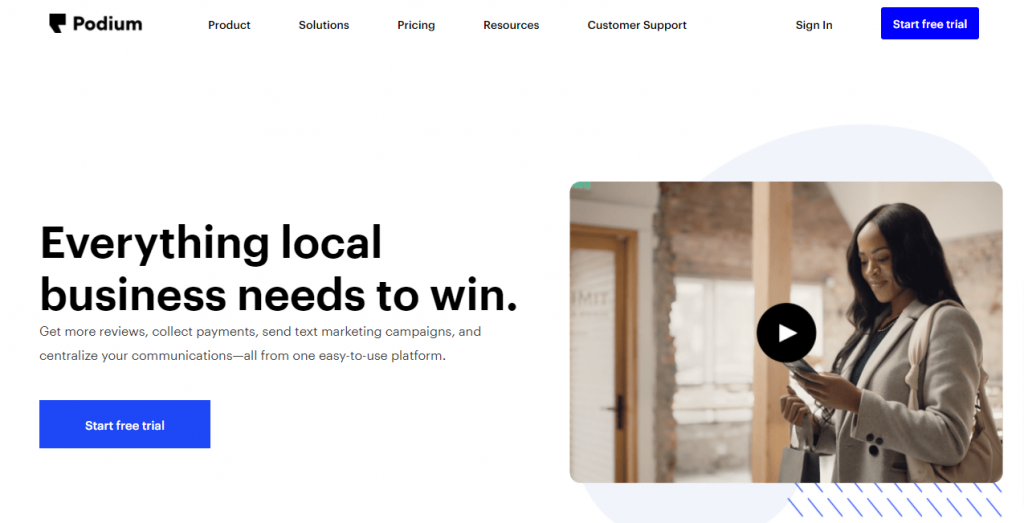 Podium works with a focus on providing live chat solutions to local businesses. As a local business, you can use Podium to:
Auto – Sell and service cars by connecting with website visitors, scheduling test drives and appointments, and closing deals.
Retail – Convert website visitors into paying customers, schedule pickup and delivery, and collect more reviews.
Professional services – Connect with potential clients on your website, schedule and confirm appointments, and get more reviews
Healthcare and dental – Get in touch with potential patients, schedule and confirm appointments, and collect payments.
Financial services – Win wallet share with a better digital experience.
Agencies and partners – Give both potential customers and current clients the tools they need to grow and scale their businesses, by joining the Podium partner program. Podium's suite of messaging tools make each step of the customer journey modern and convenient.
Their basic plan starts at $189 and is available for free trial.
#9. SendinBlue (for marketing support)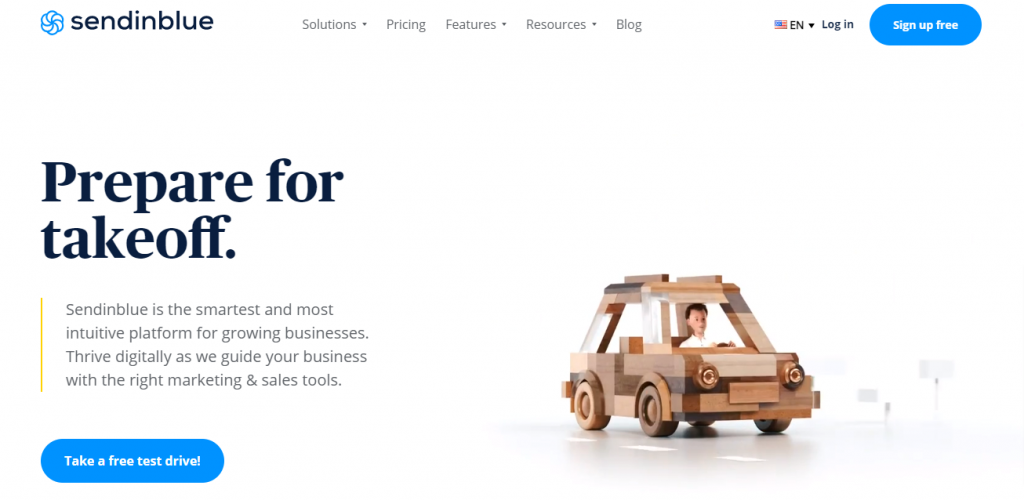 SendinBlue is an intuitive all-in-one marketing platform that focuses on guiding businesses with the right marketing and sales tools and how to use them to grow.
Live chat is only one of the tools it provides, but SendinBlue is worth mentioning here because:
One, you can use its marketing intelligence to grow your business with live chat and otherwise.
Two, you can start with their free for life plan that includes unlimited contacts, one chat agent, and up to 300 emails per day.
So if you are looking for a hand-held approach for all your marketing needs, and also starting out with live chat for the first time, SendinBlue is worth keeping as an option.
Here is what you get when you sign up with them:
Be everywhere your customers are with multi-channel communication with

Email marketing
SMS marketing
Chat
Inbox

Give life to your customer journey with

CMR
Marketing automation
Segmentation
Transactional email messages

Turn your visitors into customers with

Sign-up forms
Landing pages
FB ads
Conclusion
There you have it.
Hopefully, our rundown of various customer support chat solutions will help you figure out the one that suits your business.
Good luck!