Wondering if there are any Microsoft Teams tips and tricks that you can learn to get the best out of it? Want to learn how to use these MS Teams hacks in higher education?
As of March 2021, Microsoft Teams has 145 million daily users.
From hospitals to schools to nonprofits and commercial enterprises, MS Teams is popular among a variety of industries. It began as a group-chat platform but has been evolving into an almost operating-system-like product over time with extended capabilities and features.
The need for a remote model of operation in every industry, including education post-pandemic, is surely a driving factor in its popularity. However, its multifunctionality and ease of use is also a factor why MS Teams is such a hit in multiple industries, including universities and colleges.
So if you are here to dive deep into MS Teams and learn how you can use it for higher education, this is just the place for you.
Let's get started!
Microsoft Teams Tips and Tricks for Higher Education 2022
#1. Invite colleagues, students, and prospects too
To begin with, you can invite everyone to MS Teams in an org-wide team. From different department colleagues, other teachers, present students, to prospective students, everyone can be a part of it.
This org-wide team includes everyone, apart from guest users, and when you add or remove users from Microsoft 365, their presence in Microsoft Teams is updated accordingly, too.
You can use the org-wide team to send general and common messages to all.
Eventually, however, you want to make specific teams that serve specific purposes and make teams department-wise, class-wise, project-wise, and so on. And within these teams, you can also create channels.
Understand it this way, a team is a collection of people who gather together around a common goal, for example, a team will be the whole class of MBA, that can then have channels for different classes within the curriculum.
#2. Combine Teams with live chat and make it the ultimate higher-ed engagement tool
Let's be honest. Higher education is a highly competitive industry right now, and connecting with your audiences and keeping them engaged in the right manner is the need of the hour.
You must make it easy for your audience to connect with you, and you must be available to them at all times. Enter, live chat.
Whether it is your prospects, present students, or alumni, there is one thing common about all of them, they love to chat.
And because MS Teams is the ultimate messaging app, you can connect with and engage all of your audiences from MS Teams itself.
By choosing the right live chat tool, you can start chatting with your audiences within minutes. Tools like Social Intents let you integrate your favorite apps like MS Teams directly, and you can start connecting with your prospects without spending any money on training your executives.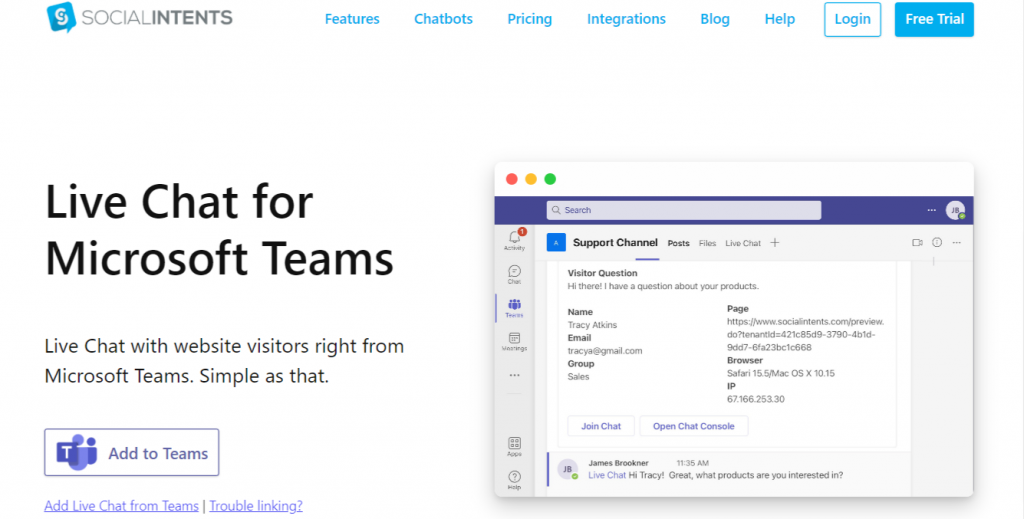 With an integration like this, you can set up chatbots to reply instantly and communicate with your students 24×7. You can also use chatbots to deflect FAQs and use your subject matter experts to engage in one-on-one student counseling.
You can also talk to students in multiple languages with Social Intent's chat translation capability, providing an excellent support channel for foreign students.
#3. And then, use it for more than chat
There is so much more that you and your students can do with MS Teams than just chatting.
Share files within chats
Share payment links and make financial transactions in real-time
Switch to voice or video calling while chatting and take the discussion in-depth
Host webinars that are a must in a hybrid education model
You can do all this and more within the MS Teams app.
#4. Create standard or private channels for students as per need
Teams are made up of channels that are the conversations you have with your students or colleagues. You can dedicate each channel to a specific topic, department, or project, for example, admissions department, economy 1st sem batch, career counseling, etc.
All members of a team can create channels. A standard channel is open for all members, and anything posted is searchable by others.
However, if you want to limit the conversation to a smaller group for a specific project, say financial aid, you can create a private channel for your team. This way, you can have a private place to discuss sensitive information, such as budgets, resourcing, allocation, and so on, with your selected colleagues.
Only owners or members of the private channel can access it. Here are the steps to create a private channel:

#5. Schedule classes in Teams
You can set up interactive classes from within MS Teams by clicking on the small camera icon. Make sure that you have added all the respective students in a particular team or channel to start the meeting, like this:

You can either start the meeting instantaneously or schedule it for a later time. To see your calendar and scheduled meetings within teams, simply click the meetings icon on the left-hand panel.
#6. Use together mode to give the feeling of a real classroom
Online students may sometimes feel isolated and seek a classroom experience. Well, MS Teams' latest feature, 'Together Mode', was developed during the pandemic for just this kind of issue.
Located in the in-call background options, the together mode places all your meeting participants on a shared background to make it appear as if they are all sitting in the same room, like in a classroom. Something like this: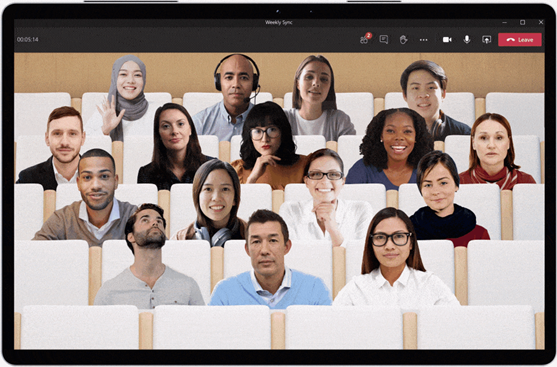 Now that does give you some kind of a 'together' feeling, doesn't it?
#7. Provide meeting records and transcriptions to students
Class recordings are a boon for higher education. It can also bridge the gap between student learning capabilities, as students can go back and take the class again as and when they feel the need.
You can record the classes you conducted on MS Teams and share them with your students for later viewing. You can also generate a meeting transcript using the native features in Microsoft Stream.
Start recording from the meeting control panel, and a copy of the meeting is saved to MS Stream for all students to access securely.
#8. Send urgent updates to students
There can be many situations when you need to send an urgent notification to your students or even parents, like:
Special classes
Surprise assessments
College/ Campus closing due to severe weather, etc.
You can send such notifications with MS Teams by clicking the exclamation point below the message box before hitting send. The students will get notifications every two minutes for the next 20 minutes or until it's read. Here is how it looks:

#9. Utilize frequent commands
Shortcuts are important for performing common tasks, like going to a specific channel, calling a phone number, joining a team, etc. In MS Teams commands are these shortcuts for you, and you can type them in the search bar to get things done fast.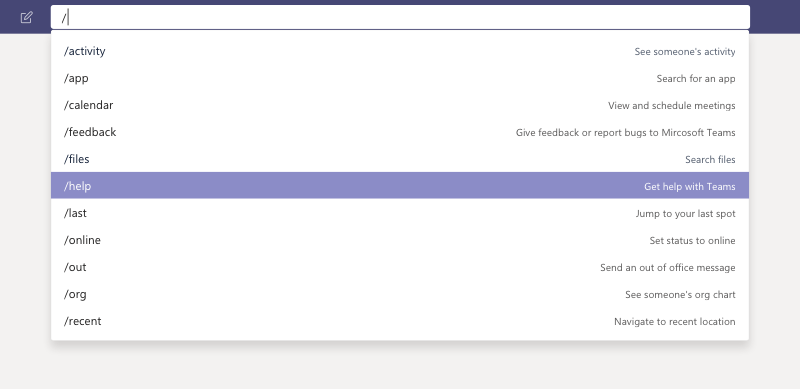 If a certain command isn't working for you, it can be because your institution has disabled a feature central to the command. For example, if the MS Teams administrator disables chat, chat-based commands won't work. So make sure to get the relevant commands enabled to be able to use them.
You can refer to the updated list on Microsoft's website for accepted commands.
#10. Learn to use keyboard shortcuts for faster navigation
Another thing that you can use to speed up your work is to learn keyboard shortcuts to navigate faster within MS Teams. It may take you a while to get the hang of them, but once they are at your fingertips, you will be much more efficient in using MS Teams.
Some important keyboard shortcuts for the desktop app are:
Go to a specific team or channel: Ctrl+G
Start a new chat: Ctrl+N
Close: Esc
Zoom in: Ctrl+Equals sign ( = )
You can find the keyboard shortcuts for both desktop and web apps on the concerned Microsoft page.
#11. Maximize productivity with DND and unread messages
Higher-ed institutions' staff can get busy and overloaded with queries all around the year, and, especially at times like admissions.
You can utilize certain MS Teams features to keep your productivity going while taking care of things at a comfortable pace.
For instance, you may not have the time to address a message as soon as you receive it. In MS Teams, you can mark such messages as unread or saved by clicking the three dots next to a message while in a conversation or the activity feed. Like this: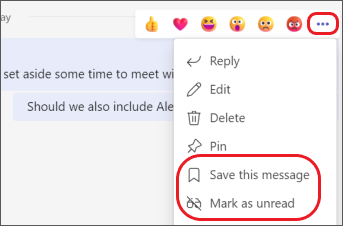 Also, when the messages start flowing in, and you don't want to be disturbed, you can activate the 'Do not disturb' mode to keep your productivity going on. Click on your profile icon and set your status to do not disturb, or simply enter the command for it in the search bar.
#12. Return to your favorite teams and channels easily
There must be certain teams and channels that you are an integral part of and need to go back to them frequently. For example, particular classes if you are a teacher or the financial aid group if you are from the office of federal student aid.
You can always type in the shortcut command for them in the search bar and join, but better yet, why not pin it, so it stays on top of your list? Just click the three dots next to the relevant team or channel name and select 'Pin'. Like this: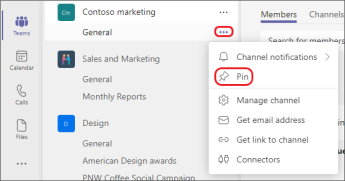 You can pin multiple channels, put them in a certain order and unpin them when priorities change.
#13. Bring fun to your conversations
College is about learning as well as fun, so why do the conversations have to be all serious?
Bring in a human element in your conversations with your students and prospects by using gifs and stickers, and also spruce up channels with images.
Remember to keep them enabled in both chat and conversation from the MS Teams administrator side, click the GIF/ sticker icon and have a look around and use what you like, like this: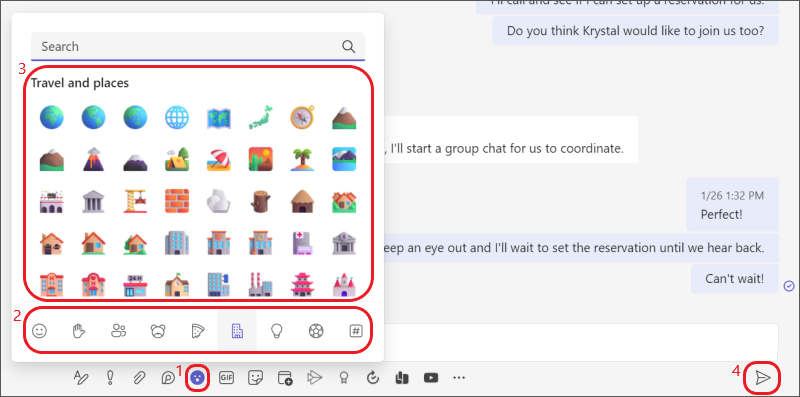 #14. Boost student morale, digitally
Did you know that MS Teams comes with special praise icons in the form of different badges/ medals? Here is how they look: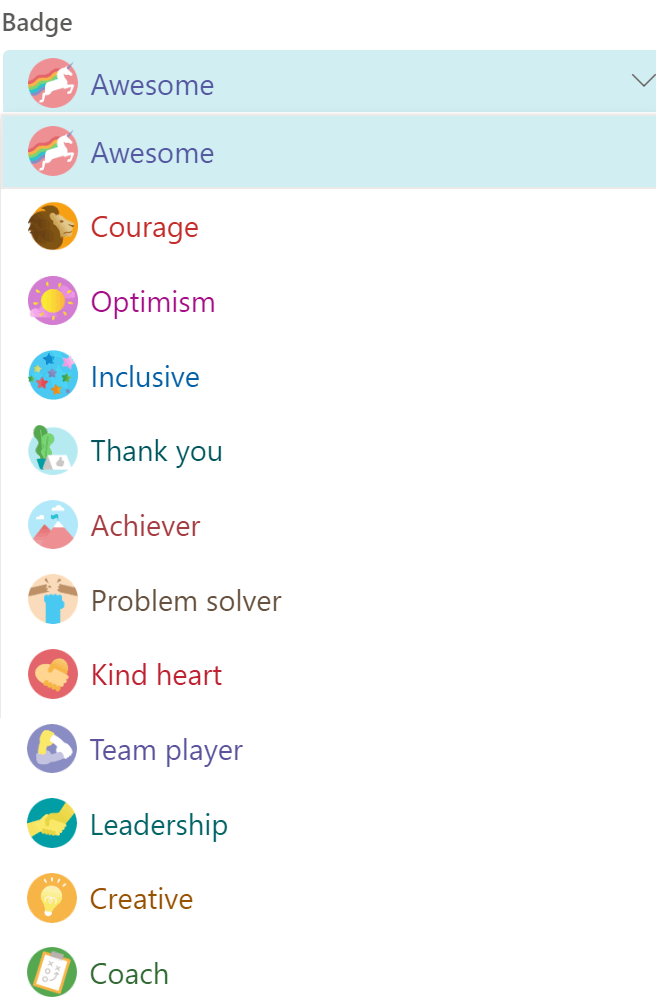 Below the space where you write a new message or reply, select the 'Praise' icon or click on the three dots to find it. Badges default to 'Awesome', but you can always choose to send a different badge by selecting a different one from the badge dropdown menu.
Use them to boost student morale once in a while!
#15. Send messages to different channels at once
There can certainly be instances where you need to share information with not one but multiple teams and channels. To do so:
In a channel, select New conversation > Format.
Select Post in multiple channels > Select channels.
Choose which channels to post your message in.
You can share wherever you're a member.
Select Update, and your selected channels appear in the post.
Type a message and select Send.
Your post appears in the selected channels.
#Bonus. Include students by sending polls and surveys
Inclusion is a big part of higher education, and it also includes listening to students and imbibing the learning into the present education system. Taking student polls through MS Teams is one way to do that.
Click on the three dots in the relevant team or channel, and type 'Forms' in the search bar.
Select 'Forms'.

This will open a 'create new poll' window where you can enter your question and the answer options, like this: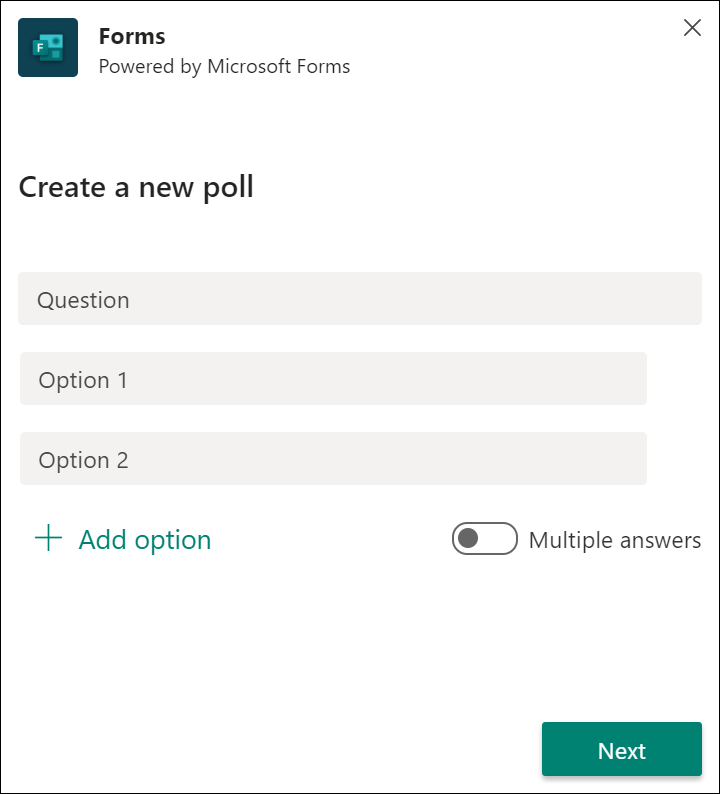 Before sending out a poll/ survey/ feedback, you can preview it in Teams.
Conclusion
I hope that you use all these tips and tricks to maximize your productivity and connect with your students on a whole new level.
All the best!