Want to improve your sales game? Wondering what are the best live sales chat apps for it and what are their features?
Did you know that 79% of customers prefer live chat when they look to engage with a business? Live chat for sales, therefore, is not just an option, but a necessity.
But a sales chat is like any other live chat, where a customer comes on your website and heads to the chat widget to talk to you. Only in this case, instead of a customer support executive, a salesperson picks up their chat request.
So what are the apps that you should be looking at for the best sales features? And what are these features anyway?
We will explain all of this in this article.
Let's dive in!
What Should the Best Live Chat Apps Do for Sales?
So before we move on to discussing the best live chat apps for sales, let us understand what makes these apps the best for sales.
Of course, the requirements can differ depending upon the type of business you run, but there are some common features that you should be looking at. Let us look at some of them:
Ability to integrate with the software you are already using: This is a big one because you can save a lot of time and money by avoiding training your people on new software.
Affordability and scalability: The price at which a live chat app comes is important both for small and big companies. If you are small, you want to get the maximum value out of minimum expenditure, and if you are big, you need a scope to scale up. Think plans based on unlimited agents vs per agent.
Ease of set up and use: Technology should ease our lives, and not complicate them further. Keeping this in mind, you should be able to start working with a sales app in a few clicks. Also, it should be fairly intuitive to work with both from your end and the customer's end.
Security and privacy: This becomes even more important when it comes to a sales live chat, where customers may be sharing their financial details, as well as other personal details.
Ability to initiate a chat proactively to engage the customer: Proactive chat messages are a delight for a customer who is struggling to solve a problem, or even just visiting your website for the first time.
Sometimes customers are shy to ask for help, or may even miss the live chat widget. Proactive live chat can help you convert website visitors into leads.
Ability to share documents like files, images, clickable buttons, etc: This is obvious and huge for sales live chat, as the sharing has to be both ways. Your executive may need to share catalogs, clickable buttons, etc, and the clients may need to share images and attachments, etc.
Ability to follow the customer wherever they are: Tracking your website or mobile app visitors in real-time can be a great boon. You can use proactive messaging better and can engage, upsell and even reduce cart abandonment.
Chat transcripts and history for personalized and relevant attention: It can be frustrating for your customer to explain the same problem or even the same question more than one time. Chat history and transcripts enable you to avoid that frustration and bring in personalization into live chat.
Chatbot set up for 24×7 support: Today, an online business is not limited to a single time zone. Even if they are, it is not financially feasible to have your office running 24×7. Enter, chatbots. Chatbots, therefore, is important for instant and 24×7 live chat support.
Canned responses for faster query resolution: When it comes to living chat, a lot of it boils down to speed. Customers expect replies within minutes, and sometimes even within seconds. No wonder then that 69% of organizations use canned messages in live chat for better engagement.
Let us now move on to see some of the best live chat apps that pack one or more of these features, along with others. Ready?
7 Best Live Chat Apps for Sales
#1. Social Intents – the best live chat app for sales with tight integration with MS Teams and Slack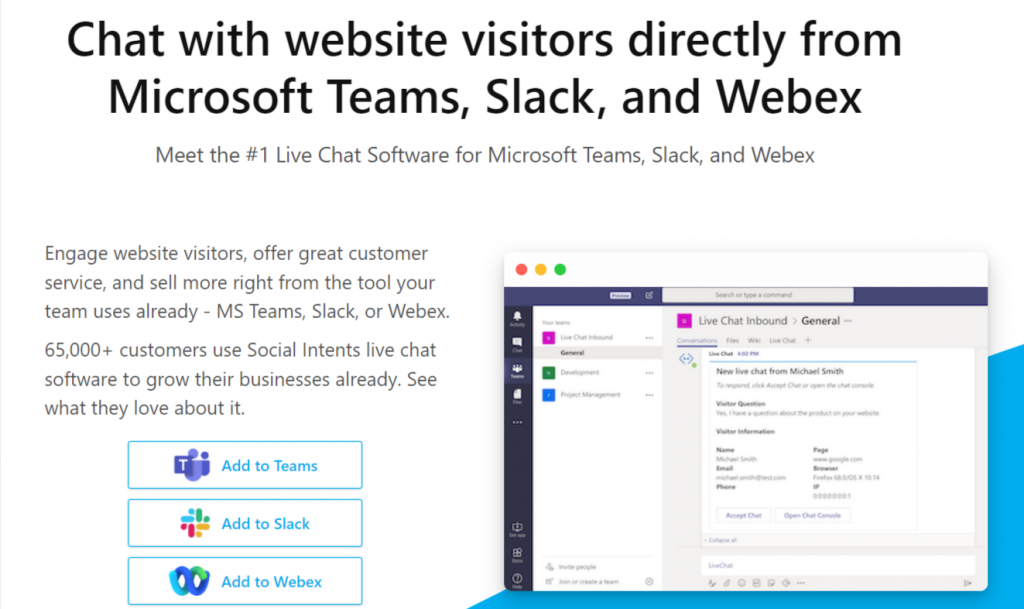 Disclaimer: Social Intents is our tool.
Remember the importance of integration and saving time and money on training?
What if a live chat app can integrate with internal communication tools where you and your team collaborate day in and day out?
We build Social Intents for this very purpose. Social Intents offers a robust live chat functionality for sales to companies looking to implement the channel without having to learn new tools.
To that end, Social Intents integrates with some of the most popular communication tools around – MS Teams, Slack, and Webex.
MS Teams is the go-to tool for a lot of government organizations and colleges and so Social Intents is the ideal live chat software for them.
Slack is where most startups operate day in and day out. It is also the go-to tool for companies that manage their members remotely. Social Intents, therefore, is the ideal tool for all of these.
Webex is one of the most popular video conferencing apps out there and all kinds of organizations use it. Social Intent integrates with Webex in just a few clicks.
Other than Slack and MS Teams, Social Intents offers integration with many other tools, like:
WordPress
Shopify
BigCommerce
Zapier, etc.
So if your organization uses any of these tools, you can launch live chat for sales with Social Intents within minutes.
You can use Social Intents for better online sales with tools like:
Proactive messaging, so you can engage with your customers before they do.
Canned messages, so you can reply faster than expected.
Customized chat widget, so you can strategically place sales chat on the most relevant pages without crowding the whole website.
Chatbots with Dialogflow, so you can build your own AI chatbot.
Personalized chat widget for a superior customer experience.
Pre-chat forms so you can save time by pre-qualifying leads and prospects.
Social Intents also offers great affordability for both big and small companies. They offer 'unlimited agents' pricing across all their plans beyond the starter that allows you to scale up if you are big and get the maximum value if you are small.
Discover how Social Intents can help you engage website visitors and grow sales. Test our live chat app for free.
#2. Tidio chat

Tidio is a chatbot-heavy live chat tool for customer service and generating more sales, also through Facebook Messenger. It is a good choice for small businesses and e-commerce stores.
You can either use one out of the 20+ chatbot templates Tidio offers to answer questions about orders, shipping, and discounts, or build a brand new one of your own. You can build the bot in an intuitive drag-and-drop visual editor, without any coding experience.
Tidio says that you can automate up to 40% of your chat conversations with their chatbots.
Tidio promises to boost sales in a number of ways:
Stop shopping cart abandonment by offering discounts or free shipping in real-time.
Personalized discounts for new visitors
Proactively message visitors with exit intent to ask if they need more help.
Measure your sales because of Tidio with a sales monitoring dashboard.
Chat in multiple languages with their multilingual chat setup
Tidio takes 5 minutes to set up and has a free forever plan with limited features, for up to 3 agents. Advanced features come with a higher plan.
#3. LiveChat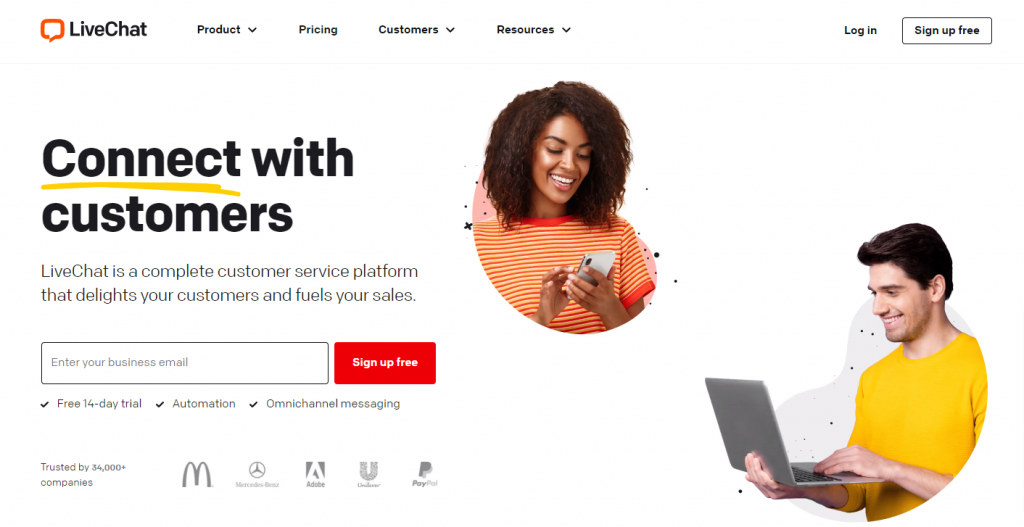 LiveChat is a good choice if you are looking for multi-channel customer support service that boosts sales too. Some of its omnichannel features are:
Chat widgets for websites and apps
Sending and replying to FB messages from within LiveChat
Receiving and replying to text messages
Shared Inbox with LiveChat
WhatsApp Business within the LiveChat app
Chat with iOS users, etc.
For boosting sales, LiveChat provides:
Automated and rules-based chat routing to help agents work more efficiently
Credit card masking
Two-way file sharing
Live chat with other customer support team members
Option of integrating with 200+ tools
Chatbots
Option of integrating with e-commerce platforms
Sales goal tracker, etc.
The cool thing about LiveChat is that you can add product cards, clickable buttons, and carousels to the chat for sales.
You can start with $16 per agent per month, with limited features and channels, and the list gets extensive as you go higher. All their plans are 'per agent', but there is an option for a customizable plan for bigger companies.
#4. Olark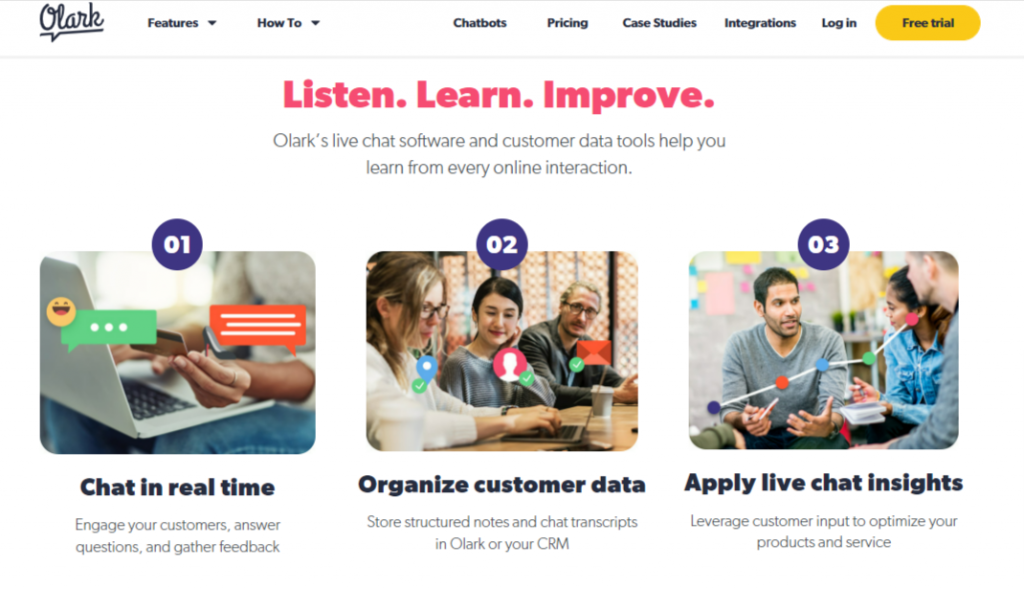 Olark is one of the easiest to use live chat customer support and sales app out there.
They started in 2009 as a chat widget and now are a full-blown live chat solution. With Olark's live chat software and customer data tools, you can learn from every online interaction and keep improving your live chat and sales services.
Olark helps you convert better with the following features:
Visitor co-browsing
Live chat transcripts
Automated chatbox response as per visitor behavior
Chat tagging for analytical purposes
Pre and post-chat survey
Canned responses
Integration with Zendesk, Salesforce, Magento, BigCommerce and dedicated WordPress plugin for WooCommerce stores
Olark also collects and maintains visitor history and visitor details like location and device, which is great for boosting sales.
Olark stands out in its 'accessible live chat' section, which makes live chat accessible to people with disabilities.
The basic plan starts at a steep $29 but promises a full-featured live chat for an agent per month.
#5. Freshdesk (Messaging)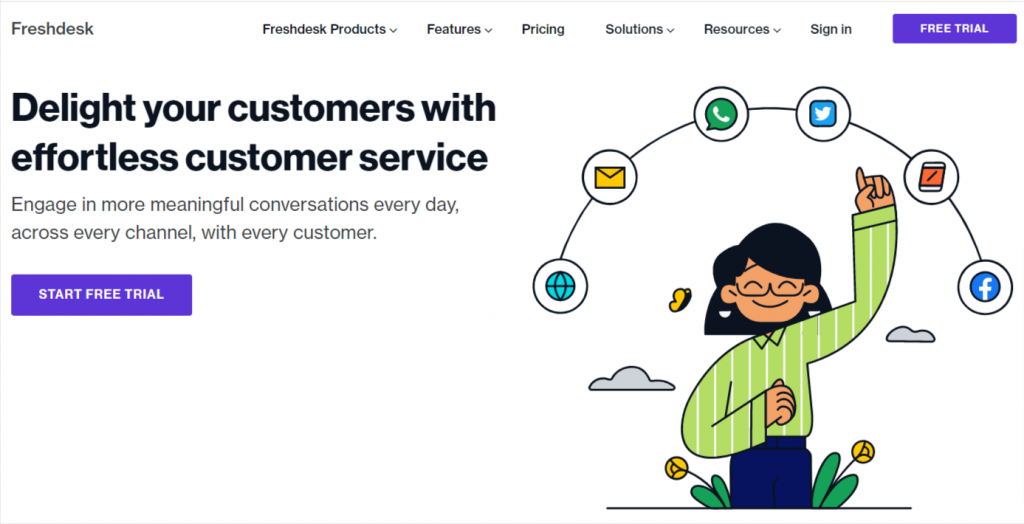 Formerly knowns as FreshChat, Freshdesk provides live chat service sale-oriented features as part of its big set of customer service tools. In fact, it is one of the biggest customer service solution software that exists and offers industry-specific solutions.
Freshdesk can help you boost sales with industry-specific features like:
Retail and e-commerce

Save abandoned carts with live chat and proactive messages
Integration with 3rd party marketplaces like Amazon, eBay, etc.

Travel and hospitality

Agents can use context and booking history to have relevant and personal conversations
Access to customer profiles, past conversations, etc.
Some of its generic features that support sales are:
Rich messaging to share files, videos, canned responses, etc.
Bots for better customer engagement and lead generation
Triggered messages or email campaigns for better conversion
Push notifications to re-engage with mobile users
Priority inboxing to help your executives manage their workflow better
You can get started with their free plan that includes 100 agents, including features like chatbots, and Shopify integration.
#6. Chatra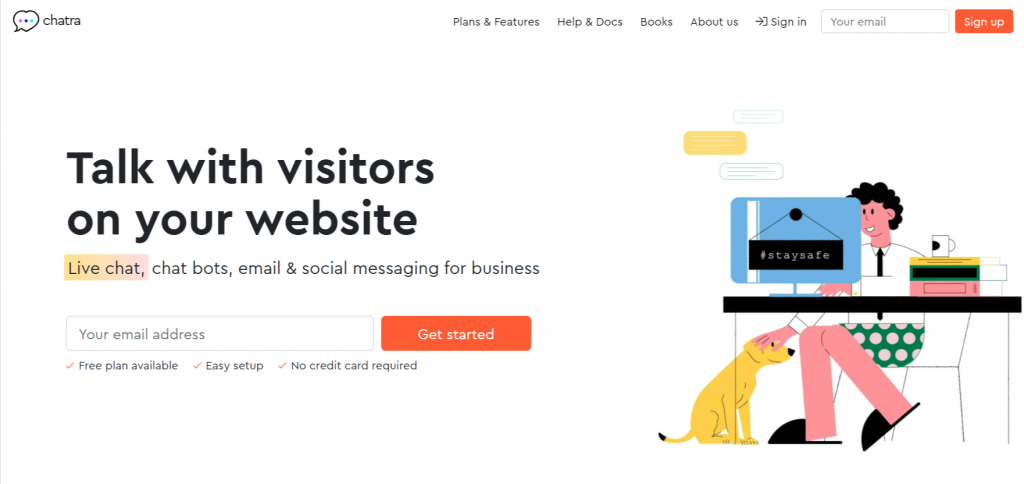 Chatra's is another of those live chat apps that focus on websites and e-commerce stores. Their e-commerce platform integrations include:
Shopify
BigCommerce
Ecwid, and
WooCommerce
Your team can sell more effectively with Chatra, with the following features:
With visitor intelligence features, the agents can see what a visitor has added to his shopping cart and make real-time suggestions about upgrades, products that are frequently bought together, etc. They can also offer additional discounts to close deals.
Agents can also proactively ask customers for real-time help in choosing products, by targeting visitors on specific pages, like landing, product, etc.
Your agents can set up group chats to include multiple decision-makers in one conversation, including other representatives or managers if necessary.
Some other features for better sales include, chat transcripts, multilingual support, multichannel dashboard, automated messages, bots, automation, etc.
The cool thing is, they start with a free plan for one agent, and you can run with it as long as you want!
#7. Zoho (SalesIQ)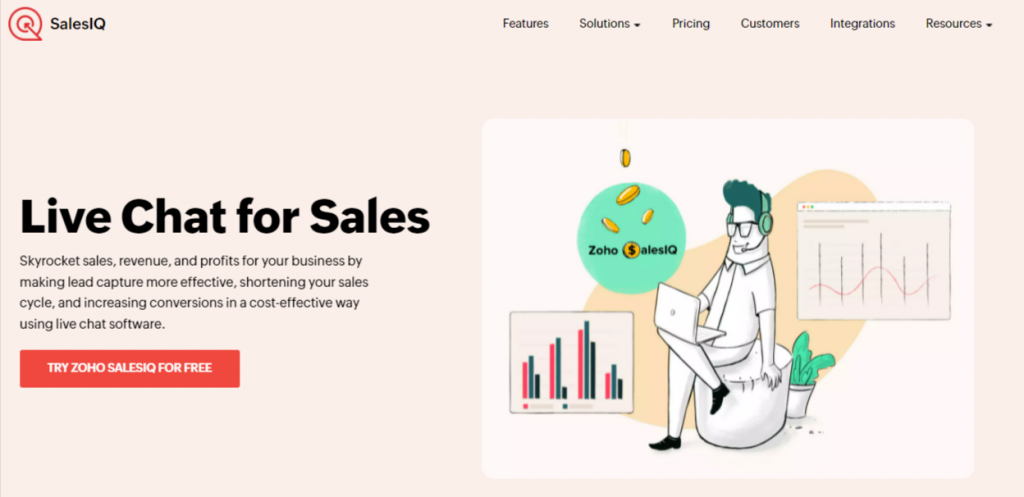 Zoho is a live chat software that offers SalesIQ, their live chat for sales version. Zoho promises to skyrocket sales, revenue, and profits for your business by:
Making lead capture more effective
Shortening your sales cycle, and
Increasing conversions in a cost-effective way using SalesIQ
SalesIQ can help you do all the above with the following features:
Website visitor tracking in real-time where you can list the visitors in four different sections based on the criteria you define.
You can define rules to rate your prospects according to what you deem as ideal buyer behavior.
Zoho's chatbot lets you create AI-powered chatbots to ask initial questions of leads, qualify them, and add them to your CRM.
You can route visitors to different sales staff members based on the target group allotted to them.
Enable self-service with knowledge base, FAQs, and articles.
Prepare your team to sell by monitoring the sales conversations and tending to their strong and weak points as required.
Zoho has a free plan that allows 3 operator licenses and features like file sharing, credit card masking, etc.
Conclusion
There you have it, our rundown of the seven best live chat apps that help you sell better and more.
You are the best person to make an informed decision for your business.
We wish you all the best!