Thinking of using Intercom's live chat? Wondering if there are any alternatives to Intercom live chat that you could try instead?
You know, you really have no choice. You have to use live chat. As many as 69% of customers in the US demand it, after all. What's more, 73% of them find live chat the best channel to reach and engage with a company. But most of all, customers who use live chat, spend up to 60% more per purchase than those who don't.
But which live chat platform do you turn to? Intercom? You probably see their chat widget on so many other sites so it only makes sense to consider the product.
But what about other options? Are there any alternatives to Intercom that you could investigate?
That's what you're going to find out in this post.
But first, let's talk about Intercom's live chat.
What is Intercom Live Chat
First things first, Intercom is not just a live chat software.
It's more of an all-in-one customer communications platform and helpdesk software combined, with live chat features built-in as well. 
In short, Intercom helps businesses build great customer relationships through messaging and various other customer service channels.
Here's how the company describes it on its website: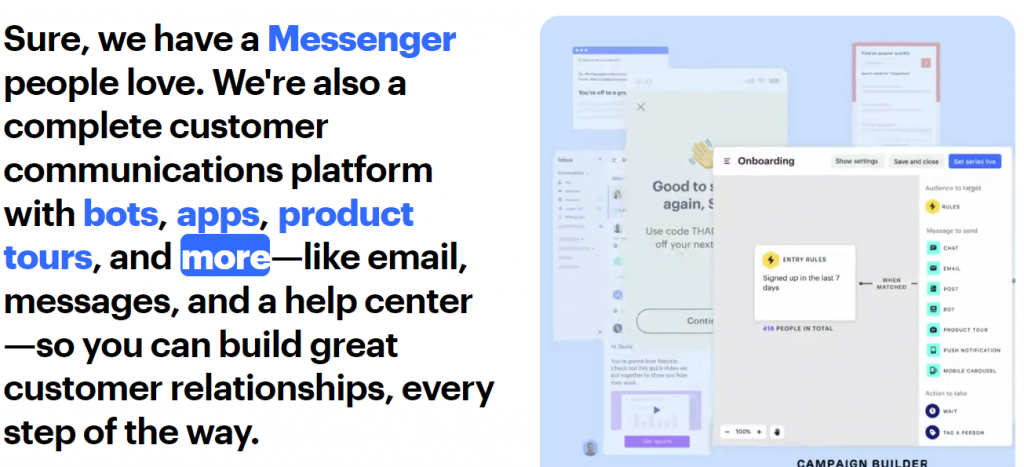 Some of Intercom's key capabilities include:
Live chat for website visitor
Self-help options through a help desk or a knowledge base
A dynamic ticketing system
Email campaign builder for all stages of buyer lifecycle, including onboarding
Automation features including support bots
Not just this, Intercom is also one of the biggest success stories in SaaS. It is a true customer engagement powerhouse, as it has offerings across support, engagement, and marketing.
Intercom caters best to the following industries:
E-commerce
Financial services
Education
Healthcare, etc.
Intercom Pricing
Is Intercom free or do they offer a free plan? Unfortunately no.
The company offers a 14-day free trial only for small businesses. After the trial period though, the minimum fee is $67.15 per month, even for small businesses. That's steep!
So now look at some more reasons other than the cost, why we should be looking at Intercom live chat alternatives.
Why Look for an Intercom Live Chat Alternative
Intercom is highly rated on average, but let us look at some negative reviews to understand the issues customers are facing with Intercom.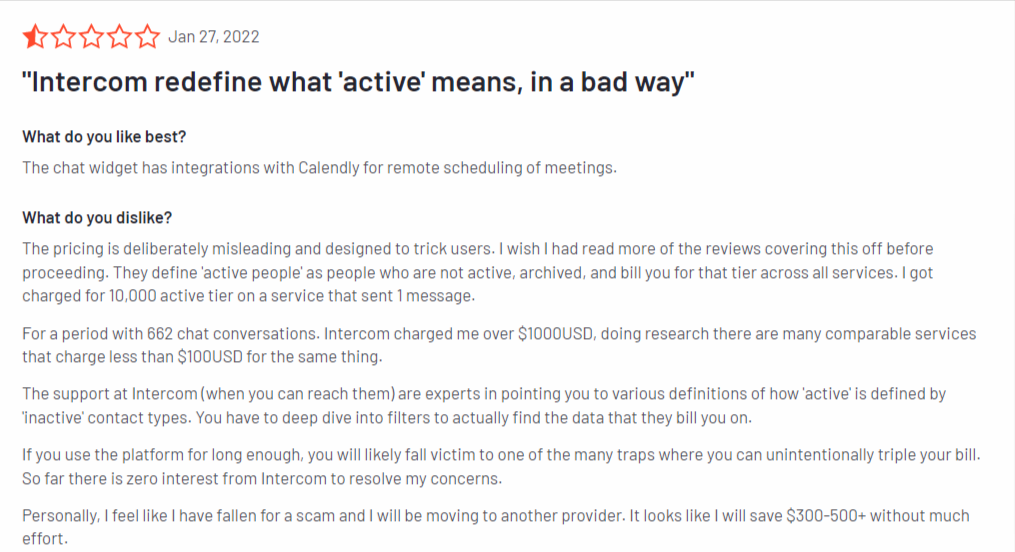 So its pricing is non-transparent and tricky, plus some customers have found the company's customer experience questionable too.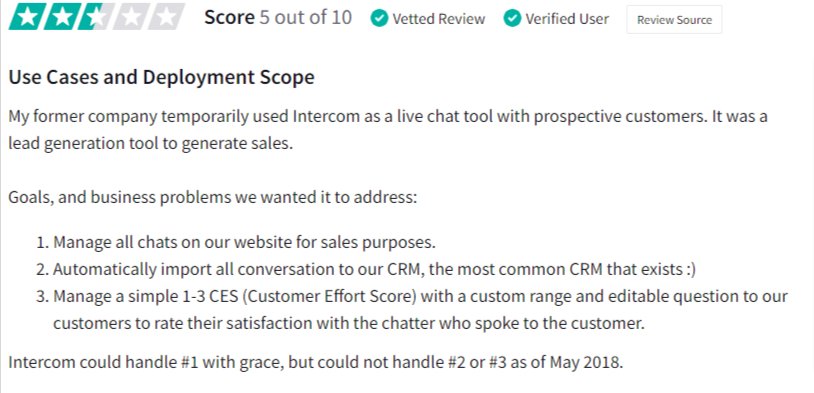 Intercom also has issues with integration with the tools your company may be presently working with, which can be a huge con. And the company aren't very efficient with the customer satisfaction feedback process.
Some other reviews quote:
'Intercom is powerful but pricey, feature-rich but bloated'
'Intercom – A Chat tool that has scaled to more things, but remains a B2B tool'
'Over-priced, dumb software with crappy service'
We have also had reports of customers facing issues with the email marketing automation tool offered by Intercom.
Basically, it seems to have taken on a lot of features and services, and in the bargain, service is suffering, and none of the features operate at maximum efficiency. Of course, the pricing is very high, making it unaffordable for small companies and difficult to scale for the big ones.
So without further ado, let us take you to the list of best alternatives to Intercom live chat services.
Top Alternatives to Intercom Live Chat in 2022 (Including Free Options)
#1. Social Intents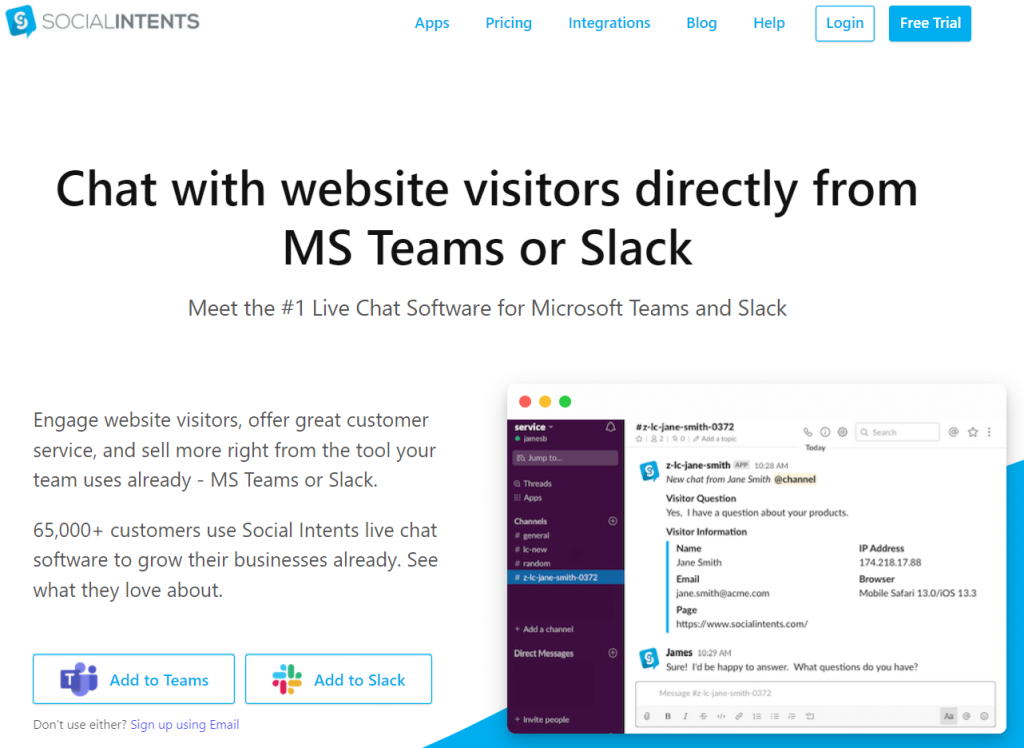 In all fairness, Disclaimer: Social Intents is our tool.
We built it specifically to offer a robust live chat functionality to companies looking to implement the channel without having to learn new tools, and use their existing workflow.
For that reason. Social Intents integrates with the two most popular communication tools – MS Teams and Slack. 
And here's what 65,000+ customers use Social Intents live chat software for already:
Providing incredible live chat support
You can support your customers in real-time with Social Intent's live chat support system.
And while your customers can be wherever they are, you do not have to switch your tools to support them. That's right!
We built Social Intents to provide real-time live chat support directly through Slack and MS Teams, or even a web-based chat conversation console.
You can save tons of money and time training your team on new software and let them focus on providing better support to the customers. Your team can receive inquiries in Slack and MS Teams only reply there itself.
Engaging website visitors and generate leads
With Social Intents, you can efficiently support your customers and at the same time use live chat for lead generation. Here's how:
With proactive messaging, engage with your customers even before they are thinking of engaging with you.
Use canned responses to save time and answer your customers faster than expected.
Strategically place the chat widget on selected pages with the targeting rules
Access live chat metrics to see what is working in your live chat strategy and what needs improvement.
Increasing online sales
To close more sales, you need to engage with the customers in real-time, and exactly when they need you. For example, when they are contemplating buying your products and all you need is to give them is a discount or a better deal.
Social Intents allows you to do that so you can give solutions exactly when the customers need them, and close more sales online.
Who is Social Intents for?
Organizations already using MS Teams, and prefer a live chat software that connects with it (MS Teams) in minutes. For example, a lot of government organizations and colleges as they mostly use MS Teams and hence Social Intents.
Companies and Startups that use Slack and manage their team members remotely, as they practically live on Slack.
Social Intents is also ideal for all organizations looking to scale up in the most affordable way. Social Intents offers unlimited agents on all their plans (beyond starter) starting at $49 per month.
#2. Olark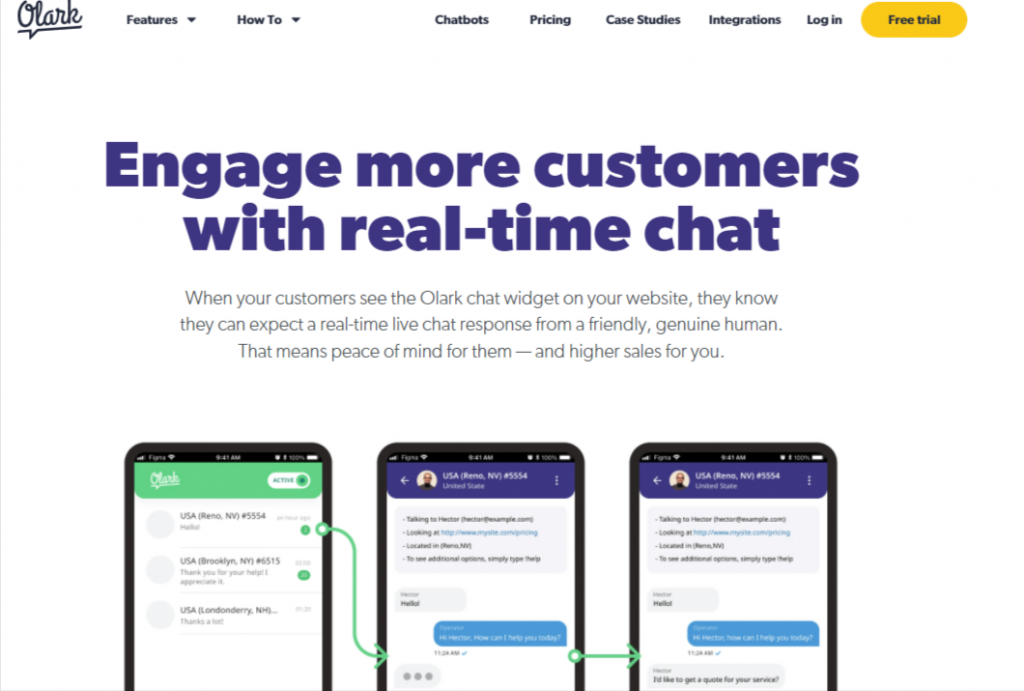 Olark started in 2009 as a chat widget and evolved into full-blown live chat software. It suits businesses of all sizes and has some great live chat functionalities, like:
Live chat automation
Live chat analytics
Live chat transcripts
Custom chatbox forms
Visitor co-browsing
Live chat translation
Their pricing starts at $29 per agent per month with a 35% discount if you buy a 2-year subscription. However, the basic plan only covers the basic features, and not advanced functionalities like customer ratings, desktop, and mobile app integration, file sharing, knowledge base, etc.
Olark does stand out in its 'accessible live chat' section, which makes live chat accessible to people with disabilities. It offers benefits like:
Chatting with just the keyboard for people with motor difficulties in using the mouse.
Easier chatting for visually challenged or for people depending on screen readers.
Large text support for people with low vision, etc.
#3. Tidio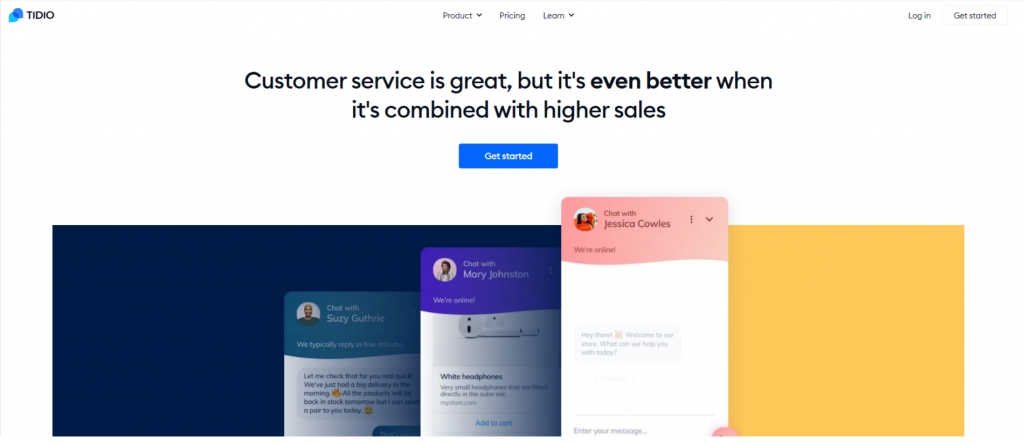 Tidio is a good choice for small businesses looking for sales-oriented live chat software. It brings together live chat and chatbot technology for generating more sales and ensuring customer support at all times. 
Here are some of the notable features of Tidio live chat:
Agents can monitor clients in real-time and help them convert, for example by offering discounts in case of shopping cart abandonments.
Up to 40% automated conversations with 20+ templates or by building your own chatbot flow.
Integrate your live chat into one multichannel communicator along with other channels of communication, including, email, and Instagram.
Availability across devices and channels, so never lose a potential customer and can talk to them wherever and whenever they want.
Tidio takes 5 minutes to set up and is available to start for free for a limited period of time.
#4. Hubspot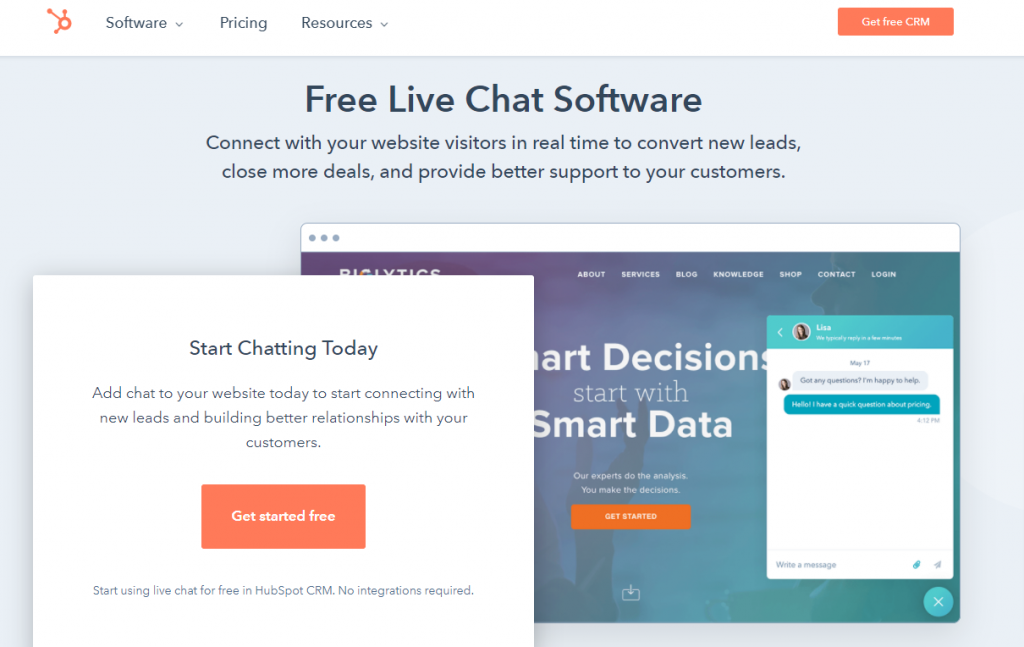 Hubspot does not offer a live-chat-only option, but we must mention it here as it offers live chat free for a lifetime as part of its CRM platform.
if you are starting with live chat for the first time or do not have the budget for a paid live chat software, Hubspot is a great option for you. Their live chat integrations include:
Branded chatbox
Centralized inbox for future reference
Slack integration
Chatbot builder, etc.
It is also worth mentioning that they offer email, live chat, and calling all three big communication channels in their free plan.
#5. Tawk.to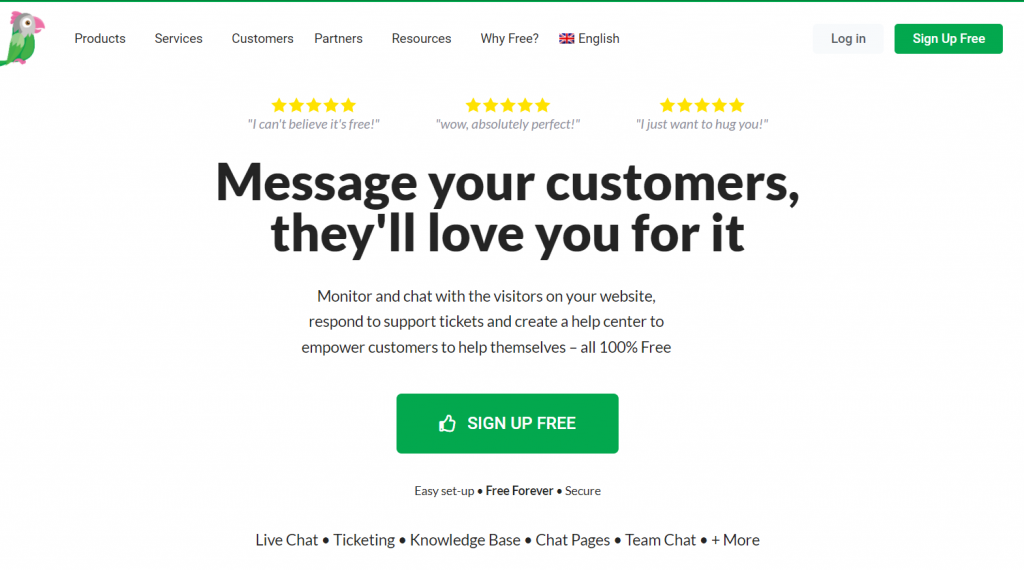 Tawk.to is a free-for-life live chat software. Yes, you heard that right.
So, let us straight get to their live chat features that include:
Monitor your website visitors in real-time so you can interact with them at the right time.
Localizing messages in your language (up to 45+) makes it easier to chat with your customer base in your native language and gives way for better communication
Answering chat from your mobile device so you never have to miss a chat again! It has apps for both Android and iOS.
A built-in knowledge base that enables you to accelerate your chat, etc.
No doubt Tawk.to loads a lot of features at no price at all. Now, free is good, but it comes at a cost.
There can be certain downsides to Tawk.to, because of it being free. Basically, things that might benefit your business, but aren't included, like:
Top-notch security – they don't owe you anything, so they don't promise either.
24x7x365 service – they are free so they don't guarantee customer service best practices like round-the-clock support.
Advanced features – message sneak peek, chat transcripts, file-sharing, etc. are some features that can mean a world when it comes to providing customer solutions and even driving sales. These are absent in Tawk.to
#6. Drift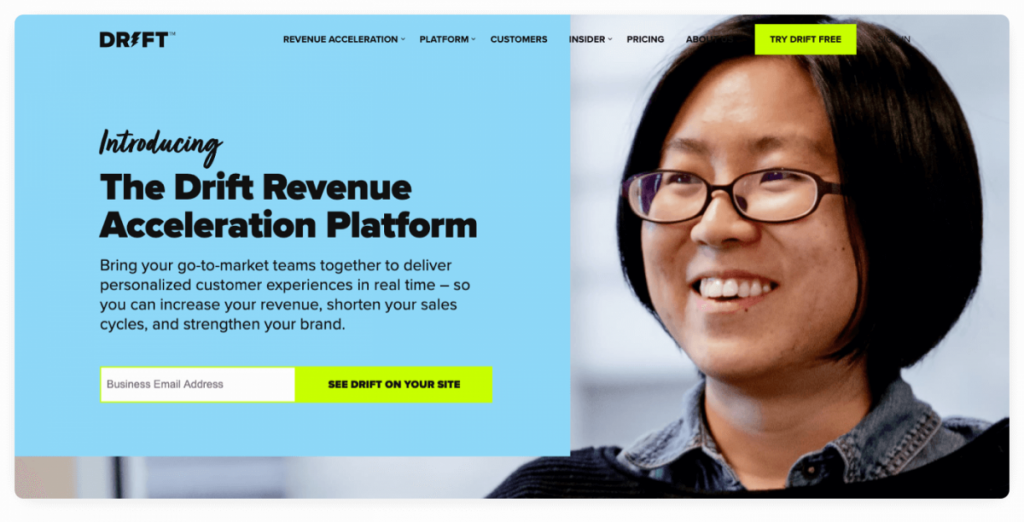 Drift is one of Intercom's closest competitors and offers very similar features as Intercom.
This also means that Drift is not cheap, and they are not a simple live chat software. They choose to call themselves a revenue acceleration platform and their pricing starts at $50 per month minimum (they do not disclose any pricing, so the estimate is from third-party reviews).
So, If you have the budget and are looking for software that is much more than live chat software, Drift is a fair alternative to Intercom.
Let us look at its live chat features:
Fast-lane your VIP visitors to the sales team
Create multiple Drift inboxes to manage different kinds of conversations
Save time answering FAQs with canned replies and knowledge base
Conversational ratings, etc.
#7. Chaport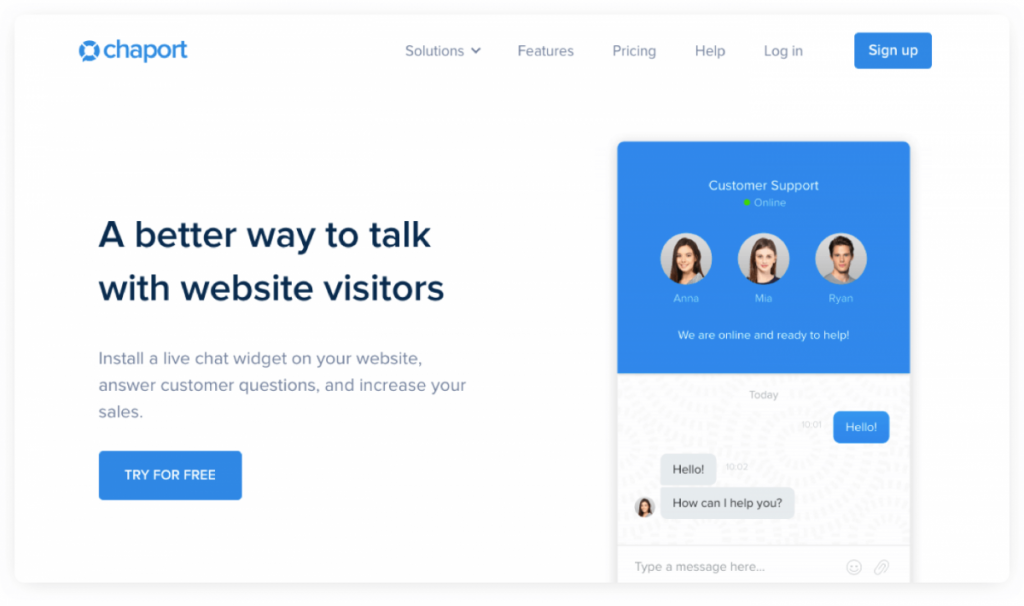 Chaport is another affordable alternative to Intercom live chat with simple and transparent pricing. Their free live chat plan gives you unlimited chats on an unlimited website for one agent. The chat widget in the basic plan comes with basic customization and is available across web, desktop, and mobile apps.
More advanced functionalities are there in the paid plans starting at $15 per month. Their live chat features include, but are not limited to:
Auto-invitations or pro-active messaging helps you politely nudge your consumers into conversation thereby converting them into leads.
Typing insights let you see what your customers are typing so you can reply to them with lightning-fast speed.
Group chat functionality lets you transfer a chat to a colleague, join a group chat, or view others' chats in real-time.
The pre-chat form helps you collect visitor info like customer name, email, phone, and any other information you need before starting the chat.
#8. Zendesk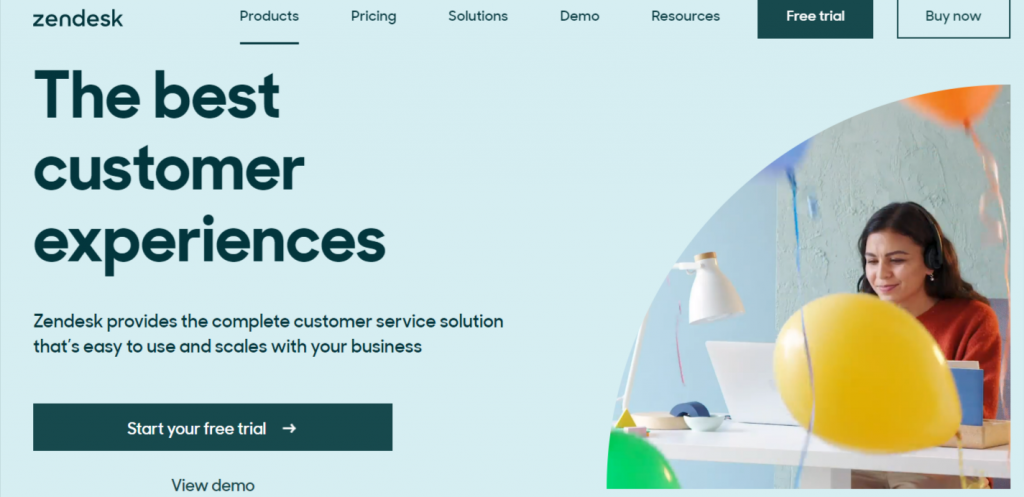 Zendesk's unique live chat capabilities lie in its focus on automation – its chatbots.
What is your biggest pain point when communicating with a chatbot? Getting a generic reply again and again that frustrates you and makes you feel like you are in a dead-end conversation with customer service!
Well, not at Zendesk.
Zendesk's AI-powered state-of-the-art chatbots avoid such problems and do not give you bot-like answers. The AI technology ensures that the bots get the context right, and you get a 'human' and relevant reply to your query, without having to bang your head against the wall.
They also have a cool offer for early-stage startups – use Zendesk free for up to six months if you qualify!
Other than live chat, their multi-channel customer service solutions include:
Messaging
Social media
Email, and
Calling
You need to have deep pockets to use Zendesk though. Mostly because of their AI technology, their plans start at $49 per agent per month and are available for a free trial.
Conclusion
There you have it! The list of the top Intercom live chat alternatives so you can choose what suits you the best. 
Best of luck!