Thinking of using Drift's live chat? Wondering if any of the Drift alternatives would work better for you?
FACT: 71%, that is almost three-quarters of customers expect to communicate with businesses in real-time.
What's more?
It is safe to say then that any business wanting to grow cannot ignore the conversational marketing piece, and effectively the live chat piece.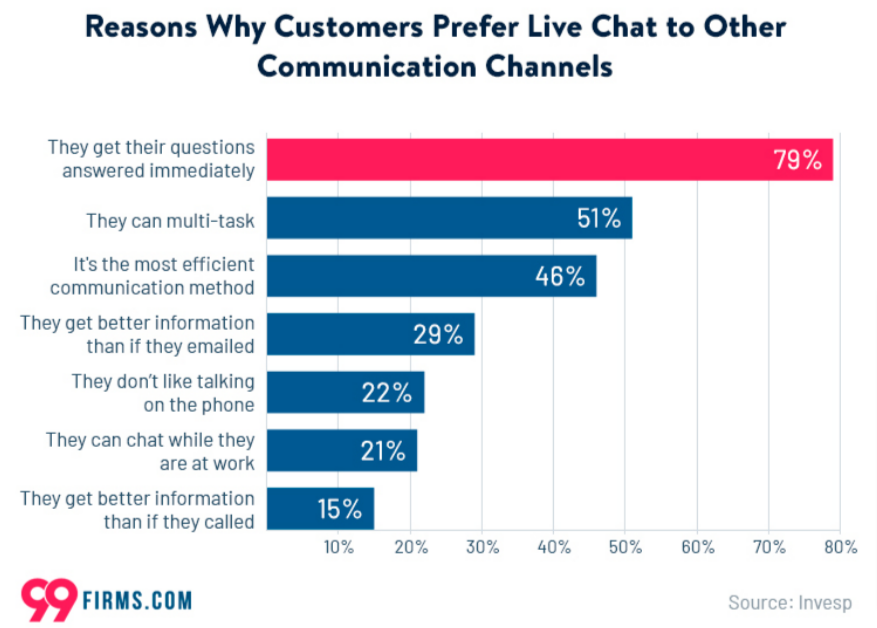 So, as a progressive business, you are either using live chat already or thinking of putting it in place, and wondering what are the best tools for it.
Drift is a well-known live chat software. But the question is, is Drift good for you? What are some alternates you should look at, whether you are using Drift already, or thinking about it?
We will be answering all these questions for you in this article.
So let us get started!
What is Drift Live Chat?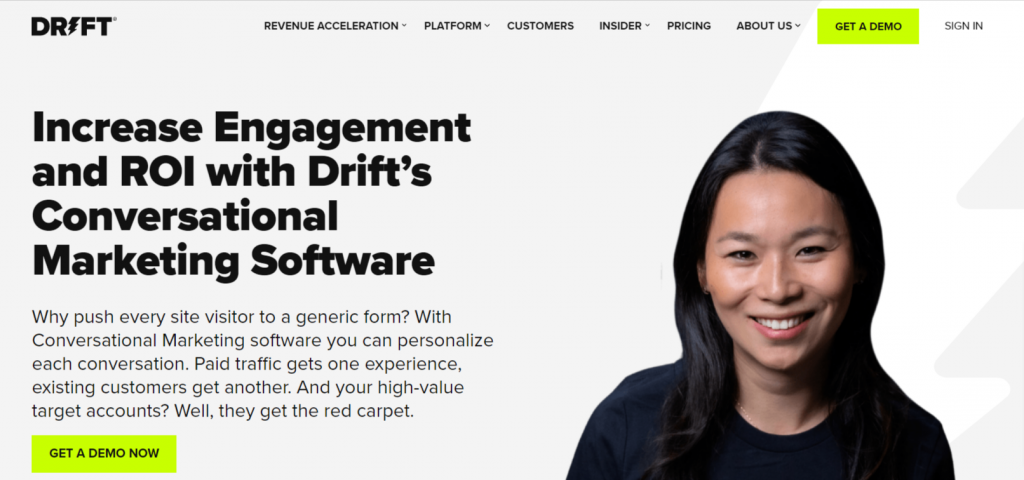 Drift is a conversational marketing platform that promises to increase customer engagement and ROI for your business. How does it do it?
This is how:
It enables your business visitors to start conversations with your team – however and whenever they want. They can contact sales, click to download documents in real-time, book a demo, etc. You can then take the conversation forward in the most relevant manner, thereby enriching the customer experience.
Contextual conversations result in clear pipelines and more revenue, so you generate more revenue from every marketing dollar you spend.
Drift gives you actionable analytics so you can constantly tune your performance and make better conversations with your customers.
Live chat is the main driver here, and some of the main Drift live chat features are:
AI-powered chatbots that talk to the site visitors in completely natural language, as selling assistants, 24×7.
Visitor intelligence data to start the most relevant conversations.
Website forms that can be transformed into chat instantly, etc.
Drift does not mention pricing on its website, but third parties quote its price to be approximately $600 per month for 10 seats and $80 per month for each additional seat.
You have the option of trying them out for free with their free live chat version for one seat.
Drift is a popular live chat app, but let us now see where is it falling short in customer expectations. 
Is Drift Good for You?
For most customers, Drift is amazing. It's no surprise. The company has years of experience in building communication tools for business.
At the same time, some customers face issues with the tool. Here is one.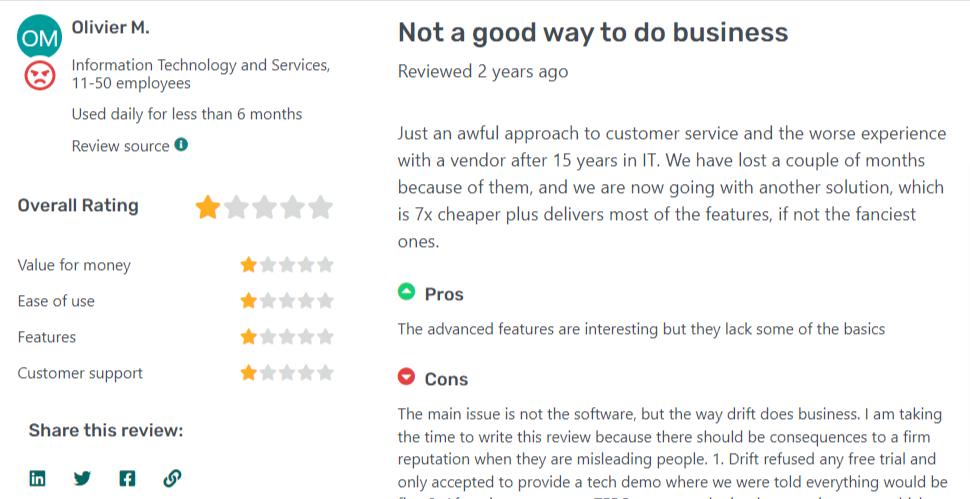 The business owner here is not happy with the customer service of Drift and seems to have lost a lot of valuable time because of it. He also says that finally, he found a live chat service that is seven times cheaper than Drift, so surely there are other more cost-effective options available in the market.
Let us look at another.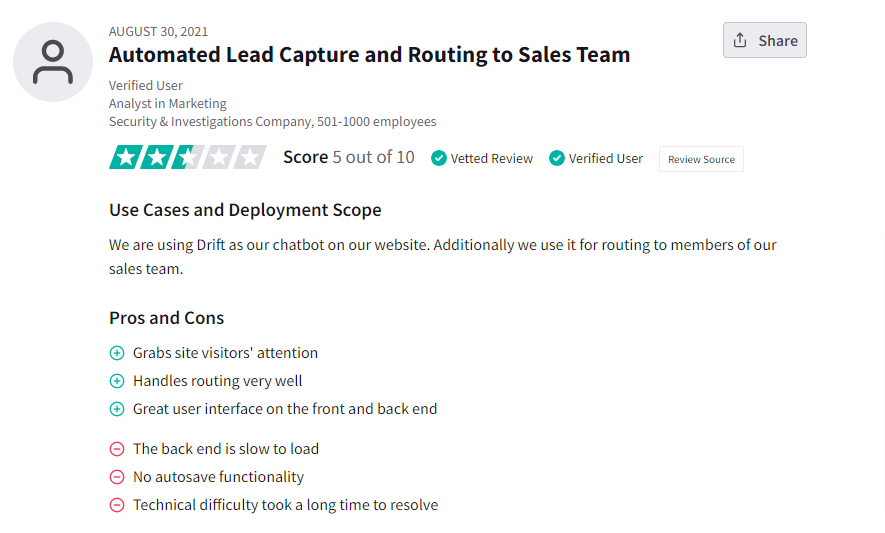 This more recent customer review also talks about delays on the part of the resolution team, which means Drift customer support remains poor. Plus the user has raised points like no auto-save functionality and slow back end.
Their slow customer communication is visible, even in their response to the reviews.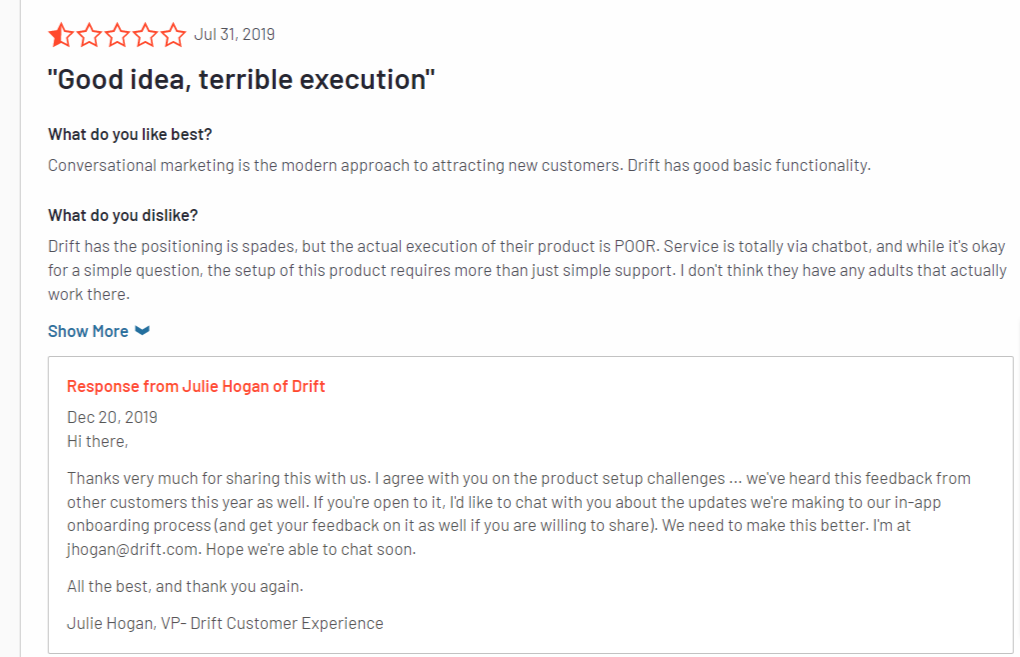 The user left a review in July, but it was only answered by the customer experience team in December. Not the fastest for sure 😉
Some other issues that we came across in reviews are:
Misleading, messy, and very limited.
Over promising sales team, shady assurances, half-built
Over-promise, under deliver
Difficult to set up with bad support, etc.
Clearly, there is a lot of scope for your business to find a:
A most cost-effective live chat app
A conversational software with better support
An easy to set-up, and easy to use, live chat app
A live chat app that gives all the information upfront and helps you with every way of your journey.
So let us look at some Drift alternatives that can provide you with all these qualities and more.
5 Best Drift Alternatives in 2022
#1. Social Intents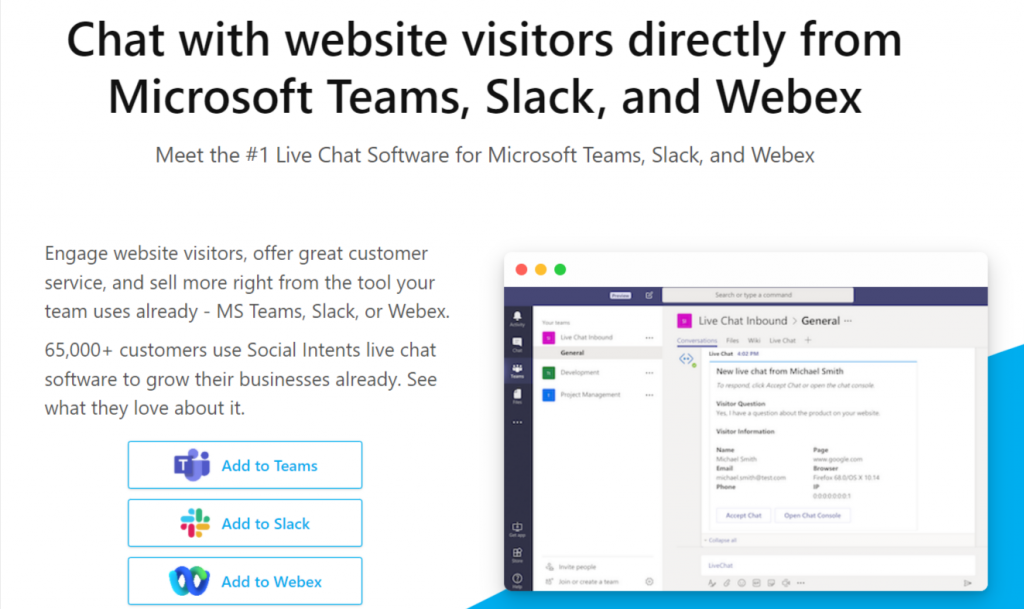 Disclaimer: Social Intents is our tool.
We built it specifically to offer a robust live chat functionality for companies looking to implement the channel without having to learn new tools.
For that reason, Social Intents integrates with the three most popular communication tools – MS Teams, Slack, and Webex. So if your organization uses any of these tools, you can launch live chat for sales with Social Intents within minutes and start chatting directly from these tools!
Social Intents also integrates with other tools like Zapier, WordPress, Shopify, Dialogflow, BigCommerce, Wix, etc.
By integrating Social Intents in one of the tools that you are already using, you can save tons of money and time training your team on new software. Instead, let them focus on providing better support to the customers.
And here are some other reasons why 65,000+ customers use Social Intents live chat software already:
Engaging website visitors and generating leads
With Social Intents, you can efficiently support your customers and at the same time use live chat for lead generation with:
Proactive messaging lets you engage with your customers even before they are thinking of engaging with you.
Canned responses help you save time and answer your customers faster than expected.
Strategic chat widget, which you can place on selected pages with targeting rules.
Live chat metrics allow you to see what is working in your live chat strategy and what needs improvement.
Increasing online sales
To close more sales, you need to engage with the customers in real-time, and exactly when they need you. For example, when they are contemplating buying your products and all you need is to give them is a discount or a better deal.
Social Intents allows you to do that so you can give solutions exactly when the customers need them, and close more sales online.
Who is Social Intents for?
Organizations already using MS Teams, for example, a lot of government organizations and colleges.
Companies and Startups that use Slack and manage their team members remotely.
Teams communicating on Webex
All organizations looking for a great live chat tool with exceptional support, which seems to be the biggest pain point with Drift. Our clients cannot stop raving about our customer support!



Social Intents is a great alternative to Drift in terms of pricing also, as it offers great affordability for both big and small companies. For $200 which is one-third of the price of Drift, you can set up live chat on unlimited domains, for unlimited agents. They offer 'unlimited agent' pricing across all their plans beyond the starter that allows you to scale up if you are big and get the maximum value if you are small.
#2. Chatra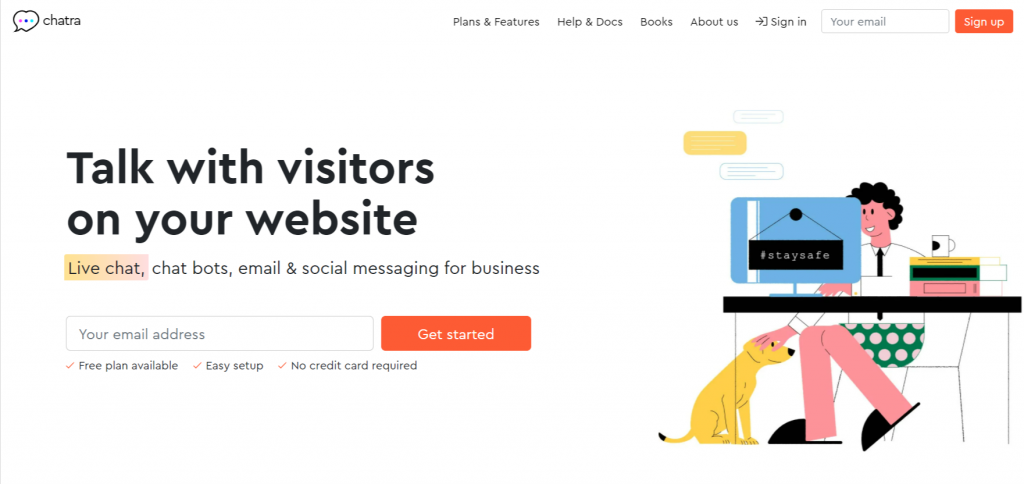 Chatra is a live chat software that focuses on website visitors. Some of their key live chat features are:
Manage messages from one multi-channel dashboard (including email, Instagram, and Facebook messenger), and forget about switching between different browser tabs.
Email chat transcripts
Read receipts
Email open tracking
File transfer
Screensharing
Visitor banning, etc.
One of Chatra's main focuses is e-commerce stores, and so their e-commerce platform integrations include:
Shopify
BigCommerce
Ecwid, and
WooCommerce
If you are an e-commerce company, your team can sell more effectively with Chatra. Here's how:
With visitor intelligence, the agents can see what a visitor has added to his shopping cart and make real-time suggestions about upgrades, products that are frequently bought together, etc. They can also offer additional discounts to close deals.
Agents can also proactively ask customers for real-time help in choosing products, by targeting visitors on specific pages, like landing, product, etc.
Your agents can set up group chats to include multiple decision-makers in one conversation, including other representatives or managers if necessary.
Some other features for better sales include, chat transcripts, multilingual support, multiple channels dashboard, automated messages, bots, automation, etc.
The cool thing is, they start with a free plan for one agent, and you can run with it as long as you want! However, that only includes online and offline chat widgets. For advanced features like chatbots and visitor intelligence, you need to sign up for one of the paid plans, which are also available for a free trial.
#3. Hubspot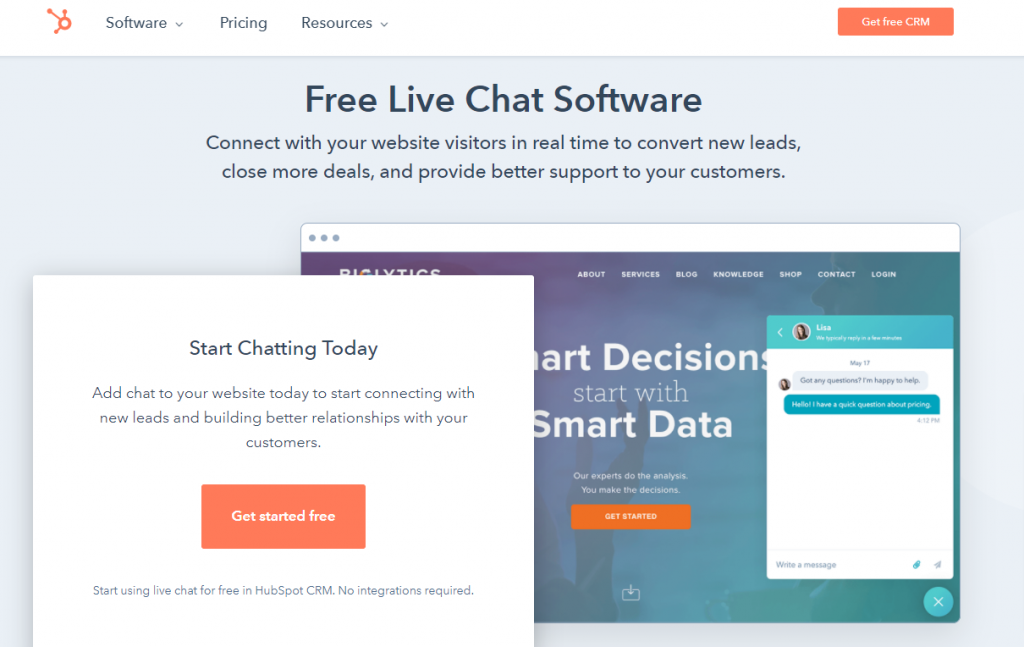 If you are starting with live chat for the first time or do not have the budget for a paid live chat software, Hubspot can be a good option.
Hubspot's customer relationship management software is free for life and comes with a bundle of features, including:
Three big conversational tools: live chat, email, and calling. Their live chat features include:

Canned messages
Branded chatbox
Chatbot builder, etc.
Conversation inbox is a universal inbox that gives your sales, marketing, and customer service teams one place to view, manage, and reply to all conversations from live chat, bots, or team email aliases.
Contact activity lets you see detailed interactions between a contact and your website in a single place, including page views, form submissions, sales activity, and more.
Chatbots to automate and scale your live chat conversations.
Out-of-the-box integration with Gmail, G Suite, and Outlook or Office 365 for Windows, so you can access email templates, contact and company info, and more right inside your inbox.
With these features in Hubspot CRM, you can:
Capture more leads and grow your database
Create and send bulk email for free and then analyze what works.
Create more personalized customer experiences, and much more.
#4. Tawk.to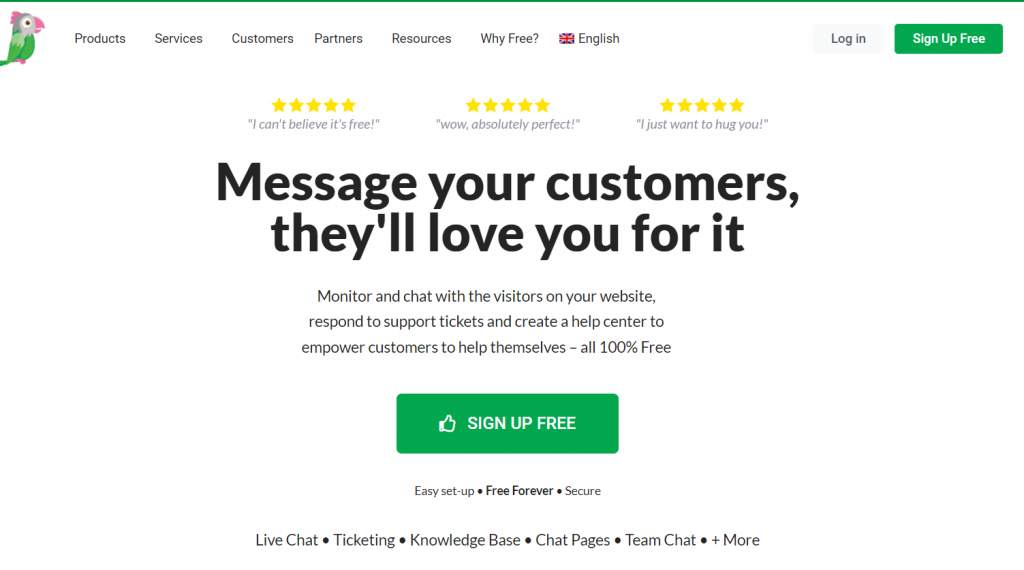 Tawk.to is also a free-for-life live chat software. Yes, you heard that right.
So, let us straight get to their live chat features that include:
Monitor your website visitors in real-time so you can interact with them at the right time.
Localize messages in your language (up to 45+) making it easier for you to chat with your customer base with different native languages.
Answering chat from your mobile device so you never have to miss a chat again! It has mobile apps for both Android and iOS.
A built-in knowledge base that enables you to accelerate your chat, etc.
Tawk.to does have a lot of features at no price at all, but there are also certain downsides to it. Basically, features that are very important for every business are not available:
Top-notch security – They don't owe you anything, so they don't promise high standards of security.
24x7x365 service – Being a service, they don't guarantee customer service best practices like round-the-clock support.
Advanced features – Features that can mean a world in customer messaging solutions and driving sales are missing, like message sneak peek, chat transcripts, file-sharing, etc.
So, only if you are looking for an absolutely free option for life, Tawk.to can be a good alternate to Drift.
#5. Terminus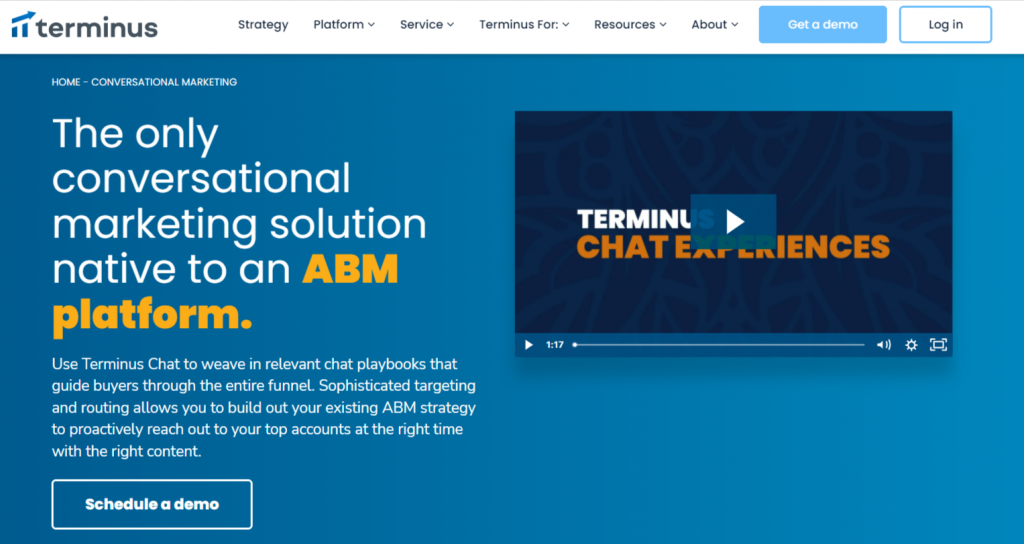 Terminus chat is a live chat platform, purpose-built for account-based marketing, popularly known as ABM.
ABM focuses on catering messages to the top decision-makers for target accounts with a blend of marketing of sales tactics. As a strategy, ABM targets companies, rather than individual customers.
So, if your business is specifically focused on ABM, Terminus chat can be a good option to try as a Drift alternative. With Terminus chat, you can:
Connect every campaign to a conversation: With 'Chat From Anywhere™', you can turn every single marketing touchpoint into a conversation with a single click.
Build chatbots in two styles: Whether you want to build a linear workflow (think Marketo) or a visual workflow (think HubSpot), you can do both with Terminus Chat.
Make the right connections: Terminus Chat Experiences identifies your visitors and, if they're an assigned account, will instantly route them to the responsible rep. This allows your team to build relationships with their most important accounts.
Terminus chat does say that they provide all these services at the fraction of a price as compared to the competition, they keep the pricing under the covers. Third parties quote that their pricing plans start at $500 per month for 10 seats, which effectively denies their above-mentioned promise.
However, being a new player, Terminus chat focuses on innovation and can be worth trying.
Conclusion
Ta-daaaa!
So this was our round-up of the five best Drift alternatives. We hope that depending on what your business needs are, you will be able to choose the right one.
All the best!