Thinking of using live chat for your ecommerce business? Wondering what live chat apps are the best for online stores?
Shopping online is often a much more pleasurable experience today. Customers can browse your shop's stock from the comfort of their couches, for one. Or do it while sitting at their desks at work.
But this sometimes poses a problem too. You see, they can't ask for advice. You're not available to them as they shop.
That's where e-commerce live chat comes in.
With the right live chat app, you can provide almost the same level of customer support and experience to online shoppers as you would if they were browsing the stock in a brick-and-mortar store.
The problem? Which live chat app would work best for your online store?
That's what you'll find out from this guide. We'll look at seven absolutely amazing live chat apps for e-commerce, and help you choose the best option for your store.
So, let's do it.
#1. Social Intents – The best e-commerce live chat with Slack and MS Teams integration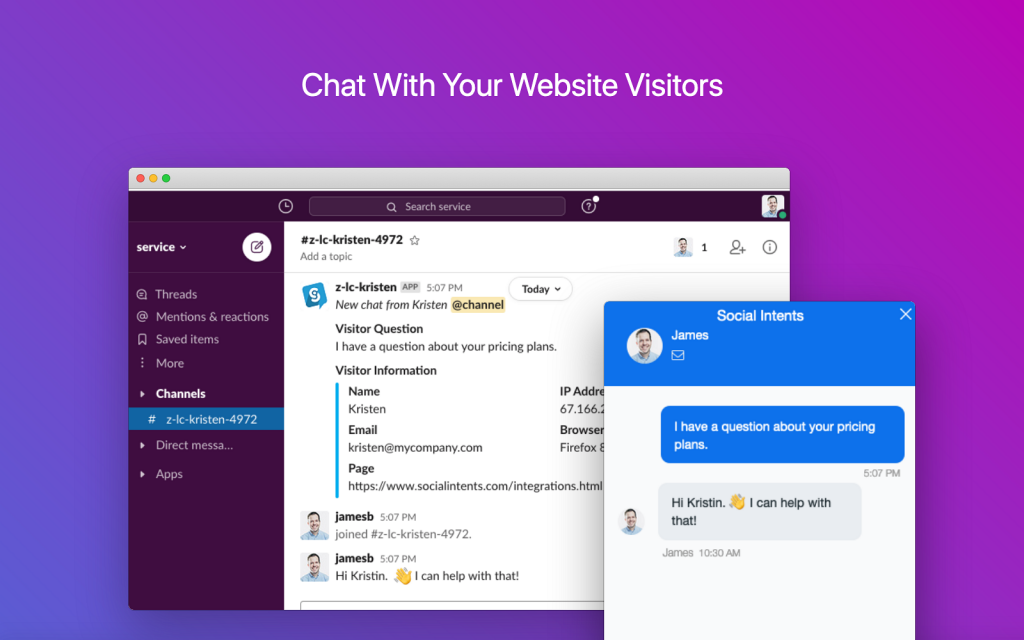 Social Intents is one of the best live chat tools for e-commerce. But we are not just saying it because it is our tool (disclaimer); here is the proof.
Remember selling from a tool that you are using already and saving precious dollars? Well, then, Social Intents is the tool for you.
Unlike other live chat apps where integration with other apps may come as an add-on, we build Social Intents with the very purpose of operating out of Slack (and MS Teams and Webex).
So you do not have to waste a dime on training your team to sell on another tool.
By integrating Slack with Social Intents, you can:
Use the Slack slash commands that you know so well to reply to frequently asked questions and sales queries quickly.
Drag and drop files to send to sales conversations.
Specify targeting rules and automatic chat conversation triggers based on different visitor behavior.
Track your usage with a live chat dashboard.
Access the chat on your desktop as well as mobile.
#2. Kindly – live chat app with a virtual assistant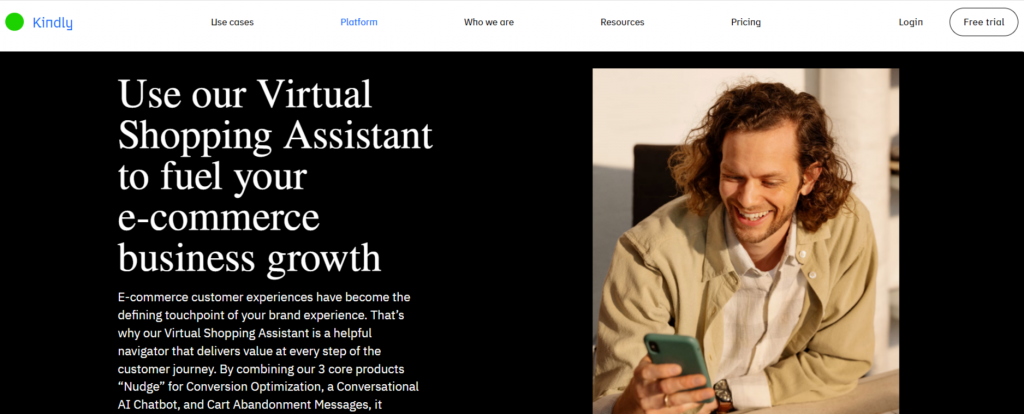 Kindly focuses on e-commerce conversational AI and provides specific solutions accordingly.
Here are some of the things they claim their conversational AI can do:
Start the conversation and turn online shopping into conversational commerce.
Increase customer satisfaction by up 80% and delight shoppers at any stage of their journey with our conversational AI.
Scale your business with on-site optimization and cart abandonment solutions, and increase conversion rates by up to 12%.
Enable 24/7 availability and increase customer support effectiveness by automating up to 80% of customer inquiries.
Kindly's AI chatbot directly engages with online shoppers, so you can automate the repetitive stuff while your sales agents focus on more complex issues.
Just like an in-shop persona assistant, Kindly's chatbots sell proactively and help the customer find what they need by making recommendations.
#3. Gorgias – Ecommerce live chat with help desk software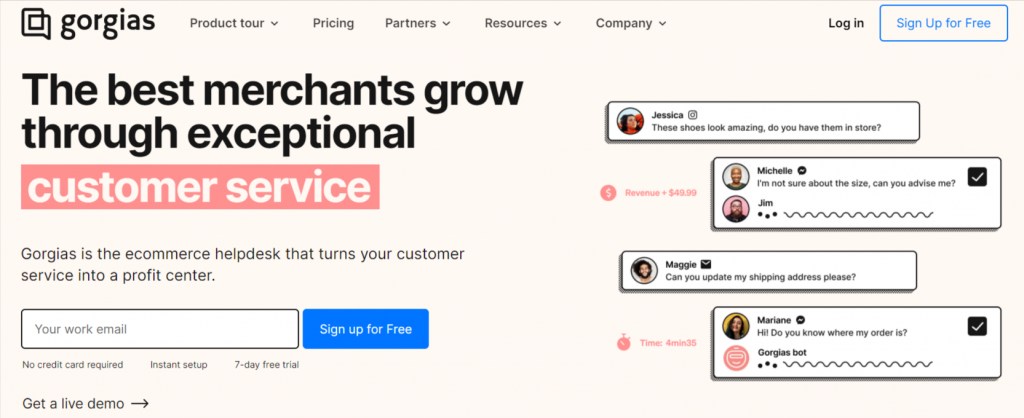 Gorgias is an e-commerce helpdesk and offers multi-channel customer support, including live chat.
It promises merchants exceptional growth through some special live chat features like:
Order management – Agents can recommend products from the store itself and manage orders without leaving the helpdesk.
View order information without opening extra tabs.
Customize the helpdesk to show the most relevant information from 65+ leading commerce applications.
Create orders, issue refunds, and perform third-party actions in one application itself.
Multi-stores lets your agents work on one messaging platform while having a multi-store context. This gives them the agility to quickly move between brand inquiries and focus on resolutions (instead of logging into different helpdesks).
#4. Chatra – Live chat for ecommerce
Chatra is another live chat software mainly focused on websites and e-commerce stores. 
They provide visitor intelligence features like 'shopping cart contents'. This means that the agents can see what a visitor has added to his shopping cart and make real-time proactive suggestions.
The suggestion can be about an upgrade, about products that are frequently bought together, and even about additional discounts.
They have kept their channels limited that tie up well with their focus on websites and e-commerce, including:
Online and Offline chat widget
Email helpdesk
Facebook messenger, and
Instagram
Agents can also ask customers for real-time help in choosing products, by targeting visitors on specific pages, like landing, products, etc.
#5. Tidio – Powerful communications platform for Ecommerce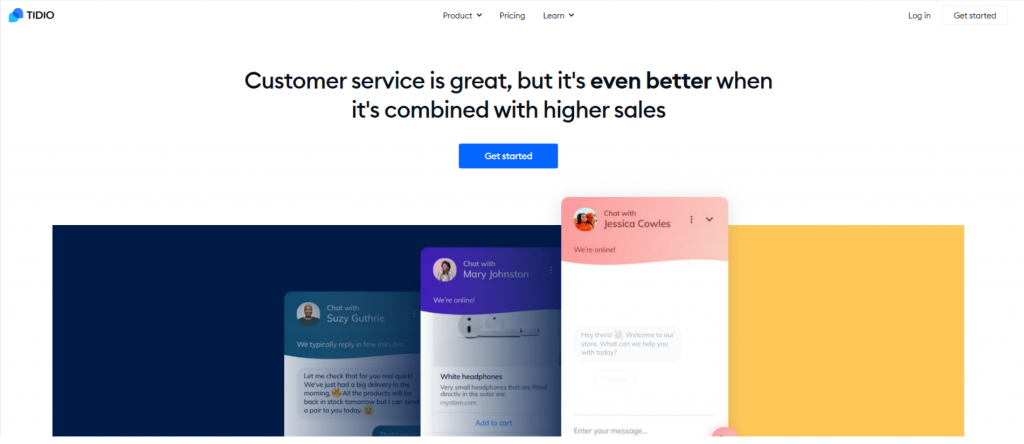 If you are looking for sales-oriented live chat software, you can consider Tidio. By using Tidio, your live chat agents can boost sales in many ways. Here are some:
Send a proactive chat message or a product proposal based on the time they spent on your page
See who is visiting your website in real-time and monitor which part of your website they are browsing
Stop customers from abandoning their carts by offering a discount or free shipping
See how your sales grow after the website visitors interact with Tidio
With Tidio, you can also automate your sales with their chatbot builder:
Automate answers to repetitive questions
Support multiple conversations without sacrificing the quality, and
Remove unnecessary workload from your team
Here's Why Do You Absolutely Need Ecommerce Live Chat
#1. With e-commerce live chat, you can sell directly to website visitors with ease
The cool thing about live chat is that you have many options for launching it without having to train your sales team on an entirely new app. That way, you can save precious resources on:
Manhours
Money on training, and
Buying a new app.
For example, if you use Slack (more than 10 million people daily do), you can launch live chat on your websites and apps within minutes, by integrating it with live chat apps like Social Intents that are built primarily for this integration.
Here are some ways you can use the Slack integration for sales:
Allows salespeople to have real-time conversations with not just their customers but with their business partners, and vendors – all in one place. This enables faster resolutions and better conversions.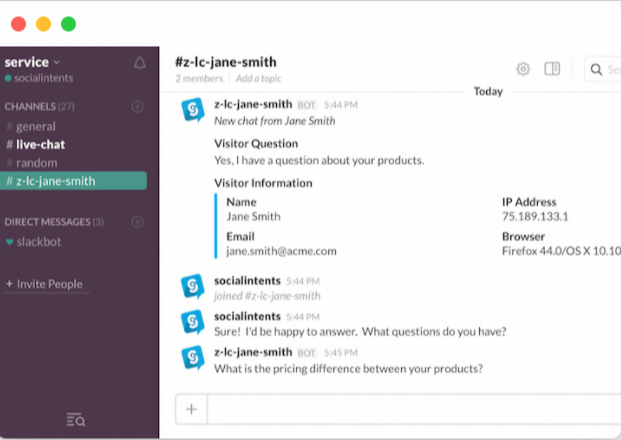 People from different teams like sales, marketing, product, legal, etc. all can come together to close deals faster.
Fast-track onboarding new sales members by creating an onboarding channel for the new employees and inviting them on Slack.
#2. Live chat helps you increase the response time 
The USP of live chat is the response speed. And so, customers expect replies within minutes, and sometimes even within seconds. No wonder then that 69% of organizations use canned messages in live chat for better engagement.
Immediate answers (enabled by the usage of canned messages, knowledge base, etc.) to sale queries result in increasing sales and faster conversions.
According to customer data from a live chat customer service team survey, an added live chat channel causes an 8%-20% increase in conversions. And the cool thing is that chatters spend 60% more per purchase than non-chatters!
#3. Ecommerce live chat cuts the sales cycle too
Fashion and apparel is the most popular eCommerce industry in the world, with sales expected to reach a whopping $1003.5 billion by 2025.
And the average number of pages visited by a fashion shopper is 26, second only to Grocery which is at 31 pages.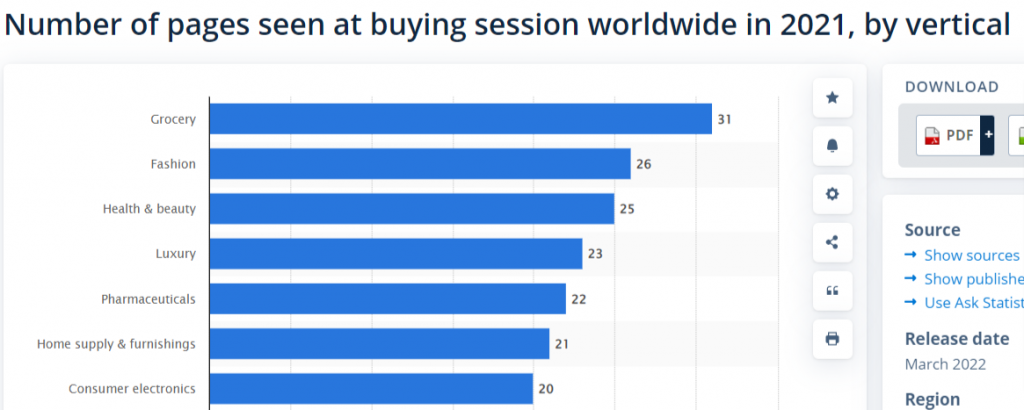 So one of the most efficient ways to close sales faster would be to reduce pageviews, at least for the top 5-7 e-commerce verticals.
Here is how you can do it with live chat:
Recommend products based on shopping history
Chatbots are an integral part of most live chat tools today, and they can make efficient product recommendations.
What is encouraging is that Chatbots were able to handle 68.9% of chats from start to finish on average in 2019. This means that with better algorithms and technologies like NLP evolving chatbots, chatbots are already good salesmen.
Here is how Lego recommends products on its online store:

Lego's bot 'Ralph' asks people a few questions and gives them perfect recommendations for faster conversion. From asking questions about age, and price category, to offering a free shipping code, 'Ralph' is making quite an impression.
Provide better deals on the wishlist items
If you have ever shopped online (and my guess is that you have), you know that the wishlist is where the desire lives!
A live chat support agent can co-browse with the customer and give them the best deals on their wishlist items, especially the ones that are in the wishlist for a long time.
You can also use chatbots to work here and send out emails with deals and offers on the wishlist pages where the customer keeps coming back.
Co-browse for a brick-and-mortar-like experience: By combining live chat with co-browsing and video chat, you can get closest to simulating a real-world experience for your shoppers.
And just like in the real world, you can walk around the shop with your customer, recommending products as per their personal taste, thereby reducing the pages to get to the products they end up buying.
This could work best for high-value fashion like luxury watches, jewelry, and high-fashion that makes a sizeable part of e-commerce fashion sales.
#4. It can also boost conversion margins 
A good live chat software lets you track your e-commerce website or mobile app visitors in real time. You can follow your customers where they go and proactively message them at the right moment to engage and upsell.
Engage: Sometimes customers are shy to ask for help, and they keep lingering on specific product pages without asking for help. You can engage with these visitors proactively and convert them into leads.
Upsell: Chatbots can use your e-commerce store customer data and suggest complementary products (think amazon's 'people also buy'), for example, mobile accessories on the purchase of a mobile.
Live agents can go one step ahead using the power of the human touch and recommend not just complementary, but different products that may come at a higher price but will suit the customer's needs better.
For example, suggesting a suite room to a customer who is looking at two standard rooms. He may just have to pay a little extra but will get more benefits and flexibility.
#5. E-commerce live chat is your way to minimize shopping cart abandonment
The e-commerce industry has whopping shopping cart abandonment rates, with clothing topping the list.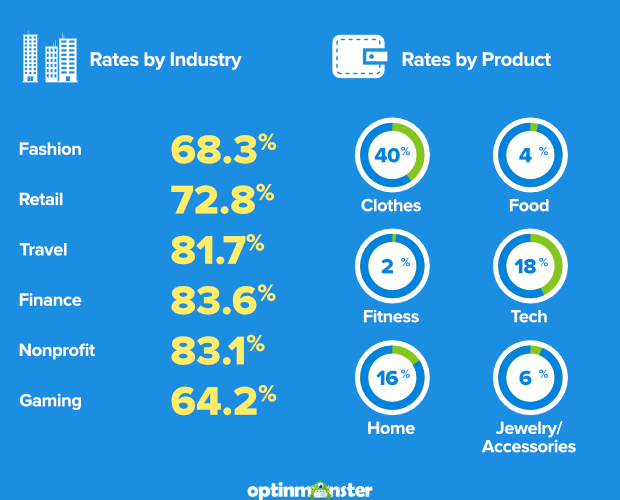 And 49% of the time, extra cost while checking out is the dealbreaker, like tax, shipping, and any other additional charges.
But the good news is that the abandoned cart emails have an open rate of 45%. So, you can use chatbots to send emails to customers with discount coupons, etc. to encourage customers to come back and complete their shopping.
#6. Live chat turns visitors into loyal customers through personalization
The most powerful way with which you can stand out in the eyes of your customers is undoubtedly through personalization.
You must show them that you know how they see your brand and expect out of it, and provide a shopping experience accordingly. This is the recipe for turning your visitors into loyal customers who will continue shopping with you instead of your competition.
Chat history and transcripts enable you to bring personalization into live chat, and take conversational e-commerce to a new level.
#7. And enables you to scale sales with minimum cost
The price at which a live chat app comes is important both for small and big companies.
If you are small, you want to get the maximum value out of minimum expenditure, and if you are big, you need a scope to scale up. Think of plans based on unlimited agents vs. per agent. 
Plus you need a tool that comes with the essential selling features for an e-commerce store, like:
Multilingual chat support
Sharing documents like files, images, attachments, etc.
Clickable buttons for customers and chat agents
Sharing catalogs, etc.
And there are live chat tools available in the market that can do this for you, so be careful when subscribing to one.
On that note, let's talk about some of the best e-commerce live chat tools in the market.  
Conclusion
We hope that with our round-up of information, you have a fair idea of deploying live chat to change the game in e-commerce.
Now go ahead and choose the tool that best suits your requirements, and get started.
All the best!