Are you considering using Olark? Wondering if there are any other live chat alternatives that'd work better for you?
Did you know that live chat has the highest customer satisfaction level of all digital channels?
It's true, take a look: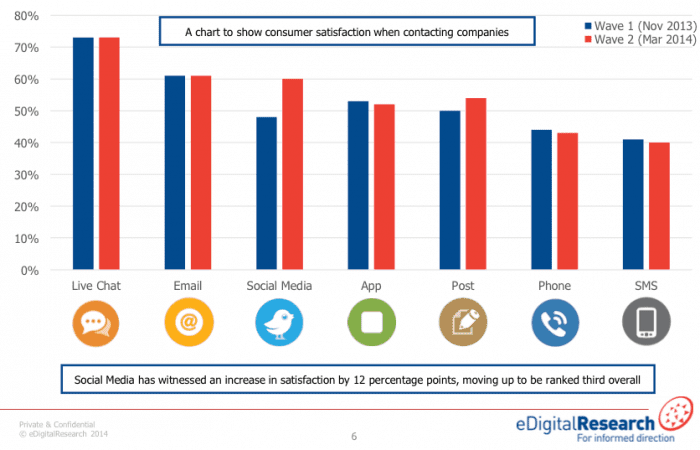 Image Source – Smart Insights
About 85% of businesses are expected to opt for live chat support by 2022. But live chat is not just about putting the widget on the site. To succeed with it, you also have to use live chat software that best suits your business needs.
Also, as more people are using live chat, new benchmarks are evolving:
A great live chat software becomes indispensable in such a scenario.
Olark is certainly one great option for businesses. But will the tool deliver on your needs?
You're about to find out. Below, we'll discuss what Olark is, how it delivers value, and what are the other alternatives on the market for you.
So, let's begin.
What is Olark
Olark started as a chat widget in 2009 and grew into a full-blown live chat software. As of today, Olark powers big and small businesses alike and offers the following features:
Real-time live chat
Live chat automation
Live chat analytics
Live chat transcripts
Custom chatbox forms
Chat management
Integration with other software
Visitor co-browsing
Live chat translation
Time Scheduling
Non-branded chatbox, etc.
Olark live chat not only helps its clients communicate faster but also gives a lot of added benefits to make smarter business decisions.
Now, let us take a look at their pricing.
Olark pricing
Olark pricing starts at $29 per agent per month and a 35% discount with a 2-year commitment.
Now, they are surely not the cheapest options available out there, with other similarly good companies offering better plans and pricing. For example, SocialIntents cover 2 agents per month in $29 to start with, and offers a 25% discount on all plans, billed yearly.
Also, their basic plan does not cover:
Customer's ratings
Desktop and mobile app integration
File sharing
Knowledge base, etc.
Pricing is just one factor why you are looking for alternatives to Olark. But there are other reasons too. Let's take a look.
Where Olark falls short
Olark is mostly rated well, but one look at the reviews below shows you some common functionality issues with Olark, like:
Basic web client
One size fits all approach
Bug issues and outages
Inability to share documents and pictures
Bare minimum features on the basic plan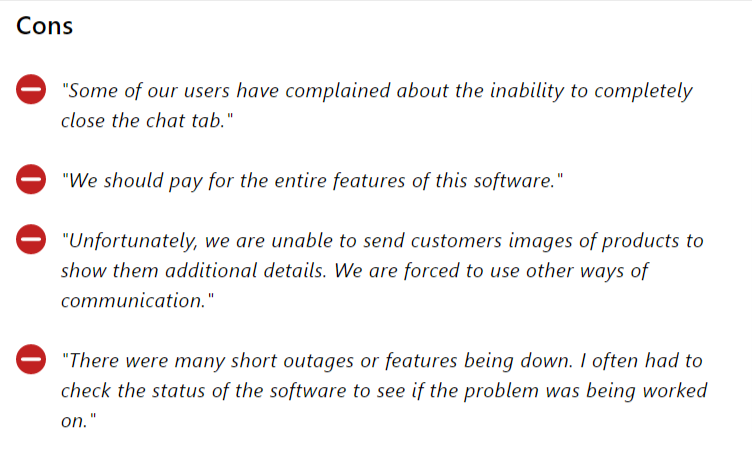 Fortunately, a variety of live chat software is available in the market today, so you don't have to adjust your needs. Plus, different businesses have different needs and it is worth exploring the market to find software that better fits them.
So, let us look at the best Olark alternatives for your business.
9 Olark alternatives to try in 2022
#1. Social Intents
Imagine the amount of comfort, the money, and the hours of training you can save if you can integrate a live-chat software with your existing tools.
Social Intents is a sophisticated live chat tool built specifically for this purpose!
SocialIntents integrates with Slack and MS Teams – the two most popular work chat apps.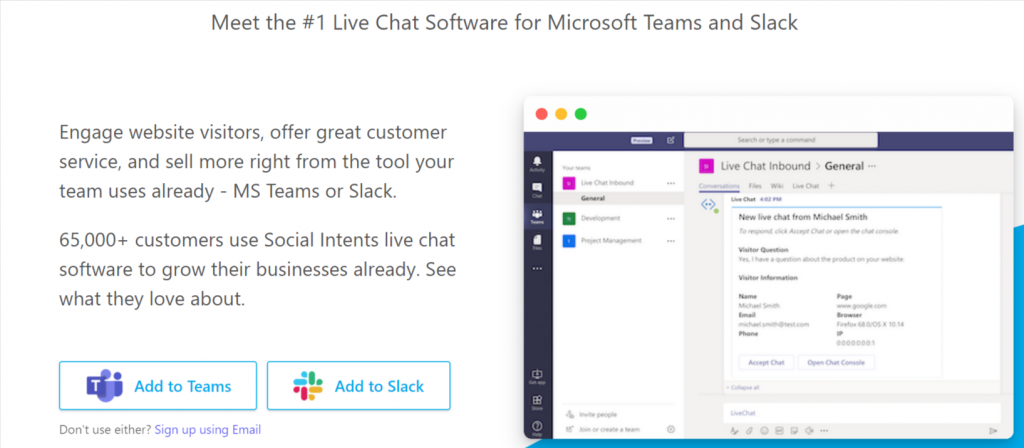 It also offers integration with many other tools, like:
WordPress
Shopify
BigCommerce
Zapier, etc.
It is popular with government organizations and colleges because most of them use MS Teams internally and need a tool that connects with it out of the box.
And startups turn to Social Intents because those companies practically live in Slack. Having a live chat there as well means that their customer support team can chat with clients without leaving the tool.
Social Intents is, therefore, great for teams of all sizes, as they allow unlimited agents across plans to chat with the customers (beyond starter).
Social Intents also provides:
Chatbots with Dialogflow, so you can build your own AI chatbot using the same technology that powers Google Home.
Conversion Pop-ups with exit intents, so you can trigger beautiful overlays and popups to build email subscribers.
Email list builder, so you can target website visitors with the right message and add subscribers to your existing mailing list provider
Social offers, like coupon offers and digital downloads for new subscribers.
#2. LiveChat
If you are looking for a multi-channel support service for your customers, LiveChat is a great option. It features:
Chat widgets for websites and apps
Sending and replying to FB messages from within LiveChat
Receiving and replying to text messages
Shared Inbox with LiveChat
WhatsApp Business within the LiveChat app
Chat with iOS users, etc.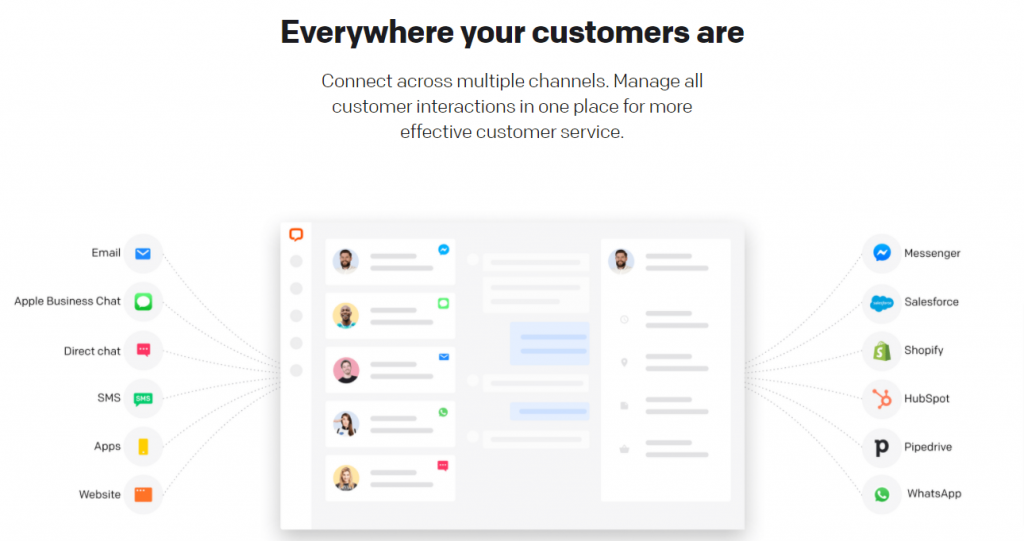 The basic plan starts with $19 per agent per month, with limited features and channels, and the list gets extensive as you go higher. However, all their plans are 'per agent', meaning, none of the plans have an 'unlimited agents' option, like in Social Intents.
You can have a lot of features at an extra cost, especially for big teams, like:
Ticketing system
Chat assignment to agents
Chatbots
Option of integrating with 200+ tools
Option of integrating with e-commerce platforms
Sales goal tracker, etc.
The cool thing about LiveChat is that you can add product cards, clickable buttons, and carousels to the chat.
#3. LiveAgent
LiveAgent is a great option for a live chat software that is also a multi-channel helpdesk system. In fact, they introduce themselves as a helpdesk itself –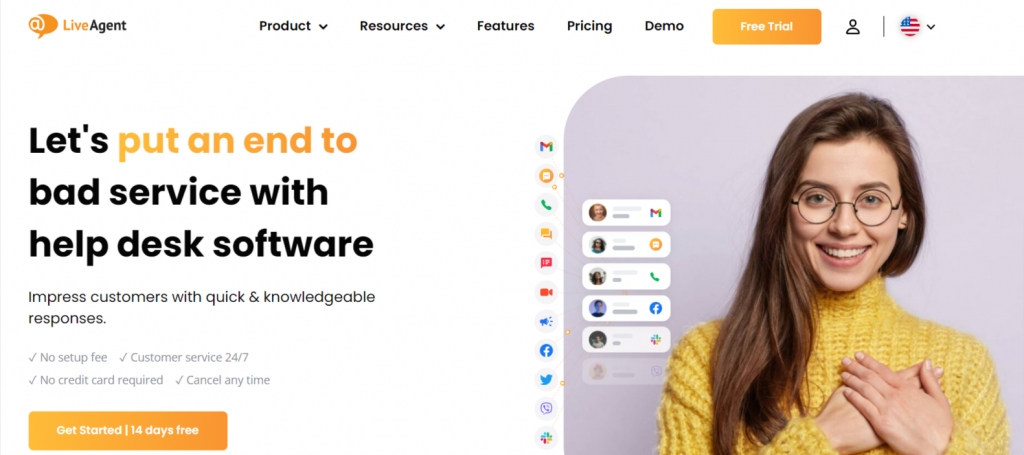 LiveAgent boasts of over 180 helpdesk features with a focus on agent productivity, conversions, and customer retention. Some of the advanced features in their helpdesk are:
Automated ticket routing allows you to automatically assign help desk tickets to support agents according to predefined rules.
Rules and workflow automation can be action-triggered, time-triggered, or SLA- based.
Automated callback gives the ultimate service experience to your customers, by requesting a call at the click of a button
Powerful built-in CRM for exceptional customer relationship management as your agents can access data from one place.
LiveAgent also provides great live chat solutions like chat box customization, video chat, and multilingual chat boxes with over 40 languages translated in real-time.
All their pricing plans are 'per agent', and a basic live chat plan starts at $29 per agent per month.
#4. Chatra
Chatra is another live chat software whose main focus is websites and e-commerce stores. They provide visitor intelligence features like 'shopping cart contents'. This means that the agents can see what a visitor has added to his shopping cart and make real-time proactive suggestions. The suggestion can be about an upgrade, about products that are frequently bought together, and even about additional discounts.
The e-commerce platform integrations include:
Shopify
BigCommerce
Ecwid, and
WooCommerce
They have kept their channels limited that tie up well with their focus on websites and e-commerce, including:
Online and Offline chat widget
Email helpdesk
Facebook messenger, and
Instagram
Agents can also ask customers for real-time help in choosing products, by targeting visitors on specific pages, like landing, product, etc.
The cool thing is, they start with a free plan for one agent, and you can run with it as long as you want!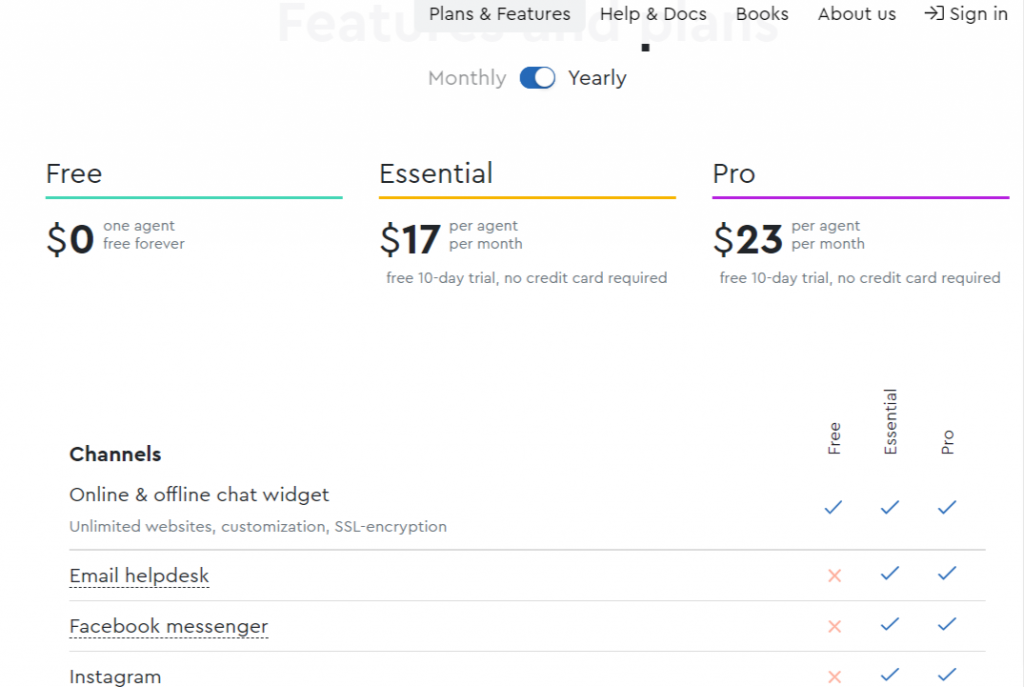 #5. Hubspot Live Chat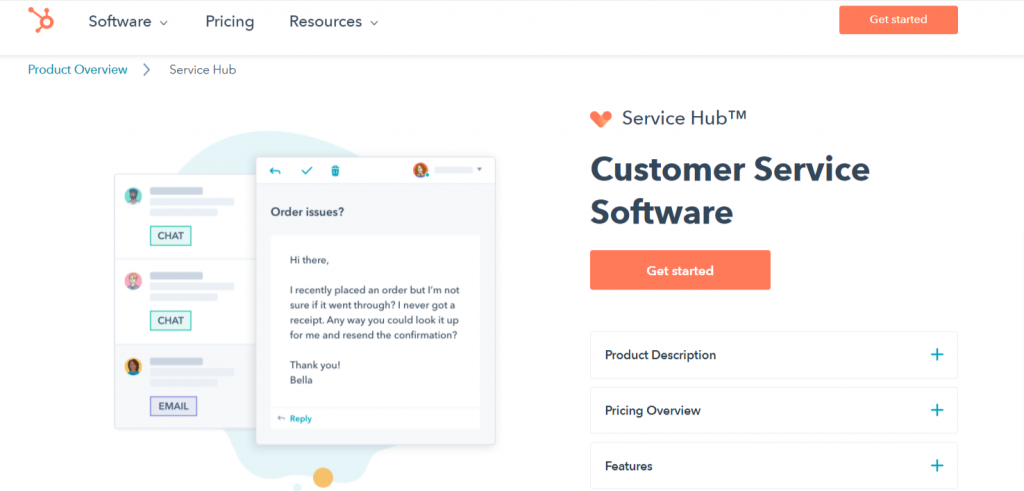 Hubspot provides live chat as a part of its customer service software. So, they do not offer a live chat only option, but a bundle of customer services including:
Conversational tools, including live chat
Helpdesk automation
Knowledge base
Customer feedback surveys
Reporting, etc.
If you do not have the budget for paid live chat, Hubspot is a great option to start with. It provides three big communication channels – email, live chat, and calling, in their free plan. Within live chat also, Hubspot includes some great features like:
Canned messages
Branded chatbox
Centralized inbox for future reference
Slack integration
Chatbot builder, and much more.
#6. Zendesk
Focused on automation, Zendesk is most suited for tech start-ups looking to scale up. Other than providing a multi-channel customer service solution that includes messaging, live chat, social, email, and voice, they have something unique to offer.
Have you ever felt frustrated repeating the same question again and again to a chat agent, only to get the same answer thrown at your face? Well, not at Zendesk.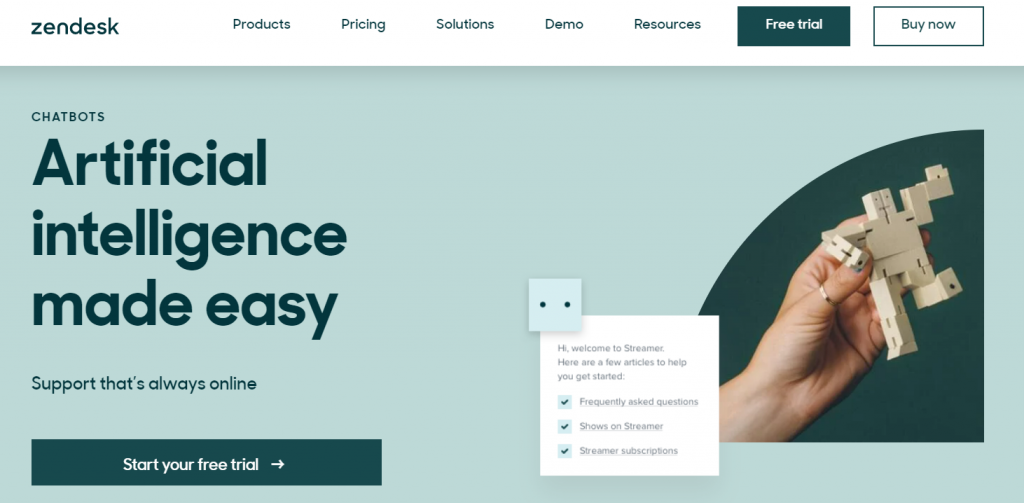 Their AI-powered chatbot technology is state of the art and avoids the common problems that businesses face with chatbots – bot-like answers. Their answer bots make sure to get the context right, so the customers do not have to repeat themselves.
Maybe because of the AI technology, Zendesk starts a bit expensive, at $49 per agent per month. The basic plan which is available for free trial includes key features like:
Automation and workflows
AI-powered automated answers
Reporting and analytics
Prebuilt 1000+ apps and integrations
APIs
Onboarding and adoption guidance, etc.
#7. Gorgias
Gorgias is an e-commerce helpdesk that includes multi-channel customer service, including live chat, social media, phone, and email.
It promises its merchants exceptional growth through its customer service tools. And the great thing is that they do fulfill that promise with niche features like:
Order management – Agents can recommend products from the store itself and manage orders without leaving the helpdesk, and their clients seem happy –

Custom sidebars help agents to –

View order information without opening extra tabs, on any channel
Customize the helpdesk to show the most relevant information from 65+ leading commerce applications, which means more power to them as salespeople.
Create orders, issue refunds, and perform third-party actions in one application itself.
Multi-stores lets your agents work on one messaging platform while having multi-store context. This gives them the agility to quickly move between brand inquiries and focus on resolutions (instead of logging into different helpdesks).
Their pricing starts at $60 a month and includes 350 tickets per month. All plans have a free trial option, so you can use and see what works best for your business.
#8. Freshdesk
Freshdesk provides live chat service as part of its big set of customer support tools. In fact, it is one of the biggest customer service solution software out there offering industry-specific solutions.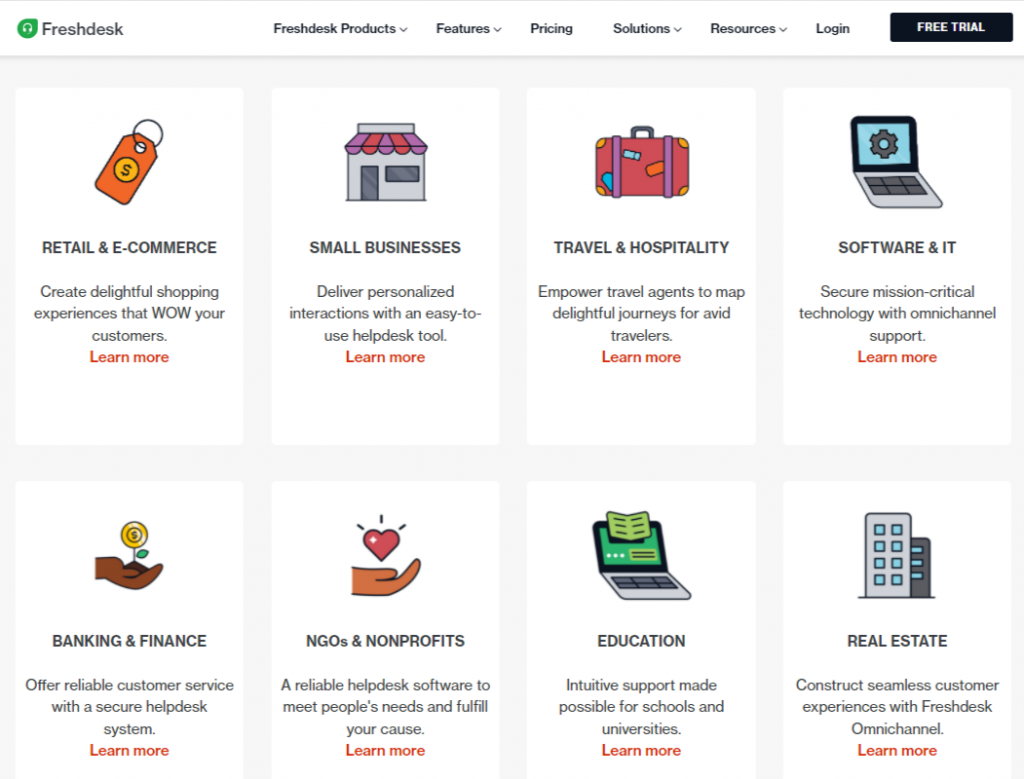 Here are some examples:
Retail and e-commerce

Save abandoned carts with live chat and proactive messages
Integration with 3rd party marketplaces like Amazon, eBay, etc.

Travel and hospitality

Agents can use context and booking history to have relevant and personal conversations
Access to customer profiles, booking history, and past conversations

Media and Entertainment

Give them VIP treatment by offering priority support to customers based on their subscriptions, and prior support interactions.
Unify communication from multiple channels into a single dashboard, etc.
As a live chat app, it provides features like:
One inbox for all messages, wherever they come from – in-app chat, website chat, FB, messenger, etc.
Self-service, with the help of AI-powered chatbots
Proactive customer service with proactive message triggers, etc.
They do have a free plan you can start with, and are a good choice if you are looking for a multi-pronged customer service solution network.
#9. Tidio
Tidio is a sale-oriented live chat software that makes it a great choice for small businesses. It combines live chat and chatbot tools for customer service and generating more sales.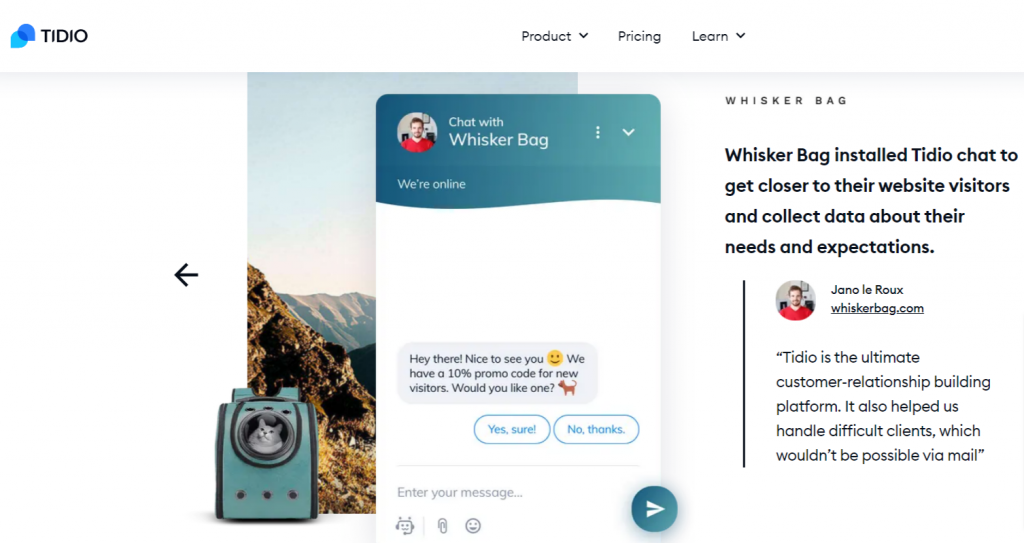 Tidio promises to boost sales in different ways:
Agents can stop customers from abandoning carts by offering them real-time discounts.
Automate 40% of conversation with 20+ templates or by building your own chatbot flow
Integrate your live chat, email inbox, Messenger, and Instagram into one multichannel communicator
Talk to your customers on all devices across channels, and never lose a potential customer because they contacted you on a channel you rarely use
Tidio takes 5 minutes to set up and is available to start for free for a limited period of time.
Conclusion
There you have it, the best live chat alternatives to Olark.
We hope our line-up of tools helped you see the variety of live chat software that is available out there. So you can go ahead and choose the one that suits your business needs the best.
Good luck!