Discover what live chat support is, why you should use it, and how to start supporting customers over live chat.
Are you thinking of adding live chat as a support channel to help customers in real-time? This post will teach you everything you need to know to do it.
What Is Live Chat Support?
Live chat support refers to a customer service channel based on a real-time interaction your customer service teams have with customers through a chat widget placed on your website.
Supporting customers over live chat works pretty much the same way as having any other form of real-time support communication. Once a person initiates the conversation in the widget, the support team picks it up, and assists them with whatever support query they may have.
But live chat support isn't restricted to large businesses with many customer service agents. Small businesses can use the channel as well to support customers who have purchased their products or services.
Benefits of Live Chat for Support
Customer service is all about keeping customers happy. And let's face it, there's no better way to achieve this but listening to your customers' needs.
However, to do it, you need to provide multiple methods of communication and give your customers the option to choose what works best for them.
You simply can't expect from all your customers to be happy with phone support, for example. Not everyone is enjoying a phone call or impersonal conversations through call centers, after all.
Plus, more and more customers require an immediate response, and that's where live chat support comes in.
I've covered the many benefits of using live chat for customer service already but let's run a few of them here as well.
Live Chat is Accessible
Live chat can be integrated with almost every of your customer touch points. You can add it to your website or app. You can also include a link to live chat in emails and other customer communications.
Plus, customers can see and use the live chat widget whenever they log in to your site. No need to look for a contact or support page to figure out how to engage with your customer service team.
Live Chat is Conversational
Did you know that 79% of consumers prefer live chats for the ability to have instant responses?
A major reason for using live chat to support customers to make those interactions more conversational.
Contrary to email, live chat is direct and authentic. It's easier for your customers to connect with your brand if they are chatting to a person in real-time. Because of its conversational nature, it's also easier for customers to explain their problem better, and provide a context to help you support them better.
It also makes it easier for customers to ask additional questions, and get more specific replies.
Live Chat Boosts Your Response Rate
With all other things being equal, it is the quality of your customer service that will make or break your organisation in the marketplace.
And from the customer point of view, that quality begins with your response rate.
It's no surprise, then, that customers are becoming more demanding when it comes to hearing back from you as fast as possible.
1 in 5 customers will stop using a product if a brand is slow to respond in the online chat, for example.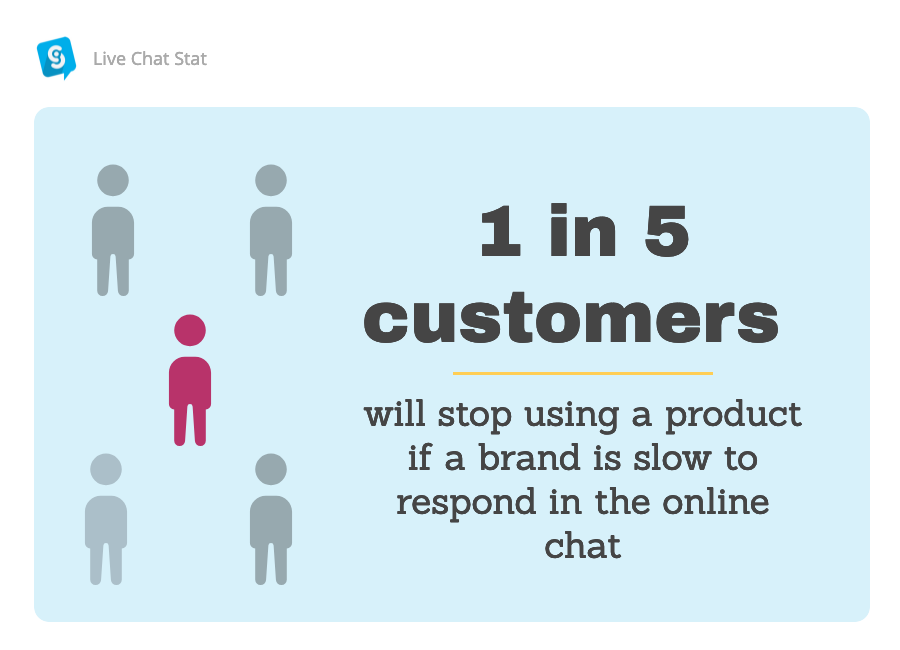 Luckily, response time is where the live chat shines as well. First of all, agents can conduct multiple conversations at the same time. That one thing alone can shorten the wait time for a customer.
Secondly, they can assist them quicker by using default and canned replies to common questions.
You can even automate part of the process, and use a chatbot to prequalify customers and direct them to the most knowledgeable agent right away.
Live Chat Can Help You Understand Customers Better
Another important reason to consider when adding live chat support to your website is that it helps you learn more about your customers.
The right set up can help you gather valuable feedback about your customer experience, your strengths but also your weaknesses.
For example, you can collect data about the type of enquiries that you're receiving, your average response time or how productive your chat agents are based on different queries.
You can also find out more about your own customers, their needs, the most frequent questions that come up to be more efficient with future queries.
Overall, Live Chat Can Truly Transform Your Customer Experience
Live chat can help you stand out from your competitors. It can be the reason you're keeping your customers happy in a more direct and engaging way.
The more you're learning about your customers and their preferred type of communication, the easier it becomes to meet their expectations.
Moreover, as you're getting to grips with live chat customer support, your agents are also able to be productive by automating tasks through the use of the right tools.
It's a win-win situation both for your customers and your support teams.
How to Add Live Chat Support to Your Customer Experience
I admit that adding live chat support to your company's customer service may seem simple, at first. But don't underestimate the complexities of the process. Unless you're hiring dedicated live chat support agents, you will be stretching your existing resources to make it work.
For that reason, before launching live chat support, consider the following:
#1. Will You Support All Customers via Live Chat Right Away?
It may seem logical to launch the live chat support for everyone. But, with limited resources, you can also decide to open the channel for specific customer segments. For example, you can add live chat support option to higher packages or VIP customers only at first. This could give you an opportunity to learn more about how the channel works, iron out the kinks, and also, gain some experience regarding your customers' expectations for live chat.
#2. What Are Your Objectives for the Channel?
Start with clear expectations of what you want to achieve. If you are using live chat support to boost your response rate, think of the tactics that will help you achieve it.
If you want to use live chat support to be more approachable to your customers, think of your tone of voice or how to provide a human touch to your messages.
#3. What Will Be Your Live Chat's Working Hours?
Adding live chat support can be a tight balancing act, at first.
You have only so many people who could man the chat. Plus, perhaps not everyone of them has the skills to help customers via this support channel.
As a result, it might work better if, initially, you offer live chat only during hours when other support channels go a bit quiet.
Again, this will reduce the pressure on your staff to learn a new channel while handling email and phone inquiries at the same time.
#4. How You Will Integrate Live Chat with Other Support and Communications Tools You Use?
Data is critical for providing good customer service. The more information you have about the customer's previous engagements with your company, the better you can help them.
When adding live chat support, consider whether the tool you plan to use integrates with your communications tools like Slack or MS Teams, and other tools you use.
Best Practices for Live Chat Support
We've covered all that you need to know to start supporting customers with live chat. Before I go, I want to also offer you some advice to elevate your live chat support.
All the advice below comes from my personal experience of supporting customers with live chat, but also, from stories customers using our Slack live chat software tell me.
So, without any further ado, here is how to make the most of your live chat and support customers through this channel better.
#1. Make the Live Chat Option Easy to Find on Your Website
Don't make it hard for your customers to find out the live chat option on your website.
The longer it takes for customers to find the live chat option, the higher the chances of them abandoning your site.
Make finding live chat as intuitive as possible. Place the chat widget on every page, and use proactive triggers to display a welcome message to every new visitor.
#2. Set Up Away Messages
You can't be online 24/7 to respond to all messages and that's fine.
You can still add your working hours to your live chat service, though, so that your customers know when they'll hear back from you.
For example, you may not be as responsive on the weekend compared to a weekday. If you're saying that you're offline on Sundays then your customers will expect a reply first thing on Monday.
Make sure that you do respond to them early on Monday so that they are not unhappy with your customer service.
You can even add automated responses to your chat to provide responses to common questions. Remember, the more you keep your customers up-to-date, the easier it becomes to maintain a good customer experience.
#3. Build a Library of Canned Responses to Make Responding Faster
Canned responses can also help you stay on top of your customer support. Let's say that you have 2-3 questions that you tend to hear more often than any others.
How about drafting canned responses to the questions to keep them handy? Be careful, canned responses will not replace human interaction but they can help you save time when you communicate with a customer.
#4. Benchmark Your Response Rate to See How You Can Improve it
I always recommend clients that the first thing to measure is their average response time.
Even if, at first, the rate isn't impressive, it's important that you 1.) know what it is, and 2.) keep track of it.
As you're getting better with making the most out of live chat, compare your performance with your initial response time.
Chances are, you will be happy with the progress that you've made.
Or you will find that it is still an area that needs attention and improvement.
#5. Integrate Live Chat with the Tools That You're Using Already
A smart way to supercharge your live chat support is to integrate it with your existing tools.
You don't need to keep your teams in silos using different tools. For example, did you know that you can integrate your live chat with Slack (or other messaging apps) so that you receive the messages faster?
It's a quick method to keep your team up-to-date while helping your agents respond to all queries faster the way they would already talk to the rest of your colleagues.
#6. Ask Customers for Feedback to Measure Success
No one can tell how well (or not) your support team is doing better than customers.
These people have experienced your live chat support first hand, after all. Are they happy with it? Or has the experience left them lacking and dissatisfied?
Don't worry, it's easy to find out.
Add a quick follow-up poll or survey at the end of each chat to receive feedback from your customers.
You can simply ask them to rate their customer experience or you can ask multiple questions if you want to find out more about their thoughts.
The more you're learning about their needs through customer satisfaction surveys, the easier it will become to provide a consistently good customer support.
Closing Thoughts
More and more customers expect a live chat support option when contacting a brand.
And because of that one thing alone, you have no option but to start supporting customers through live chat.
On the whole, however, live chat can help support your business in so many ways.
It can cut your response time, and connect you with customers faster.
Live chat will also make your team more productive, and deliver meaningful insights about your customers' needs, and more.Want to know more? Check out our guide to using live chat for customer service.