Are you using live chat for customer service and want to improve your customers' experience with it? Looking for advice to improve live chat customer service?
FACT: When it comes to customer support, live chat may still be in its infancy, but the situation is changing quickly.
Today's customers want real-time conversations, not support tickets. More and more of them demand speaking to a live chat agent who could help solve their problem right away. To most, opening support requests and waiting for a reply that might never come has already become a thing of the past.
But that can pose a serious problem, can it not? This is particularly true if your company has only introduced live chat to the customer support mix recently.
For one, you might still be figuring out how to provide a live chat experience to delight every customer.
In this article, you'll learn everything about offering live chat support – From making customers feel valued, meeting customer expectations to strengthening customer satisfaction with your brand.
You'll also learn how to conduct better live chat conversations with customers, add the human touch to support interactions, and build trust in your brand.
But let's begin at the beginning.
What Makes Live Chat Ideal for Customer Service?
Let's face it – No business can survive long without providing good customer service.
But it's not because every product or service on the market has flaws that customers would need help with.
No, the importance of customer service has absolutely nothing to do with that.
It's because customers need the company's attention. Sure, some of them do find problems with the company's products. But there's more to customer service than that.
Customer service helps companies and their customers to get to know each other better. Much like in the past, when business was local, both customers and local companies knew each other quite well.
Support offers a company a chance to educate customers about the products and services better. This one thing can lead to forming a long-lasting relationship and repeat business.
Support delivers insights that drive product development or business decisions too. Every customer inquiry, every problem or challenge they bring forth is an opportunity to take the offering to the next level, after all.
The thing is – Customer support has gone through a massive shift in recent years. With the rise of social media and other technological advances, the support techniques of the past – phone, email, support platforms – have given way to a new approach to solving customer issues – instant communications.
Today's customers aren't interested in placing support tickets or waiting on the phone for hours on end.
Such attitude comes as no surprise if you consider that an average American would spend an astonishing 43 days on hold throughout their lifetime.
Customers no longer accept it. Again, a third of customers expect a reply from a brand within one hour or less.
Ideally, they want to chat with someone in real-time.
Enter Live Chat Customer Support
Live chat is still a relatively new channel for offering support. That said, its importance is growing steadily, and for a reason.
Here are just some of the benefits of live chat for customer support:
Live chat is ideal for conducting real-time conversations. All you need to do, as a customer, is start the chat window on a website, and you're almost immediately interacting with another human being. 
Live chat is also convenient. Live chat provides an instant connection with a brand, but it also allows customers to multitask while using it. And needless to say, this one simple thing is a significant benefit for more than half of customers.
Live chat is instant — no need to wait for a callback or an email reply. With live chat, customers begin solving their problems almost right away. 
But Offering Live Chat Customer Service Poses a Problem, Doesn't It?
Such customer support is not as simple as placing a live chat widget on a website. It takes a lot to engage and delight customers this way, in fact.
First of all, if you're new to using live chat for support, you, most likely, lack processes and procedures to deal with chat requests seamlessly. Such a situation results in agents not knowing how to respond and react to different inquiries.
Not using live chat software integrated with your other collaboration tools results in missed opportunities. Your team has to switch between tools to get input from colleagues, for instance. This results in low response time, delays in processing inquiries, and even information being lost when switching between tools.
TIP: You can overcome this issue by using live chat software that integrates with collaboration tools like Slack or MS Teams.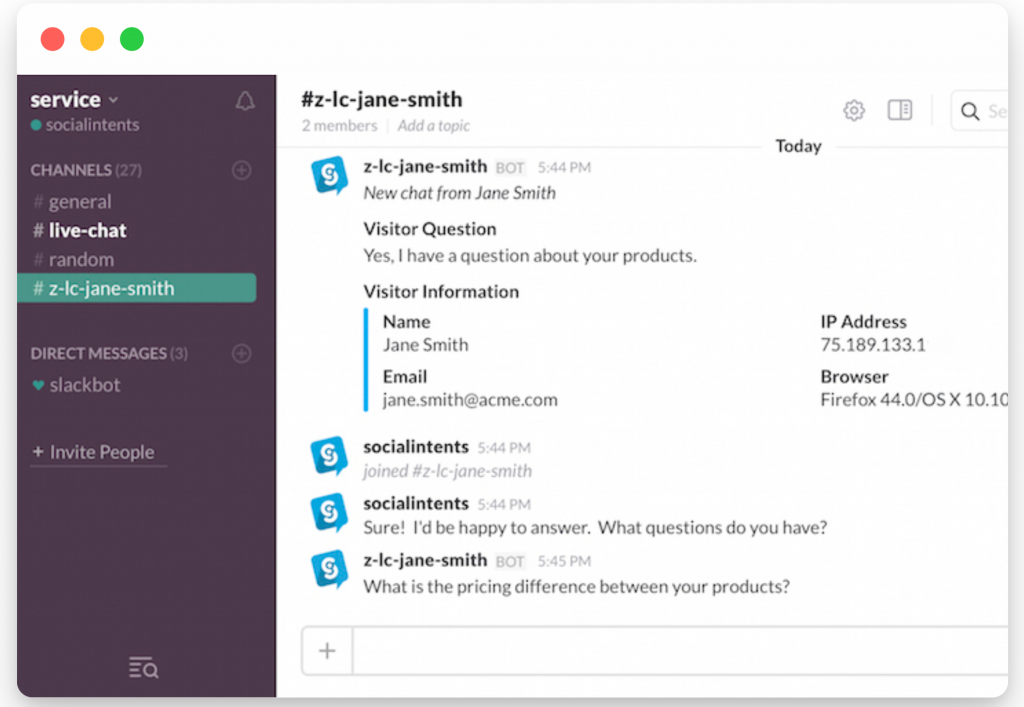 (Example of live chat connected to Slack)
Another result of the issue above is not having access to all information in one place. Instead of accessing information or talent immediately, a live chat agent has to look for it through other channels. Once again, this leads to delays and frustration on the part of the customer.
Let me show you how to overcome those issues and provide insane live chat customer support.
How to Improve Chat Customer Service
Below, you will find a list of live chat best practices that will help you transform your chat customer service and help you assist those people in real-time better.
A quick note before we begin: These live chat tips relate to different aspects of live chat customer service. I grouped them by relevance but scan the entire list to discover every way of improving your live chat support experience.
So, without further ado, here's how to improve chat customer service.
#1. Make sure that customers can find the live chat option easily
This sounds like a no-brainer, right?
And yet, I'm constantly amazed by how many businesses hide the live chat support option.
The live chat button isn't present on every page of their sites. Instead, it is buried somewhere on the support page. Often, the button resides as a text link at the bottom of the page.
Here's a quick example. Although this company includes a "Need some help?" link in the main navigation, its contents do not have a live chat option.

In fact, you need to dig deeper into the help center section to find it.
The problem with this approach is that, although you offer live chat, no customer would ever use it.
Of course, this means fewer inquiries for your agents and more time for each conversation. But it also generates a whole range of disgruntled customers who are unable to get real-time help.
Overcome this by placing a live chat widget on every page.
Place the button strategically where customers can see it.
Use colors that make the button stand out from the rest of the page.
Include the widget on every page. You cannot predict what page the customers will land on, and similarly, when would they need your help. So, make it easy for them to access the live chat regardless of where they are on the site.
#2. Set the right expectations
Online customers contacting you via live chat may have different expectations for the service they'll get. Some might want technical help; others might have pre-purchase questions, and so on.
Similarly, those people might be trying to reach you at different times when you have more or fewer agents available to chat.
Setting the right expectations means telling customers what they can expect when engaging with you:
It could be the department they're reaching out to – Technical Support, Sales live chat, Accounts, etc.
Live chat opening hours.
The expected wait time or place in the queue, etc.
#3. Respond quickly
I believe this goes without saying – You should pick up a chat request as quickly as possible. This is called the first response time. Ideally, customers shouldn't wait longer than a minute for someone to respond.
Naturally, this doesn't mean that their inquiry will be solved in such a short time. The first response time idea relates to how long a person will wait before hearing anything from an agent.
#4. Be proactive with live chat support
Some customers will reach out to support right away. Others might be browsing through the site or your knowledge base, trying to find solutions to their problems independently.
Look for signs in their behavior indicating that they need help, and initiate a conversation using proactive chat triggers.
Such behaviors might include visiting specific pages on the site, returning to specific pages over and over again, and so on.
Set up your live chat to automatically display a chat trigger after 30 seconds to engage such customers and show them that you're there to help.
#5. Use canned responses
It's only natural that customers will be asking you similar questions. Also, many conversations will follow a similar pattern. Canned responses allow you to speed up the conversation. Instead of writing the most common expressions or replies, you can use canned responses and initiate them with a shortcode.
Doing so will help you automate parts of the conversation, save time, and process inquiries faster.
#6. Keep customers updated about what you're doing
Some conversations will require agents to ask for help too. It might be that the issue exceeds the agent's knowledge. Or it demands making a decision the agent isn't allowed to make. Or they might need to access specific customer information.
In such a situation, the agent will have to connect with another person to discuss the inquiry and get their input.
There is no problem with that, of course. But it would take time and leave the customer waiting.
As a good practice, educate your agents to always update customers about what's going on. Tell customers if an agent has to look for information or inquire with someone else.
It takes nothing to do so, but it will mean that the customer will not be left wondering why the silence from an agent suddenly.
#7. Add dynamics to the conversation
For a customer, live chat conversations can seem a bit stale at times. Sure, the agent might be looking up their information or writing their answer to a question. But until a reply pops up on the screen, a customer is left with a blank chat window in front of them.
There are simple ways to change that, though, and add dynamics to the conversation:
Use a typing indicator. It will show customers that something is happening behind the scenes, and a new reply is coming.
Send longer answers into partial replies. Some questions will require a lengthy response. Unfortunately, the customer will be left waiting while the agent composes their reply. Overcome this by breaking the reply into shorter sections and sending them individually as the agent types them.
This will reduce friction between replies and start delivering value to the customer faster.
Wait for a second or two before sending a reply. This advice may seem illogical at first. But consider this, every human being will need time to process a question and reply. Customers may not want to wait for answers, but they might also get suspicious when the reply comes instantly. In the days of chatbots, they might get the wrong impression that they do not speak with a real person.
Adding that slight delay will make the conversation seem more human.
Use emoji. Emojis have entered our language and communications. There is no need to avoid them during a live chat. Emojis help you emulate body language and add a much-needed human touch to the interaction.
Of course, I'd recommend that you use them sparingly and only when needed. But they can help break the tension and even throw in some humor into the conversation.
#8. Provide reference
Here's a common support scenario.
A customer asks for help with a particular problem. The agent guides them to resolution, fixes the problem, asks if they can be of any more help, and bids the client farewell upon hearing no.
Everything seems fine, right?
Well, not really. You see, such conversation leaves the client no wiser. Sure, their problem is gone. But they might not be able to tackle it should it happen again.
The agent solved the problem. But they failed to give the client resources to learn more about it and understand the solution.
So, make sure that agents point customers to relevant information in the knowledge base, the blog, or anywhere else on the site where they could learn more about the problem.
This way, they'll gain knowledge to understand what happened and what they've done to fix the issue.
#9. Send a transcript
Similarly, your customers may pick up a ton of useful information during the chat. But unless they've noted it down, it's all gone when they disconnect from the chat.
The solution – Offer them an option to receive a transcript. This way, they'll have a record of what's been discussed for later.
#10. Use a pre-chat form to allow the agent to know more about the customer and their problem
Agents feel more comfortable picking up a chat when they have at least some basic information about it.
It helps them mentally prepare for the challenge ahead.
You can help them by collecting some necessary information from customers in a pre-chat form.
You don't have to ask for much. Even a person's name, email (to cross-reference them with the CRM, perhaps,) and a short description of their problem will give an agent a good starting point.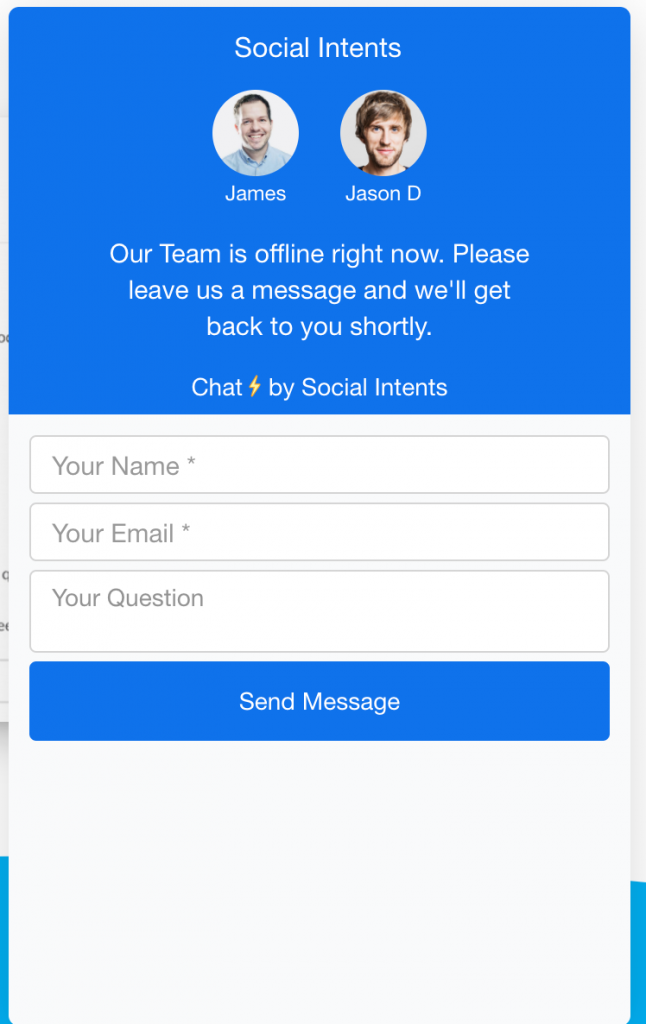 (Pre-chat form example)
#11. Use the person's name in the chat
Here's a simple mind trick that can transform any live chat conversation into a meaningful engagement for a customer:
Use their name in live chat.
Here's why it works:
Hearing your name in a conversation makes the experience more personal. You feel acknowledged.
It also ensures that you listen to the other person.
You immediately have a more positive attitude towards them.
You build a better engagement and relationship with them too.
#12. Measure Live Chat Metrics
I admit this isn't advice that you can use to improve any conversation while it happens. But evaluating chat metrics will help you identify what's working and what needs improvement as you work on live chat support.
Even monitoring the three most common chat metrics – first response time, total no. of conversations, and visitor to chat ratio – will shed light on what you could be doing better and where your team excels already.