Looking for tools to help you improve the admissions process? Wondering what college admission software you should use?
Fact: The college admission process can be an exhausting one for both the students and the college staff.
Students are under a lot of stress as they are trying NOT to make a wrong decision that may take their life and career on the wrong path. So they are looking for guidance, as well as trying hard to keep up with all the deadlines and paperwork. 
The college staff is reeling under the same paperwork, spending precious manhours to reach out to, shortlist, and finally recruit the right students. Not to mention that it involves everyone from the Dean to the Chief Enrollment Manager, middle-level managers, admission officers, and supporting administrative staff to complete the whole process.
So, it seems anything that you do to take the pressure off this process is a blessing for both parties.
Automation is naturally the first thing that comes to mind, and therefore the talk about college admission software. And that is what we are going to go into detail about in this article.
Let's get started!
What is an Admission CRM or Admission Software?
For automation, you can use various admissions software for colleges. A college admission software is any software that makes the whole or a part of the admission process easier and faster.
For example, reaching out to prospective students, receiving payments online, processing applications, selecting candidates, and so on.
A CRM or admissions software can:
Cater to a high volume of applications without the hassle
Reduce manual labor and help you go green with less paperwork
Integrate with the systems you are using already and help you get in touch with your students directly
Help you recruit your best-fit candidates, etc.
Act as an all-in-one solution for the admissions staff and a student information system at the same time.
There are lots of higher education admission software available in the market that can take the edge off the process in specific ways. Let us look at the best 10 of them.
9 Best Admissions Software for Colleges
#1. Liaison for Targeting Your Best Fit Students

As they say, Liaison is a total enrollment solution for effective data-driven decisions for higher education.
They provide various solutions for the admissions process, like:
Enrollment software
Centralized application service
Marketing solutions for colleges
Student portfolio management
Admissions management system
Student lifecycle management
Data-driven student selection, etc.
For this article, we are going to focus on Liaison's centralized application service, or CAS.
CAS is an intuitive, flexible application with up-to-date, visual insights into application and enrollment trends that actively targets your best-fit students. Applicants can quickly find and apply to multiple best-fit graduate schools through a single platform.
With application processing and support services, CAS streamlines admissions, encourages application completion, and provides institution–student connection throughout the entire process.
The applicant can also manage the entire process, including submission of supporting documentation, transcripts, and recommendation requests, as well as answer additional unique questions asked by individual campuses and/or programs, including essays, personal statements, CVs/resumes, or other documents of work samples.
#2. Social Intents for Live Chat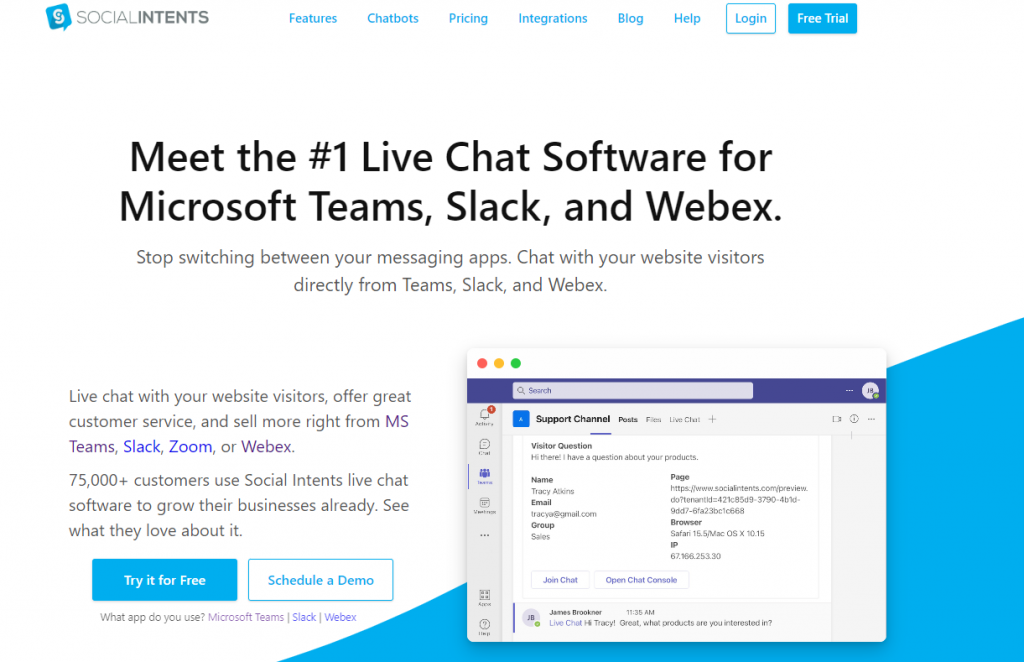 The world is on the move right now with its Androids and Apples, and your prospective students are a part of it. So, for true admissions support, you must meet them where they already are.
Almost 100% of your prospects use a smartphone, and messaging apps are their favorite mode to get in touch with the world. Live chat for colleges gives the same experience as a messaging app, and so can be the greatest student engagement tool you have been looking for.
And when it comes to live chat, what if you can start chatting with your prospective students through the apps you are using already? Well, that is exactly what Social Intents (disclaimer: this is our product) can do for you.
So that brings us to the question that what software do most colleges use? The answer is MS Office Suite, and that includes MS Teams. Social Intents' seamless integration directly with MS Teams enables you to start chatting with your prospective students within minutes.
With Social Intents, you can:
Set your brand apart
Reply to admissions faqs within seconds
Provide valuable one-to-one mentoring to your prospective students
Be in touch with your clients 24×7
Complete document transfer and financial transactions in real-time
Build trust and give quick resolution with video chat and co-browsing
Make a personal connection with your students
Analyze and improve your admissions process
#3. Salesforce for an All-in-One CRM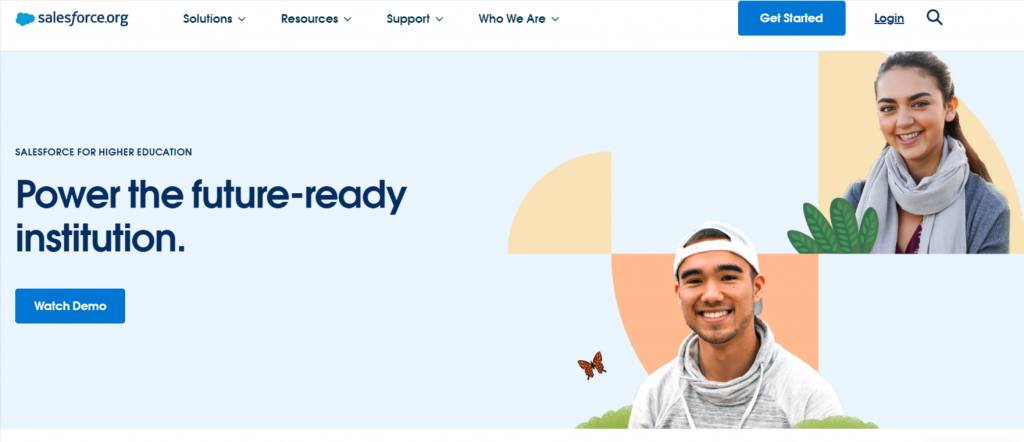 Salesforce is not just a CRM for big organizations but also for colleges and universities. With Salesforce, you can:
Accelerate the digital transformation of your educational institution – Unify constituent data into a single source of truth and deliver personalized experiences at scale across the entire education journey.
Customize the CRM to your needs – Tailor Education Cloud to your institution's evolving needs and leverage over 4,000 apps from AppExchange, the leading enterprise cloud marketplace.
Join a thriving education community – Participate in customer councils, get help from the Trailblazer community, or connect with a certified partner to get started on your digital transformation journey.
With Salesforce, you can excel in higher education enrollment management and achieve your enrollment goals with the most scalable recruitment and admissions CRM. Find students on their preferred channels, simplify application, and decision processes, and build stronger relationships.
#4. SimpleApply for Enrollment and Admission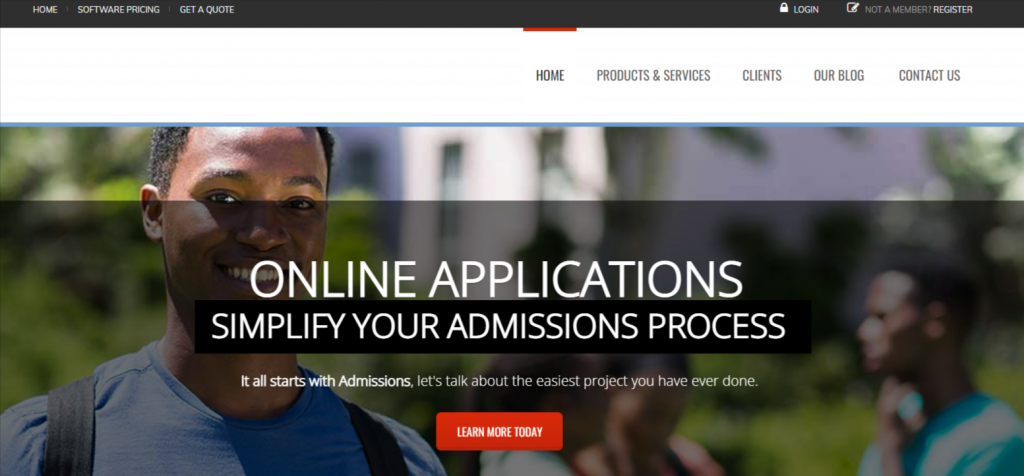 A higher education admissions software affects both the front-end applicants and your admissions staff. Keeping this in mind, SimpleApply offers the following solutions for enrollment and admissions:
Best practice application – A readymade application template that knows just which questions you need to ask according to the federal reporting standards.
List data management – List Data is crucial to providing a limited data set with which to report off (dropdowns, radio buttons, checkboxes). Add, edit, or delete List Items descriptions and codes in a heartbeat.
Customization and application text management – Update your college name, logo, or color scheme. In case your application process changes, you can edit your application text to alter the workflow for your prospects.
User-focused application and console – When you confuse a prospect with how to apply, you are putting 2 to 4 years of tuition at risk? Their application is optimized for user experience which makes it a breeze to complete. Not to mention, your staff will benefit from a streamlined ultra easy-to-learn console environment.
Along with this, they also make federal reporting easy. With SimpleApply section 508, users with disabilities can also easily interact with your application.
#5. Lexmark for Enrollment Management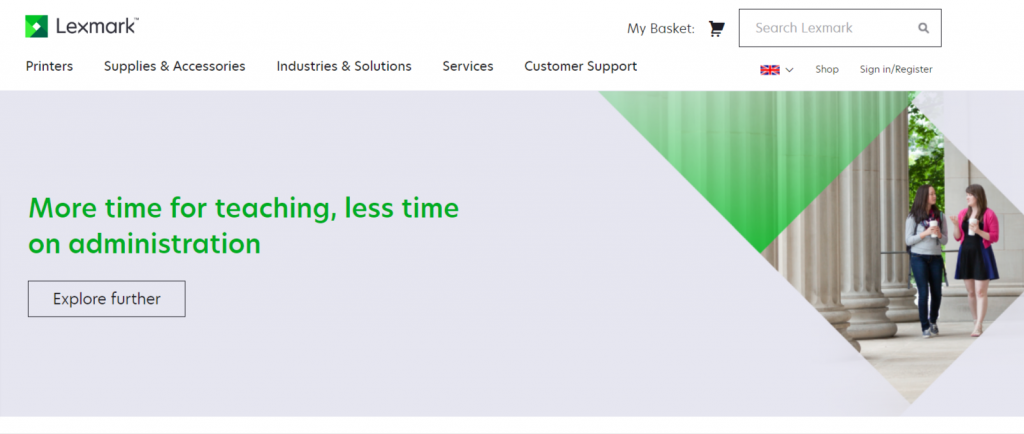 Lexmark promises that with their software you can spend more time on teaching and less on administration. They offer an array of solutions for enrollment management as listed below:
Admission processing and evaluation – Users can instantly access and manage information from existing student information systems to deliver faster decisions to undergraduate and graduate students. As a result, the staff can focus on recruiting and serving students, rather than managing manual data entry tasks.
Financial aid processing – Process automation enables your financial aid team to quickly and accurately manage all types of documents and data, even during peak enrollment times when submissions are flooding into your department.
Registrar and records management – Cost-effectively manage records throughout the student lifecycle, from capture and retention to archiving and disposal. Unlike paper versions, student records managed with this software can be instantly and securely accessed from any location.
Transcript processing and transfer credit evaluation – In today's competitive higher education environment, delivering timely decisions to students is more important than ever. And increasingly, colleges and universities are becoming more dependent on transfer students to meet annual enrollment goals.
Lexmark's transcript processing software quickly captures and processes even the most complex transcript formats. It extracts student and course data, validates it, and passes it to your student information system without templates, zones, or rules-based techniques.
As a result, your students receive decisions in days instead of weeks or months, and your institution can enroll transfer students sooner to meet enrollment goals more quickly.
#6. Ellucian for Higher Education Institutions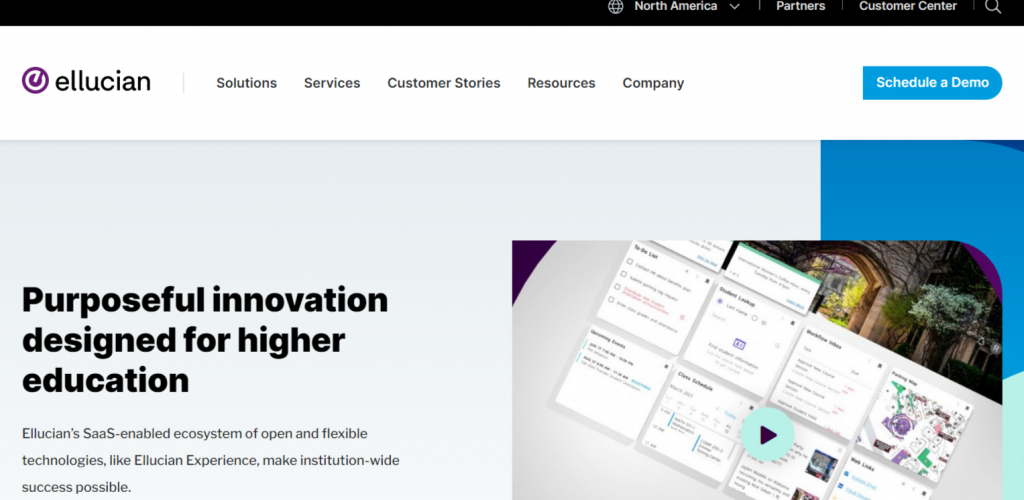 Ellucian's singular focus is on higher education, and among the multiple solutions it offers, many are for the admissions process and admission management.
With Ellucian, you can not just meet your admissions goals but exceed them.
Today more than ever, efficient admissions processes and personalized communications are critical to engaging and enrolling the right mix of students. So Ellucian enables you to:
Meet students where they are through personalized conversations from texts, email, social platforms, etc.
Monitor application performance in real-time so you can adjust campaign tactics to reach your enrollment goals.
Connect one-on-one with your prospects through streamlined processes and task automation.
With Ellucian, you can:
Use automation to reach prospective students more effectively, connect with best-fit applicants, and reach recruitment goals.
Use data and reporting to focus on prospect segments that are most likely to apply.
Create a dynamic portal to allow prospects to track application status—and connect one-on-one with staff or peers, and
Configure role-based dashboards and reports, allowing users to see current progress and adjust strategies accordingly.
#7. Collegix for Small and Mid-sized Institutions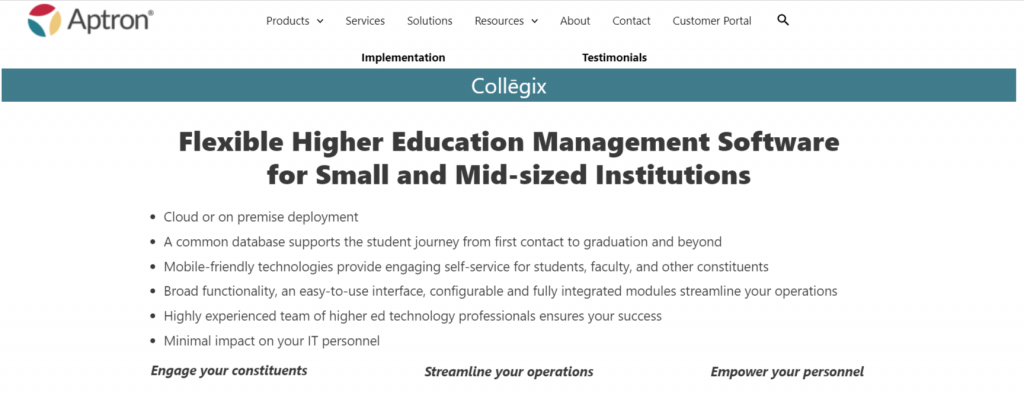 Collegix by Aptron is another software solution for college and university admissions and beyond. It offers many services, including areas of:
Self-service for students and staff
Financial aid
Student lifecycle
Student advancement
HR and finance
Reporting and analytics
Third-party integrations
Implementation
Through its recruiting and admissions software, Collegix helps you in attracting the right number and kind of students essential to your ongoing success. Collēgix gives you the tools to creatively, effectively, and efficiently glide prospective students, office personnel, and admissions counselors through the process.
It provides you with:
An engaging applicant hub that guides prospective students from inquiry through enrollment deposit and beyond.
A powerful recruiter dashboard gives counselors tools for tracking, communicating, and orchestrating with their assigned prospects
A comprehensive office module streamlines admissions office efforts and optimizes time spent on every task.
#8. Populi for All Needs of Smaller Colleges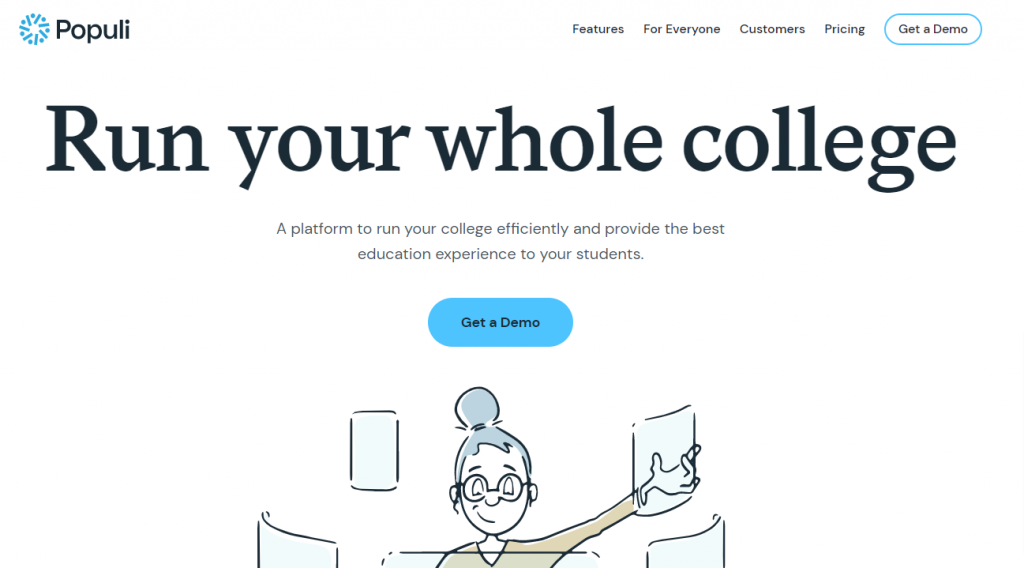 Populi is ideal for all needs of smaller colleges and designed for your whole college ecosystem – from staff, faculty, alums, and board members, to students and applicants. It offers many functions for teaching, administration, financial aid, fundraising, etc. including recruitment and admissions.
You can start your students' journey with a user-friendly web-based application that includes:
Online and mobile applications – Populi applications are easy to design and implement. Applicants can stop and continue anytime. The software monitors application progress and encourages completion from any device.
Application fees – Integrated application fees allow applicants to pay prior to starting or as the final step when they are ready to submit.
Reporting – It provides customizable and saveable reports so that you can keep your team focused on the task at hand.
References – You can request and receive applicant references securely and 100% online.
In-app questions and answers – Applicants can submit questions directly from the application and your team can use in-app messaging to follow up.
#9. Free for All – Slate, to Get in Touch with a Robust Education Community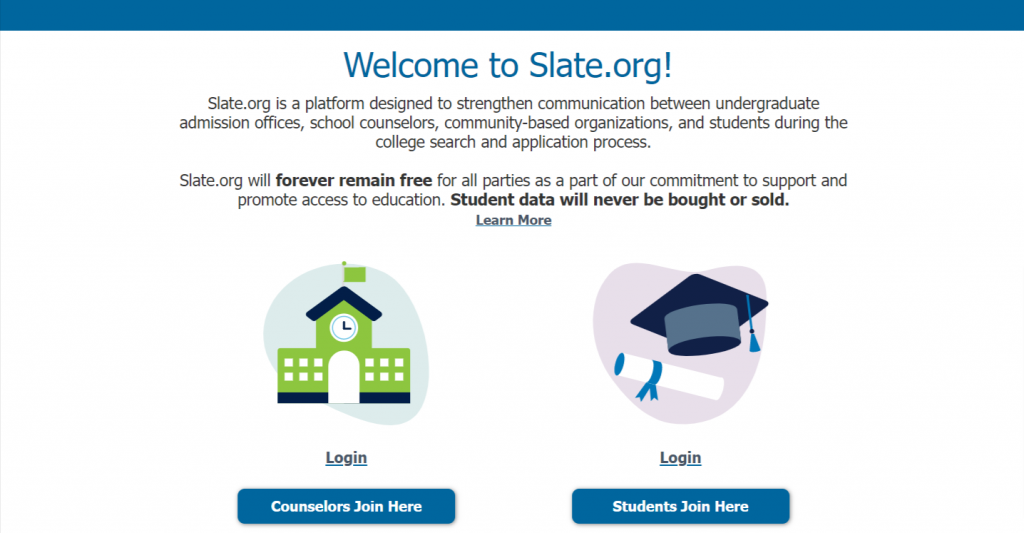 Slate is a free platform designed to foster stronger communication between colleges, counselors, community-based organizations, and students. As a part of its commitment to support and promote access to education, Slate offers its services for free to all parties, forever.
Slate allows colleges and universities to:
Create and share a detailed summary of your school, students, and program offerings with colleges and universities.
Display available visit times, customize instructions, and communicate changes with visiting representatives. Any institution, regardless of its status as a Slate partner, will have access to its schedule of events on a public-facing portal.
Release their decisions online. Additionally, students can view their decision letters in their application status portal.
Conclusion
We hope that our rundown of admissions software helped you understand how easy they can make the entire admissions process, and what different software can do for you.
We wish you all the best in making the right choice for your institution!