Are you planning to launch a live chat support channel for your business? Wondering if there are any LiveAgent alternatives that would work better for you?
FACT: Live chat functionality can vary from one software product to another.
So, while choosing a live chat platform, it is crucial to see what features would benefit and suit your business the best. 
LiveAgent may be a good choice for you, but not necessarily the best one.
So, to help you decide, we have put together a list of some of the best LiveAgent alternatives on the market today. Whether you are already using LiveAgent, or are going to offer live chat for the first time, go through this list to choose the right software for your business.
What is LiveAgent
Let's start with the basics – LiveAgent is not strictly a live chat software. It offers live chat capabilities, but essentially, it is a helpdesk software.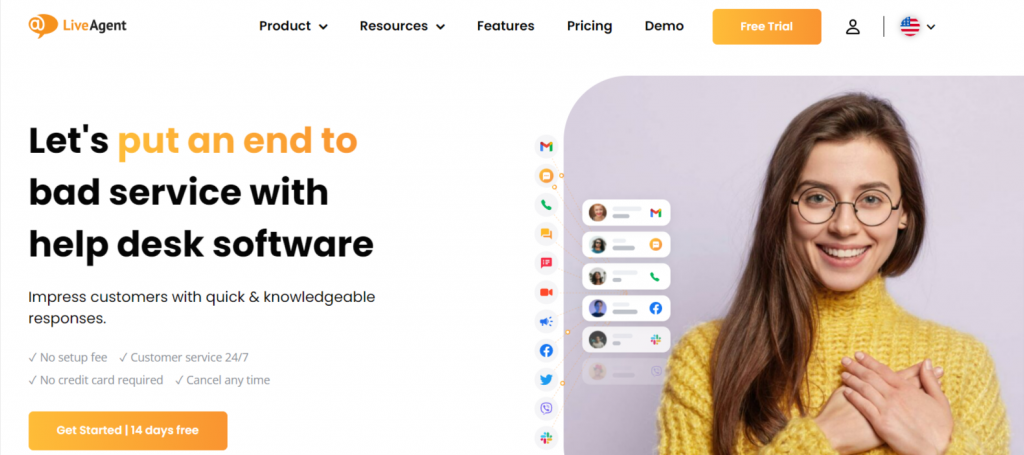 Their product and service offering spreads across:
Support tickets and customer service management
Live chat
Call center
Social media
Knowledge base
Customer portal
You can manage all these channels from a shared company inbox, and can book a free trial to all that they offer, for 14 days.
When it comes to live chat, the product offers chat-box customization, video chat, and multilingual chat boxes. 
So, let us look at LiveAgent for what it really is – more than a live chat software.
LiveAgent features
LiveAgent offers over 180 helpdesk features and over 195 integrations. Their focus is on:
Agent productivity
Conversions, and
Customer retention
LiveAgent advanced features include:
Automated ticket distribution for incoming tickets, phone calls, and chats and a customer service portal. These options ensure that your agents have optimally distributed service ticket loads, a rotating phone duty, and designated pause times for rest.
Rules and workflow automation that is a boon for a high ticket volume business. They can be action-triggered, time-triggered, or SLA- based, and improve response times, reduce support costs, and minimize human error.
Automated callback allows customers to request a call at the click of a button and make for the ultimate service experience.
Powerful built-in CRM allows agents to access all data from one place so they can do an exceptional job at customer relationship management.
So LiveAgent does provide a lot of benefits for customer service for a range of businesses. But why is it not for everyone? Let us understand that.
Why LiveAgent isn't for everyone
LiveAgent is a generic tool built for every business.
It's not a bad thing, of course. But it can mean that the tool might not be right for you.
You may be working in a niche with specific business requirements, for example, engagement vs sales.
Every business is different and can have different technical requirements, for example, an e-commerce business vs a technical startup.
You have a smaller business and are looking for cost-effective options, etc.
So because LiveAgent caters to a range of businesses, from small to big, it is not easy to manage.
Here are some points worth noting if you are only looking for chat software:
LiveAgent doesn't have any chat-only plan.
Their basic plan is for ticketing, and the chat+ticket plan starts at $29 per agent per month.
All their plans are 'per agent', which means you can only scale your live chat service at an extra cost, every time.
LiveAgent does not aim to be the best live chat service, because they are much more, and so their live chat technology is not the best out there.
So let's get busy and look at the best LiveAgent alternatives that you can opt for in 2022. Here we go!
8 Best LiveAgent Alternatives for 2022
#1. Social Intents – Live Chat for MS Teams and Slack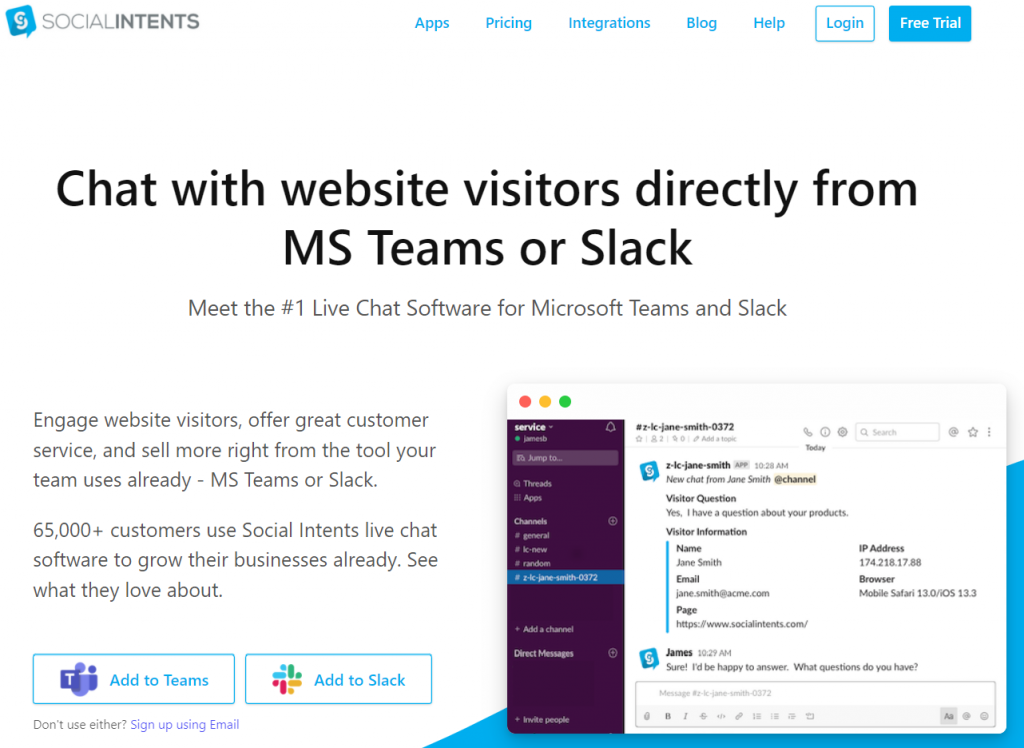 Social Intents (disclaimer: this is our tool) is a robust live chat platform for customer service and sales.
And there is a twist to it too.
You see, we created Social Intents to let you chat with visitors directly from MS Teams or Slack, without having to continuously switch between platforms.
Social Intents is the a great alternative to LiveAgent for companies looking to:
Provide incredible customer support over live chat
With Social Intents, you can provide real-time live chat customer support directly through Slack, Microsoft Teams, or even a web-based chat console.
You don't need to learn additional software to support customers. Instead, you can receive customer support inquiries in Slack or MS Teams, and collaborate with the entire team in solving customers' problems.
Close more sales online
Social Intents helps your sales teams too.
Sales reps can engage potential customers when they need help, close more deals, and increase online revenue.
Generate leads
Social Intents offers you access to a whole range of tools that can help you engage visitors, and convert them into leads:
Proactive chat triggers help you initiate conversations with users easily.
Canned responses allow you to respond quickly and keep the conversation going
Targeting rules that allow you to display the chat widget on strategic pages
Access to various live chat metrics to help you identify what works in your live chat strategy, and more.
Who uses Social Intents?
Government organizations and colleges. If you use MS Teams internally and need a tool that connects with it out of the box, SocialIntents is for you.
Startups and any organization with remote teams, because, let's face it, you practically live in Slack.
Any organization that is looking to scale up with a minimum cost, as Social Intents allow unlimited agents across their plans starting at $49 per month.
#2. Livechat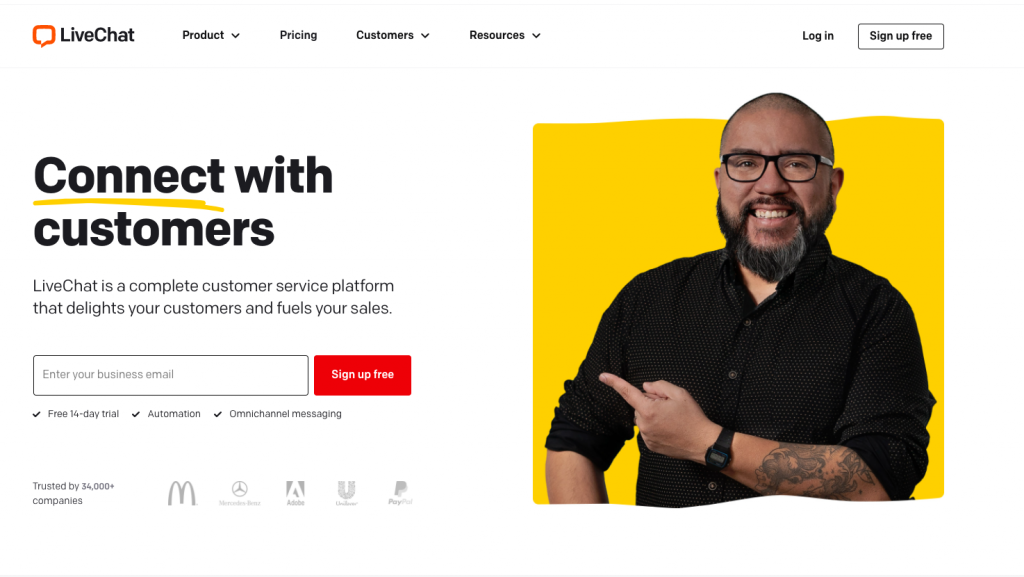 LiveChat is another great live chat software option available, with savvy chat tools. Some of them are:
Message sneak-peek lets you see what your customer is typing before they hit send, so you can reply within seconds and surprise them!
Canned responses are the responses that you save to questions you receive most frequently. You can reuse the saved answers and save tons of time.
Rich messages are more personal, intuitive, and appealing than plain text. Think sharing cards and carousels, buttons, and even apps in the chat widget to take the whole chat experience to another level.
File sharing allows you to share pictures, screenshots, offers, catalogs, and whatever you want to share with your customers, within the chatbox.
Inactivity messages enable you to engage your customers even when an agent is not readily available.
LiveChat's basic plan starts at $19 per agent per month. It comes with limited features and the list gets better as you go higher. You can add a lot of cool features at an extra cost, like:
Ticketing system
Chat assignment to agents
Chatbots
Option of integrating with 200+ tools
Option of integrating with e-commerce platforms
Sales goal tracker, etc.
However, all their plans are 'per agent', meaning, none of the plans have an 'unlimited agents' option, like in Social Intents.
#3. Zendesk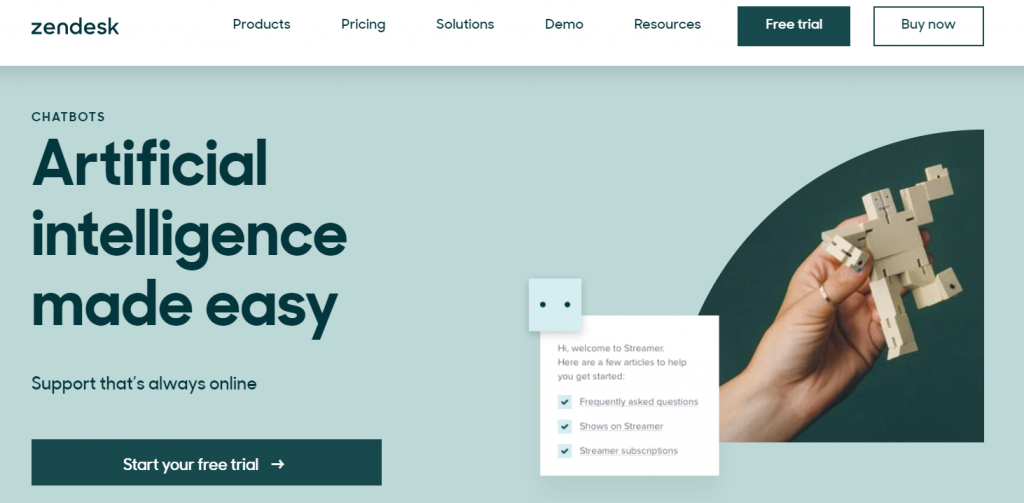 The biggest disappointment when communicating with chatbots? Getting a generic reply thrown again and again to your comprehensive query!
Well, not at Zendesk.
They use AI-powered state-of-the-art chatbot technology that avoids the common problems that businesses face with chatbots – bot-like answers. The technology makes sure the answer bots get the context right, and you get a contextual reply to your query, without having to repeat yourself.
Zendesk as a desk solution, focuses on automation which makes it most suited for tech start-ups especially the ones looking to scale up. They also have a cool offer, where qualifying early-stage startups can use Zendesk free for up to six months!
They also offer multi-channel customer service solutions including messaging, live chat, social, email, and voice.
They start a bit steep at $49 per agent per month, most likely because of the AI technology. The basic plan is available for a free trial and includes:
Automation and workflows
AI-powered automated answers
Reporting and analytics
Prebuilt 1000+ apps and integrations
APIs
Onboarding and adoption guidance, etc.
#4. Hubspot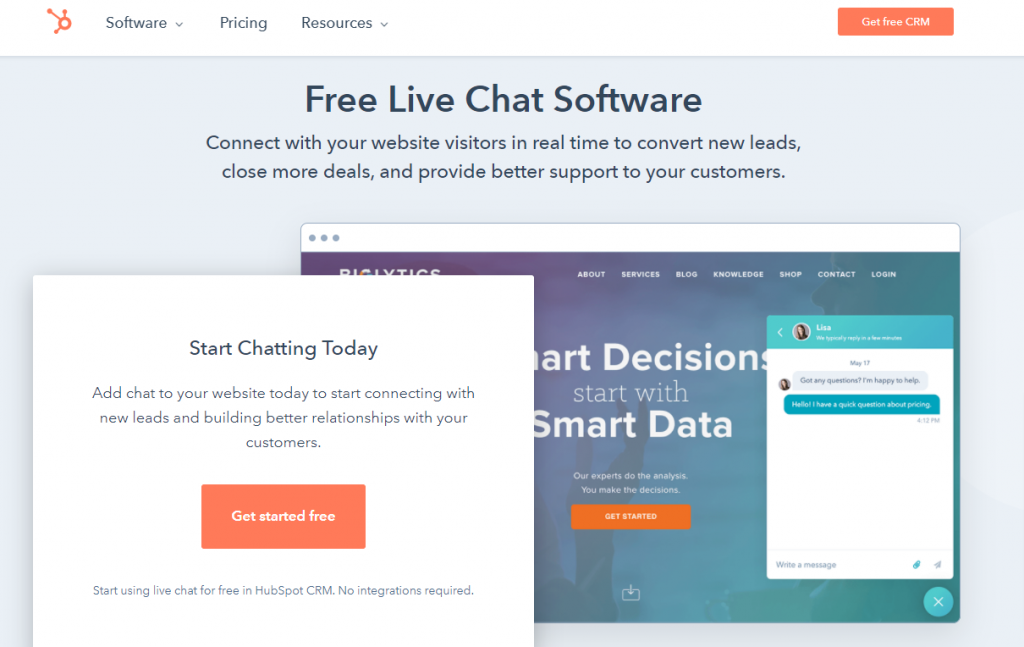 Hubspot does not offer a live-chat-only option, but it is worth mentioning here because it provides live chat as part of its lifetime free CRM! Kind of awesome right?
Hubspot is a great option to start with if you do not have the budget for a paid live chat software. It includes – email, live chat, and calling – three big communication channels, in their free plan. Within the live chat, Hubspot has great features like:
Canned messages
Branded chatbox
Centralized inbox for future reference
Slack integration
Chatbot builder, and much more.
What else? Here is a list of services that come with their free CRM:
Contact and lead management
Pipeline management
Data insights from across companies
Email templates and tracking
Gmail and Outlook integration
Facebook and Instagram lead ads
Meeting scheduling
Live chat and bots!
#5. ClickDesk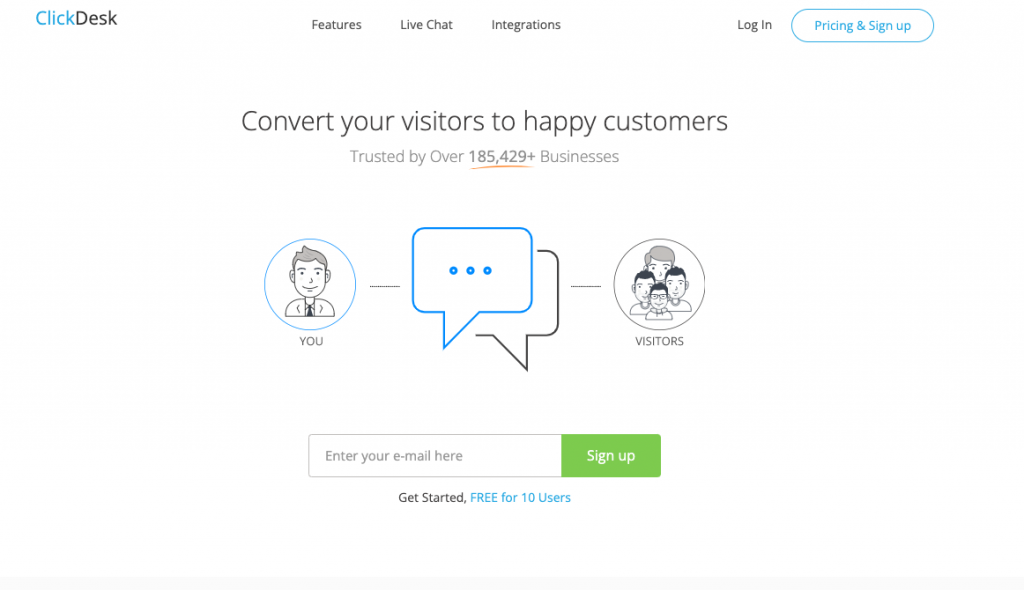 ClickDesk guarantees to convert your visitors into happy customers once you add it to your website. Here is how they do it:
Communicate instantly via live chat, helpdesk, and voice chat
Your agents can install ClickDesk on their Androids and chat directly from their mobile phone
They provide you visitor data like country, location, browser, history, etc., which you can use in multiple ways
Use proactive messaging to entice visitors to turn into customers.
ClickDesk lets you customize your popup messages in any language
Their social integrations allow customers to tweet or share your company information
What's more? They also provide voice and video chat services, and video chat is clearly the future.
#6. Zoho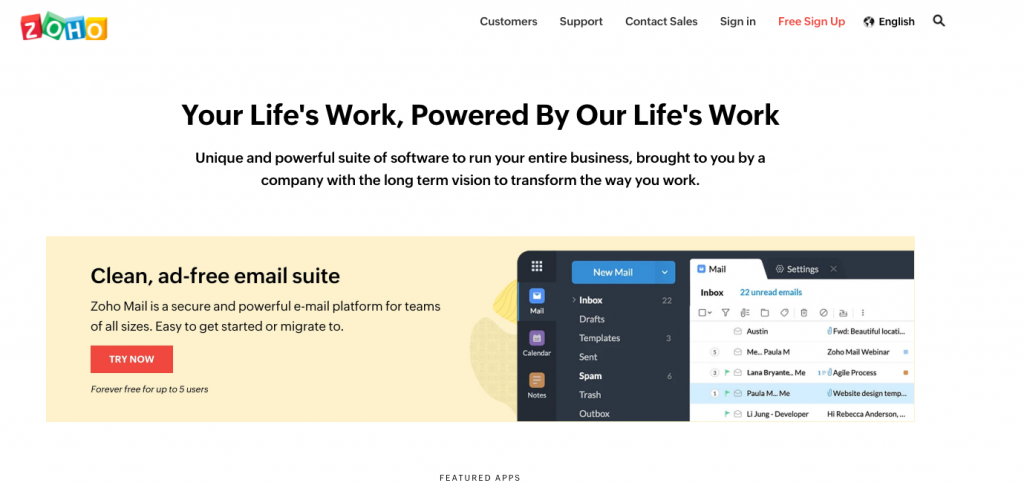 Zoho is the winner of App Innovation Challenge and the government of India awarded it the best Indian app for office productivity. It is ideal for remote workplace collaboration and so its chat 'Cliq' is specifically built for that purpose.
Zoho's Cliq:
Let's you build your own bots to automate simple workflows and optimize the way your team works. Zoho's technology allows you to build bots that are fully customized and can connect with your tool stack.
Has built-in bots who act as smart assistants and take care of your team's routine tasks.
Gives you an artificially intelligent bot assistant, Zia, who plans and manages events on your behalf. She sends invites, update invitee status, and can create a custom group conversation with all invitees tool.
Whether your team is going remote for the first time or you have been remote already, Zoho accommodates everyone's needs and enhances a sense of working together.
#7. LiveHelpNow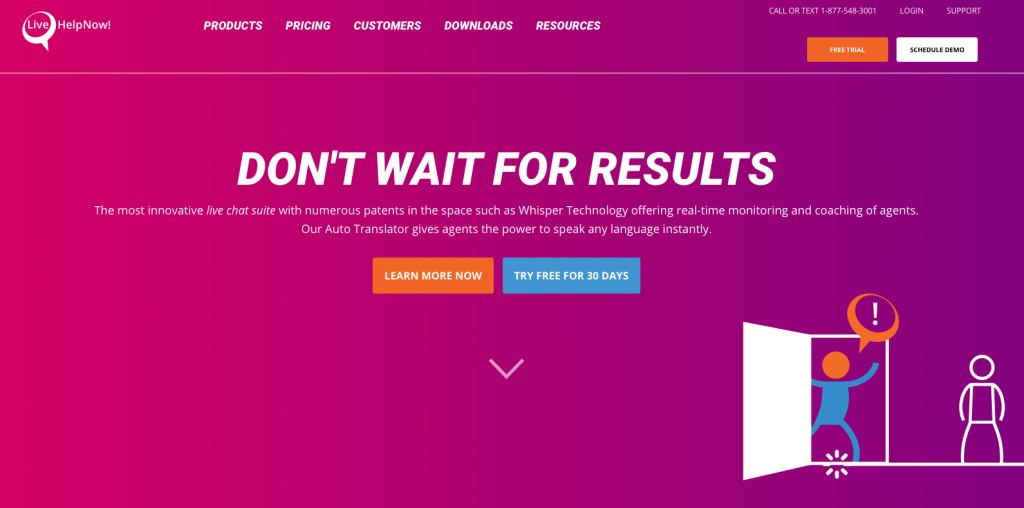 LiveHelpNow's chat support suite handles chat requests the moment customers submit them on your website, FB page, SMS text, and other channels. Agents can handle multiple chat requests in real-time with minimum effort.
With their chat support suite, you can:
Onboard new agents easily
Customize each customer experience
Support large or small call centers with easy multi-brand workflows out of the box
LiveHelpNow offers:
Complete mobile compatibility with mobile apps for agents and SMS capabilities for customers.
Secure platform to collect information, so you can receive highly confidential PCI & PHI data via chat. It is also a HIPAA compliant live chat system.
Easy-to-digest analytics platform with built-in reporting so you can analyze your client's needs, and also create post chat surveys to improve performance.
Auto-translation to remove language barriers to make your agents and customers life easier.
They have a pretty great price calculator where you can pick the services you want, select the number of agents, and a unique price comes for you.
#8. ProProfs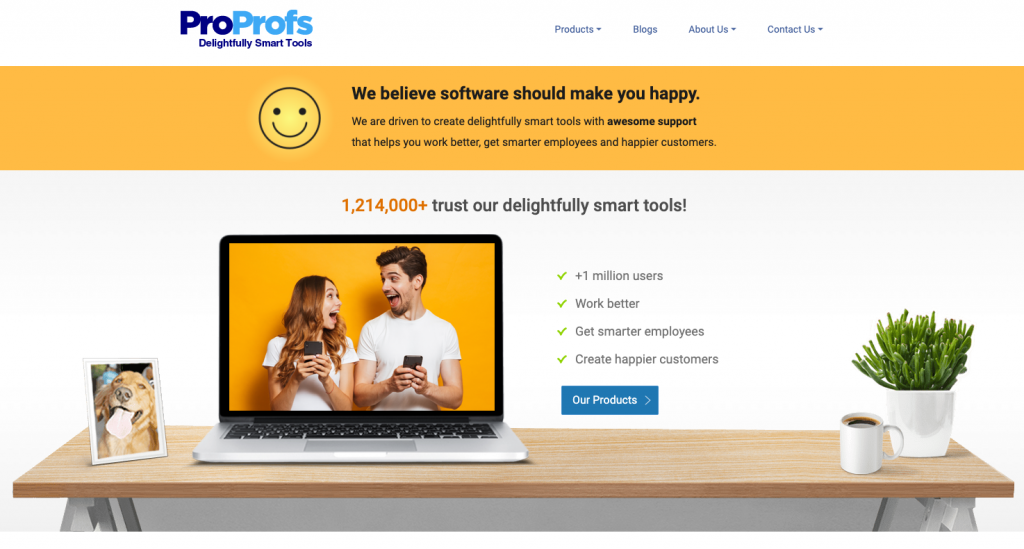 ProProfs is a great software that offers live chat solutions for:
Customer support
Sales
E-commerce
Lead generation
WordPress
Enterprise
ProProfs comes with a Gmail-like interface and so your team needs no additional training, saving you time and money.
With ProProfs, you can delight your customer with instant help, anticipate customer queries, easily transfer chats, answer faster with canned responses, and send self-help articles to customers.
They also make you available to your customers 24X7 with chatbots so your customers never feel ignored.
It comes with powerful integrations with multiple platforms, including but not limited to:
Salesforce to increase your company's sales efforts
Drupal so you can add your live chat to the most powerful CMS application
BigCommerce to enhance your customer experience and generate more opportunities
MailChimp so you can pull visitor information directly from the pre-chat survey and use it in your marketing campaigns
Google Analytics so you can get accurate visitor data.
Conclusion
We hope that our lineup of tools helped you see different aspects of live chat software. Now all you need to do is select the right one for your business because it is all about making the right choice.
So, give it a go!