Planning to use chatbots for your business? Wondering what benefits chatbots can offer and how to use them efficiently?
FACT: As of 2019, almost 40% of major companies have implemented at least one intelligent assistant or conversational AI chatbot.
But that's not all, this study suggests that by 2022, 70% of white-collar workers will interact with conversational platforms on a daily basis.
And so, it is no wonder that 50% of businesses plan to spend more on chatbots than on mobile apps.
What is encouraging is that the average satisfaction rate of bot-only chats is 87.58%. It means that your prospects and customers are becoming more and more accustomed to interacting with machines.
Chatbots were able to handle 68.9% of chats from start to finish on average in 2019. This means that better algorithms and technologies like NLP or natural language processing, are evolving chatbots from dumb machines to 'real' artificial intelligence.
So what is it that is making chatbots such a popular and successful choice for businesses? Let's fine out.
How do Chatbots Help Businesses?
Here are just some of the many benefits chatbots offer companies big and small.
#1. Round the clock availability
Whether it is IT support, customer service desk, or sales, your customers expect you to be there 24×7.
Chatbots are #1 in supporting your consumers round the clock. 
For instance, research says that 8 to 9 pm on Mondays and Thursdays are consistently the most popular times for online shopping. So if you close the office after business hours, your business is suffering.
Plus if you are an online business, you most probably have international customers, in which case, you must take the time differences into account.
In short, businesses that are available 24/7 are the winners today.
But hiring agents to work round the clock can be expensive and unrealistic. Even if you can afford it, why not save some bucks by using the technology intelligently?
Chatbots help you be present for your customers 24×7 without costing a fortune.
#2. Instant response time
What would you prefer? Chating and multitasking your way through a query, or staying glued to your phone, waiting for a support agent to answer? You got it!
No wonder then, that the first response time on any customer-facing chat needs to be under a minute.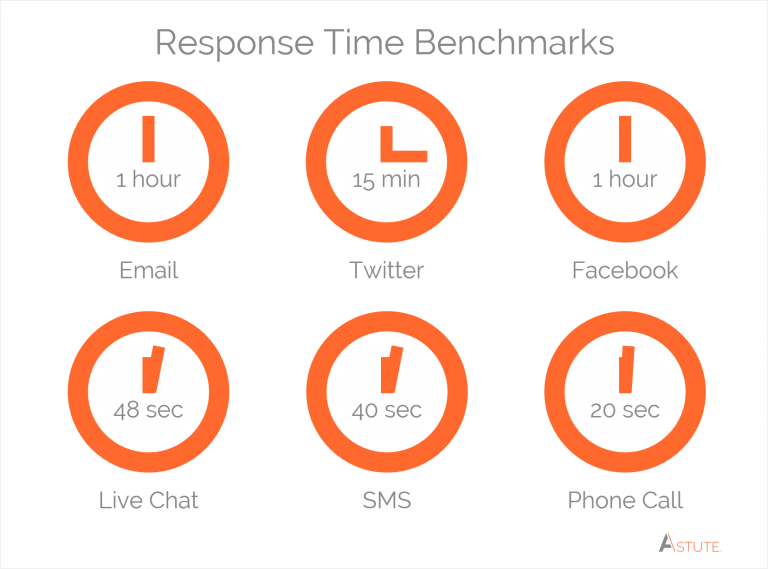 And this varies greatly across industries. Here are some examples:
27 seconds average in consumer products and services
56 seconds in banking and finance
57 seconds in healthcare
1 minute in technology
2 min, 26 sec. in business services
But the point is, response time matters, and chatbots have the highest satisfaction level when it comes to replying to queries quickly.
#3. Increased productivity of the human team
According to a 2019 study, chatbots were able to handle 68.9% of chats from start to finish. This means that chatbots are getting more and more advanced with time, and organizations are getting more skilled at creating automated conversation flows.
It also means that bots can deflect the majority of customer queries involving FAQs and simple questions and boost your agent-productivity.
Working with chatbots, your live chat team can focus on more complex queries.
#4. Scalability
Even if you use the best query filtration methods like pre-chat survey, segmentation, and routing, scaling up can become extremely difficult and costly with human agents.
So, deploying chatbots when it comes to high query volume, is a game-changer.
You can scale the queries up easily and efficiently with bots, as one chatbot can handle unlimited queries at a time.
What are Chatbot Essentials for Business? (With Chatbot Examples)
Set up a 24×7 call center
As we discussed, in today's fast-paced world, nobody has the time and patience to wait, and online consumers are no exception.
The easier and faster you make it possible for customers to get in touch with you, the better your chances are to get their business.
In fact, leads are 8x more likely to convert when businesses follow up within 5 minutes. This also means that if they have to leave your page in case you are not there when they are, they are not coming back.
With a 24×7 availability, chatbots help you retain all those business opportunities that knock on your door beyond office hours, and in record response time.
Plus with all those FAQ queries taken care of, your human agents can focus on more complex queries. Here's an example: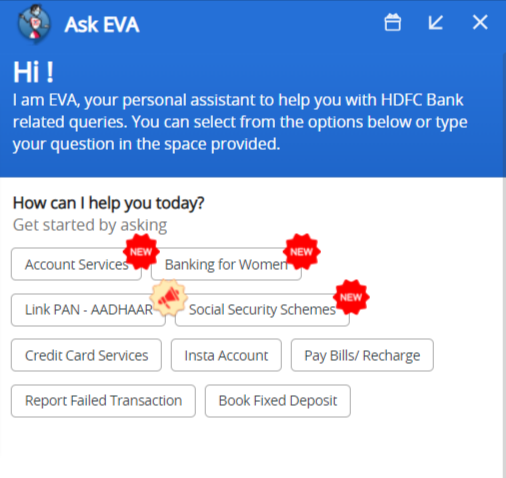 EVA is a banking chatbot that helps HDFC customers get answers to their most common queries, whenever they want.
#2. Maintain an omnichannel presence
You know it. It is a buyer's market and you must meet your clients wherever they are in the journey, on whatever medium they choose.
That is why it is non-negotiable to have an omnichannel approach to your business.
The good news is, that chatbots can interact with your customers on multiple platforms, websites, apps, email, social media, you name it, and chatbots are there. Not just that, chatbots can interact with the customer simultaneously on multiple platforms.
Here is Domino's using a chatbot, enabling people to place complete orders on FB messenger: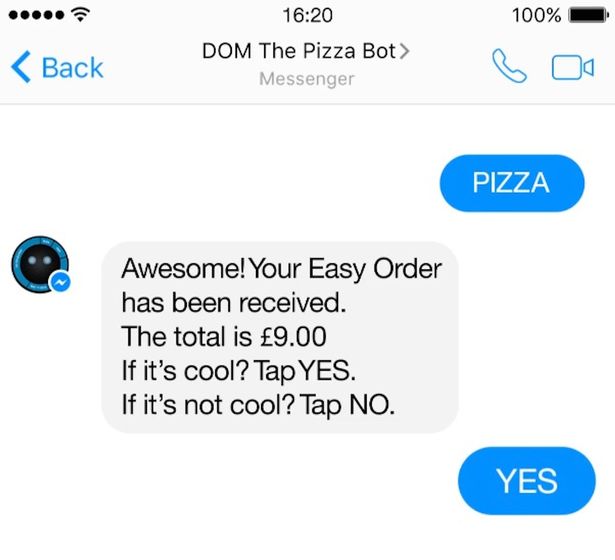 #3. Maximize revenue 
All of us at this point have already been proactively greeted by a chatbot when we land on a website, like: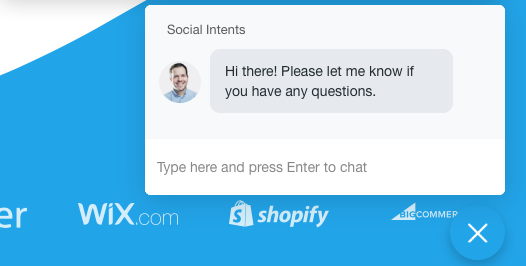 Proactive chat can literally convert strangers into qualified leads by allowing chatbots to pop up and start providing support to visitors even before they ask for it.
Create logical chatbot conversation flows considering the customer journey and qualify leads for your business. You can even make use of clickable answer buttons in the chat window for a lightning-fast chat experience. Something like this: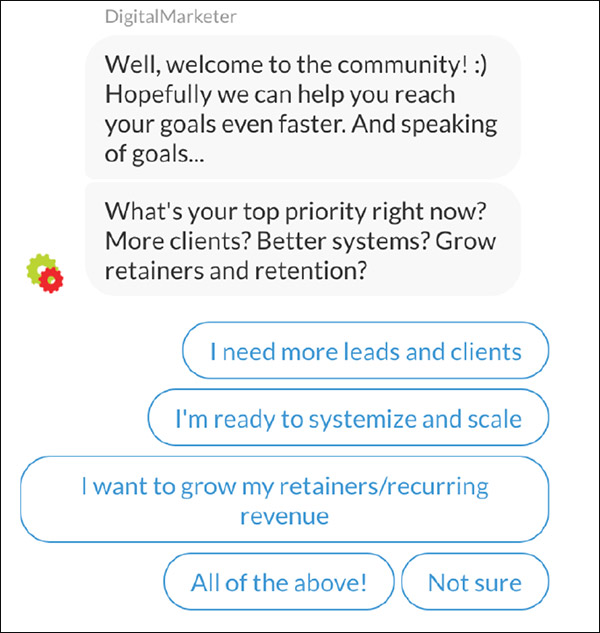 Chatbots can also make personalized recommendations to shoppers. And don't you just love it when your favorite shopping platforms recommend products aligned with your taste and past purchases?
AI Chatbots can ask people a few questions and give them perfect recommendations for faster conversion. Here's an example: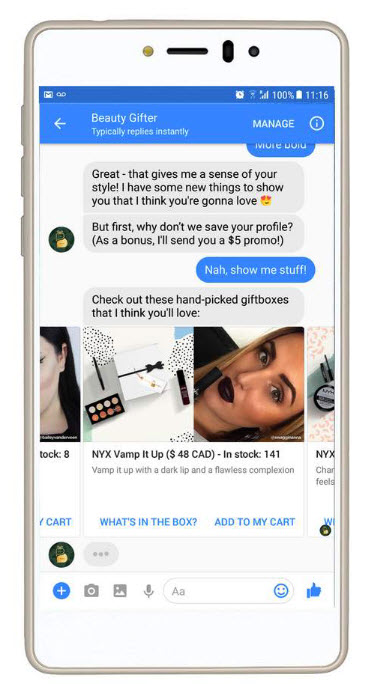 Organizations keep finding new ways to reduce shopping cart abandonment. Because converting a potential client who went all the way is easier than landing a new one.
Chatbots can minimize shopping cart abandonment effectively, by:
Answering customer questions
Offering discounts
Assisting hesitant visitors proactively
Directing customers to similar products/ experiences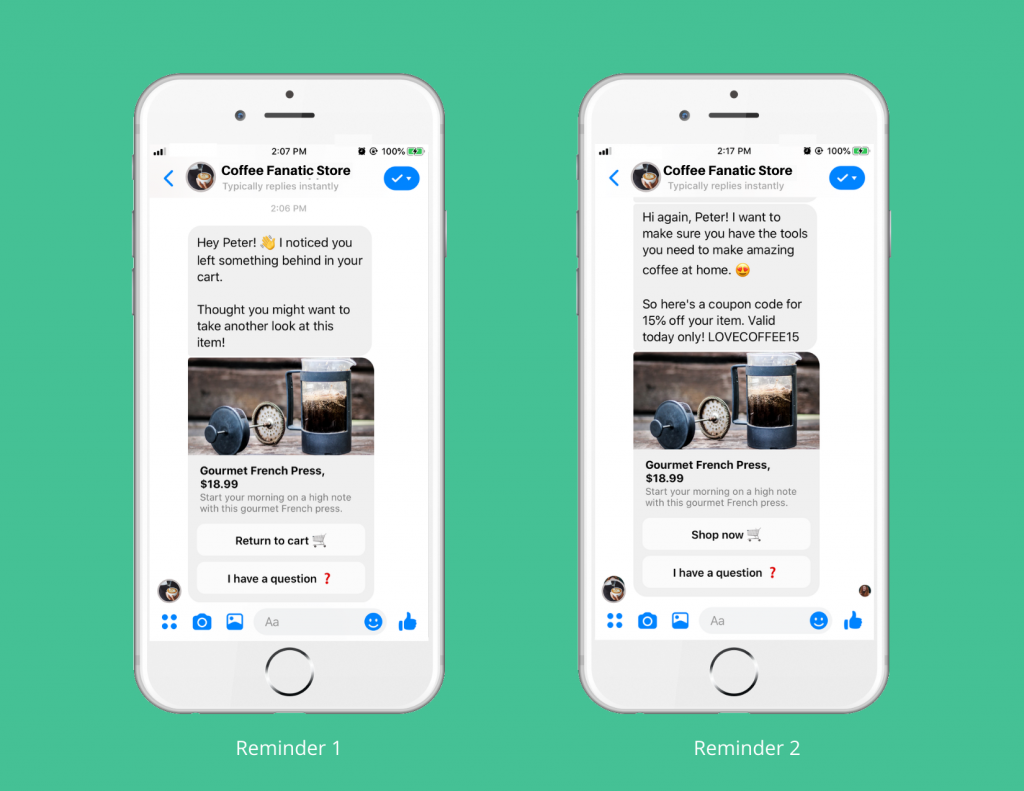 After all, it is worth all effort to prevent any leads from slipping away!
#4. Increase business efficiency with data and feedback collection
One of the key benefits of chatbots for business is data and feedback collection.
Consumer reviews are playing such an important role in business today as never before. A report says that 92.4% of customers are more likely to purchase a product or service if they have been able to read a trusted review about it.
But how many customers take time out by themselves to leave a review? Not many.
Enter, chatbots. Because 71% of customers will leave a review IF ASKED, and chatbots will do exactly that for you.
You can deploy a chatbot to prompt the customer to leave feedback immediately after purchase. And the chatbot can collect feedback in a way that is suitable to your business:
Clickable buttons for star ratings
Clickable buttons with pre-written responses for faster feedback
A free flow text box to get a more subjective feedback
Discount offers and vouchers to encourage people to share feedback, etc.
Here's an example: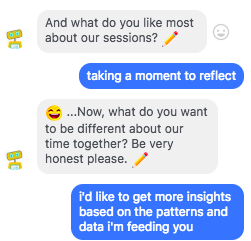 You can even connect your chatbot to email and let it send emails to clients asking for feedback. This gives them time to respond at their own convenience and might suit some people better than giving feedback instantly.
Best Chatbots for Business
Social Intents – Chatbot with integration with Slack and MS Teams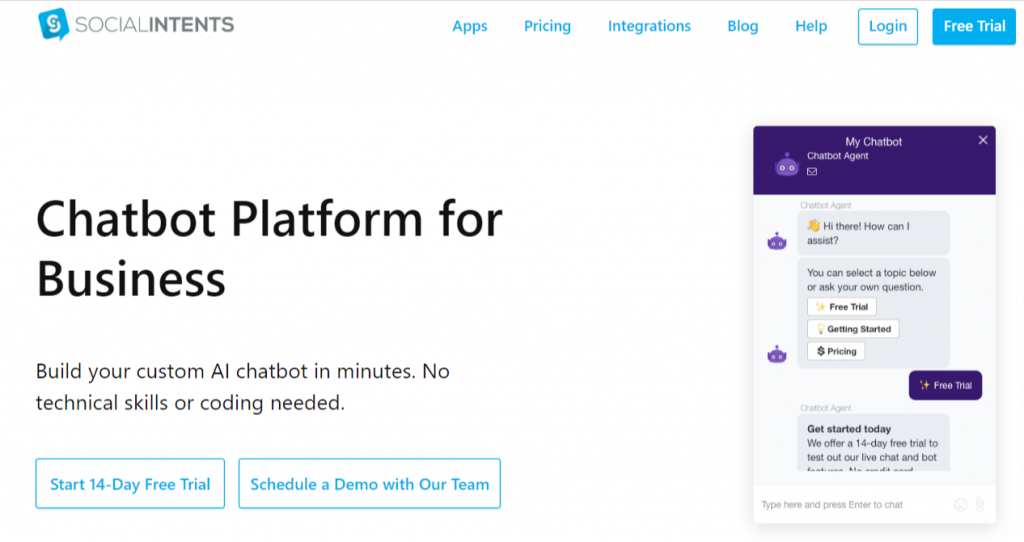 Social Intents (disclaimer: this is our product) offers a robust live chat functionality for companies looking to implement the channel without having to learn new tools. It integrates with some of the most popular communication tools directly – MS Teams, Slack, and Webex.
So if your organization uses any of these tools, Social Intents is the ideal tool for you to launch live chat and chatbots within minutes.
With Social Intents, you can build your custom AI chatbot in minutes without any coding experience or technical skills.
It is super simple to set the chatbot up:
Create a live chat widget on our website
Create your Dialogflow agent (Leverage our integration with Google's Dialogflow to create advanced natural language chatbots online.)
Connect live chat and Dialogflow
Here is how you can use the Social Intents chatbot for your business:
Customize the chatbot with your brand colors, logos, text, default responses, etc.
Have your chatbot respond as soon as a visitor comes on chat.
Enable your Chatbot to come automatically when your live agents are offline or miss a chat
Create a chatbot-only live chat widget to be your virtual agent
Have your chatbot respond with quick reply buttons, cards with images, and buttons. It looks something like this: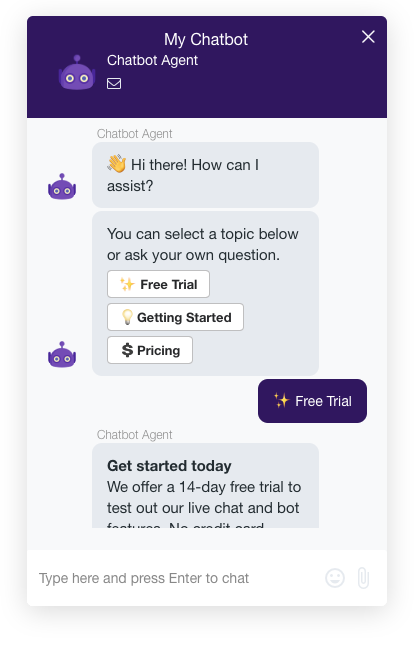 With Social Intents, your agents can take over the conversation with customers at any time and can view conversations in real-time right from Slack or Microsoft Teams. Neat isn't it!
Pricing: You can get Social Intents custom chatbots in their Pro Plan at $99. The plan includes live chat functionality on 6 websites and 6 chat widgets with unlimited agents.
Kindly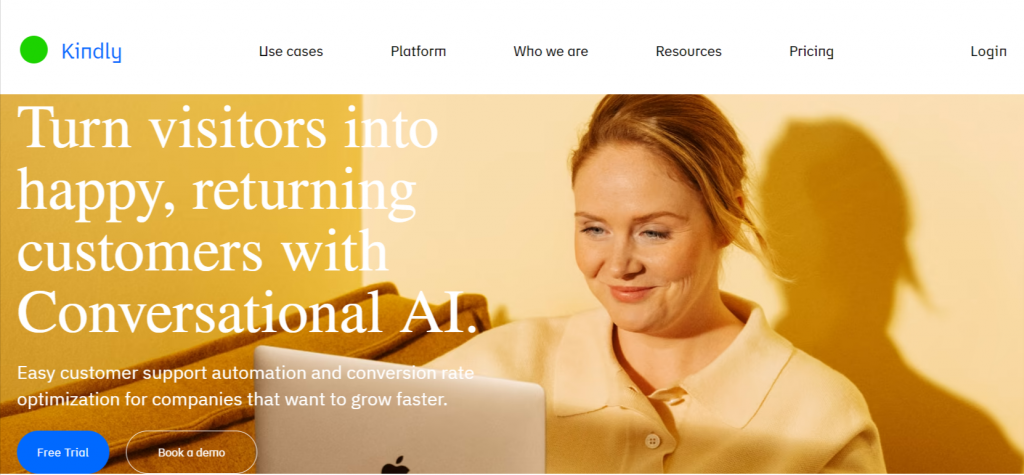 Kindly focuses on e-commerce conversational AI and provides specific solutions accordingly.
Here are some of the things they claim their conversational AI can do:
Start the conversation and turn online shopping into conversational commerce.
Increase customer satisfaction by up 80% and delight shoppers at any stage of their journey with our conversational AI.
Scale your business with on-site optimization and cart abandonment solutions, and increase conversion rates by up to 12%.
Enable 24/7 availability and increase customer support effectiveness by automating up to 80% of customer inquiries.
Just like an in-shop persona assistant, Kindly's chatbots sell proactively and help better the customer experience by making recommendations as per their needs.
Pricing: You can try Kindly free for 14 days, and after that get in touch with them for suitable pricing plans.
MobileMonkey

MobileMonkey provides automation with AI through text messaging, Instagram, Facebook messaging, and also webchat.
It provides customized AI solutions in three different categories:
For agencies
For in-house marketers
For small and medium-sized businesses, creators and coaches
OmniChat is their patented chatbot marketing technology. Some of the features of OmniChat are:
Write chat content once, and use it across webchat, SMS/MMS, Facebook messenger, Instagram, and WhatsApp.
Customers can message a business and opt-in to automated updates in Facebook Messenger, native website chat, and SMS.
Use advanced customer support features like alerts, live agent takeover, contact tagging, and follow-up assignments.
MobileMonkey allows marketers to make Facebook ad bots, SMS bots, and native webchat bots in one place.
Pricing: Mobile Monkey provides pricing on request, separately for all three segments.
Zendesk Answer Bot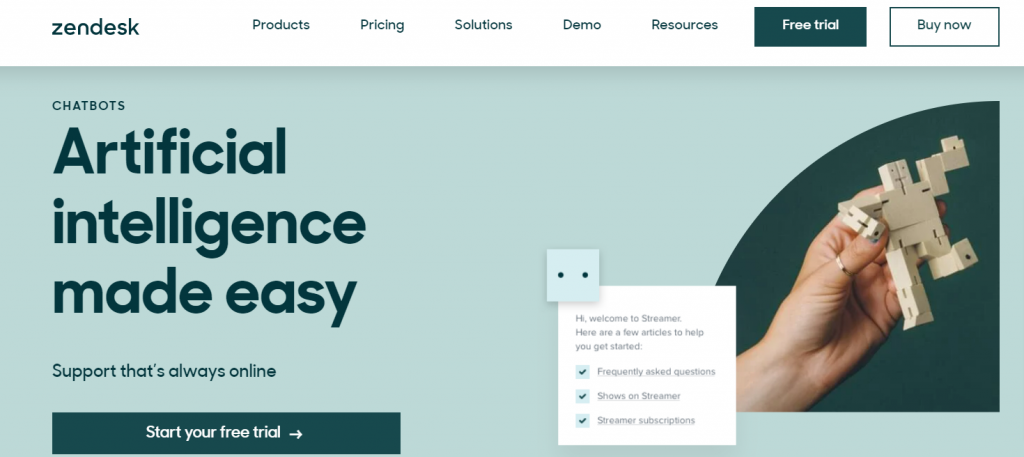 You can support your customers with additional brainpower with Zendesk's Answer Bot.
Zendesk Answer Bot works together with your business support team within Zendesk to answer incoming customer questions instantly. It can answer common questions and identify when to bring in an agent.
The Answer Bot accesses Zendesk Knowledge Base to provide customers with the information they need within seconds.
Some key features of the Zendesk Answer Bot are:
It can talk in multiple languages
You can deploy it on multiple channels simultaneously, like email, web forms, chat, in-app, etc.
Z Bot integrates with the Zendesk Guide knowledge base
It also integrates within the Zendesk agent desk platform for seamless human hand-off
It comes with deep machine learning ability and so it keeps evolving with every interaction.
Pricing: You can start using the Z bot at $49 per agent per month and get up to 50 AI-powered automated answers.
It's a wrap!
We hope with our roundup of information on how businesses are making the most of chatbots, you will have a fair idea of how to deploy one for your own.
No more hesitation, just go for it!