Are you hiring or training live chat agents for your company? Wondering what skills make an ideal chat support agent?
The quality of your customer service experience has a snowball effect:
Good customer service -> results in positive word of mouth & and higher loyalty. That, in turn, has a huge effect on revenue.
But bad customer service attracts negative word of mouth and can decrease your revenue significantly.
And so, it goes without saying – Providing quality customer service is crucial.
The thing is, not everyone seems to cut out to be a live chat agent, and handle the pressures of supporting customers via live chat.
Below, you'll find the fundamental live chat agent skills needed to provide that quality customer service.
8 Live Chat Communication Skills That Translate To Great Customer Service
1. Subject-matter expertise
Did you know that 44% of customers say they've received wrong answers from a customer support executive?!
Unfortunately, it's true.
If your live chat agent gives the wrong answer, customers are going to be frustrated and disappointed. 
So, the first tip for agents is, to be honest with the customer: Don't know the answer? Ask customers for some time to figure it out or forward the query to someone who might know it.
Of course, customers won't pat you on the back for being honest; your request might frustrate them. However, it'll still work better than providing them with the wrong answer.
To keep the customers fully happy, your customer service agent must have the skills to answer all their questions.
Here's how you can ensure your agent(s) are subject-matter experts:
Arm them with a comprehensive knowledge base.
Walk your agents through your product or service, features, and systems to familiarize them with everything a customer might see and experience. Additionally, update the customer service team first whenever you make any changes to the product or features.
Tell them about all the marketing and sales efforts so that the potential customers don't catch them off-guard. For example, if someone comes from a discount campaign you're running and can't get the discount, they'll likely contact your live chat agent. In that case, the agent must know about the discount and not be like, "what discount?".
Conduct training sessions and perform mock chats to prepare them.
2. Understanding of brand voice
Brand voice refers to the personality, tone, and emotion infused into your company's communications.
Your live chat agent(s) must understand it and adapt to it before being allowed to chat with your customers. Otherwise, the individual's personality might dominate the conversation, which isn't always suitable for your brand. For example, a bubbly individual must tone it down when working for an insurance company.
Tip: Share your customer/buyer persona file with new agents to help them understand who they're typically answering.
3. Fast response and resolution time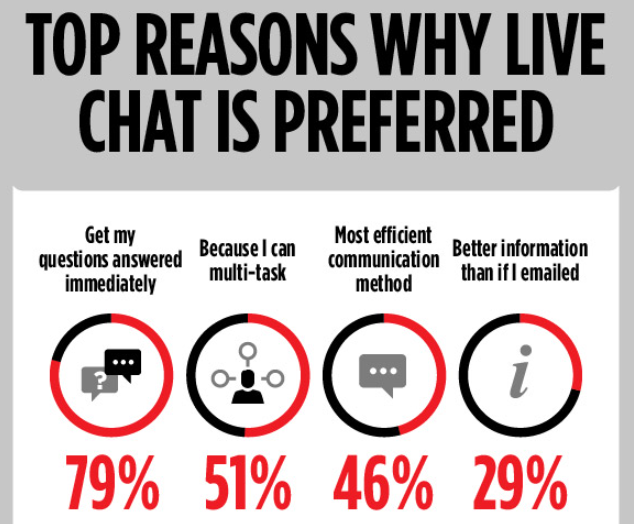 The #1 reason why customers prefer live chat over any other communication form is "Get my questions answered immediately." That's also why 'first response time' and 'resolution time' are two of the most important live chat metrics.
Customers expect quick answers from your live chat agent. [The average wait time was 46 seconds in 2019.]
(And, of course, they expect accurate answers that help them resolve their problem quickly.)
Therefore, your live chat agent must have the skills necessary for it. For example, your live chat agent should be able to
Multitask: One of the benefits of live chat is it cuts support costs by allowing agents to chat with multiple (3-4) customers concurrently. So your agent should be able to chat with multiple people without mixing it up.
Manage time and workload: The agent should optimize for time & workload ⁠and know when not to accept the chat request (i.e., they should know to prioritize properly).
Type fast. You can perhaps include a typing test during recruitment. Anyone with typing speed below 70 wpm doesn't qualify for the next round, for example.
A couple of tips for responding quickly:
Use chatbots: Use chatbots to answer FAQs and qualify support queries so that the query reaches the right team/agent.
Use canned responses: Canned responses allow agents to send pre-written replies. So teach agents how to set them and use them to answer common questions instantly.
4. Impeccable writing skills
Essentially, live chatting is written communication. Therefore, your live chat agent's writing skills matter the most for world-class customer service.
Here's what makes a high-quality live chat message (in typical cases):
It's positive: Unless it's necessary to apologize sincerely, a good agent frames the chat message positively. For example, instead of "Our engineer is not available right now.", they use "Kindly wait for a couple of hours for our engineer to resolve it."
It's jargon-free: Your customers may not be familiar with the industry-specific words and phrases you use daily. Thus, the message shouldn't include words the customer even slightly likely won't know. For example, not everyone understands "agile methodology."
It's short and simple: Short sentences and simple words are easy to read and understand, making for an excellent live chat experience.
It's human: The best agents use interjections ('Ohh,' 'Phew,' 'Woops'), contractions ('you are' -> 'you're'), and emojis to make chat look like a regular human interaction. Moreover, they address the chatter by their name or "you" to make it a human-to-human conversation and not a robotic press release.
It's grammatically correct: Apart from being factually correct, the best live chat messages are also grammatically correct. So make sure your agent won't make spelling, punctuation, or styling mistakes while chatting with a customer.
Overall, your live chat agent should ensure each message is positive, jargon-free, short, human, and grammatically accurate.
5. Empathy
Empathy is a common characteristic in best live chat agents. In fact, the best ones have and use all three types of empathy during conversations:
Cognitive Empathy: They understand what the customer feels.
Emotional Empathy: They can connect with the customer.
Compassionate Empathy: They not only answer the queries but also ensure the customer isn't distressed.
The best agents listen to (or read, in this case) customers' queries properly and respond appropriately. For example, empathetic agents use sentences like
"I'm so sorry you have to deal with this…" for apologizing sincerely.
"If I am understanding it correctly…" to clarify.
"Thank you for bringing this to our attention" to acknowledge.
"I'll do everything from my side to sort this out sooner" to ensure the customers know they are a priority.
"It's almost done. It'll be ready in 10 minutes" to update the customer in case they are worrying.
"I appreciate your…" to thank the customer for their patience, understanding, etc.
6. Ask for feedback
The best live chat agents understand the value of feedback ⁠— that how it helps improve faster. Therefore, they are always keen on getting feedback from customers as well as peers and seniors.
At the end of the chat, professional agents thank the customer for allowing to be of service and ask them to fill the post-chat feedback survey.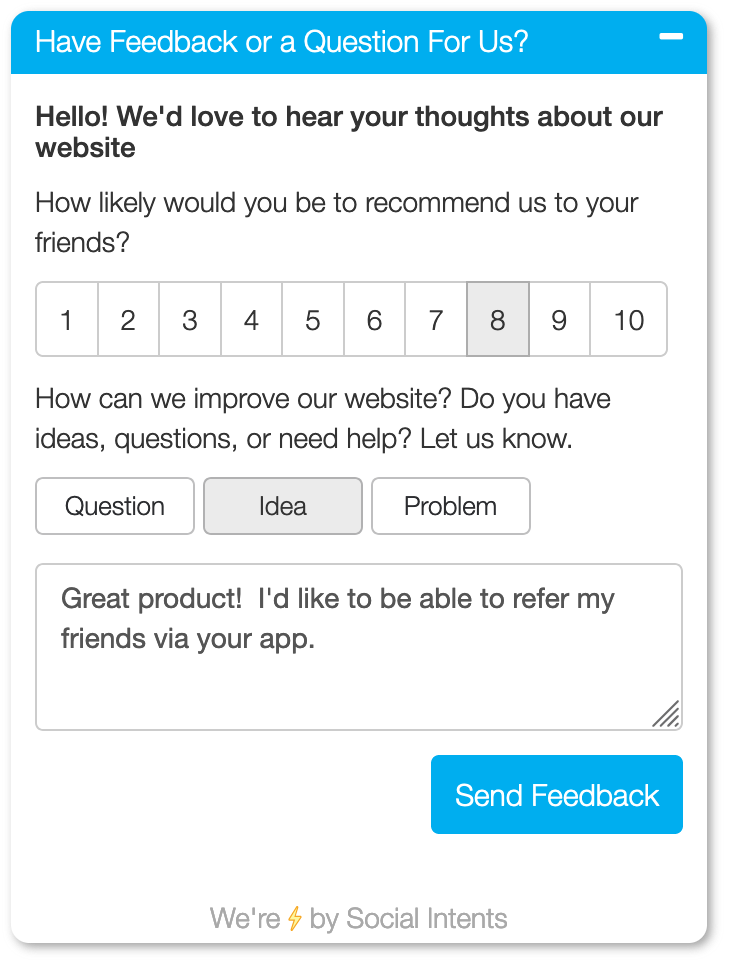 And, of course, they work on improving themselves based on the feedback.
7. Understanding of the live chat software
One skill a live chat agent must have is mastery over the live chat software. They should know:
Where to find chat requests.
How to accept chat requests.
How to route chat to relevant team or agent.
How to set and send canned responses.
How to ban spammy visitors from chatting.
How to export chat transcripts.
In the case of small businesses, even: how to add live chat.
You'll have to familiarize the agent with the live chat app you use. In case you are a Social Intents user, it's fairly easy for you.
Social Intents integrates with Slack or MS Teams for an efficient and effective business-side live chat experience. Therefore, you just need to show the chat agents your internal communication system (Slack or MS Teams), and they'll also understand most functions of the live chat interface.
8. Understanding of other fundamental etiquettes
The above mentioned are skills a typical live chat agent must possess. On top of that, they should have an understanding of general live chat support etiquettes, such as:
Start with a friendly greeting message.
Introduce themselves. For example, "Hey [First Name]! It's [Name] from [Company] [Team]. I'll be assisting you with your [Problem Category] problem(s) today."
Say "Thank you" often.
Show respect.
Answer every question.
Respect customer's privacy and be non-intrusive
Keep the promises, etc.
Conclusion
A world-class live chat agent is
a subject-matter expert,
great at adapting a different communication style,
maestro at written communication or communication in general,
efficient with time,
empathetic,
open to feedback,
and tech-savvy enough to handle the live chat software without IT help.
Does your live chat agent or candidate possess all these skills? If yes, awesome! If they don't, no worries. Initially, they need only one skill: the learning skill. If they are open to learning, you can train them and make them the best live chat agent.