Are you planning to improve your chat quality further? Looking for a guide on implementing live chat quality assurance (QA) into your processes?
Do you remember that show, The Office? There's an episode in which Creed Bratton, a guy who never did his duty properly, skipped a quality assurance spot-check, and … nearly tanked the whole company.
(You can see that scene here, by the way.)
That's a fictional story, of course. But there are a lot of parallels you can draw between what happened there and your company's live chat QA.
For one, if you don't periodically assure your live chat's quality, an agent may continue doing something wrong that can move your growth needle towards zero.
But that's not all…
Why Do You Need Live Chat Quality Assurance
Customers have certain expectations of live chat support when they reach out. For example, statistics show:
79% of the people prefer live chat because their questions get answered immediately.
46% like it because it's the most efficient way of communicating with a business.
29% prefer live chat because they get better information through the channel.
Besides these live chat benefits customers seek, they also expect the chat agent to be professional and friendly, chat in real-time, solve queries instantly, and more.
And quality assurance ensures all these customers' expectations are met. Otherwise, if the customer needs and expectations aren't fulfilled, the results can be brutal. For example, customer loyalty can decrease, or negative word-of-mouth can increase. And there's proof of it: A Microsoft report found that 56% of people stop doing business with a company because of poor customer service.
How does live chat quality assurance help ensure customer expectations are met? Well, it enables you to improve your live chat quality.
7 Steps To Improve Chat Quality With Quality Assurance
Step-1. Start well
Live chat quality assurance helps move your live chat efforts towards perfection. But you can't wait for your QA processes to kick in and make your "poor" live chat agents "perfect." It takes time ⁠— time during which the worst can happen. Therefore, you need to start with a "good" or "excellent" live chat agent.
When hiring or training, look for these live chat agent skills:
Subject-matter expertise: Subject-matter expertise is key to accurate and fast responses. So you must ensure your agents understand your products, services, and processes fully. Moreover, you should arm them with a comprehensive knowledge base and update them about all marketing or product upgrades to prepare them for all questions.
Understanding of brand voice: "Subject-matter expertise" means agents know what to say. "Understanding your brand voice" means they know how to say it ⁠— i.e., the way they have to say it when representing your brand, not how they'd personally say it.
Fast response and resolution time: Of course, your agents must be able to respond fast and think critically to resolve the issues at hand without piling up chat requests.
Impeccable writing skills: The agent should write jargon-free, concise, and grammatically correct messages in a positive and friendly tone.
Empathy: Being able to empathize with the customer and understand their queries properly is fundamental to good conversations.
Openness to feedback: The best agents actively seek feedback from the customers, peers, and seniors.
Only after the agents check all the skills in this checklist consider them for actual customer support chats. Not only will it ensure a good live chat support experience for the customers, but it'll also help reach QA goals fast.
Step-2. Track live chat metrics
In general, live chat boosts customer satisfaction, customer loyalty, conversion rates, sales, revenue, and more. But how to know whether your live chat efforts bring success? By tracking the live chat metrics and KPIs (key performance indicators).
Look at these metrics regularly to track the progress of your live chat and quality assurance efforts:
First response time: How fast are your agents accepting chat requests? Benchmarks show the average wait time for live chat is 46 seconds.
Chat response time: How fast do the agents respond to customers' messages once they start the chat? Typically, customers want a real-time conversation.
Chat session time: How much time does a chat session with a customer last? For example, companies with 90%+ CSAT have an average chat duration of 11 minutes and 47 seconds.
Query resolution time: How much time does it take to resolve a customer query? Generally, top companies resolve customer queries in the first session itself, and your customers expect the same from you.
Chat to conversion rate: If the live chat is for lead generation or sales, what's the conversion rate? In most cases, the conversion rate increases after a live chat session.
Customer Satisfaction Rating (CSAT): How satisfied are the customers with the live chat experience? A CSAT score of above 80% means the customers are delighted.
Net Promoter Score (NPS): How has the live chat session influenced customer loyalty? A score of 8 or above on the 10-point NPS scale means the customer is loyal to your brand.
Agent utilization rate: How productive are the live chat agents? A utilization rate of above 60% is considered world-class in the customer service industry.
Step-3. Ask the customer for feedback
Directly asking customers for their feedback after each live chat session is the best way to know if their expectations are met.
In the previous section, I mentioned CSAT and NPS. Both are customer satisfaction survey types to collect feedback at critical points in the customer lifecycle, including after a customer support session. You can send either survey to understand customer attitude towards your live chat.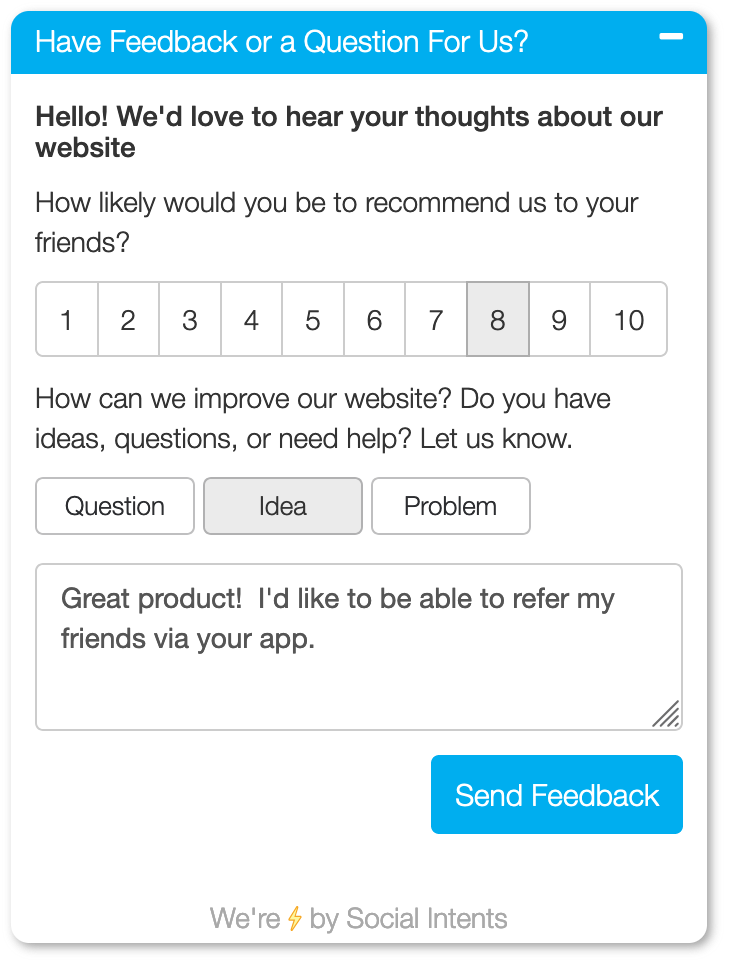 SocialIntents NPS feedback form
Step-4. Determine where the agents need help
Once you have the metrics and feedback for each live chat session, you can rank agents based on their performance.
Firstly, look at the CSAT score or NPS to see each agent's performance from the most important viewpoint – the customer viewpoint. You can then group agents into high and low performers based on the average score.
Next, correlate the low customer satisfaction scores with other live chat metrics to try and find patterns. For example, if an agent's average CSAT score is low and average response time is high, it may mean that customers are dissatisfied because of slow replies.
Also, read through all the customer feedback messages to determine precisely why customers are happy or unhappy. Sometimes your data-based assumptions will be true, sometimes not.
Prioritize solving feedback-based issues. For example, if the feedback says the agent was rude, solve that issue first.
However, don't dismiss the data-based assumptions. For example, if you initially thought customers were dissatisfied because of high response time but later found rudeness was the primary dissatisfaction factor, don't assume high response time isn't a dissatisfaction factor ⁠— try to solve it too.
Lastly, note that the CSAT or NPS-based performance ranking isn't the only one to consider. For example, if an agent's CSAT is super-high but the agent utilization rate is low, it means the agent isn't efficient despite being at the top of the CSAT-based scoreboard.
Step-5. Provide coaching and training
To help agents reach their full potential, conduct frequent coaching and training sessions. You can hire an experienced expert or employ team leaders or top performers to help uplift the overall live chat team.
The experts can take mock tests and demos from agents to familiarize them with different situations and handle them efficiently.
Moreover, they can go through actual live chat conversation transcripts and highlight issues for low performers.
They can even sit through actual chat sessions with the agent and guide them to respond efficiently and effectively.
Step-6. Hire a QA Manager
A live chat quality assurance manager's job is to assist in formulating and updating quality standards and regulations for live chat agents.
Initially, the QA manager sets goals based on general procedures. However, typically, QA goals are dynamic and change over time. For instance, the QA manager can change goals and standards based on live chat metrics and customer feedback.
Having a QA manager oversee the live chat operation means the agents will get continuous feedback and improvement tips, leading to efficient and effective live chat sessions that customers appreciate.
Step-7. Ensure you set your live chat ideally
Live chat quality assurance is primarily about live chat agents and chat quality. But sometimes, how you set your live chat operations can also hinder the live chat quality.
For example, if your live chat software isn't connected to the CRM, your agents may not have ample context to handle the customer ideally. Similarly, if you send your CSAT surveys two days after a live chat session, the response rate and quality will be low because the experience isn't fresh in the customer's mind.
Therefore, besides perfecting chat quality, also perfect your live chat operation processes.
Conclusion
A focus on live chat quality assurance is crucial. If your agents continue what they are doing without any external guidance or set of rules:
At best, you'll miss out on opportunities to improve your customer service and delight customers further.
At worst, you'll dissatisfy customers, leading to a decrease in customer loyalty, a lower retention rate, and negative word-of-mouth.
And I bet you don't even want the best-case scenario in this case, do you?