Are you trying to use live chat to support customers? Looking for advice on creating a chat support process flow?
Let's not beat around the bush here; live chat beats most other customer support channels by a mile. One of its key benefits is that it increases efficiency and reduces support costs. The thing is…
…that happens only if you've implemented the channel properly.
But how do you do it? How do you execute chat support correctly to amaze customers? Well, it starts with designing something called a "chat support process flow" or "live chat support flow."
This article will show you exactly what a chat support flow is and how you can create one for your company. What's more, you'll also learn the best practices for providing support over live chat. And, finally, I'll also share with you some general tips to succeed with live chat.
So, let's get right to it.
What is a Chat Support Process Flow?
A chat support process flow is a step-by-step representation (with multiple paths and decisions) of how a live chat support conversation should go from customers requesting it to the end of the chat.
Creating your flow has quite a few advantages, for example:
First, a process flow gives visual clarity: You can visually see the route customer has to go through to get answers. Essentially, this helps you identify areas where you can improve and organize.
It helps reduce costs: The visual clarity shows what elements of the process you can add or eliminate to save your agents' time. For example, sometimes, people send a sales chat request through the live chat button on the support page. You can remove such instances by asking the user to select "Sales" or "Support" before initiating a chat.
Process flow leads to better customer experience: Not only will asking the visitor to select "Sales" or "Support" benefit you, but it'll also save the visitor's time.
How To Create a Chat Support Process Flow?
A process flow is simply laying down each step of the live chat process paths, so the best way to create one is by using a flowchart.
Here's how a chat process flow looks like: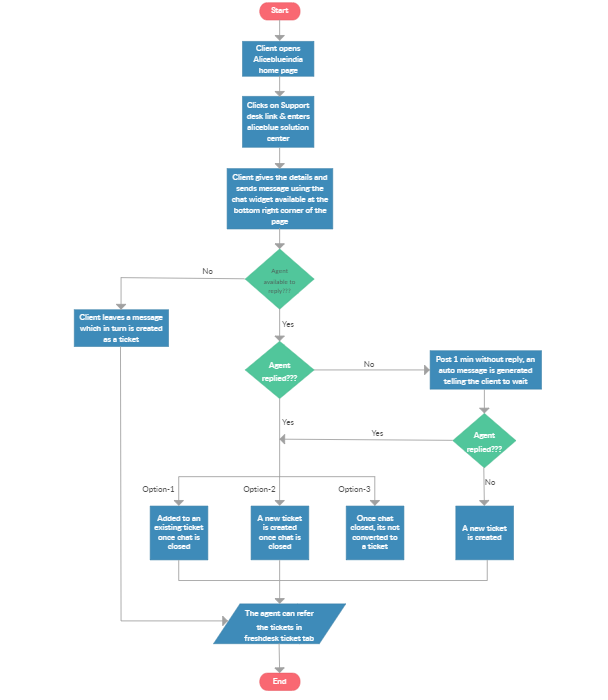 But let's break it into its individual pieces.
How a typical chat support process flow looks like
This is a basic live chat flow from the user's perspective:
Step-1: A customer with a query opens the support page.
Step-2: The customer requests a chat.
Step-3: The customer enters personal information (name, email address, ID, etc.) in the chat request form. (You can extract these details if the customer is logged in)
Step-4: Then, the customer adds problem details: category (e-commerce example: general, shipping, returns), problem summary, product ID, etc. And clicks submit
Step-5: The chatbot extracts relevant articles/FAQs from the help center (based on the problem details) and shows them to the customer.
If the customer finds the answer from those, awesome.
If not, next step.
Step-6: If still not satisfied, the customer clicks 'Request a chat with agent' and waits in a queue. TIP: Make the customer aware of their number in the queue and how much approx. time will agent take to get in touch.
Step-7: The customer connects with an agent, and the agent tries to solve the customer's problem in the best possible way. (I'll add what happens during a chat conversation, what etiquettes agents should follow, and some common Q&As further in the article.)
Step-8: The customer gets the solution to their problems.
Step-9 (optional but recommended): Chat ends. Now, you can share a CSAT survey to see know their experience with the support team.
That's it. Although, when you think about it, the process is quite complex, requiring the chat agent to make multiple decisions on the spot.
The process flow makes it easy to decide how to conduct the conversation and ensures that customers are supported to the highest level.
Live Chat Support Best Practices
At Step-7, your agent will chat with the customer. How should they chat? Well, for one, they can follow live chat etiquette when doing so. Here are just some of the ideas on how to conduct the conversation in a professional but also friendly manner and engage the customer:
1. Reply promptly
No one likes to wait, so reply as quickly as possible ⁠— both during and when responding to a chat request.
Here are a few tips to reply promptly:
Use Social Intents: Social Intents integrates with two of the most popular internal communication platforms, MS Teams and Slack. Your most suitable agent can accept the chat request and talk with the customer in real-time while maintaining all internal communications. This leads to efficient and conversational communication with customers.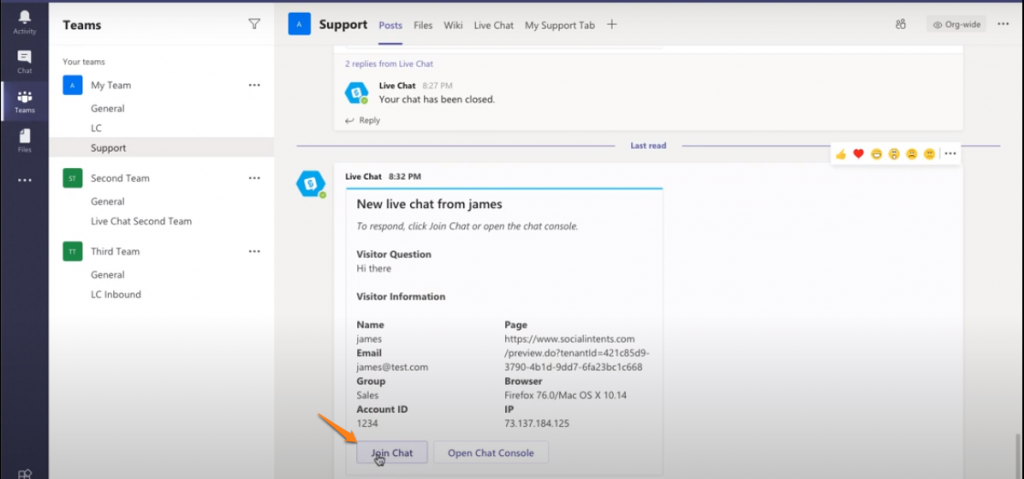 Live chat request on MS Teams. The best available agent can click "Join Chat" and talk to the requester instantly.
Implement a chatbot: I already mentioned this in the process flow example. Use a chatbot + application that searches through knowledge base articles to answer questions quickly.
Use canned responses: Canned responses are pre-written replies (for example, greetings) that shorten communication time.
2. Start with a friendly greeting
One in three customers considers talking to a friendly and knowledgeable representative crucial to a good customer service experience. Therefore, always set the tone right with a friendly greeting.
For example, "Hey [First Name], good morning! I see you have a problem with ABC ⁠— I apologize for the inconvenience. Please allow me a few seconds to read the query thoroughly. Thanks for your patience :)."
Here are some tips for a friendly greeting:
First, address the customer by their name.
Introduce yourself. (Side Note: Use agents' names and photos in the live chat window to ensure the customer is chatting with a human, not some pre-written script.)
Be courteous and professional.
Be empathetic. For example, start with "I understand how frustrating it must be for you…" if it's a product or service complaint.
Use emojis, a little joke, or something humanly to make it look friendly.
Thank the customer for their patience if you failed to connect promptly.
3. Apologize sincerely
If someone is contacting customer support, they likely had a problem with your product or service. In such a case, apologizing sincerely will go a long way.
Here's how you can make your apology sincere:
Accept the blame.
Be REALLY sorry (right from the greeting).
Explain your reasons (if any).
Assure the customer that you'll handle the situation better in the future.
4. Keep your messages short, simple, positive, and grammatically sound
All your messages should be:
Short: People don't like reading long sentences and paragraphs. So keep your messages concise.
Simple: Do not use jargon (i.e., words the customers likely do not understand. For example, "due diligence"). Use simple words, like the ones you'd typically speak.
Positive: Unless you are apologizing, use a positive tone in your messages. For example, instead of "sorry for the delay," use "thanks for your patience."
Grammatically sound: "they're" in place of "their" looks ugly in a professional live chat session.
5. Answer all queries
Sometimes, customers face multiple problems and send multiple queries at once. Tackle each individually.
Here are a few tips for answering all the queries well:
First, focus on the initial query.

Ask for clarification if needed.
If it will take more than a minute to reply, ask for time to go through it carefully.
Do not interrupt the customer if they are typing.
Do not judge the customer. What's obvious to you likely isn't apparent to them.

Then, move to the next question.
6. End on a high note
Like first impressions, last impressions also last. In fact, because they are the most recent in the customer's memory, last impressions matter the most. Therefore, your ending message should be well-thought-out.
Here are a few simple messages that work:
"Thank you for your patience. I am happy that I was able to help :)."
"Thanks for choosing us. We hope you are satisfied with…."
"Let me know if I can help you with anything else."
"Feel free to contact us anytime. We are eager to help 24/7/365 :)."
"Have a great day!"
7. Ask for feedback
All these tips and best practices are a great starting point if you are new to live chat. But at the end of the day, your customers will tell you what you can do better.
Running Customer Satisfaction (CSAT) surveys after each chat support session will give you invaluable feedback. Consider all the feedback for the next session.
Here's a quick CSAT survey tip before I move to the last section:
Ask frictionless questions like rating questions, binary-scale questions, etc., first. For example, "How would you rate the support you received?" with option 👍 or 👎.
Once the user has committed to filling the survey, ask slightly time-demanding questions like multiple choice questions or open-ended questions to collect proper feedback. For example, If the customer chooses '👍,' ask, "What was the most memorable with the support interaction?"
Some General Tips to Succeed with Live Chat
If it's your first time adding live chat to your website, keep these tips in mind:
1. Align chat goals with business objectives
This article was all about using live chat for a perfect customer service experience. However, there's much more you can do with live chat:
So keep the primary business objective in mind while setting up the live chat.
2. Determine staffing requirements
1 in 5 customers will stop using a product if a brand is slow to respond online.
Meaning, if you understaff your live chat agents team, your agents won't be able to attend to all customers properly, and hence you'll lose valuable customers. On the other hand, if you overstaff, you'll lose money.
Therefore, doing the math and determining staffing requirements beforehand is essential. Here's some basic info that might help you do the calculation:
One agent can handle up to 3 chat sessions simultaneously. (Experienced agents can do up to 6 simultaneous chats, but it can break the conversational flow).
An average session can take anywhere between 10 to 15 minutes.
Professional chat agents can handle up to 100 chats per day (8-hour shift).
3. Train your agents
You'll need to train your agents properly before letting them talk to your customers (obviously!). Here are a few tips that might help:
Start with the abovementioned best practices/live chat etiquette if the agent is new to customer service.
Ensure the agent knows your product or service from top to bottom.
Ensure the agent is comfortable with your live chat software. For example, if you are using Social Intents, you won't need to show most aspects of the live chat software to the agent. Why? Because the agent will likely get familiar with the internal communication platform while chatting with you or the trainer. And Social Intents uses Microsoft Teams or Slack for agents to communicate with visitors.
Take mock tests, and tell them what and where they can improve.
4. Monitor all the metrics
Tracking live chat metrics is a great way to determine staffing requirements (see point-2). Plus, you can find out your live chat success or failure by tracking metrics like:
Number of chats
Visitor to chat conversions
Chat to conversion rates
Average first response time
Average queue time
Average chat duration
Average resolution time
Customer satisfaction rating
Agent utilization rate
For example, combining "visitor to chat conversions" and "chat to conversion rates" can help you see how much revenue you'd have lost had you didn't have a live chat button at the bottom-right of your website.
Conclusion
A chat support process flow is like a building plan. If you mess up a building plan, you mess up the building. Except, here, the damage is almost instantly reversible ⁠— so don't worry if you didn't make a process flow for your live chat – do it now.
Hopefully, this article will help guide you through creating your first live chat support flow.
Good luck!