Are you looking for new ways to generate leads? Have you thought of using live chat for lead generation?
FACT: Attracting visitors and converting them into leads is no small feat. It's no surprise that lead generation tops the list of key business challenges year after year after year.
Luckily, there are ways to increase visitor engagement, and generate more leads. In this post, you'll find out about one such method – using live chat for lead generation.
We'll cover why live chat is such a great channel for generating leads and the different ways to use it to fill your sales pipeline.
Why Live Chat Is So Great for Lead Generation
Live chat has become the sales or support channel of choice for many businesses already, and for a reason – Customers love it.
But live chat can help you with more than providing customer service or ensuring higher conversions.
It can boost lead generation too. Here's why you should use live chat for lead generation.
Live Chat Offers Real-Time Interactions
Did you know that 79% of consumers prefer live chat support for the ability to get instant responses from a brand?
Real-time interaction makes it easier for customers to find answers to their questions. For you, real-time interaction offers an opportunity to build connections with the person, warm them up, and engage them even before they become leads.
Live Chat Feels Personal and Human
Live chat is nothing else than a person-to-person interaction, with the exception that it doesn't happen exactly face to face.
Interacting with a brand over live chat feels personal and human.
Your agents can tailor their responses to each customer. They can ask additional questions and understand what each individual wants to deliver the most relevant information.
And needless to say, the more you provide a good personalized experience, the easier it becomes to turn a visitor into a lead.
Customers Love It
Selling and generating leads is a lot about being where your customers are and engaging them with relevant interactions. As more and more people are online using their mobile apps, you need to use the type of communication that they prefer.
Live chat is easy and direct so it's no surprise that customers love it.
And here's how to use it to generate leads, specifically.
How to Use Live Chat to Generate Leads
Below, I've listed 15 different ideas to make live chat lead generation work for you.
#1. Install a Chat Widget on the Website
This advice seems pretty obvious, right? You can't generate leads with live chat unless you display the chat widget on the site, after all.
But there's more to this.
Just imagine someone visiting your website for the first time. Most likely, the person would know very little about your brand, and might only be browsing your website.
An engaging pop-up widget, ideally with a proactive chat invite, might entice them to reach out, and engage your sales agents.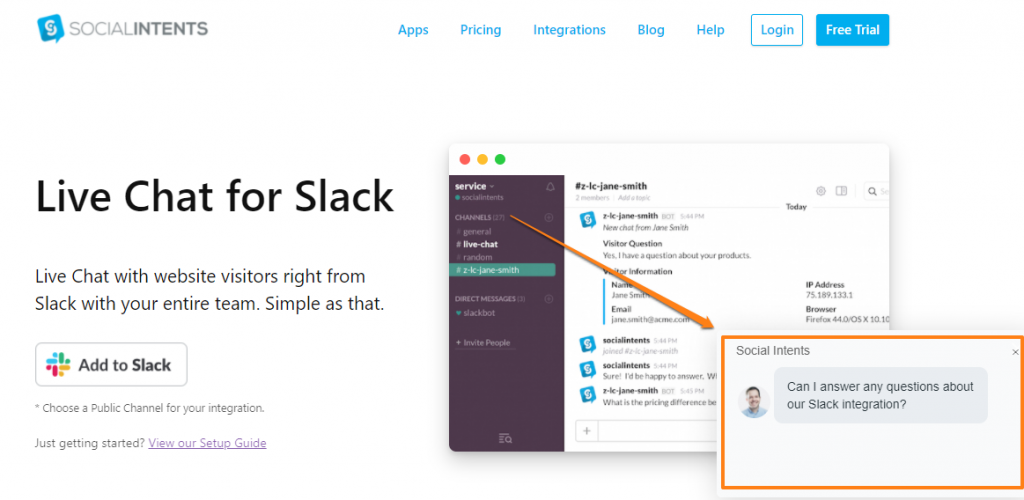 TIP: Be careful, your pop-up shouldn't disrupt the person's browsing experience through an annoying placement, it should only supplement it. You don't need to try too hard to talk to every new visitor if they are not ready yet.
#2. Keep Your Visitors Engaged Through Personalisation
We've already talked about the power of personalization in a live chat. And you can use it to generate new leads as well.
Just imagine a visitor browsing your website exploring potential purchases. They're unsure of your return policy and ask about it in a live chat.
Instead of just replying to the answer "What's your return policy" use the opportunity to find out more details about the customer, whenever it's possible.
Ask them whether they are interested in a particular product. Try to help them even further. Be proactive. Show that you're interested in helping them.
The more you personalize the experience, the easier it becomes to build trust and then convert a visitor to a lead.
#3. Offer Discounts and Incentives
You can use the live chat experience on your website to provide incentives for your prospective customers. For example, your customer agents can offer introductory discounts, additional support, or 1:1 onboarding for new customers.
A sense of urgency can also work well. For example, set a deadline on the offer. This is a smart way to turn a visitor into a customer by combining a good customer experience and additional incentives.
#4. Use Data to Understand Your Visitors
A good way to turn your website visitors into leads is to use all your available data to understand their habits.
Live chat can offer you very useful insights into your visitors' habits. What are the most frequent questions from prospective customers? Are they happy with your customer experience?
Look at the data and adjust your communication accordingly.
If you're seeing a trend of more visitors using the live chat before committing to a purchase, use it to your advantage. If this is not the case, explore alternative ways to encourage your visitors to interact with your business.
#5. Map Out Your Sales Funnel and Define How the Live Chat Can Be Part of It
Lead generation and business development are directly linked to the work that your various marketing (i.e., advertising teams, content writing teams, etc.) and sales teams are doing. It's important to understand the sales funnel before using the live chat to generate leads.
Get the customer success team to work more closely with marketing and sales to learn more about their objectives and the tactics they are focusing on.
By bringing the different teams together, you are making it easier for everyone to work towards a common goal, which is to generate new leads and get new customers.
#6. Provide 24/7 Support Through Live Chat
Everyone loves the option of 24/7 support on a website. Now imagine you're a first-time visitor to a website.
You want to find a quick answer to your question. It can be the difference between buying multiple products and never visiting again.
24/7 support can make it easier for you to help more customers while also gathering useful data from prospective leads.
If you're unable to offer 24/7 support due to your available resources, make sure you communicate your working hours and provide alternative methods of communication to those looking for an answer.
#7. Automate Your Lead Generation Process Through the Live Chatbots
Speaking of limited resources, are you making the most out of chatbots?
No, you don't need to replace your agents with bots, but you can help your team be more efficient while helping more customers.
Chatbots can be very useful during the live chat experience. You can use them during 'out of office' hours to answer popular questions.
You can also use them to filter the types of questions that your visitors are asking before you direct them to your agents.
The more you know about your visitors' needs, the easier it becomes to provide the right answer and then convert them into customers.
#8. Qualify Your Leads
This is another great use of live chat. First-time visitors can have various questions when visiting your website.
They are probably at different stages of readiness in terms of making a purchase. Not all of them are qualified leads.
That's why it's important to qualify them along with your sales team. Learn what counts as a qualified lead for your business and start organizing them accordingly.
#9. Optimize Your Lead Generation Process Through Chatbots
Automation can be very helpful if it's set up to make your team more efficient. How about using chatbots to ask the right questions to your new visitors?
You don't need to automate the whole process but you can still include chatbots to the live chat experience to move your prospects down your funnel.
For example, how about suggesting relevant products to their question? Or what if you helped them engage with your brand until they are ready to talk to your agents?
#10. Target Visitors Abandoning the Cart
Live chat pop-up windows should make it easier for your visitors to find what they want. They can be even more helpful for those who are about to leave your website.
Let's say someone added a few products to their shopping cart. They got distracted while browsing online and they are ready to quit. Imagine having a chatbox showing up asking them if they need any help.
Human interaction can make a difference. You may be able to find out more about your visitors' needs and get them to spend more time on your website. If they're not ready to buy yet, you can still ask for feedback.
#11. Launch a Survey or Ask For Feedback
Not everyone is ready to buy a product or service from your website at the same time. That's fine, you can still learn more about your visitors and their habits to be more prepared for their future visits.
How about using the live chat function to launch a survey at the end of the chat or ask for feedback?
It doesn't have to be time-consuming but you can still understand how they found the online experience and whether there was anything missing for them.
#12. Benchmark Your Lead Generation Performance Through Live Chat
Are you new to lead generation through live chat? This is the perfect time to decide how you'll measure your performance.
What counts as success? How will you help the sales team with your work?
Benchmarking is about tracking down your performance and the leads you've generated to compare your success through the months.
You don't need to be discouraged if it takes time to build an effective process. Notice the tactics that work better for visitors and communicate your stats with the sales team.
#13. Keep Visitors Engaged For Future Opportunities
Your funnel shouldn't necessarily end when a visitor turns into a customer. In fact, this is only the start.
For example, you may want to recommend future purchases. Or you can help them find the product they are looking for.
You can even get them to sign up to your newsletter to stay up-to-date with your latest offers or follow you on social media. It's a good indication of customer engagement and loyalty when a customer decides to sign up to your newsletter so make sure you help them stay in touch with your business.
#14. Facilitate the Decision-Making Process
What if a visitor is still undecided whether they want to buy your products or not? This is where the live chat experience and human interaction can thrive.
Your agents should be helpful while providing support to any question. They can also adjust their answers based on the readiness of each customer. Let's say a visitor is browsing the pricing page on your website and they ask a question on the live chat.
This probably means that they are serious about your product. You can try and help them move closer to purchase by highlighting the benefits or a potential discount you can offer.
#15. Train Your Team
Last but definitely not least, it's important to train your customer agents to understand how lead generation works.
Get them to work together with your sales representatives to understand each others' jobs.
Every department has different tasks and objectives but this doesn't mean that they should not collaborate to help each other.
In fact, you may be surprised how easier it becomes to do your job once you know how to be helpful in the overall business objectives.
Takeaways
There are many different ways to use live chat for lead generation. Here's how to start implementing them today.
Find the Best Tools to Improve Your Live Chat Experience
Start by finding the live chat software that works better for your business. It's the first step to getting a successful customer experience through live chat conversation.
Look at the features that matter to you and get your customer service team to optimise the tool based on your needs.
Understand What Your Audience Wants From You
You can't increase your leads if you don't understand what your audience wants from you. Use all the available data and insights to learn more about your demographics, their needs, and their browsing habits.
The more you learn, the easier it becomes to deliver excellent customer service.
Optimize Your Live Chat Experience to Make Lead Generation Easier
Now that you know more about your audience, you're ready to make the most out of your live chat feature.
Explore the tactics that will get you to turn visitors into customers in the most engaging way.
Remember, you can always tweak both your sales funnel and your customer success tactics to ensure you're keeping your customers happy.
Ready to increase your conversion rates through live chat?
Good luck!