Want to implement a collaboration platform for hybrid or remote work but aren't sure whether to use MS Teams or Slack?
FACT: The pandemic has given us a whole new understanding of remote work. And even now, with the pandemic over, 80% of employees expect to work at least 3 days from home.
It's no surprise that the interest in team messaging and collaboration apps like Slack or MS Teams is on the rise.
The thing is – Both of these tools are quite similar. And so, companies struggle to decide which one to choose.
In this article, we're going to compare MS Teams and Slack and show you when to use each.
Slack vs. Microsoft Teams – the Status Quo
Before we get into a feature-specific comparison between the apps, let's see how they are performing vs each other over the years.
MS Teams taking over Slack in 2019
Starting its journey in 2009, Slack gradually and steadily became the go-to destination for people to get in touch with each other. Even after MS Teams launched in 2017, Slack was the clear leader in the collaboration space.
However, in 2019, the picture was completely different, with MS Teams taking over Slack in terms of daily active users.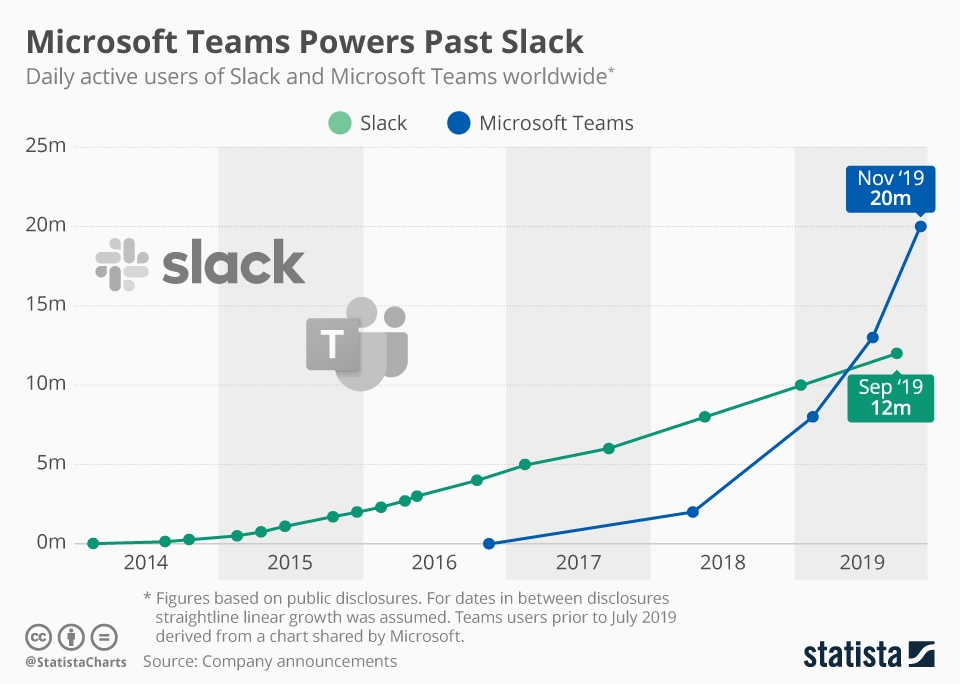 And as of 2022, MS Teams has a whopping 145 million daily users!
Does this mean Slack is over? Not even close.
Slack overshadowing MS Teams with start-ups
Slack is still the number 1 choice when it comes to start-ups and tech-savvy workplaces.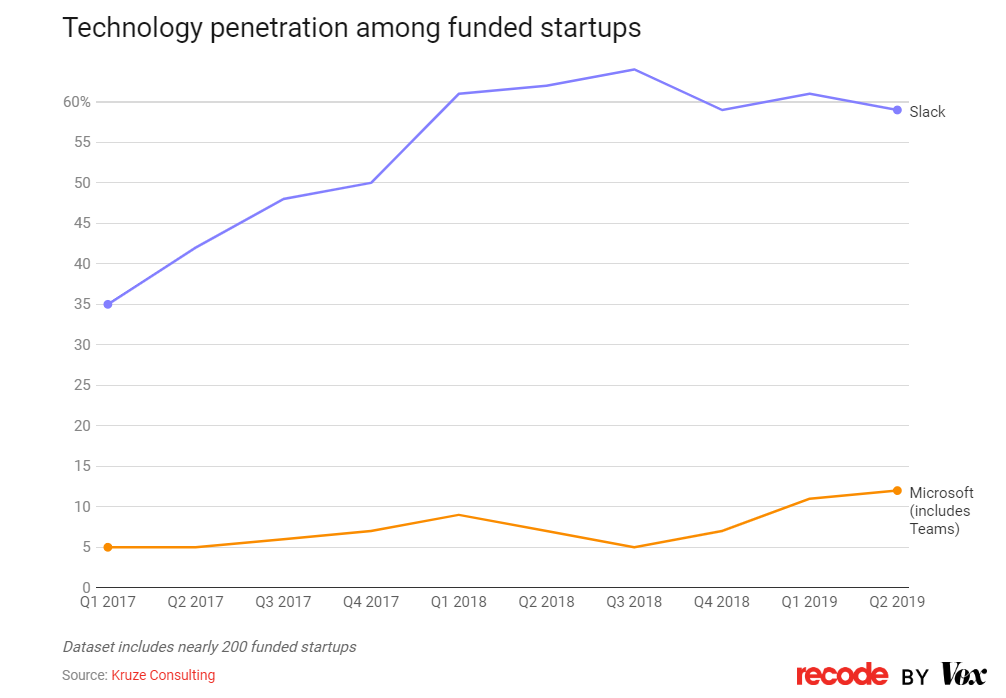 Nearly 60% percent of startups pay for Slack's workplace communications software — much higher than the ones who pay for Microsoft Teams (about 12%). They believe that its a technically superior product and must more scalable than MS Teams.
However, the picture is different when it comes to enterprise-level clients.
MS Teams overshadowing Slack with big orgs
With 83% of enterprises using Microsoft Office, it is not a surprise that they prefer using MS Teams which comes along with MS Office software. Because even though they agree that Slack may be a better product, but not by so much that they have to pay for it over and above MS Office which is a must-have for them.
And so, this is how the graph for MS Teams vs Slack looks for enterprise-level customers: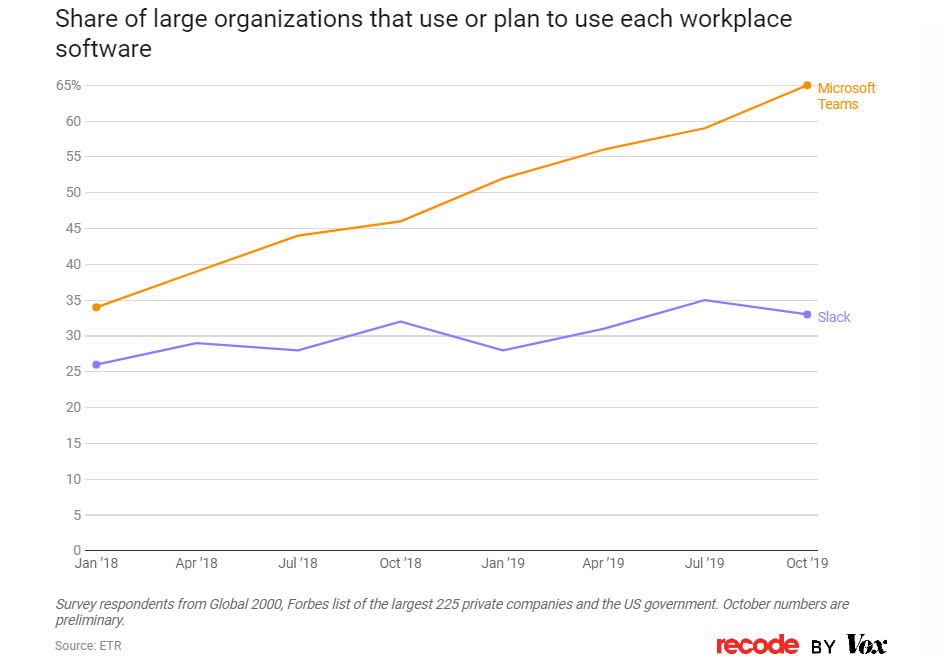 Clearly, both the apps have their audience for various reasons and their dynamic is an interesting one.
So, let us get into a feature-wise comparison to have a clear view of what's what. Here we go!
Microsoft Teams vs. Slack – a Detailed Overview
Getting started
Getting started with MS Teams is much more time taking and intimidating than Slack. For instance, the first thing you MUST have to be able to start with MS Teams is a Microsoft email address –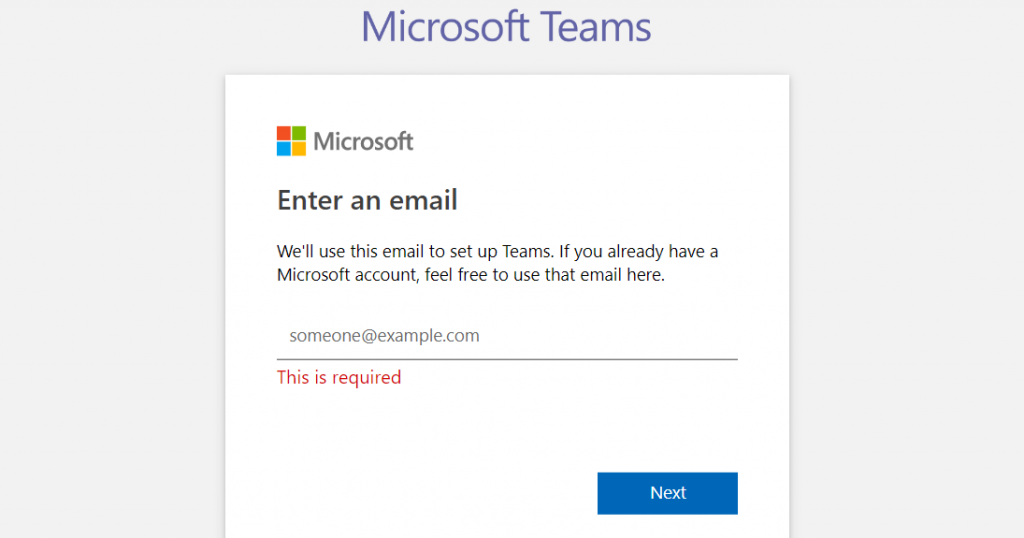 On the other hand, there is no such stringent requirement with Slack. You can put ANY email address to sign in, and also have the option to continue with Google or Apple ID.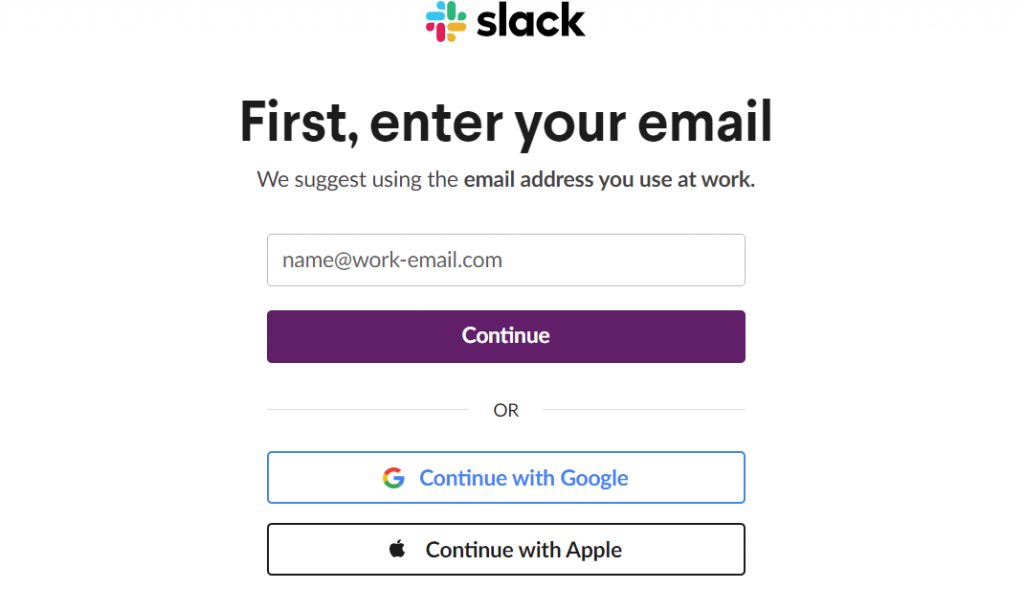 Also:
You need to share a lot of personal information, including a credit card, phone number, and business email before moving ahead in MS Teams. In contrast, Slack asks for no such details, including no cards unless you are signing up for a paid account.
On average, it takes 10 minutes or less to get started with Slack, as against about an hour in MS Teams without an MS Office account.
Slack includes a step-by-step interactive tutorial after you sign up, however, MS Teams does not do that. It does offer some guidance with the help of a knowledge base and a video.
Integrations
No one application can give you everything your business needs, so integrations are a very important part of any SaaS app.
The main reason MS Teams is doing so well so fast is because of its integration with all the Microsoft apps. It lets you integrate apps from the cloud-based Microsoft Office 365 suite.
Teams give you full creating, editing, and formatting capabilities in Word, Excel, PowerPoint, and others and you can collaborate with colleagues on any file in real-time.
Slack integrations include Microsoft as well, along with an additional 2000+ integrations! It also offers integration with a variety of Google apps, including Gmail, Google Drive, Google Calendar, and Google Sheets. Teams doesn't do that.
Both MS Teams and Slack however integrate directly with Social Intents, a live chat solution for all sizes of businesses.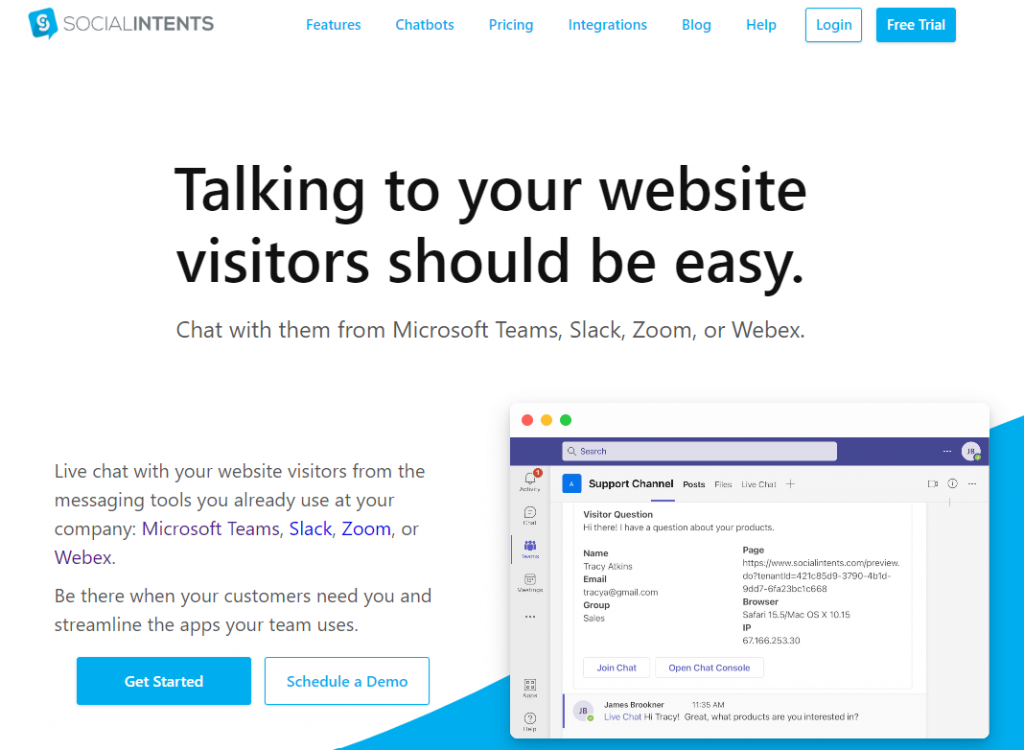 Inviting Users
After completing registration on Slack, you can manage and add new users to your workspace in the "People" tab.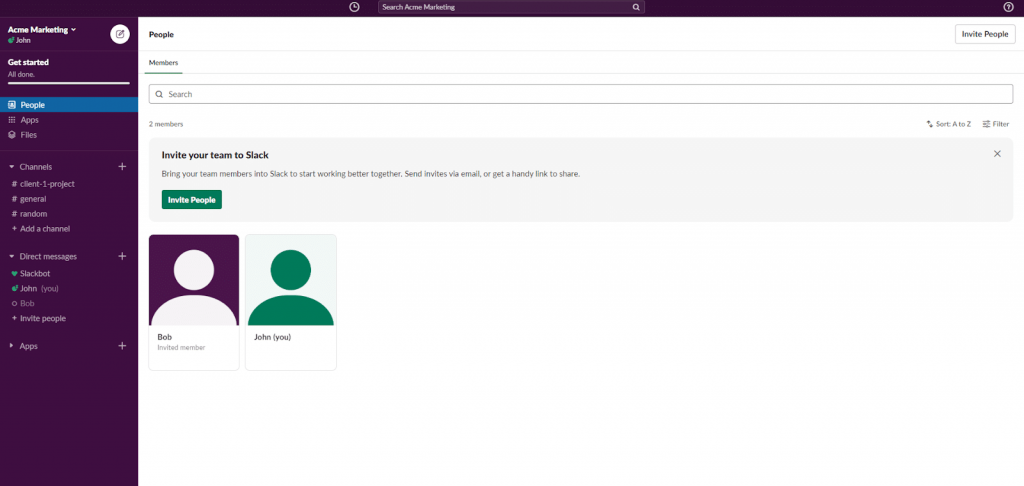 Potential users will receive an invitation by email. If they already have a Slack account, your workspace is added to their existing account, with no need to create or remember a new password.
Creating a new channel is simple and you just need to click 'add a channel' in the channel sidebar section. Just go to the channel and start typing to connect with your team. The members will receive notifications of your message too.
Adding new members and guests on MS Teams takes a little longer.
You must first add the new users to the Office 365 Admin portal from the office page.
Once you add them to the admin portal, they will receive an email with the invite and need to create a username and password. Once they create an account, you can add them to MS Teams app.
'Teams' replace 'channels' in the MS Teams menu section, and each team can have different channels to keep communication separate for different projects (just like Slack).
User experience and interface
Let's talk about navigation first, and both apps use sidebars on the left-hand side for this purpose.
Slack's sidebar includes icons for:
Links to channels
Threads
Direct messages
All Unread
Slackbot (chatbot), and much more
MS Teams sidebar includes icons for:
Activity
Chat
Teams
Files
Calendar
Calls, and more
The look and feel for both are similar, except that Slack's layout has a more casual feel while MS Teams is more corporate.
Both offer customization options, with Slack offering a little more as compared to Teams, like whether to always include all direct messages, how to sort content, etc.
Chat and messaging
Now, let's talk about Microsoft Teams chat vs. Slack chat.
Both apps allow one-to-one, as well as group chat. Both apps allow users to:
Edit
Delete
Pin, and
React to messages
Microsoft Teams gives its users advanced formatting options like creating bullet lists, changing colors, fonts, etc. Slack does not have these capabilities.
Some important features to help companies work together closely even if they are working remotely are:
File sharing in different formats
Private and public messaging
Searchable message history
Video conference calls
Screen sharing, etc.
You can take the messaging capabilities of Slack and MS Teams to another level by integrating them with live chat software like Social Intents.
Social Intents in particular is built to integrate with Slack and Microsoft Teams. With this integration, you can interact and engage with website visitors using pop-ups, chatbots, chat widgets, canned responses, and more.
Both Slack and Teams keep the fun element in chats and messaging. You are not limited to a boring 'like' anymore and can choose from emojis, memes, and stickers in both apps.
Last but the least, the thread functionality in both Slack and MS Teams allows you to create organized discussions around specific messages. They let you discuss a topic in more detail without adding clutter to a channel or direct message conversation.
To start or reply to a thread in Slack, simply: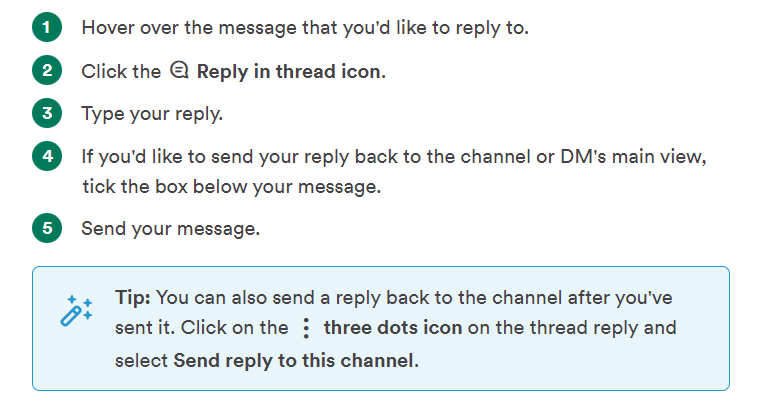 In Teams, however, you cannot use threads in private conversations, and neither can you turn them off.
Productivity shortcuts
Keyboard shortcuts and productivity hacks can take an app experience to the next level. Slack has paid attention to this and provides both for just about anything. Slack's web app gives you a long list of these shortcuts and hacks to keep handy.
You can also toggle this list by pressing Command + / on Mac and CTRL + / on other computers.
Slack also has advanced search options to find messages faster, to the extent that you can even identify messages by typing in an emoji. In Slack, you can even search messages using modifiers such as from:@username or before:8/31/2021.
MS Teams also has a list of keyboard shortcuts and message search functionality, but it is basic when compared to Slack.
In-app help
Help is available 24×7 on both MS Teams and Slack.
Slack has its signature Slackbot that is every user's go-to place for instant help. Just send a message to Slackbot with a keyword or complete question and in most cases, you will get exactly what you need within seconds.
Also, you can easily get help in Slack by directly going to their help center and typing the keyword for your question, like this: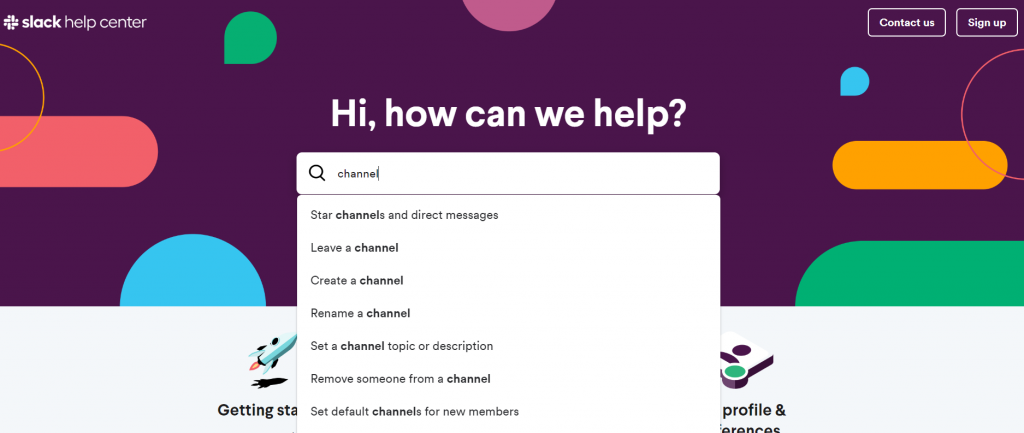 Super awesome, right?
Now, MS Teams has a Help icon at the bottom of the sidebar. The icon has links to Topics, Training, and What's New. You can find relevant help simply by going to each of these tables.
In case you do not find the answer to your question, you can simply search for what you are looking for too.
Teams has also followed suit and provided two built-in helper bots: T-Bot and WhoBot. T-Bot is similar to Slackbot as it helps you answer questions using the data in Microsoft Teams.
WhoBot on the other hand is built on the Microsoft Graph artificial intelligence (AI) framework and answers questions about specific employees by searching your company's intranet. For example, WhoBot can search for subject matter experts within the company so you can ask a question like "Who knows about x?".
Security and Compliance
Both Slack and Microsoft Teams offer essential security features like two-factor authentication.
Slack is compliant with most basic ISO certifications, and you can request specifically configured workspaces that are HIPAA-compliant as well (only available for enterprise plans).
However, because of its native integrations, Teams offers slightly better access control, information management, and security.
Pricing
Both apps offer a freemium model.
Slack's basic plan starts at less than USD $3 per month per user and Teams basic plan starts at USD $4 – both billed annually, but with variations in inclusions. For example, MS Teams gives unlimited messages with its basic plan, and Slack gives unlimited integration with its basic plan.
So, Is Teams Better than Slack or the Other Way Around?
Features where Teams shines
Integration with Microsoft 365 business basic is undoubtedly one of the biggest advantages Teams have over Slack. If you have MS 365, Teams comes with it.
Microsoft Teams offers more robust video conferencing, supporting video conferences of up to 250 users or live events with up to 10,000 people (using a combination of Teams, Microsoft Stream, and Yammer).
Slack's file storage limit for uploading is 1 GB, while Teams caps it at 15 GB.
While Slack's administrative tools are for the Plus and enterprise plans only, even the basic Microsoft Teams plan includes most of that functionality.
Features where Slack shines
Slack has a superior user experience and interface.
One key difference is that collaboration with outside teams is very limited with Microsoft Teams. It has a limit of five users even on paid plans unless you buy more licenses, whereas Slack allows unlimited external collaboration with paid plans.
Most of the MS Teams keyboard shortcuts are just about opening a specific tab, rather than helping you quickly complete an essential task. Whereas, Slack has really done a great job with innovative keyboard shortcuts and hacks to boost your productivity.
The desktop and mobile app versions of the Slack app are equally well-designed. You can gain access to your Slack messages no matter where you are.
Slack's most important advantage over Teams is its ease of use in terms of setting up, getting started, and learning how to work with it. The learning curve to sit down and begin creating messages is only a minute or two.
There you have it!
After this detailed discussion about the two apps, you can easily make your pick.
Good luck!