Are you struggling with quickly responding to chat messages? Looking for suggestions for canned responses to speed up your response time?
Did you know that 79% of customers prefer live chat support because they get questions answered immediately?
Yes, you read it right – 79 percent!
This suggests that unless your live chat agents answer queries quickly, you are going to frustrate (and maybe even, lose) at least 79% of your potential customers.
Luckily, there's a solution – Canned responses for live chat.
Canned responses serve two purposes:
They enable your chat agents to reply instantly, leading to a better live chat experience.
Because your agents save time by replying quickly, canned responses make the live chat process more efficient, and allow you to support more customers each day.
In this article, you'll find information on canned responses plus examples of actual canned responses for common live chat conversation scenarios. Copy them or tweak them per your need to achieve higher efficiency and happier customers.
Let's begin.
What Are Canned Responses?
Canned responses are pre-written replies for frequent live chat queries or conversation scenarios. Typically, these messages are saved on the live chat platform and triggered using shortcuts, like this: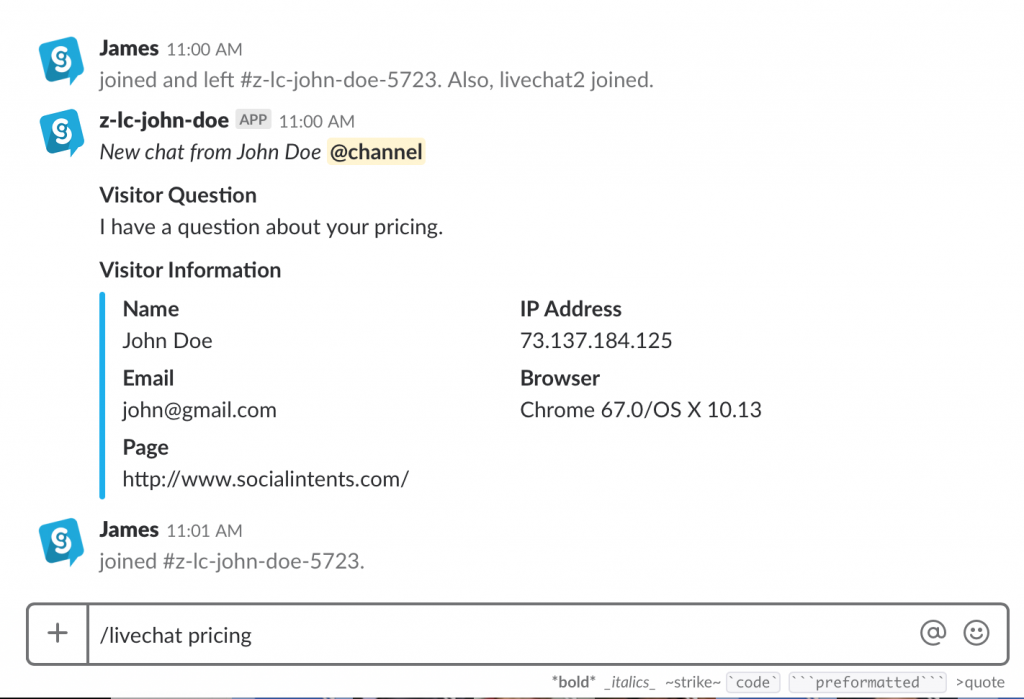 For example, say your website visitors ask questions about pricing all the time. Then, you can set a shortcut like "/livechat pricing" to send the pricing-related canned message with all the details automatically.
But there's more:
Canned responses also enable you to send the perfect possible replies EVERY SINGLE TIME. Why? Because when you write messages beforehand, you have time to spot errors and inaccuracies to edit them. It's simply not achievable in real-time chatting because of possible human errors and time constraints.
Canned responses eliminate the boring task of repeating the same thing again and again for your agents.
So, what canned replies could you use in your live chat strategy?
Here are some of the best examples for the most common live chat conversations.
The Best Canned Response Examples For Chat
Look, there is no point in sugarcoating this – Canned responses are kind of a must for live chatting.
They make the difference between average and insanely great live chat experience for users.
So, if you haven't set them up, do it now. Here are 20+ examples for inspiration:
1. Greetings message / Welcome message
I wrote an article titled "13 Live Chat Etiquette Tips For Modern Support Teams" a while back. The first two tips in there were:
Don't keep the customer waiting because first response time is an essential live chat metric.
Start with a friendly greeting to create a great first impression.
And you know what? When you implement a greeting/welcome canned message, you'll follow both tips at the same time.
You'll connect with a visitor right away AND you'll do it in a friendly manner.
There are two types of welcome messages:
Proactive: These are messages you send before a visitor/customer starts chatting with you.
Reactive: You send this greeting message after the visitor/customer sends a chat request.
Because we are discussing canned "responses" in this article, all examples I share throughout will be of reactive messages. For example, here's the greetings canned response for a customer who's just sent their query:
Thanks for getting in touch. My name's [Agent Name], and I'll be assisting you today 🙂 Please give me a minute while I look at your query.
Similarly, here's one for visitors' queries:
Thank you for visiting [Website Name]! My name's [Agent name], and I'll assist you today.
Side Note: If you require a PIN or Ticket number to solve the customer's query, ask for it right in the greetings message.
2. Offline message
FACT: Most small to mid-size businesses simply can't provide 24/7/365 customer service via live chat. There aren't enough people to man the live chat at all hours.
But that doesn't mean that you need to hide the chat message and miss out on connecting with out-of-hours visitors. In fact, there are two things you can do:
First, you should definitely let customers/visitors leave a message through the live chat window during agents' off-hours. After all, live chat is the most convenient communication channel, and you don't want to ruin customers' convenience/experience.
(Note: Collect their name and email address to send an email response when the team replies. Also, it's one of the use-cases of live chat as a lead generation tool.)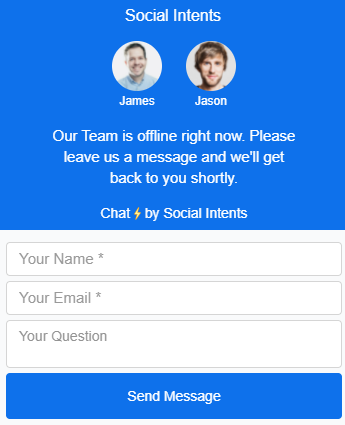 (How Social Intents' live chat looks during away hours)
Create a canned & automated message to reply when users leave a message, like this:
Thanks for leaving a message. Our customer service team is offline right now ⁠— we'll get back to you during business hours.
Our business hours: Monday-Friday, 9:00 AM to 5:00 PM EST.
3. I am forwarding the chat to…
Even if you have chat support process flow figured, your agents might need to forward chats to relevant or experienced team members because:
Typically, businesses let less experienced agents handle low-priority chats first to save costs. Only when new agents can't solve the query, they'll forward it to higher-costing, experienced agents.
The customer contacted the wrong team for the query.
Canned responses such as these will act as a good segway:
Hey [Name], our [Relevant Team] will be able to handle this situation better. I am connecting you to them and will leave the chat with your permission 🙂
Hey, I think my colleague, [Colleague Name], will be able to assist you better with [Particular Problem]. I am forwarding this chat to him, and he'll take over in a couple of minutes – have a nice day 🙂
4. The pricing list
Suppose you strategically hide your pricing page or do not mention pricing at all on your website. In that case, visitors will ask for the quote/charges they can expect through live chat.
For such visitors, keep a canned response ready.
Our charges depend on your requirements and scope of work. Would you like to get on a quick call with our agent to discuss your needs?
Glad you're interested in [Product Name]. Our plans start at [Plan Price] for [Features] and go up to [Advanced Plan Price] if you need [Advanced Features].
Would you like to know anything more about our plans?
5. Choose date & time to book demo/appointment
If you sell consultations, provide a free demo of your product, run a service where people need to take appointments (say, a dentist), or something similar, you must have a canned response ready for people who ask to schedule a time.
They ask to schedule because:
Either, they couldn't schedule themselves.
Or your sales agent solved their problem and persuaded them to book a demo like in the previous example: Would you like to get on a quick call with our agent to discuss your needs? [BTW, did you know you can use live chat to increase conversions?]
Here's an example canned response for users who want to book an appointment:
Great decision! Click on this Calendly (or Motion) link to book your appointment (or schedule your call). Alternatively, let me know when you'd be free, and I'll cross-check to see if the time works for us.
Thanks 🙂
6. Do you have this feature?
In businesses where features are paramount (for example, a SaaS like Social Intents), people inevitably ask about specific features. For such cases, keeping a detailed response ready is a wise thing to do.
Another wise thing to do is to list all the feature requests. You can later refer to that list for customer-centric product development.
Here are a couple of possible responses to "Do you have [X] feature?":
Yes, we do. Our [Plan-1] includes X among other features like Y and Z.
Unfortunately, we don't provide X at the moment. However, we're launching it next month. Would you like to be notified about it?
Hey, sorry, we don't have [Feature]. And I just talked with our product manager, and we aren't planning to launch anytime soon.
7. We apologize for the mistake
Sincerely apologizing for the mistake the agent or the company made is a live chat best practice. And you can create canned responses for common mistakes like delayed responses, late shipping, website downtime, etc.
Sorry I couldn't respond quicker, [Customer Name]. Give me a minute while I look at your query. And thanks for your patience!
Sorry for the trouble. We're fixing the [issue] right now. It should be fixed by [ETA], but we'll update you if it happens sooner 🙂
8. The issue is fixed
Have response templates ready for when the issue is fixed. For example, say an update push led to an issue you got a lot of messages about. Have someone create a canned message while the engineering team pushes the fix.
Hey [First Name], good news! The [Issue] has been fixed. Let us know if you are still facing the problem 🙂
Hey, our team looked into the [Issue]. And we're glad to tell you the issue's gone!
9. Here's a discount code for you
Predictably, people always want a discount. And hence one of the most common requests live chat agents, especially of e-commerce stores, get is asking for discount codes.
Whether you have coupons for them or not, write a canned response for those chat requests.
Absolutely! Use [Discount Code-1] to get 20% off up to $100 on X range of items or [Discount Code-2] to get 30% off up to $50 on orders over $250.
Sorry, we aren't running any discounts at the moment. But if you buy products worth $100 or more, I'll be happy to give a 10% off exclusive coupon from my side 🙂
We don't have any discounts at this time. In case you are waiting for a sale, please visit the store in December.
BTW, Leave your email to get notified 🙂
10. Here's how [Our Product] is better
Your potential customer wants the best product at the best price. So, in their research process, they can ask your live chat agents how your product is better than the competitors' product. In such a case, having proper replies, or even better, comparison articles, ready to share is the way to go.
Here's an example of a canned response for people asking how [Product-1] is better than [Product-2]:
Hey, we get this question a lot, so we've created a side-by-side comparison (link to it) to help you make an informed decision 🙂 To save your time, here's what you'll find in the comparison: we provide [Feature-1] and [Feature-2] that they don't, and hence we're best for [Category Of Potential Customers].
11. Do you have any more questions?
The above ten are common live chat scenarios where canned responses can replace unnecessary effort. Those were all the chats that go between customers stating their issues and you solving them.
Now, I'll share a couple of canned messages to send after the query is answered…starting with:
Do you have any more questions?
I am glad I was able to help. Please tell me if you have any more queries 🙂
Woohoo! It's finally resolved. Can I help you with anything else?
12. Asking for feedback
Asking for customer feedback is vital to bettering customer support and experience. Plus, it's also a great note to end the live chat at.
Thanks for being patient, [Name]! I am happy I could help. Could you do me a favor and leave a quick review of your experience? Here's the link: [CSAT Survey].
It was great chatting with you, [Name]! If you can spare a couple of minutes, would you mind sharing your feedback about the support you just received?
How To Set Up Live Chat Canned Responses With Social Intents?
If you use Social Intents or are planning to sign up with Social Intents to enable live chat on your site, you probably know that Social Intents lets businesses use Slack or MS Teams as a live chat communication interface.
Here's how you set up canned responses on both platforms:
On your Social Intents dashboard, click on the "Live Chat" drop-down on the left.
Select "Shortcuts" from the options.
Click on "Add Shortcuts" to add the canned message and shortcut name you'd like to use to trigger that message.
That's it. Then, you can use slash commands like /livechat [Shortcut Name] to send the canned message.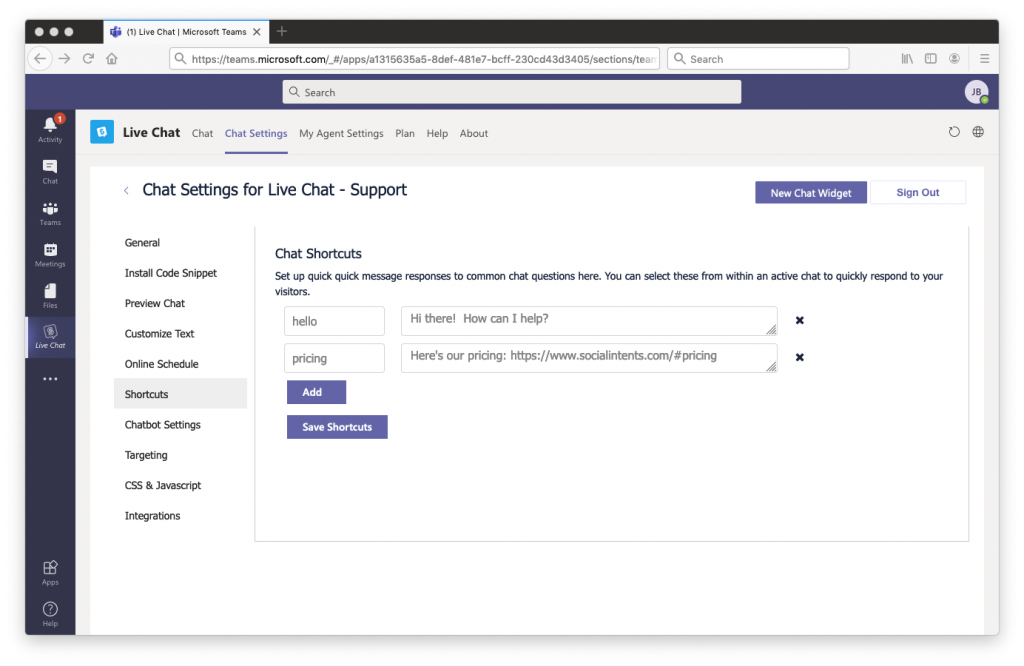 Setting canned responses from MS Teams is similar to Slack.
Under "More (…)," look for Live Chat by Social Intents.
Select "Chat Settings" from the top bar.
Select "Shortcuts" from the left menu.
Add shortcut name and canned message, and click on Save Shortcuts.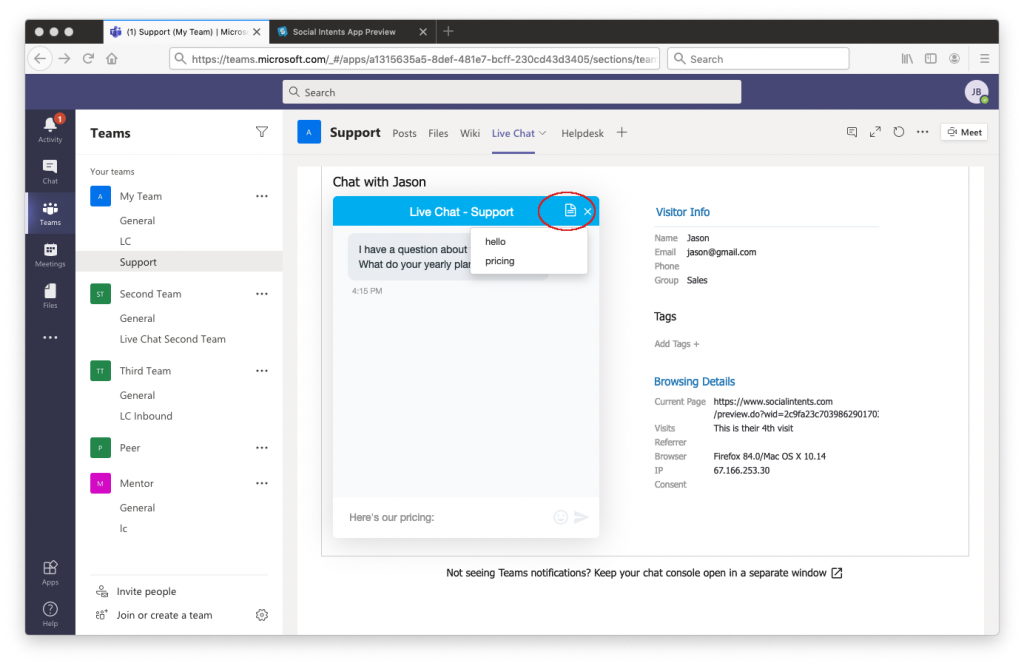 Once set up, you can select any shortcut from the list icon from the top-right menu of the live chat widget.
Conclusion
Some canned responses are straight-up answers from the knowledge base; some answer commonly asked conversational questions. Essentially, either save customers' time (increasing customer satisfaction) and agents' time (to solve more queries).
I shared such 20+ examples of canned responses across 12 categories in this article. Hopefully, you found some ideas to replicate while setting up your canned responses for live chat.