Planning to use MS Teams for sales? Wondering how to do it right and what apps to use?
FACT: As of March 2021, Microsoft Teams has 145 million daily users.
From hospitals to schools to nonprofits and commercial enterprises, MS Teams is popular among various industries. It began as a group-chat platform but had been evolving into an almost operating-system-like product over time with extended capabilities and features.
The need for remote work post-COVID 19 is surely a driving factor in its popularity. However, its multifunctionality and ease of use is also a factor why MS Teams is doing better than many of its competitors.
So if you are here to dive deep into what those functionalities are, and how you can use them for sales, this is just the place for you.
Let's get started!
What is MS Teams?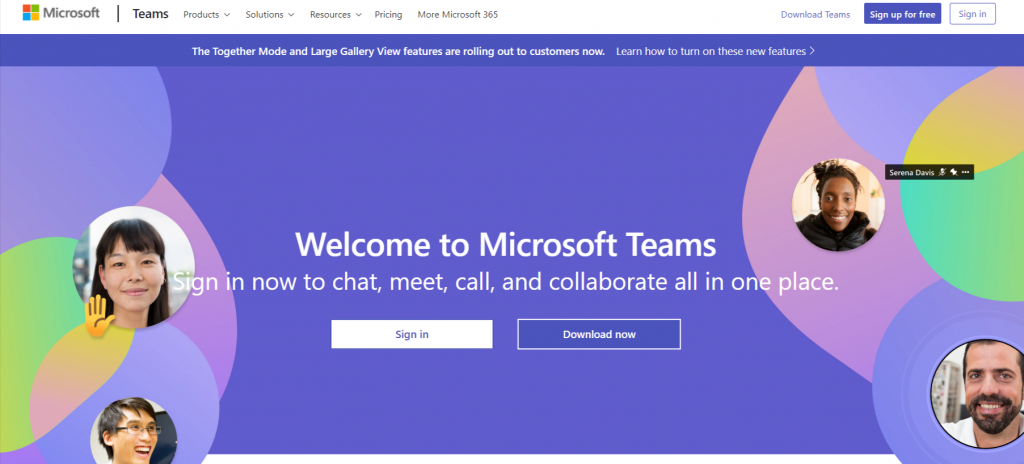 Microsoft Teams is a workplace collaboration app so teams can stay connected and work efficiently together.
But it is not just a chat tool. MS Teams also offers video and audio calling, file storage, a meetings scheduler, etc. The capability of app integration takes MS Teams to a whole new level by enabling it to support various business functions.
You can start with a free plan with no financial commitment that still includes unlimited chat and group meetings for up to 60 minutes for one user. If you find it useful, you can move on to other plans that give extended functionalities and more cloud storage.
To give you an overview, here are some of the key functionalities of MS Teams:
Online Meetings and webinars
With meetings and webinars, you can virtually connect one-to-one, lead a team training, or host an interactive webinar for up to 1000 attendees.
With chat and collaborations, you can communicate in real-time, share files, co-author and edit content simultaneously, work together in channels, etc.
Teams rooms is a meeting room solution with which you can bridge the gap between in-person and remote attendees. Everyone can fully participate from anywhere, see and hear each other, and feel on the same page.
With Teams phone, you can easily add, monitor, and manage voice and video calling and connect reliably.
MS Teams knows that in the new world, teams are collaborating with greater frequency and across more and more platforms every day. So, there are over 1000 apps that you can connect with MS Teams as per your preference to build seamless workflows from inside your favorite tools.
How Can Sales Teams Use Microsoft Teams?
Here are some of the ways in which sales teams incorporate MS Teams into their workflow to generate more leads, connect with more prospects, and close more deals.
#1. Connecting with prospects on the website
Sales live chat is one of the most effective modern-day selling tools. By integrating a live chat app with MS Teams, you can start engaging with your customers in real-time and start selling.
Today's customers expect all from a sales rep – speed, availability, and quality. And the best way you can give them what they want is through live chat, with a customer satisfaction level of 73%.
Here's an example of selling through MS Teams integrated with Social Intents live chat: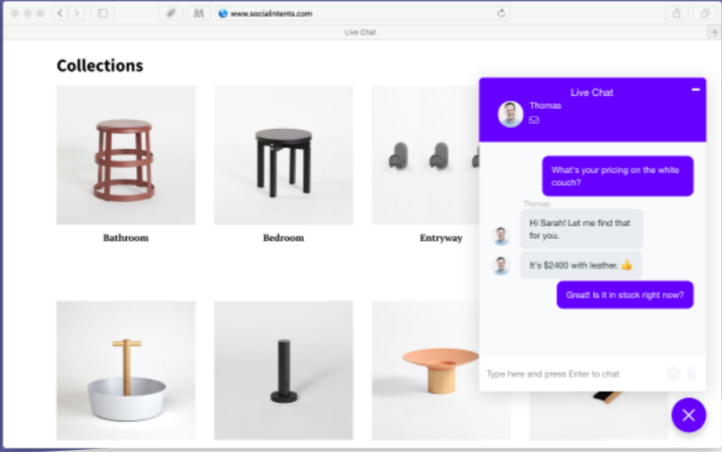 #2. Sales team alignment
From prospecting to presentation, handling objections, and follow-ups, the sales team members need to be working in unison, mostly in real-time.
With hybrid working, this collaboration needs tackling differently, and MS Teams is of great help.
You can create a dedicated 'sales team' in MS Teams and further, divide it into 'channels' with different members. Some examples can be, 'clients', 'follow-up', 'sales opportunities', 'hot leads', etc. Here is a generic example of the process from MS Teams: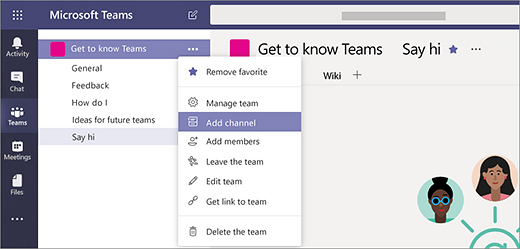 #3. Cross department collaboration
As every department has a role in the customer experience, their mutual input affects their functioning as well as the revenue of the company. For example, the right coordination between product and sales results in both more relevant products and more efficient sales.
This inter-departmental collaboration also happens seamlessly over MS Teams, by creating cross-departmental teams as discussed in the previous example.
#4. Sales insights and data management
An organized CRM solution with data from different stages of the sales pipeline can greatly enhance the sales strategy. Interactions from marketing, social media, customer service, etc. help team members to pull out the right strategies from their sales playbook.
But they can only leverage this data if it is available to them easily, on a day-to-day basis, which becomes possible by integrating MS Teams with a CRM.
You can add your choice of CRM as a new tab to the MS sales team. Now the sales team will be able to collaborate on any information that is available in the CRM, like customer account information, open leads, etc., without leaving the Teams environment.
Here's an example of a CRM integration with MS Teams: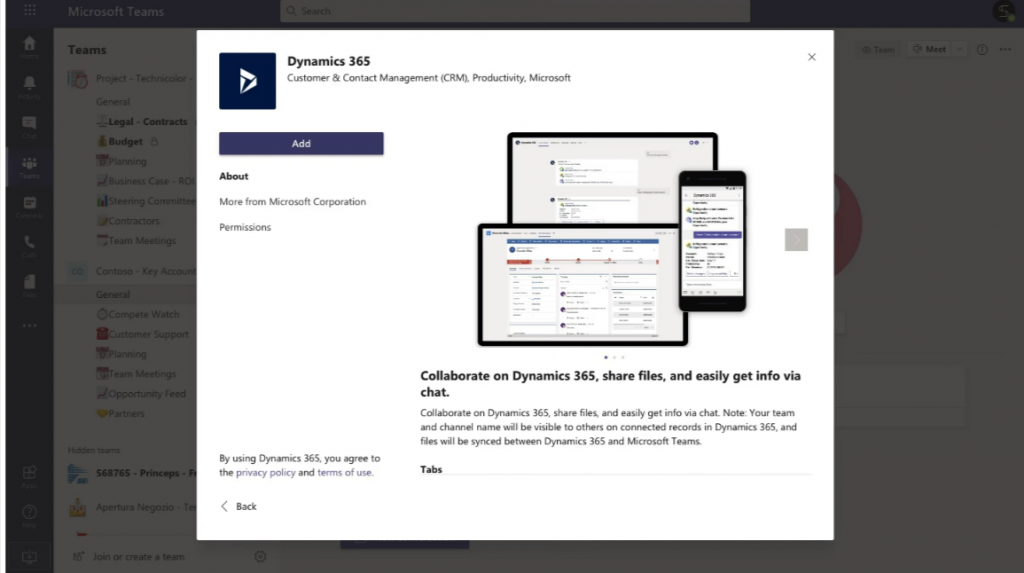 #5. Sales process adherence and task management
Integrations with MS Teams also come in handy for sales account managers in ensuring there are no gaps in goal delivery.
Inspection of the CRM integrated with Microsoft Teams can help here. Managers can ensure that the sales reps are adhering to the sales process by creating teams channels like:
Process wins: Encourages process adherence
Go to market strategy: Encourages knowledge sharing of the right processes
Also by integrating apps like Planner with MS Teams, you can do more than just set up tasks for each team member. We will discuss this in detail in the apps section.
#6. Sales training and onboarding
Modern selling is dynamic and highly relevant to the buyer's journey. This means that your sales reps need to learn continuously, not just from their managers but also from their peers.
Creating knowledge-sharing channels in MS Teams will not just help onboarding new sales reps but also support ongoing training requirements.
MS Teams can also function as a full-fledged learning management system. For example, you can add MS Forms to Teams and collect training feedback from the participants.
Now let us move on to see some of the best apps available for integration with MS Teams. These integrations take MS Teams to a whole new level of functionality for sales teams.
Here we go!
Best Microsoft Team Apps for Sales
#1. Social Intents – The best sales live chat for MS Teams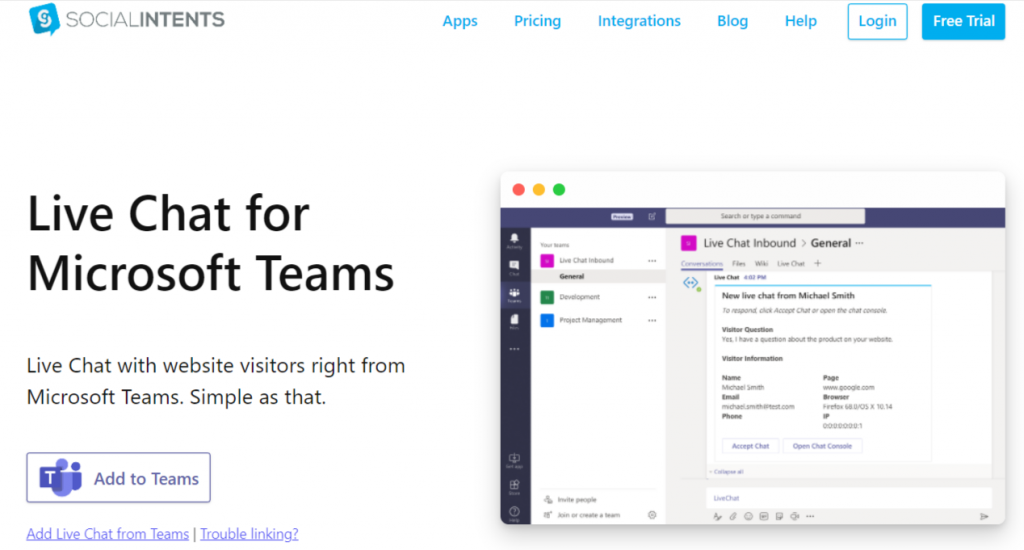 Social Intents MS Teams chat widget, enables sales teams to chat in real-time with website visitors directly from Microsoft Teams. Thing is, unlike other live chat apps where this functionality may come as an option, Social Intent is primarily built for this purpose.
Your sellers can start selling from within MS Teams in minutes, with no need for training on a new app. They can sell with their existing sales workflow without having to switch windows at all.
You can use Social Intents for selling within MS Teams with tools like:
Proactive messaging, so you can engage with your customers before they do.
Canned messages, so you can reply faster than expected.
Customized chat widget, so you can strategically place sales chat on the most relevant pages without crowding the whole website.
Chatbots with Dialogflow, so you can build your own AI chatbot.
Pre-chat forms so you can save time by pre-qualifying leads and prospects.
When adding Social Intents live chat to MS Teams, you do not even have to open a separate account. Simply sign in with your Microsoft account and start selling post-integration.
Social Intents offers unlimited team members pricing, so you keep growing your live chat as your team grows.
#2. Dynamic 365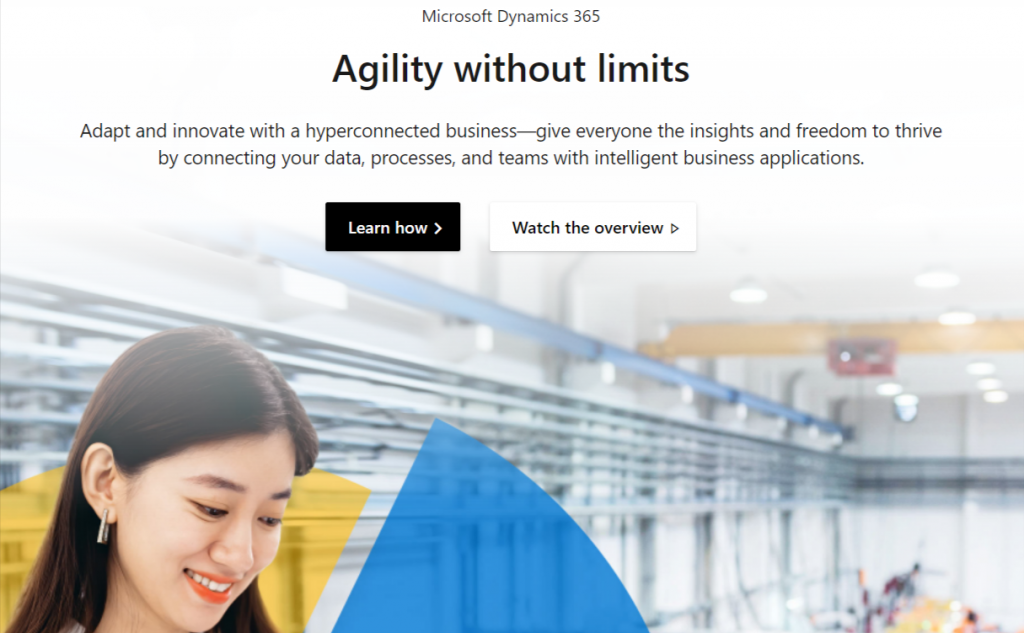 As we discussed earlier, a good CRM integration is a very useful tool for the sales team. It can help with task management, sales process adherence, collecting sales insights, etc.
The Dynamic 365 app for Microsoft teams enables everyone in the organization to view and collaborate on records from within Microsoft Teams. So for example, the sales team can close deals faster, by understanding signals from the marketing department around demand generation.
Some key features of Dynamic 365 integration with MS teams are:
Search and share records as information cards in chats
Update Dynamics 365 records from within chats
Add chat messages to Dynamics 365 as notes or tasks
View and update records before, during, and after meetings right from Teams
Notes and tasks added during meetings sync back to Dynamics 365 automatically
Record calls and get real-time transcription and AI-powered insights (only for meetings created using CRM)
#3. Microsoft Planner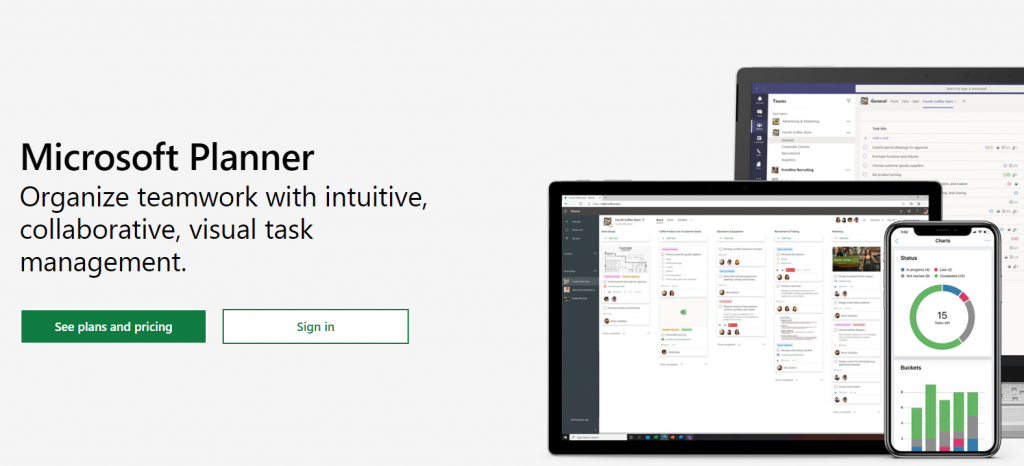 As discussed earlier, Microsoft planner integrated with MS teams can optimize the task management process for the sales team.
With Microsoft planner you can not only assign tasks to individual team members but also:
Add notes
Checklists
Links
Attach documents to clarify the tasks in detail.
Give each task a deadline and priority.
So for example, you are a Sales Director and one of your key objectives is to improve the transparency and efficiency of your sales team, especially when it comes to sales deals. To that end:
You can create a 'sales deals' channel in MS Teams.
You can then add Planner to this channel.
To complete the process, set up tasks for each individual member.
Once done, each channel member will have easy access to their upcoming, pending, late, and completed tasks, as well as charts showing the statuses of those tasks.
By adding the Planner, you make it easier for team members to see which tasks are assigned and the related details of the tasks. This avoids any duplication in the work while keeping everyone on the same page about the team's activities and responsibilities.
Here is a glimpse of what the integration looks like: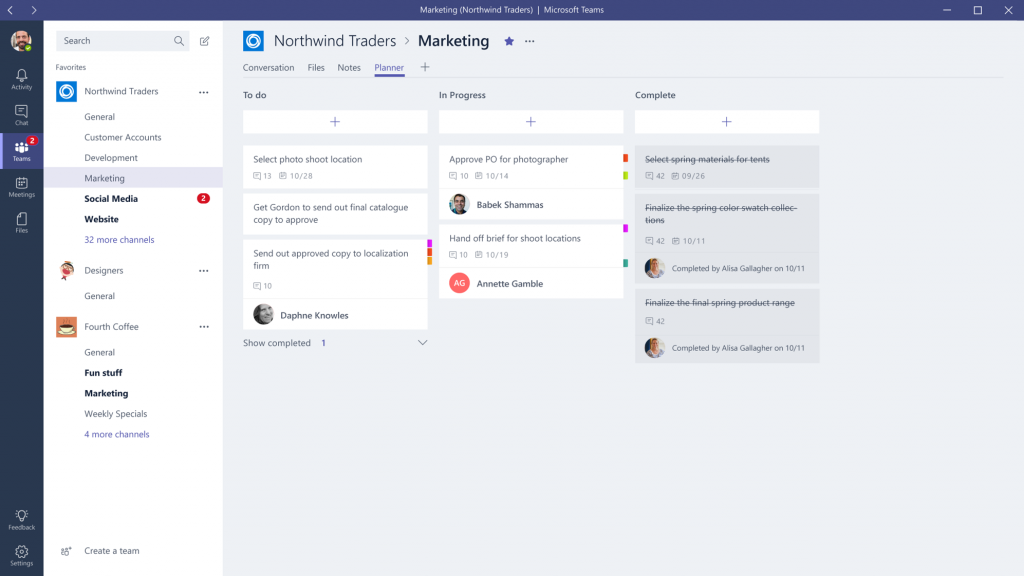 #4. Microsoft Stream

You can make it easy for your team to collaborate using video by adding a Microsoft Stream (Classic) channel or video as a tab in Microsoft Teams.
Teams can view and share pre-recorded videos from members of the organization with Microsoft Stream. It's a great way to facilitate events like training, client briefs, etc.
For sales, you can record and then recap all the wins and losses from your weekly or even quarterly meetings in Stream so those who couldn't attend the meeting will be able to access that content later on. You can also use these videos for sales onboarding and training purposes.
#5. MyHub

Chances are that sales teams are working on a number of applications together like Teams, Sites, Groups and Communities, etc, in Microsoft Office 365. Keeping a track of all these communities can become a bit of a mess.
MyHub is the best solution for this. It gives users an easy interface through which they can sort and organize these communities. It also makes it easy for the teams to access the content associated with each of these workspaces.
You can create new workspaces and manage the existing ones, right from within Teams or the MyHub app. Team owners can manage membership, handle requests, and much more.
#6. Whiteboard

It is crucial for sales teams to ideate together. And given that hybrid teams are increasing in number, virtual whiteboard applications help them do that.
Microsoft Whiteboard is one such native collaboration app that makes for the best integration with MS Teams. It is a free-form, digital canvas where people, content, and ideas come together.
Whiteboard integration in Microsoft Teams meetings is powered by the Whiteboard web app. Teams meeting participants can use it for many things like:
Share a whiteboard to make it available to all participants in a Teams meeting.
Draw, sketch, and write together on a shared digital canvas.
Team members can also add sticky notes, text, and captions.
It is also great for note-taking and showing diagrams during a meeting.
That same whiteboard is simultaneously available in all the Whiteboard applications on Windows 10, iOS, and the web app.
Conclusion
So, there you have it! Your own MS Teams sales playbook.
With a deep understanding of MS Teams and its integrations, you can optimize the performance of your sales teams.
We wish you all the best!